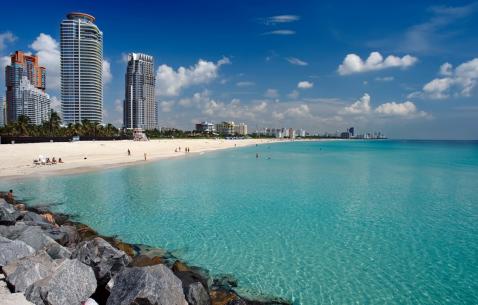 The minute you land here, Miami sucks you in with its Caribbean charm, its laid back yet stylish demeanour and childish eccentricity (find a lot of Miami tours to explore this "Magic City"). There's peachy skin and picture perfect bodies all around you that make you feel like you are in a sepia-toned page right out of Vogue or from any celebrity filled magazine!
Life in Miami is a celebration of sun, sweat and sand. From the classy backyards of Fort Lauderdale club to the rustic neighborhoods of North Miami; Miami's strengths lie in its imperfections. A city with an iconic wit and insatiable appetite for party, Miami will spoil you for choice when it comes to beach-lined bars and cafes.
Miami tourism is about letting your hair down, soaking the sun and choosing the Miami that is right for you. The one with splashy art galleries and swanky clubs or the one with laid back bars and cozy restaurants? You will probably need many trips to Miami to fully uncover her many layers.
So pout and pose at South beach or head to the recently re-opened Fontainebleau for some guiltless indulgences, your days in Miami are sure to get by in a blink. Legendary nightlife, warm sunny days and a subtle Cuban attitude await you at Miami. It is not wrong to say that Miami is the most loved and in a way the super star of Florida!
And if that is just not enough, try your luck with the Everglades alligators or revel in the company of beautiful birds at the Parrot Jungle island. Miami will exhaust you, then pick you up and throw you in its moronic, colourful and spectacular scenes till you are head over heels in love with this fantabulous landscape. Miami basically calls out to you to rejuvenate in a completely unconventional manner, if you are looking for that kind of a thing, literally no strings attached! Each one of you should visit Miami at least once and experience all that it has to offer considering the best time to visit Miami.
Essential travel information and Miami tips for your visit
Essential Information
Time Zone: Miami follows the Eastern Time zone. UTC: 05:00
Currency: US Dollar ($)
Electricity: Electric power is standardized in all states across the USA. It is set at 110 Volts and 60 cycles. If you bring any electrical appliance to the USA, you may need an adaptor to fit the US electrical receptacles. You may also need a converter to change the voltage from 110 volts to 220 volts.
Languages: Although you will end up finding people speaking various languages here but english is the most widely spoken.
Airport Transfers: (Flights from Miami) Miami International-Airport
Emergency Contact Numbers
For emergencies please dial 911.
For non-emergencies dial 305-4-POLICE.
For general government information dial 311.
State of Florida Emergency Information Line-800-342-3557
Security Measures
Be careful with your luggage at all times - when you check-in and check-out at the airport and at your hotel.
Keep your hotel door locked, and don't leave any valuables in an easy-to-find place in your room.
Avoid arguments with other drivers - Miami drivers officially have the worst road rage in the country.
Keep your stuff handy while at the Beaches, people can easily pick it up.
Off-beaten Path
Do keep aside some time for a relaxing Miami spa that is famed to be signature pampering.
Visit the Barnacle Historic State Park
Eat food at the Red fish grill.
Visit the Venetian Pool.
Tipping
For Hotels: Hotel porter toting your bags: $2 to $3 per bag• Doorman if he hails your cab: $2 to $5• Room service without gratuity included: 20 percent• Concierge: $5 to $15, depending on task difficulty• Hotel maid: $2-3 per night• Parking valet: $3-5 at pickup.
For Restaurants, Bars and Pubs and Fast food: Restaurant wait staff: 13 percent to 20 percent of the bill• Takeout: $ 1 to 2• Tip Jars: depends on you.
Taxi Cabs:10 to 15% of your fare.
Tourist Traps
The organized tours in Miami are not of very high quality and are somewhat a waste of your money and time, so try to avoid.
Beaches are over priced. If you do not want to spend too much, stick to Miami beach.
Avoid talking to strangers in the bars. Before you know it, you might end up with a hefty bill.
Customs
Lip to cheek contact is a common custom while meeting a new person in Miami.
Miami is also known for adding gratuity on bills instead of having the patron do it himself. This happens especially when dining on the beach. Visitors will also notice that many times there is a " beach tax" added onto the bill as well.
You'll find anything from cars zipping through lanes, to ones going way less than the speed limit.
Check the availability of Miami tours from the list to book them online.
Do not forget to carry sunblock and sun-screen as it is a major beach destination.
Miami Trip Planner
Plan your customized day by day trip plan for Miami. Choose from various experinces categories as adventure, romantic and family and kids friendly for your trip using using Miami trip planner.
The best tours and activities in the city, guided by experts to give you a local insight to the best of Miami