Things to do in Miami, Florida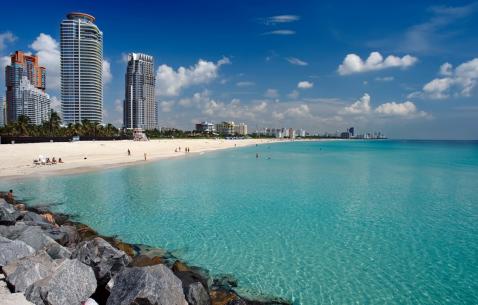 Miami, having a characteristic reputation of the world's hottest party destination, in fact, has so much more to it than its fabulous nightlife. This is evident from the array of places to visit in Miami. While on one hand is Miami Beach, accommodating some of the world's plushest architecture and luxurious opulence on the other we have the humble old-townish mainland Miami, home to the oldest and best attractions of Miami (check the availability of Miami tours for all attractions). A beautiful mélange of an assorted fields Miami has something for everyone. From the science museum of Miami Children's Museum, Villa Vizcaya, Patricia and Phillip Frost Museum of Science and many more, this city is much enlightening than you thought.
To throw some light on the otherwise must-see attractions in Miami, for adults and children alike, there is the Bayfront Park, Venetian Pool, Coral Castle, Freedom Tower, Marlins Park and the Holocaust Memorial of the Greater Miami Jewish Federation. Not to miss the terrific gastronomical experiences one can revere in Miami. Exotic and rather eccentric, the food is Miami promises one unforgettable sojourn. Not to mention, the wide array of spirited night clubs, lively bars and a ton of fun lounges, Miami is the party destination of the world in every right sense.
What's more, a fitness obsession that cannot go unnoticed, this city is full of sports, health and a plethora of fitness related activities. Whether you prefer a yoga session on the beach or in a park, some peculiar marathon, or some serious pumping sessions, Miami is the place to be.
25 Best Things To Do in Miami
1. Stroll along the corridors and pathways of the Vizcaya Museum and Gardens
Previously known as Villa Vizcaya, Vizcaya Museum and Gardens is an estate that is sprawled over an impressive area of 50 acres. Built from the year 1914, it took almost a decade to complete the villa and the designer garden, which list among the top attractions in Miami today. The estate includes three major sections, the garden, the woods and of course, the mansion. The garden flaunts its beauty and fragrance, giving its visitors a glimpse of traditional Italian Renaissance style of formal gardens. Almost 10 acres have been used in this artwork. The native forests and the mansion occupy the rest of the area. Three significant architectural styles have been used in the structuring and designing of the villa. An amalgamation of Mediterranean Revival Style with Baroque, Italian Renaissance, and Italian Renaissance Revival can be observed here. All the seventy rooms that make up this villa are nothing short of an art gallery.
2. Take a dip and make some new friends at the Miami Seaquarium
Passing the age of sixty and still going strong, Miami Seaquarium is one of the top marine centers of the country. Not only popular, but one of the best places to visit in Miami, it is a center of education and enjoyment. It was opened in 1955, and since then has been a constant entertainer with clapping seals, kissing dolphins and soaring orcas. Also one of the major rescue and rehabilitation centers, species like sea turtles and manatees have been home here for long now. Penguins, sea lions, and sting rays are some of the other species that you can get to meet here. One of the most exciting things to do in Miami with kids, you can enjoy swimming with the dolphins, walk on the seabed to explore the marine life, or even be a trainer for a day!
3. Enjoy the gold, the blue, and the vibrant vibe of the Miami Beach
Undoubtedly, the trendiest tourist attraction in Miami, is its famous Miami Beach. One of the first resort cities of the country, it is known for its hotels, spotless beach, parties, watersports and the list goes on. With the Atlantic Ocean on one side and the Biscayne Bay on the other, the water activities that can be enjoyed here are in abundance, which in turn makes it one of the best family beaches in Miami! Heritage hotels, art streets and cosy cafes are the identity of the land, while the sun-kissed golden shoreline, and the mesmerising cyan waves make the aqua life exciting. Stay at a luxury resort overlooking the ocean, pamper yourself to some spa treatments, take countless dips in the water, and drink in the essence of the beach. While here, do visit the Holocaust Memorial.
4. It's a small Cuban world at Calle Ocho in Little Havana
The Cuban story of Miami, Calle Ocho in Little Havana is a step into the art and culture of Cuba. Strewn across this area are wall murals that overflow with emotions, cigars which are still rolled by hand and people who dance to the any kind of beat. Officially known as 8th Street, the box buildings, the simplistic living and the aroma of a different culture allures every tourist into the lanes, and then the bars of this place. Be sure to spend some time at the jazz bars, and don't miss out on a visit to the Cuban bakeries while here. March brings with it their annual festival, The Calle Ocho Festival, which is a one-day celebration, that brings the Miami Carnival to a dramatic end. Make sure you add this to your list of things to do in Miami at night, as Little Havana houses not only some of the best Cuban restaurants in the city, but also the best bars!
5. Experience the true spirit of America at the Freedom Tower
A significant monument in Miami, Freedom Tower has played a very important role in the history of Cuba, Miami as well as the U.S. Built originally to house the newspaper, The Miami News, in the year 1925, it went on to aid all the Cubans who were seeking shelter in America during the reign of Fidel Castro. Recognised for its importance, it also made it to the National Register of Historic Places in the year 1979. Today it serves as an art center, which brings us to The New World Mural 1513. Created by The Miami Artisans in 1988, it adorns the hall of the tower even today. Your Miami trip will be incomplete without a visit here, so make sure you add it to your itinerary.
6. Miami Children's Museum, one for the tiny tots
Another fun place for kids in Miami, is Miami Children's Museum. Offering toddlers and the little ones a range of activities and games, this center has vibrant interactive interfaces which promote learning, imagining and creating some of the most wonderful pieces of art. Culture, art, communication and community are some of the subjects which are used in their exhibits and displays. For all those on a vacation with their children, the 14 galleries here are enough to spend quality time here, enjoying. The center was founded in 1983, and ever since, has been successfully attracting parents and children from all around the world.
7. Explore nature at the pride of the world, the Everglades National Park
A famed World Heritage Site, Everglades National Park is a haven to some of the most incredible species, including some rare and endangered ones too. Along with being of international value, the park is also titled as an International Biosphere Reserve and a Wetland of International Importance. One of the only 3 places in the entire world to be honoured with all the 3 labels, it is one of the most significant points of interest in Miami. A complex net of wetlands and forest areas, this tropical wilderness is one of the largest in this region. Florida panther, American crocodile, four species of Sea turtles, Cape Sable seaside sparrow, and the West Indian manatee are some of the rare, protected and endangered species that this park aims to protect.
8. Step into a different time in Art Deco District
One of the most exciting free things to do in Miami is to take a walk in the Art Deco District. Kaleidoscopic hotels flaunting the stylish decor from the 1920s, each and every building in this area is an excellent example of the Art Deco Style. Vibrant colours, simple design, bright lights and music from an era of the past, it is as though you have stepped into a different time! Often treated like a gallery displaying architectural pieces, the 900 preserved buildings' colours are amusing, and the whimsical patterns cute. Many old hotels are located here, and it is an incredible experience to visit some of these to understand the history of this area.
9. Feel the life of Miami at South Beach
One of the areas of Miami to see major developments in terms of architecture and tourism, South Beach is one of the most popular and free beaches in Miami. The barrier islands beyond the Indian Creek fall into this area. Known for its white sand and warm, crystal water, relaxing here for a day is a great idea. Things to do in South Beach, Miami include, enjoying its nightlife and shore-dining options, mingling with the fun and quirky crowd, and soaking in the atmosphere that constantly buzzes with energy. Located within close proximity to all the major attractions like Ocean Drive and Art Deco, a visit here is a must!
10. Unwind in the greens of the Bayfront Park
Sprawled across 32 acres of lush lawns, Bayfront Park is a public park in Miami. Dating back to the year 1924, when it was designed, this park houses a number of facilities for the recreational purpose of tourists and the citizens of Miami. One of the most relaxing places to visit in Miami, you can come here for an early morning walk, or an evening stroll. The Klipsch Amphitheatre and the Tina Hills Pavilion are two of the main facilities that are in the park. While the first has a capacity of 10,000 people, the latter can house up to 1,000 people. Many group activities, and exercise and hobby classes are conducted here.
11. Zoo Miami- A wildlife excursion
Famous for being the largest, and the oldest zoo in Florida, Zoo Miami lists on all Miami visitor's guides. What is unique about this zoo is its climate. Suited for animals from Africa, Asia as well as Australia, the animals resident here range from the proud White Bengal Tiger to Samburu Giraffe. Florida- Mission Everglades, Asia, Africa, Amazon and Beyond and Australia are the five exhibits. 3,000 animals of 500 species have made this 750-acre center, their home. The zoo was first opened in the year 1948, and is, even today, considered to be one of the best Miami attractions for families.
12. Discover the intricacies of the world at Phillip and Patricia Frost Museum of Science
Known as Miami Science Museum before, Phillip and Patricia Frost Museum of Science is a science center in Miami. It has a science museum, an aquarium and a planetarium which makes it one of the most interesting places in Miami for kids. It was established in the year 1949 as a small exhibit that was arranged inside a house. From donations during those times, to research today, this center has grown and developed beyond everyone's expectations. Learning at its best, classes, sessions and rotating exhibits ensure that the second visit is never the same. A major tourist attraction, add it to your list of things to do in Miami.
13. Coral Castle- An astounding man-made miracle
Ranking one on the list of the most unusual things to do in Miami, a visit to the Coral Castle should be included in every tourist's itinerary. It was built by only one man, Edward Leedskalnin, from 1923 to 1951. What is so unusual about this park is that the large heavy coral boulders that make up for the design of this park, were seemingly moved by one person. It still remains a mystery as to how he did it, although speculations about him using reverse magnetism and even supernatural abilities, have been made.
14. See, eat, walk and relax along the Ocean Drive
Ocean Drive is a long road along the shoreline famous for its bright colours, architecture and food. With Art Deco bringing in the hues during the day and neon lighting at night, the background of the Ocean Drive has been popular in movies and sitcoms. Retro cafes and themed restaurants are lined up here which make for great spots to observe the life of Miami. The beach is only a step away, so, along with being one of the most exciting places to eat in Miami, it is also a happening place to spend some time. Must-visits while here include Mango's Tropical Café and Palace Bar.
15. Shop, dine and indulge at the Bayside Marketplace
A waterfront setting, fancy brands and delicious food is what sums up Bayside Marketplace the best. Housing more than 150 shops, you will also find the best brands showcasing luxury commodities, fine dining restaurants offering international cuisines, rejuvenation centers like spas to de-stress and exotic music filling the air. You can also enjoy live music and wonder water activities being conducted by the touring centers here. Shopping in Miami may not be restricted to this mall but is surely incomplete without it!
16. Wander through the posh sites of the Deering Estate
Developed in the 1920s, Deering Estate is of great historical importance. Belonging to the famous industrialist of Chicago, Charles Deering, this estate encompasses a large area of 444 acres. Located on the Biscayne Bay, the estate includes many sites, as well as many activities that tourists can enjoy. There is a 3-storey wooden house, as well as a 3-storey stone mansion, which are the main properties, although, there are many other buildings in the premises. This area is also famous for the largest virgin coastal tropical hardwood hammock that it houses. When you visit Miami, make sure you pay this estate a visit.
17. Gold Coast Railroad Museum- A treat for all rail-enthusiasts!
The Gold Coast Railroad Museum was established in the year 1956. Aiming to preserve and spread knowledge about the history and development of railroad, this museum houses more than 30 historic trains. The Presidential Car "Ferdinand Magellan" is one of the most popular exhibits displayed here. Along with the life size models, you can also observe a large collection of classic model trains and other prototypes. Housing both steam and diesel trains, it has earned the reputation of being one of the best railroad museum in Florida. A fun kid's attraction in Miami, don't forget to add this to your plan.
18. Head out with your family to South Pointe Park
Encompassing a total of 17 acres of land, South Pointe Park is one place that gives you a little of everything of Miami. Established in 1979, it is known for the panoramic views that it offers of the Biscayne Bay and the Atlantic Ocean. Perfect for family fun in Miami, you can enjoy many facilities here including a children's playground, a dog park, and a wide range of water activities. A number of restaurants serving delectable snacks and frozen yogurt are an added bonus! While here, do take a look at the contemporary artworks displayed here.
19. Listen to what the walls say, at the Wynwood Walls
With a vision to renovate the Wynwood district and give it a new face, the late Tony Goldman came up with an idea. Converting every one of the windowless walls of the warehouses into canvases, he brought together the best of the artists to accomplish this huge piece of art. At a time when street art was depreciated, if not appreciated, he showed the people that art can be anywhere. And so, famous artists from all over the world, including Portugal, Germany and even Japan have been able to contribute to the Wynwood Walls. What's best, is that a visit here is one of the best free things to do in Miami, so a visit here goes without saying.
20. Catch a show at the Olympia Theater
One of the only two remaining atmospheric theaters in Florida, Olympia Theatre opened in the year 1926. The famous designer John Eberson designed it, and this vintage center has served as a platform for theatre, concerts and other performing arts for all these years. The old architecture is impressive, and the story behind it is as intriguing as ever, making it a wonderful attraction in Miami. While the structure may be old, it is maintained perfectly, and has excellent sound and light system.
21. Watch the Dolphins play at the Hard Rock Stadium
Popularly known as the Dolphin Stadium, Hard Rock Stadium is a prized Miami tourist attraction. Home to the Miami Dolphins of the National Football League, it is a multipurpose football stadium. The stadium has hosted 5 Super Bowls up till now and is often flocked by tourists during such events. Its capacity is more than 65,000 people. Visit Miami and treat yourself to a game at this 1987 stadium.
22. Another facet of the art of Miami, Lowe Art Museum
The pride of the Miami University, Lowe Art Museum is one of the most unique art centers of the city. It was established in the year 1950 and served as one of the first art museums in South Florida. Its exhaustive collection includes a permanent, as well as rotating collections. Ranging from Renaissance and Baroque, to Greco-Roman antiquities and modern art, this center has it all. Names like Pablo Picasso, Emily Brock, Vincenzo Catena, and Knox Martin have also made a contribution here. A visit here is mandatory for all the art-enthusiasts who are looking for things to do in Miami.
23. Tour the most happening part of the city along the Lincoln Road
A glimpse of the nightlife Miami is so famous for, Lincoln Road is packed with a myriad of bars, restaurants, and shops. Ideal for a shopping excursion during the day, and partying at night, you will find yourself amidst a huge crowd that enjoys the company and harmony of one another. Local artists fill the streets with music, and as you walk along the promenade, you will be surprised to be a part of a dance, a song, a show or just a friendly discussion. Located at the most vibrant part of the city, Art Deco is just a couple of steps away.
24. Fairchild Tropical Botanic Garden
Fairchild Tropical Botanic Garden was opened in 1938 and went on to become one of the most important botanical center in Florida. It has an area of 83 acres, which have plantations of a number of trees including cycads, palms, vines and flowering. Its main aim is preserving of the various species and all the unusual natural phenomenon of nature that it houses but is also an education-based center that thrived on spreading awareness. Another feature of this garden that has made it one of the top places in Miami are the events that it hosts. Some of them are International Chocolate and Mango and Orchid festivals.
25. Versailles Restaurant
With a monumental reputation preceding it, Versailles Restaurant is often known for being the best Cuban restaurant in Miami. With a capacity of 370 people, you will find this eatery to be thronged by foodies waiting to delve into the authentic flavours of Cuba. Along with Cuban pastries and croquetas, some of the other things to eat here include palomilla steaks, croquetas de yuca, and milanesa.
Explore the travel planning tool for your visit to Miami and create a flawless plan in few simple steps!
148 Tourist Attractions in Miami

Must see places in Miami ranked on popularity. Here is the complete list of best attractions in Miami and point of interests to visit.
Tourist Attractions Near Miami
Find Your Miami Attractions on Map
Types of Things To Do in Miami
Find more attractions and places to visit in Miami under these things to do categories.
Top Miami Activities And Tours
Explore the best things to do in Miami. These are the most preferred tourist activities.
Find more places to see in Miami
Venetian Causeway

NE 15TH St

Historic and Protected Sites

Old Us Post Office And Courthouse

100 NE 1st Ave

Historic and Protected Sites

The Miami Circle At Brickell Point Site

401 Brickell Ave

Historic and Protected Sites

Security Building

117 NE 1st Ave

Historic and Protected Sites

Fire Station No. 2

1401 N Miami Ave

Historic and Protected Sites

City National Bank Building

121 NE 1st St

Historic and Protected Sites
View On Map
Miami River At The Mouth

Lakes

Boss Mansion Free JetSky Party

Lakes

Westwood Lake South

Lakes
View On Map
Pérez Art Museum Miami

1103 Biscayne Blvd

Museums

Rubell Family Collection

95 NW 29th St

Museums

Miami Children's Museum

980 MacArthur Cswy

Museums

Black Police Precinct and Courthouse Museum

480 NW 11th St

Museums

The Margulies Collection at the Warehouse

591 NW 27th St

Museums

Vizcaya Museum and Gardens

3251 S Miami Ave

Museums
View On Map
Arcade Odyssey

12045 SW 117th Ave

Arcades

Amusement Parks

Santa's Enchanted Forest

7900 Bird Rd

Amusement Parks

Play Time Water Sports

801 Brickell Bay Dr

Amusement Parks

Restaurants

Miami-Dade County Youth Fair

10901 SW 24th St

Amusement Parks

Restaurants

Miami Carnival

18425 NW 2nd Ave

Amusement Parks

Here & There

2570 NE Miami Gardens Dr

Amusement Parks
View On Map
Lost & Found Saloon

185 NW 36th St

American

Mexican

Bars

The Place of Miami

833 SW 29th Ave

International

Bars

American

Mojito Bar

401 Biscayne Blvd

Bars

American

Music and Show Venues

BarMeli

725 NE 79th St

Middle Eastern

Bars

Captain's Tavern Restaurant

9625 S Dixie Hwy

Seafood

Bars

Purita's Restaurant & Lounge

7817 Pines Blvd

Burgers

Mexican

Bars
View On Map
Magic City Casino

450 NW 37th Ave

Casinos and Gaming

Hotels and Motels

Franklin International Gaming

5220 NW 72nd Ave

Casinos and Gaming

Flagler Dog Track & Entrtnmnt

401 NW 38th Ct

Casinos and Gaming

Sports Bars

Don Casino Productions

20880 W Dixie Hwy

Casinos and Gaming

Resorts World Bimini Superfast

1015 N American Way Terminal H

Casinos and Gaming

Resorts

Magic City Casino

401 NW 38th Ct

Casinos and Gaming

Cafes, Coffee and Tea Houses
View On Map
Margaret Pace Park

1745 N Bayshore Dr

Dog Parks

Blanche Park

3070 Virginia St

Playgrounds

Dog Parks

Amelia Earhart Park

401 E 65th St

Dog Parks

Trails & Tails Park

11645 NW 50 St

Dog Parks

Palmetto Bay Park

17535 SW 95th Ave

Playgrounds

Dog Parks
View On Map
Hobie Beach

South end-north side of Rickenbacker Cswy

Beaches

Nixon Beach

Biscayne Bay

Beaches

12th Street Beach

1200 Ocean Dr

Beaches

Miami Beach Boardwalk

35TH St

Beaches

Surfside Beach

90TH St

Beaches

Dog Beach Key Biscayne

Rickenbacker Cswy

Beaches
View On Map
Rickenbacker Bridge

Rickenbacker Causeway

Hiking

Brickell Key Jogging Trail

Hiking

Old Cutler Trail

7001 Old Cutler Rd

Hiking

Anne Kolb Nature Trails Park

Hiking
View On Map
Baitmasters Of South Florida

6911 NE 3rd Ave

Hunting and Fishing

Kendall Bait & Tackle

9402 S Dixie Hwy

Hunting and Fishing

Rampway Bait & Tackle

1096 SW 27th Ave

Hunting and Fishing

Crook & Crook Marine

2795 SW 27th Ave

Hunting and Fishing

Capt. Harry's Fishing Supply

8501 NW 7th Ave

Hunting and Fishing

Atlantic & Gulf Fishing Supply

7000 NW 74th Ave

Hunting and Fishing
View On Map
What To Do in Miami: Day-Wise Ideas
Find what not to miss in Miami! Recommended Miami itineraries and vacation ideas created by travelers across the world.