Best Time To Visit Minsk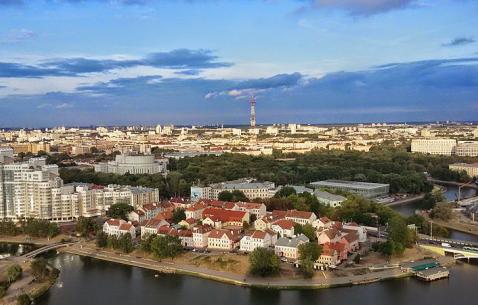 Best Time To Go To Minsk
Spring (March to May): This season is an extension of winter. Spring temperatures hover around zero degrees Celsius. Most of the days are overcast and it often rains. You can expect occasional sunshine. The mercury rises to around 10-degrees by the end of May.
Summer (June to August): Summer being the warmest season sees a lot of tourists visiting Minsk. Temperatures climb up to around 25-degrees Celsius in this season. Some of the days are overcast but it does not rain frequently. You can expect crowds around this time of the year.
Autumn (September to November): Cold days begin coming up again. Continuous rains start around this time and continue till mid-spring. Temperatures are expected to be between 10 and 15-degrees Celsius. This is the best time to visit if you do not want crowds on your travels.
Winter (December to February): Negative temperatures signal the arrival of winter in Minsk. The city sees around 25cm snowfall in the winter months. The mercury drops down to nearly -10-degrees Celsius. Despite the cold, Minsk often sees a lot of tourist activity in this season. Locals claim that this is one of the best seasons to visit if you do not mind the cold.
Best time to go to Minsk Attractions

: Everyday 9:00 AM - 11:00 AM
: Everyday 9:00 AM - 11:00 AM
: Everyday 9:00 AM - 11:00 AM
: Everyday 9:00 AM - 11:00 AM
: Everyday 9:00 AM - 11:00 AM
: Everyday 9:00 AM - 11:00 AM
: Everyday 9:00 AM - 11:00 AM
: Everyday 9:00 AM - 11:00 AM
: Everyday 9:00 AM - 11:00 AM
: Everyday 9:00 AM - 11:00 AM
: Everyday 9:00 AM - 11:00 AM
: Everyday 9:00 AM - 11:00 AM

: Everyday 1:00 PM - 3:00 PM
: Everyday 1:00 PM - 3:00 PM
: Everyday 1:00 PM - 3:00 PM
: Everyday 1:00 PM - 3:00 PM
: Everyday 1:00 PM - 3:00 PM
: Everyday 1:00 PM - 3:00 PM
: Everyday 1:00 PM - 3:00 PM
: Everyday 1:00 PM - 3:00 PM
: Everyday 1:00 PM - 3:00 PM
: Everyday 1:00 PM - 3:00 PM
: Everyday 1:00 PM - 3:00 PM
: Everyday 1:00 PM - 3:00 PM

: Everyday 6:00 PM - 8:00 PM
: Everyday 6:00 PM - 8:00 PM
: Everyday 6:00 PM - 8:00 PM
: Everyday 6:00 PM - 8:00 PM
: Everyday 6:00 PM - 8:00 PM
: Everyday 6:00 PM - 8:00 PM
: Everyday 6:00 PM - 8:00 PM
: Everyday 6:00 PM - 8:00 PM
: Everyday 6:00 PM - 8:00 PM
: Everyday 6:00 PM - 8:00 PM
: Everyday 6:00 PM - 8:00 PM
: Everyday 6:00 PM - 8:00 PM

: Everyday 2:00 PM - 4:00 PM
: Everyday 2:00 PM - 4:00 PM
: Everyday 2:00 PM - 4:00 PM
: Everyday 2:00 PM - 4:00 PM
: Everyday 2:00 PM - 4:00 PM
: Monday to Saturday 2:00 PM - 4:00 PM
: Monday to Saturday 2:00 PM - 4:00 PM
: Monday to Saturday 2:00 PM - 4:00 PM
: Everyday 2:00 PM - 4:00 PM
: Everyday 2:00 PM - 4:00 PM
: Everyday 2:00 PM - 4:00 PM
: Everyday 2:00 PM - 4:00 PM

: Everyday 4:00 PM - 6:00 PM
: Everyday 4:00 PM - 6:00 PM
: Everyday 4:00 PM - 6:00 PM
: Everyday 4:00 PM - 6:00 PM
: Everyday 4:00 PM - 6:00 PM
: Everyday 4:00 PM - 6:00 PM
: Everyday 4:00 PM - 6:00 PM
: Everyday 4:00 PM - 6:00 PM
: Everyday 4:00 PM - 6:00 PM
: Everyday 4:00 PM - 6:00 PM
: Everyday 4:00 PM - 6:00 PM
: Everyday 4:00 PM - 6:00 PM

: Everyday 11:00 AM - 1:00 PM
: Everyday 11:00 AM - 1:00 PM
: Everyday 11:00 AM - 1:00 PM
: Everyday 11:00 AM - 1:00 PM
: Everyday 11:00 AM - 1:00 PM
: Everyday 11:00 AM - 1:00 PM
: Everyday 11:00 AM - 1:00 PM
: Everyday 11:00 AM - 1:00 PM
: Everyday 11:00 AM - 1:00 PM
: Everyday 11:00 AM - 1:00 PM
: Everyday 11:00 AM - 1:00 PM
: Everyday 11:00 AM - 1:00 PM

: Everyday 4:00 PM - 6:00 PM
: Everyday 4:00 PM - 6:00 PM
: Everyday 4:00 PM - 6:00 PM
: Everyday 4:00 PM - 6:00 PM
: Everyday 4:00 PM - 6:00 PM
: Everyday 4:00 PM - 6:00 PM
: Everyday 4:00 PM - 6:00 PM
: Everyday 4:00 PM - 6:00 PM
: Everyday 4:00 PM - 6:00 PM
: Everyday 4:00 PM - 6:00 PM
: Everyday 4:00 PM - 6:00 PM
: Everyday 4:00 PM - 6:00 PM

: Everyday 6:00 PM - 8:00 PM
: Everyday 6:00 PM - 8:00 PM
: Everyday 6:00 PM - 8:00 PM
: Everyday 6:00 PM - 8:00 PM
: Everyday 6:00 PM - 8:00 PM
: Everyday 6:00 PM - 8:00 PM
: Everyday 6:00 PM - 8:00 PM
: Everyday 6:00 PM - 8:00 PM
: Everyday 6:00 PM - 8:00 PM
: Everyday 6:00 PM - 8:00 PM
: Everyday 6:00 PM - 8:00 PM
: Everyday 6:00 PM - 8:00 PM

: Everyday 1:00 PM - 3:00 PM
: Everyday 1:00 PM - 3:00 PM
: Everyday 1:00 PM - 3:00 PM
: Everyday 1:00 PM - 3:00 PM
: Everyday 1:00 PM - 3:00 PM
: Everyday 1:00 PM - 3:00 PM
: Everyday 1:00 PM - 3:00 PM
: Everyday 1:00 PM - 3:00 PM
: Everyday 1:00 PM - 3:00 PM
: Everyday 1:00 PM - 3:00 PM
: Everyday 1:00 PM - 3:00 PM
: Everyday 1:00 PM - 3:00 PM

: Everyday 3:00 PM - 5:00 PM
: Everyday 3:00 PM - 5:00 PM
: Everyday 3:00 PM - 5:00 PM
: Everyday 3:00 PM - 5:00 PM
: Everyday 3:00 PM - 5:00 PM
: Everyday 3:00 PM - 5:00 PM
: Everyday 3:00 PM - 5:00 PM
: Everyday 3:00 PM - 5:00 PM
: Everyday 3:00 PM - 5:00 PM
: Everyday 3:00 PM - 5:00 PM
: Everyday 3:00 PM - 5:00 PM
: Everyday 3:00 PM - 5:00 PM

: Everyday 2:00 PM - 4:00 PM
: Everyday 2:00 PM - 4:00 PM
: Everyday 2:00 PM - 4:00 PM
: Everyday 2:00 PM - 4:00 PM
: Everyday 2:00 PM - 4:00 PM
: Everyday 2:00 PM - 4:00 PM
: Everyday 2:00 PM - 4:00 PM
: Everyday 2:00 PM - 4:00 PM
: Everyday 2:00 PM - 4:00 PM
: Everyday 2:00 PM - 4:00 PM
: Everyday 2:00 PM - 4:00 PM
: Everyday 2:00 PM - 4:00 PM

: Everyday 2:00 PM - 2:00 PM
: Everyday 2:00 PM - 2:00 PM
: Everyday 2:00 PM - 2:00 PM
: Everyday 2:00 PM - 2:00 PM
: Everyday 2:00 PM - 2:00 PM
: Everyday 2:00 PM - 2:00 PM
: Everyday 2:00 PM - 2:00 PM
: Everyday 2:00 PM - 2:00 PM
: Everyday 2:00 PM - 2:00 PM
: Everyday 2:00 PM - 2:00 PM
: Everyday 2:00 PM - 2:00 PM
: Everyday 2:00 PM - 2:00 PM

: Tuesday to Sunday 1:00 PM - 3:00 PM
: Tuesday to Sunday 1:00 PM - 3:00 PM
: Tuesday to Sunday 1:00 PM - 3:00 PM
: Tuesday to Sunday 1:00 PM - 3:00 PM
: Tuesday to Sunday 1:00 PM - 3:00 PM
: Tuesday to Sunday 1:00 PM - 3:00 PM
: Tuesday to Sunday 1:00 PM - 3:00 PM
: Tuesday to Sunday 1:00 PM - 3:00 PM
: Tuesday to Sunday 1:00 PM - 3:00 PM
: Tuesday to Sunday 1:00 PM - 3:00 PM
: Tuesday to Sunday 1:00 PM - 3:00 PM
: Tuesday to Sunday 1:00 PM - 3:00 PM

: Everyday 5:00 PM - 7:00 PM
: Everyday 5:00 PM - 7:00 PM
: Everyday 5:00 PM - 7:00 PM
: Everyday 5:00 PM - 7:00 PM
: Everyday 5:00 PM - 7:00 PM
: Everyday 5:00 PM - 7:00 PM
: Everyday 5:00 PM - 7:00 PM
: Everyday 5:00 PM - 7:00 PM
: Everyday 5:00 PM - 7:00 PM
: Everyday 5:00 PM - 7:00 PM
: Everyday 5:00 PM - 7:00 PM
: Everyday 5:00 PM - 7:00 PM

: Wednesday to Sunday 1:00 PM - 3:00 PM
: Wednesday to Sunday 1:00 PM - 3:00 PM
: Wednesday to Sunday 1:00 PM - 3:00 PM
: Wednesday to Sunday 1:00 PM - 3:00 PM
: Wednesday to Sunday 1:00 PM - 3:00 PM
: Wednesday to Sunday 1:00 PM - 3:00 PM
: Wednesday to Sunday 1:00 PM - 3:00 PM
: Wednesday to Sunday 1:00 PM - 3:00 PM
: Wednesday to Sunday 1:00 PM - 3:00 PM
: Wednesday to Sunday 1:00 PM - 3:00 PM
: Wednesday to Sunday 1:00 PM - 3:00 PM
: Wednesday to Sunday 1:00 PM - 3:00 PM

: Everyday 4:00 PM - 6:00 PM
: Everyday 4:00 PM - 6:00 PM
: Everyday 4:00 PM - 6:00 PM
: Everyday 4:00 PM - 6:00 PM
: Everyday 4:00 PM - 6:00 PM
: Everyday 4:00 PM - 6:00 PM
: Everyday 4:00 PM - 6:00 PM
: Everyday 4:00 PM - 6:00 PM
: Everyday 4:00 PM - 6:00 PM
: Everyday 4:00 PM - 6:00 PM
: Everyday 4:00 PM - 6:00 PM
: Everyday 4:00 PM - 6:00 PM

: Everyday 10:00 AM - 6:00 PM
: Everyday 10:00 AM - 6:00 PM
: Everyday 10:00 AM - 6:00 PM
: Everyday 10:00 AM - 6:00 PM
: Everyday 10:00 AM - 6:00 PM
: Everyday 10:00 AM - 6:00 PM
: Everyday 10:00 AM - 6:00 PM
: Everyday 10:00 AM - 6:00 PM
: Everyday 10:00 AM - 6:00 PM
: Everyday 10:00 AM - 6:00 PM
: Everyday 10:00 AM - 6:00 PM
: Everyday 10:00 AM - 6:00 PM

: Everyday 9:00 AM - 11:59 PM
: Everyday 9:00 AM - 11:59 PM
: Everyday 9:00 AM - 11:59 PM
: Everyday 9:00 AM - 11:59 PM
: Everyday 9:00 AM - 11:59 PM
: Everyday 9:00 AM - 11:59 PM
: Everyday 9:00 AM - 11:59 PM
: Everyday 9:00 AM - 11:59 PM
: Everyday 9:00 AM - 11:59 PM
: Everyday 9:00 AM - 11:59 PM
: Everyday 9:00 AM - 11:59 PM
: Everyday 9:00 AM - 11:59 PM

: Everyday 10:00 AM - 11:59 PM
: Everyday 10:00 AM - 11:59 PM
: Everyday 10:00 AM - 11:59 PM
: Everyday 10:00 AM - 11:59 PM
: Everyday 10:00 AM - 11:59 PM
: Everyday 10:00 AM - 11:59 PM
: Everyday 10:00 AM - 11:59 PM
: Everyday 10:00 AM - 11:59 PM
: Everyday 10:00 AM - 11:59 PM
: Everyday 10:00 AM - 11:59 PM
: Everyday 10:00 AM - 11:59 PM
: Everyday 10:00 AM - 11:59 PM

: Everyday 9:00 AM - 10:00 AM
: Everyday 9:00 AM - 10:00 AM
: Everyday 9:00 AM - 10:00 AM
: Everyday 9:00 AM - 10:00 AM
: Everyday 9:00 AM - 10:00 AM
: Everyday 9:00 AM - 10:00 AM
: Everyday 9:00 AM - 10:00 AM
: Everyday 9:00 AM - 10:00 AM
: Everyday 9:00 AM - 10:00 AM
: Everyday 9:00 AM - 10:00 AM
: Everyday 9:00 AM - 10:00 AM
: Everyday 9:00 AM - 10:00 AM

: Everyday 9:00 AM - 11:00 AM
: Everyday 9:00 AM - 11:00 AM
: Everyday 9:00 AM - 11:00 AM
: Everyday 9:00 AM - 11:00 AM
: Everyday 9:00 AM - 11:00 AM
: Everyday 9:00 AM - 11:00 AM
: Everyday 9:00 AM - 11:00 AM
: Everyday 9:00 AM - 11:00 AM
: Everyday 9:00 AM - 11:00 AM
: Everyday 9:00 AM - 11:00 AM
: Everyday 9:00 AM - 11:00 AM
: Everyday 9:00 AM - 11:00 AM

: Everyday 1:00 PM - 3:00 PM
: Everyday 1:00 PM - 3:00 PM
: Everyday 1:00 PM - 3:00 PM
: Everyday 1:00 PM - 3:00 PM
: Everyday 1:00 PM - 3:00 PM
: Everyday 1:00 PM - 3:00 PM
: Everyday 1:00 PM - 3:00 PM
: Everyday 1:00 PM - 3:00 PM
: Everyday 1:00 PM - 3:00 PM
: Everyday 1:00 PM - 3:00 PM
: Everyday 1:00 PM - 3:00 PM
: Everyday 1:00 PM - 3:00 PM

: Everyday 10:00 AM - 3:00 PM
: Everyday 10:00 AM - 3:00 PM
: Everyday 10:00 AM - 3:00 PM
: Everyday 10:00 AM - 3:00 PM
: Everyday 10:00 AM - 3:00 PM
: Everyday 10:00 AM - 3:00 PM
: Everyday 10:00 AM - 3:00 PM
: Everyday 10:00 AM - 3:00 PM
: Everyday 10:00 AM - 3:00 PM
: Everyday 10:00 AM - 3:00 PM
: Everyday 10:00 AM - 3:00 PM
: Everyday 10:00 AM - 3:00 PM