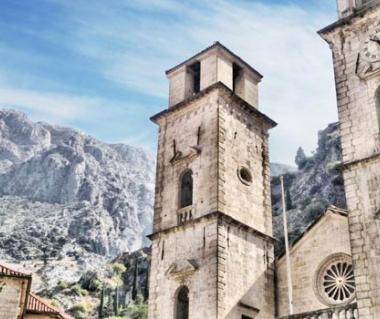 Montenegro Trip Planner
Plan your customized trip plan for Montenegro. Choose from Top Toursim cities and tourist attarctions of Montenegro using trip planner.
Montenegro Overview
Cuddled with natural beauty, blessed with cultural legacy and assortment in geography is what makes Montenegro holidays an affair to remember.
A twin to Serbia and a newly-budding tourist destination, this little country seconds to the saying- Beauty comes in all shapes and sizes! Travel to Montenegro, relax on its beaches, celebrate great festivals happening all round the year and feel rejuvenated! A Montenegro vacation is what you should be opting for the next time you visit Europe!
BEST TIME TO VISIT
Montenegro weather is typical Mediterranean: warm summers and bitterly cold winters.
The best time to visit to Montenegro is in between April to September.
GET IN
By Air: The main international airport for Montenegro is the Podgorica airport. Dubrovnik airport is also a major airport that serves flights to Montenegro from most of the Europe.
By Train: The cheapest way to get to the country and undoubtedly one of the most scenic train journeys, there are a few trains from Belgrade- capital of Serbia.
By Boat: regular ferries operate from Bar in Montenegro to Ancona and Bari in Italy.
By Taxi/Car: You can access Montenegro via road from the European countries like Croatia, Bosnia and Herzegovina, Serbia and Albania. The country is well connected with European routes E65, E80, E762, E763 and E851.
By Bus: Montenegro is well connected through roads with the nearby countries like Croatia, Bosnia, Herzegovina, Kosovo and Albania.
GET AROUND
By Train: The fastest way to get around Montenegro is by train. You can easily travel by train to get from North to South.
By Bus: Buses and Minibuses are easiest way to get around and ticket prices vary from city to city. Montenegro travel guide has updated time tables of all the major operating bus companies.
By Car: Renting a drive-yourself car is a good option as the road connection within the city is pretty efficient and the drive is pretty scenic.
By Taxi: Taxis are cheap and reliable and the taxi stands are found commonly all over the country.
By Hitchhiking: It is appreciated and not a bad idea if you are up for it!
WHAT TO SEE
Though small in area, Montenegro has plenty of stuff in store to astonish its visitors. Roughly divided into areas according to the topography, Montenegro sightseeing will mesmerise the tourists with its charm and poise. This list of things to do in Montenegro is big and pleasing.
Tourist places in Montenegro are spread over four major regions:
The north coast region: this region has many well-maintained old towns some of which are listed as UNESCO world heritage.
The south coast region: This is the most-frequented region by the tourists and has alluring beaches, dazzling nightlife in Montenegro and you can have a vacation full of activities. This region has the most number of Montenegro attractions.
The northern region: Has a huge lot of national parks, a great resort for nature lovers.
The central region is densely populated by locals but has a breathtaking charm.
Places to visit in Montenegro:
Kotor
Lovcen national park
Sveti Stefan
Ostrog Monastery
Tara River and Canyon
Biogradska Gora National Park
Lake Skadar national park
Stari Bar
Moraca canyon and Monastery
Kayak Montenegro
Durmitor national park
National museum Montenegro
Citadela
WHAT TO DO
Montenegro has stunning beaches and has exciting bunch of activities like White Water Rafting- which happens to be along Europe's deepest canyon, Kayaking, Mountain Biking, Climbing, Scuba, Sailing, Wind and Kite surfing, Horse Riding, Hiking and Paragliding.
Forest camping and diving is also a great option for the likes of it.
PLACES TO STAY
There are many options available for accommodation in Montenegro
They can be listed as below:
Budget: There are many cheap hotels in Montenegro that can be booked prior to your visit to save on the expenditure. Like any other European country, there are excellent bed and breakfasts available in Montenegro.
Montenegro beach resorts are also a great option of you want to splurge a little and spoil yourself on this dream like vacation. Because, well; the beaches of Montenegro are incredible
PLACES TO EAT
The local cuisine is the combination of European and Mediterranean spread, there are many restaurants, pizzerias and eateries available to serve the foodie traveller. Smoked ham, seafood dishes and variety of cheese are a must-try. The top restaurants in Montenegro serve the fast food and international cuisine as well.
Donuts served with honey and fried figs are to die for! Wine and brandy are a speciality.
FESTIVALS and EVENTS
There are many great festivals and enjoyable events happening all round the year in this pleasing country like Dan Svetog Tripuna - St. Tripun's Day, Festival Mimoze, Vrela zima u brdima- the hot winter in hills festival. There are also exciting events like Montenegro Ski fest- national skiing event
And On the roads of King Nikola- Cycling race.
DOS and DON'TS
Stay safe from pickpockets and beggars as they usually work in a team
Wear modest clothing when entering a religious place
Being drunk is not considered as a polite sign and avoid the bottom's up style
Searching for something specific?