Best Time To Visit Monterey
Explore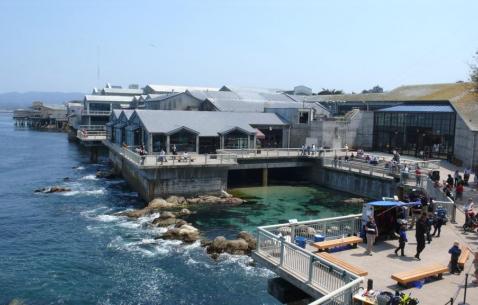 Best Time To Go To Monterey
Planning a trip to Monterey? Wondering what exactly is the best time to visit Monterey? Don't worry! Monterey usually has mild summers and chilly winters. It also receives heavy rainfall during the months from November to April.
The best time to visit Monterey is in April-May, thanks to the annual gastronomy festivals and California Roots Music and Arts Festival.
Here's a monthwise information about the climatic conditions in Monterey.
June to September: This is the time when the weather in Monterey is warmest. This period is also considered to be peak time to visit Monterey. The reason being many car enthusiasts visit the place.
October-March: Even if this period is considered to be off season, but during the months of October-March, there are many events which are organised. The Carmel International Film Festival and The AT&T Pebble Beach National Pro-Am, to name a few.
April-May: This period is the best time to visit Monterey because the temperature is warm and perfect to explore this place. With less crowd, during this period, Monterey sees a host variety of events like the Pebble Beach Food & Wine and the Artichoke Festival in Castroville.
Best time to go to Monterey Attractions

: Everyday 2:00 PM - 5:00 PM
: Everyday 2:00 PM - 5:00 PM
: Everyday 2:00 PM - 5:00 PM
: Everyday 2:00 PM - 5:00 PM
: Everyday 2:00 PM - 5:00 PM
: Everyday 2:00 PM - 5:00 PM
: Everyday 2:00 PM - 5:00 PM
: Everyday 2:00 PM - 5:00 PM
: Everyday 2:00 PM - 5:00 PM
: Everyday 2:00 PM - 5:00 PM
: Everyday 2:00 PM - 5:00 PM
: Everyday 2:00 PM - 5:00 PM

: Everyday 24 Hrs
: Everyday 24 Hrs
: Everyday 24 Hrs
: Everyday 24 Hrs
: Everyday 24 Hrs
: Everyday 24 Hrs
: Everyday 24 Hrs
: Everyday 24 Hrs
: Everyday 24 Hrs
: Everyday 24 Hrs
: Everyday 24 Hrs
: Everyday 24 Hrs

: Everyday 11:00 AM - 7:00 PM
: Everyday 11:00 AM - 7:00 PM
: Everyday 11:00 AM - 7:00 PM
: Everyday 11:00 AM - 7:00 PM
: Everyday 11:00 AM - 7:00 PM
: Everyday 11:00 AM - 7:00 PM
: Everyday 11:00 AM - 7:00 PM
: Everyday 11:00 AM - 7:00 PM
: Everyday 11:00 AM - 7:00 PM
: Everyday 11:00 AM - 7:00 PM
: Everyday 11:00 AM - 7:00 PM
: Everyday 11:00 AM - 7:00 PM

: Everyday 11:00 AM - 2:00 PM
: Everyday 11:00 AM - 2:00 PM
: Everyday 11:00 AM - 2:00 PM
: Everyday 11:00 AM - 2:00 PM
: Everyday 11:00 AM - 2:00 PM
: Everyday 11:00 AM - 2:00 PM
: Everyday 11:00 AM - 2:00 PM
: Everyday 11:00 AM - 2:00 PM
: Everyday 11:00 AM - 2:00 PM
: Everyday 11:00 AM - 2:00 PM
: Everyday 11:00 AM - 2:00 PM
: Everyday 11:00 AM - 2:00 PM

: Everyday 4:00 PM - 7:00 PM
: Everyday 4:00 PM - 7:00 PM
: Everyday 4:00 PM - 7:00 PM
: Everyday 4:00 PM - 7:00 PM
: Everyday 4:00 PM - 7:00 PM
: Everyday 4:00 PM - 7:00 PM
: Everyday 4:00 PM - 7:00 PM
: Everyday 4:00 PM - 7:00 PM
: Everyday 4:00 PM - 7:00 PM
: Everyday 4:00 PM - 7:00 PM
: Everyday 4:00 PM - 7:00 PM
: Everyday 4:00 PM - 7:00 PM

: Everyday 10:00 AM - 4:00 PM
: Everyday 10:00 AM - 4:00 PM
: Everyday 10:00 AM - 4:00 PM
: Everyday 10:00 AM - 4:00 PM
: Everyday 10:00 AM - 4:00 PM
: Everyday 10:00 AM - 4:00 PM
: Everyday 10:00 AM - 4:00 PM
: Everyday 10:00 AM - 4:00 PM
: Everyday 10:00 AM - 4:00 PM
: Everyday 10:00 AM - 4:00 PM
: Everyday 10:00 AM - 4:00 PM
: Everyday 10:00 AM - 4:00 PM

: Everyday 3:00 PM - 8:00 PM
: Everyday 3:00 PM - 8:00 PM
: Everyday 3:00 PM - 8:00 PM
: Everyday 3:00 PM - 8:00 PM
: Everyday 3:00 PM - 8:00 PM
: Everyday 3:00 PM - 8:00 PM
: Everyday 3:00 PM - 8:00 PM
: Everyday 3:00 PM - 8:00 PM
: Everyday 3:00 PM - 8:00 PM
: Everyday 3:00 PM - 8:00 PM
: Everyday 3:00 PM - 8:00 PM
: Everyday 3:00 PM - 8:00 PM

: Monday, Thursday, Friday, Saturday, Sunday 11:00 AM - 5:00 PM
: Monday, Thursday, Friday, Saturday, Sunday 11:00 AM - 5:00 PM
: Monday, Thursday, Friday, Saturday, Sunday 11:00 AM - 5:00 PM
: Monday, Thursday, Friday, Saturday, Sunday 11:00 AM - 5:00 PM
: Monday, Thursday, Friday, Saturday, Sunday 11:00 AM - 5:00 PM
: Monday, Thursday, Friday, Saturday, Sunday 11:00 AM - 5:00 PM
: Monday, Thursday, Friday, Saturday, Sunday 11:00 AM - 5:00 PM
: Monday, Thursday, Friday, Saturday, Sunday 11:00 AM - 5:00 PM
: Monday, Thursday, Friday, Saturday, Sunday 11:00 AM - 5:00 PM
: Monday, Thursday, Friday, Saturday, Sunday 11:00 AM - 5:00 PM
: Monday, Thursday, Friday, Saturday, Sunday 11:00 AM - 5:00 PM
: Monday, Thursday, Friday, Saturday, Sunday 11:00 AM - 5:00 PM

: Everyday 8:00 AM - 5:00 PM
: Everyday 8:00 AM - 5:00 PM
: Everyday 8:00 AM - 5:00 PM
: Everyday 8:00 AM - 5:00 PM
: Everyday 8:00 AM - 5:00 PM
: Everyday 8:00 AM - 5:00 PM
: Everyday 8:00 AM - 5:00 PM
: Everyday 8:00 AM - 5:00 PM
: Everyday 8:00 AM - 5:00 PM
: Everyday 8:00 AM - 5:00 PM
: Everyday 8:00 AM - 5:00 PM
: Everyday 8:00 AM - 5:00 PM

: Wednesday to Sunday 8:00 AM - 4:00 PM
: Wednesday to Sunday 8:00 AM - 4:00 PM
: Wednesday to Sunday 8:00 AM - 4:00 PM
: Wednesday to Sunday 8:00 AM - 4:00 PM
: Wednesday to Sunday 8:00 AM - 4:00 PM
: Wednesday to Sunday 8:00 AM - 4:00 PM
: Wednesday to Sunday 8:00 AM - 4:00 PM
: Wednesday to Sunday 8:00 AM - 4:00 PM
: Wednesday to Sunday 8:00 AM - 4:00 PM
: Wednesday to Sunday 8:00 AM - 4:00 PM
: Wednesday to Sunday 8:00 AM - 4:00 PM
: Wednesday to Sunday 8:00 AM - 4:00 PM

: Everyday 10:00 AM - 3:00 PM
: Everyday 10:00 AM - 3:00 PM
: Everyday 10:00 AM - 3:00 PM
: Everyday 10:00 AM - 3:00 PM
: Everyday 10:00 AM - 3:00 PM
: Everyday 10:00 AM - 3:00 PM
: Everyday 10:00 AM - 3:00 PM
: Everyday 10:00 AM - 3:00 PM
: Everyday 10:00 AM - 3:00 PM
: Everyday 10:00 AM - 3:00 PM
: Everyday 10:00 AM - 3:00 PM
: Everyday 10:00 AM - 3:00 PM

: Tuesday to Saturday 10:00 AM - 4:00 PM; Sunday 10:00 AM - 4:00 PM
: Tuesday to Saturday 10:00 AM - 4:00 PM; Sunday 10:00 AM - 4:00 PM
: Tuesday to Saturday 10:00 AM - 4:00 PM; Sunday 10:00 AM - 4:00 PM
: Tuesday to Saturday 10:00 AM - 4:00 PM; Sunday 10:00 AM - 4:00 PM
: Tuesday to Saturday 10:00 AM - 4:00 PM; Sunday 10:00 AM - 4:00 PM
: Tuesday to Saturday 10:00 AM - 4:00 PM; Sunday 10:00 AM - 4:00 PM
: Tuesday to Saturday 10:00 AM - 4:00 PM; Sunday 10:00 AM - 4:00 PM
: Tuesday to Saturday 10:00 AM - 4:00 PM; Sunday 10:00 AM - 4:00 PM
: Tuesday to Saturday 10:00 AM - 4:00 PM; Sunday 10:00 AM - 4:00 PM
: Tuesday to Saturday 10:00 AM - 4:00 PM; Sunday 10:00 AM - 4:00 PM
: Tuesday to Saturday 10:00 AM - 4:00 PM; Sunday 10:00 AM - 4:00 PM
: Tuesday to Saturday 10:00 AM - 4:00 PM; Sunday 10:00 AM - 4:00 PM

: Monday, Thursday, Friday, Saturday, Sunday 11:00 AM - 4:00 PM
: Monday, Thursday, Friday, Saturday, Sunday 11:00 AM - 4:00 PM
: Monday, Thursday, Friday, Saturday, Sunday 11:00 AM - 4:00 PM
: Monday, Thursday, Friday, Saturday, Sunday 11:00 AM - 4:00 PM
: Monday, Thursday, Friday, Saturday, Sunday 11:00 AM - 4:00 PM
: Monday, Thursday, Friday, Saturday, Sunday 11:00 AM - 4:00 PM
: Monday, Thursday, Friday, Saturday, Sunday 11:00 AM - 4:00 PM
: Monday, Thursday, Friday, Saturday, Sunday 11:00 AM - 4:00 PM
: Monday, Thursday, Friday, Saturday, Sunday 11:00 AM - 4:00 PM
: Monday, Thursday, Friday, Saturday, Sunday 11:00 AM - 4:00 PM
: Monday, Thursday, Friday, Saturday, Sunday 11:00 AM - 4:00 PM
: Monday, Thursday, Friday, Saturday, Sunday 11:00 AM - 4:00 PM

: Everyday 3:00 PM - 8:00 PM
: Everyday 3:00 PM - 8:00 PM
: Everyday 3:00 PM - 8:00 PM
: Everyday 3:00 PM - 8:00 PM
: Everyday 3:00 PM - 8:00 PM
: Everyday 3:00 PM - 8:00 PM
: Everyday 3:00 PM - 8:00 PM
: Everyday 3:00 PM - 8:00 PM
: Everyday 3:00 PM - 8:00 PM
: Everyday 3:00 PM - 8:00 PM
: Everyday 3:00 PM - 8:00 PM
: Everyday 3:00 PM - 8:00 PM

: Everyday 7:00 AM - 7:00 PM
: Everyday 7:00 AM - 7:00 PM
: Everyday 7:00 AM - 7:00 PM
: Everyday 7:00 AM - 7:00 PM
: Everyday 7:00 AM - 7:00 PM
: Everyday 7:00 AM - 7:00 PM
: Everyday 7:00 AM - 7:00 PM
: Everyday 7:00 AM - 7:00 PM
: Everyday 7:00 AM - 7:00 PM
: Everyday 7:00 AM - 7:00 PM
: Everyday 7:00 AM - 7:00 PM
: Everyday 7:00 AM - 7:00 PM

: Everyday 9:00 AM - 7:00 PM
: Everyday 9:00 AM - 7:00 PM
: Everyday 9:00 AM - 7:00 PM
: Everyday 9:00 AM - 7:00 PM
: Everyday 9:00 AM - 7:00 PM
: Everyday 9:00 AM - 7:00 PM
: Everyday 9:00 AM - 7:00 PM
: Everyday 9:00 AM - 7:00 PM
: Everyday 9:00 AM - 7:00 PM
: Everyday 9:00 AM - 7:00 PM
: Everyday 9:00 AM - 7:00 PM
: Everyday 9:00 AM - 7:00 PM