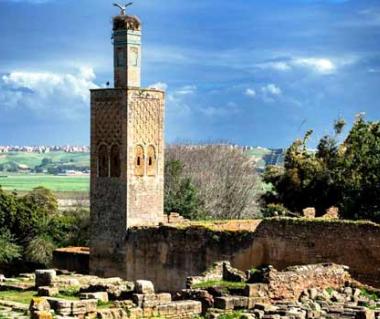 Morocco Trip Planner
Plan your customized trip plan for Morocco. Choose from Top Toursim cities and tourist attarctions of Morocco using trip planner.
Morocco Overview
About:
From the land of Lawrence of Arabia and The Jewel of The Nile, the continent of Africa brings you yet another exotic travel destination. The mere mention of Morocco paints a picture of spice-scented markets and vast expenses of the Sahara desert. Known as one of the most religiously tolerant countries of the continent, you'll see for yourself as you come across the plethora of places of religious interests ranging from a mosque to a synagogue.
And how can we forget the aromatic spices that are home to the land of the dunes, the markets where like they show in the cartoons, a single whiff is more than enough to draw us to the stalls. Needless to say, your taste buds are in for a treat and the local cuisine is something you can tick off your bucket list.
Be it the European capital of Rabat or the romance that is associated with Casablanca, Morocco has the snow sand and everything in between.
Best Time to Visit:
Morocco, in a way, can be visited any time of the year. Being a part of the Saharan desert belt, the weather cycle is in a way set in sand. The best time to vacation in Morocco is either the spring or the fall. March and April see clear blue skies and a blooming blanketed landscape. Depending on what sort of vacation you're planning to have, winter is the time to explore the desert and the summer is for the high Atlas. September-December see a pleasant weather and is the second peak tourist season of the year.
When you're planning a trip to Morocco, try and avoid the school holidays and of course the Ramadan holidays.
How to Get There & Around:
Getting There
There are some nationalities that require a visa to enter Morocco. Check with the Moroccan Embassy whether or not you need to apply for a visa prior to your arrival. Most international travelers prefer to land directly at whatever city they're going to first see. Flights from all over the world fly rather frequently to the cities of Morocco.
Getting Around
Trains are quite efficient but somewhat limited. Take the trains to whatever stops you can as they are cheaper and time saving.
Luxury buses are another way to go that are privately owned and operated and run to a lot more places that a train would. Some bus services do have a combined rail and bus ticket, so you could consider buying those. Also, remember that you pay for your baggage over and above the ticket.
Local buses too are available, but unless you're one of those tough travelers, local run buses aren't so recommended.
There are two types of taxis in Morocco; petit and grand taxis. Petit are ideal for travelling within the city as they aren't allowed to cross city borders. The Grand taxis are generally hired for long distance travel for a fixed price. This is a shared taxi where the passengers split the fare equally.
Must See:
Hassan II Mosque: The Hassan II Mosque is the 7th largest mosque of the world and the biggest of the country. It's said that the architectural heritage of Morocco began with the construction of this mosque. With minarets that stand some 700 feet off the ground and the capacity to house around 95,000 followers inside and outside collectively, the Hassan II Mosque is not to be missed.
Museum of Moroccan Judaism: Morocco prides itself in being a tolerant and accommodating land when it comes to faiths and beliefs. No other Muslim dominant land would so beautifully preserve and showcase any other religion as the Museum of Moroccan Judaism. With over 2000 years of history behind them, the museum does well to display the traditions, culture and way of life of the Jews in Morocco.
Rabat Archaeological Museum: The Archaeological Museum in Rabat is the best place to visit to know the history of Morocco. All the exhibits are artefacts excavated in Morocco. Even though the displays are labeled in Arabic and French, it's an interesting visit to see the museum's prehistoric and pre-Islamic collections.
Ibn Danan Synagogue: This 17th century synagogue was restored in 1999 under the flagship of the UNESCO. Built by a wealthy merchant, the architecture of the synagogue is not all that impressive; you'll cross it if you're not looking for it. Don't be fooled by its outward appearance though. The insides are just as impressive as the outside isn't.
Festivals and Events:
Festival of Sufi Culture (April): Sufi music is loved by one and all; a kind of spiritual tinge to the music enraptures us all. Kicked off in 2007, the Festival of Sufi Culture held at Fes, is one of the most awaited events of the year. Lectures, seminars topped with performances are just some of the alluring factors of the event.
Assilah Festival (July): Every year, for around three weeks in July, the town of Assilah is brimming with talent and activity. Playing host to over 200,000 spectators and a plethora of artists, musicians, performers etc, this 3 decade old tradition attracts more and more numbers every year.
Festival of Popular Art (July): Morocco in July is nothing if you haven't seen the street theatre that throngs the city of the Marrakech! Just walk around the Palais el-Badi and let the performers wow you with fortune tellers, snake charmers, Berber musicians and so much more.
International Film Festival (December): For a week in December, Marrakech is a star-studded town. The International Film Festival attracts quite a crowd and a lot of known and acclaimed faces as well. Showcasing films from all over the world, the film festival is not something you'd want to miss.
Travel Tips:
Morocco is a relatively safe place and apart from getting pick-pocketed, there's isn't any other crime you need to be worried about.
Keep your electronics and wallet in your front pockets where you can see and easily access them.
If you're thinking of going for a swim in the ocean, don't go alone and never leave your belongings with strangers as they might flee with your stuff.
If you're a woman travelling alone, you're most likely to get leered at and may be followed for a block or two. Either ignore it or inform a police officer.
Being pestered by road side vendors and hawkers is not an unusual thing. Firmly and politely turn them down, avoid eye contact and continue your way; they'll give up eventually.
Searching for something specific?