Best Time To Visit Mount Abu
Explore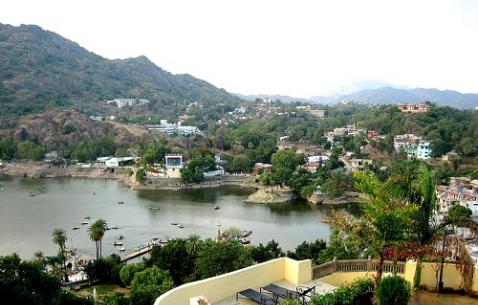 Best Time To Go To Mount Abu
Mount Abu is a year round destination and can be visited throughout the year but it definitely has its season.
Winter(November to February): During this period, it's winter in Mount Abu. Even though the weather is not extreme but still it is cold. Honeymoon couples prefer visiting Mount Abu during these months.
Summer(March to June): In summer season, the weather does not rise more than 33 degree celsius. The evenings are pleasant and perfect to indulge in some outdoor activities like boating and other sightseeing.
Monsoon(July to October): Compared to other seasons, the monsoon is undoubtedly the best season to visit Mount Abu. There is greenery everywhere and that makes it even more ideal to enjoy the various sites.
Best time to go to Mount Abu Attractions

: Everyday - 2:00 PM
: Everyday - 2:00 PM
: Everyday - 2:00 PM
: Everyday - 2:00 PM
: Everyday - 2:00 PM
: Everyday - 2:00 PM
: Everyday - 2:00 PM
: Everyday - 2:00 PM
: Everyday - 2:00 PM
: Everyday - 2:00 PM
: Everyday - 2:00 PM
: Everyday - 2:00 PM

: Everyday 9:00 AM - 3:00 PM
: Everyday 9:00 AM - 3:00 PM
: Everyday 9:00 AM - 3:00 PM
: Everyday 9:00 AM - 3:00 PM
: Everyday 9:00 AM - 3:00 PM
: Everyday 9:00 AM - 3:00 PM
: Everyday 9:00 AM - 3:00 PM
: Everyday 9:00 AM - 3:00 PM
: Everyday 9:00 AM - 3:00 PM
: Everyday 9:00 AM - 3:00 PM
: Everyday 9:00 AM - 3:00 PM
: Everyday 9:00 AM - 3:00 PM

: Everyday 3:00 PM - 7:00 PM
: Everyday 3:00 PM - 7:00 PM
: Everyday 3:00 PM - 7:00 PM
: Everyday 3:00 PM - 7:00 PM
: Everyday 3:00 PM - 7:00 PM
: Everyday 3:00 PM - 7:00 PM
: Everyday 3:00 PM - 7:00 PM
: Everyday 3:00 PM - 7:00 PM
: Everyday 3:00 PM - 7:00 PM
: Everyday 3:00 PM - 7:00 PM
: Everyday 3:00 PM - 7:00 PM
: Everyday 3:00 PM - 7:00 PM

: Everyday 11:00 AM - 3:00 PM
: Everyday 11:00 AM - 3:00 PM
: Everyday 11:00 AM - 3:00 PM
: Everyday 11:00 AM - 3:00 PM
: Everyday 11:00 AM - 3:00 PM
: Everyday 11:00 AM - 3:00 PM
: Everyday 11:00 AM - 3:00 PM
: Everyday 11:00 AM - 3:00 PM
: Everyday 11:00 AM - 3:00 PM
: Everyday 11:00 AM - 3:00 PM
: Everyday 11:00 AM - 3:00 PM
: Everyday 11:00 AM - 3:00 PM

: Everyday 8:00 AM - 10:00 AM
: Everyday 8:00 AM - 10:00 AM
: Everyday 8:00 AM - 10:00 AM
: Everyday 8:00 AM - 10:00 AM
: Everyday 8:00 AM - 10:00 AM
: Everyday 8:00 AM - 10:00 AM
: Everyday 8:00 AM - 10:00 AM
: Everyday 8:00 AM - 10:00 AM
: Everyday 8:00 AM - 10:00 AM
: Everyday 8:00 AM - 10:00 AM
: Everyday 8:00 AM - 10:00 AM
: Everyday 8:00 AM - 10:00 AM

: Everyday 11:00 AM - 3:00 PM
: Everyday 11:00 AM - 3:00 PM
: Everyday 11:00 AM - 3:00 PM
: Everyday 11:00 AM - 3:00 PM
: Everyday 11:00 AM - 3:00 PM
: Everyday 11:00 AM - 3:00 PM
: Everyday 11:00 AM - 3:00 PM
: Everyday 11:00 AM - 3:00 PM
: Everyday 11:00 AM - 3:00 PM
: Everyday 11:00 AM - 3:00 PM
: Everyday 11:00 AM - 3:00 PM
: Everyday 11:00 AM - 3:00 PM

: Everyday 11:00 AM - 3:00 PM
: Everyday 11:00 AM - 3:00 PM
: Everyday 11:00 AM - 3:00 PM
: Everyday 11:00 AM - 3:00 PM
: Everyday 11:00 AM - 3:00 PM
: Everyday 11:00 AM - 3:00 PM
: Everyday 11:00 AM - 3:00 PM
: Everyday 11:00 AM - 3:00 PM
: Everyday 11:00 AM - 3:00 PM
: Everyday 11:00 AM - 3:00 PM
: Everyday 11:00 AM - 3:00 PM
: Everyday 11:00 AM - 3:00 PM

: Everyday 2:00 PM - 5:00 PM
: Everyday 2:00 PM - 5:00 PM
: Everyday 2:00 PM - 5:00 PM
: Everyday 2:00 PM - 5:00 PM
: Everyday 2:00 PM - 5:00 PM
: Everyday 2:00 PM - 5:00 PM
: Everyday 2:00 PM - 5:00 PM
: Everyday 2:00 PM - 5:00 PM
: Everyday 2:00 PM - 5:00 PM
: Everyday 2:00 PM - 5:00 PM
: Everyday 2:00 PM - 5:00 PM
: Everyday 2:00 PM - 5:00 PM

: Everyday 9:00 AM - 2:00 PM
: Everyday 9:00 AM - 2:00 PM
: Everyday 9:00 AM - 2:00 PM
: Everyday 9:00 AM - 2:00 PM
: Everyday 9:00 AM - 2:00 PM
: Everyday 9:00 AM - 2:00 PM
: Everyday 9:00 AM - 2:00 PM
: Everyday 9:00 AM - 2:00 PM
: Everyday 9:00 AM - 2:00 PM
: Everyday 9:00 AM - 2:00 PM
: Everyday 9:00 AM - 2:00 PM
: Everyday 9:00 AM - 2:00 PM

: Everyday 9:30 AM - 5:30 PM
: Everyday 9:30 AM - 5:30 PM
: Everyday 9:30 AM - 5:30 PM
: Everyday 9:30 AM - 5:30 PM
: Everyday 9:30 AM - 5:30 PM
: Everyday 9:30 AM - 5:30 PM
: Everyday 9:30 AM - 5:30 PM
: Everyday 9:30 AM - 5:30 PM
: Everyday 9:30 AM - 5:30 PM
: Everyday 9:30 AM - 5:30 PM
: Everyday 9:30 AM - 5:30 PM
: Everyday 9:30 AM - 5:30 PM

: Everyday 4:00 PM - 6:00 PM
: Everyday 4:00 PM - 6:00 PM
: Everyday 4:00 PM - 6:00 PM
: Everyday 4:00 PM - 6:00 PM
: Everyday 4:00 PM - 6:00 PM
: Everyday 4:00 PM - 6:00 PM
: Everyday 4:00 PM - 6:00 PM
: Everyday 4:00 PM - 6:00 PM
: Everyday 4:00 PM - 6:00 PM
: Everyday 4:00 PM - 6:00 PM
: Everyday 4:00 PM - 6:00 PM
: Everyday 4:00 PM - 6:00 PM

: Everyday 11:00 AM - 2:00 PM
: Everyday 11:00 AM - 2:00 PM
: Everyday 11:00 AM - 2:00 PM
: Everyday 11:00 AM - 2:00 PM
: Everyday 11:00 AM - 2:00 PM
: Everyday 11:00 AM - 2:00 PM
: Everyday 11:00 AM - 2:00 PM
: Everyday 11:00 AM - 2:00 PM
: Everyday 11:00 AM - 2:00 PM
: Everyday 11:00 AM - 2:00 PM
: Everyday 11:00 AM - 2:00 PM
: Everyday 11:00 AM - 2:00 PM

: Monday to Saturday 3:20 PM - 3:30 PM
: Monday to Saturday 3:20 PM - 3:30 PM
: Monday to Saturday 3:20 PM - 3:30 PM
: Monday to Saturday 3:20 PM - 3:30 PM
: Monday to Saturday 3:20 PM - 3:30 PM
: Monday to Saturday 3:20 PM - 3:30 PM
: Monday to Saturday 3:20 PM - 3:30 PM
: Monday to Saturday 3:20 PM - 3:30 PM
: Monday to Saturday 3:20 PM - 3:30 PM
: Monday to Saturday 3:20 PM - 3:30 PM
: Monday to Saturday 3:20 PM - 3:30 PM
: Monday to Saturday 3:20 PM - 3:30 PM

: Everyday 24 Hrs
: Everyday 24 Hrs
: Everyday 24 Hrs
: Everyday 24 Hrs
: Everyday 24 Hrs
: Everyday 24 Hrs
: Everyday 24 Hrs
: Everyday 24 Hrs
: Everyday 24 Hrs
: Everyday 24 Hrs
: Everyday 24 Hrs
: Everyday 24 Hrs

: Everyday 24 Hrs
: Everyday 24 Hrs
: Everyday 24 Hrs
: Everyday 24 Hrs
: Everyday 24 Hrs
: Everyday 24 Hrs
: Everyday 24 Hrs
: Everyday 24 Hrs
: Everyday 24 Hrs
: Everyday 24 Hrs
: Everyday 24 Hrs
: Everyday 24 Hrs

: Everyday 24 Hrs
: Everyday 24 Hrs
: Everyday 24 Hrs
: Everyday 24 Hrs
: Everyday 24 Hrs
: Everyday 24 Hrs
: Everyday 24 Hrs
: Everyday 24 Hrs
: Everyday 24 Hrs
: Everyday 24 Hrs
: Everyday 24 Hrs
: Everyday 24 Hrs

: Everyday 6:00 AM - 10:00 PM
: Everyday 6:00 AM - 10:00 PM
: Everyday 6:00 AM - 10:00 PM
: Everyday 6:00 AM - 10:00 PM
: Everyday 6:00 AM - 10:00 PM
: Everyday 6:00 AM - 10:00 PM
: Everyday 6:00 AM - 10:00 PM
: Everyday 6:00 AM - 10:00 PM
: Everyday 6:00 AM - 10:00 PM
: Everyday 6:00 AM - 10:00 PM
: Everyday 6:00 AM - 10:00 PM
: Everyday 6:00 AM - 10:00 PM

: Everyday 24 Hrs
: Everyday 24 Hrs
: Everyday 24 Hrs
: Everyday 24 Hrs
: Everyday 24 Hrs
: Everyday 24 Hrs
: Everyday 24 Hrs
: Everyday 24 Hrs
: Everyday 24 Hrs
: Everyday 24 Hrs
: Everyday 24 Hrs
: Everyday 24 Hrs

: Everyday 9:30 AM - 8:00 PM
: Everyday 9:30 AM - 8:00 PM
: Everyday 9:30 AM - 8:00 PM
: Everyday 9:30 AM - 8:00 PM
: Everyday 9:30 AM - 8:00 PM
: Everyday 9:30 AM - 8:00 PM
: Everyday 9:30 AM - 8:00 PM
: Everyday 9:30 AM - 8:00 PM
: Everyday 9:30 AM - 8:00 PM
: Everyday 9:30 AM - 8:00 PM
: Everyday 9:30 AM - 8:00 PM
: Everyday 9:30 AM - 8:00 PM

: Everyday 00:1 AM - :00 AM
: Everyday 00:1 AM - :00 AM
: Everyday 00:1 AM - :00 AM
: Everyday 00:1 AM - :00 AM
: Everyday 00:1 AM - :00 AM
: Everyday 00:1 AM - :00 AM
: Everyday 00:1 AM - :00 AM
: Everyday 00:1 AM - :00 AM
: Everyday 00:1 AM - :00 AM
: Everyday 00:1 AM - :00 AM
: Everyday 00:1 AM - :00 AM
: Everyday 00:1 AM - :00 AM