Best Time To Visit Munnar
Explore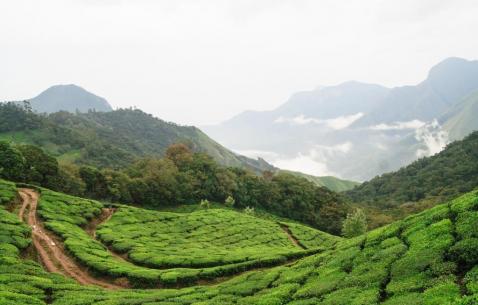 Best Time To Go To Munnar
Munnar is pleasant most of the year and can be visited throughout the year. Located at an altitude of 600 metres above sea level, Munnar boasts a cool and pleasant weather during the summer months that acts as a perfect. The winters are extremely cold and it is essential to carry woollen clothing. The monsoon season is considered to be the off season in Munnar and must be avoided.
Summer (March to May) – The summer months boast a pleasant weather with temperatures ranging between 19 to 35 degrees Celsius. The evenings can be chilli so remember to carry light sweaters. The hill station shines brightly during the summer months boasting its lush greenery, blooming flowers and sparkling waterfalls. The summer is a busy time in the city and one can find the town bustling with tourists and locals.
Monsoon (June to September) – Most travellers tend to avoid visiting Munnar during monsoons. The precipitation levels during the monsoon months increase significantly. The continuous downpour from the heavens makes it difficult to engage in sightseeing tours, outdoor activities and adventure sports. However, if you are looking for a quiet and relaxed vacation, monsoons are the perfect time to go. The lush green foliage and the mist makes visiting Munnar during the monsoons a unique surreal experience. The monsoons are the off season in Munnar and this is the best time to get cheaper deals and discounts.
Winters (December to February) - Munnar experiences cold winters and the town sees a significant drop in mercury, with daytime temperatures falling as low as 10 degrees Celsius. The evenings can get colder so it is essential to carry warm clothing. The winter is a great time to visit Munnar as the weather remains pleasant and one can engage in sightseeing tours and outdoor activities. The occasional rainfalls cover the town in a mysterious mist, that just adds to the enchanting experience of Munnar. The town is most crowded near Christmas and New Year's.
The best time to visit Munnar would be the winter season (December to Febuary) as the town looks beautiful, the weather is pleasant and one is free to go out and explore the wilderness, indulge in sightseeing tours or take part in outdoor activities. One can even visit Munnar during the summer months.
Best time to go to Munnar Attractions

: Everyday 6:00 AM - 8:00 AM
: Everyday 6:00 AM - 8:00 AM
: Everyday 6:00 AM - 8:00 AM
: Everyday 6:00 AM - 8:00 AM
: Everyday 6:00 AM - 8:00 AM
: Everyday 6:00 AM - 8:00 AM
: Everyday 6:00 AM - 8:00 AM
: Everyday 6:00 AM - 8:00 AM
: Everyday 6:00 AM - 8:00 AM
: Everyday 6:00 AM - 8:00 AM
: Everyday 6:00 AM - 8:00 AM
: Everyday 6:00 AM - 8:00 AM

: Everyday 10:00 AM - 4:00 PM
: Everyday 10:00 AM - 4:00 PM
: Everyday 10:00 AM - 4:00 PM
: Everyday 10:00 AM - 4:00 PM
: Everyday 10:00 AM - 4:00 PM
: Everyday 10:00 AM - 4:00 PM
: Everyday 10:00 AM - 4:00 PM
: Everyday 10:00 AM - 4:00 PM
: Everyday 10:00 AM - 4:00 PM
: Everyday 10:00 AM - 4:00 PM
: Everyday 10:00 AM - 4:00 PM
: Everyday 10:00 AM - 4:00 PM

: Tuesday to Sunday 10:00 AM - 5:00 PM
: Tuesday to Sunday 10:00 AM - 5:00 PM
: Tuesday to Sunday 10:00 AM - 5:00 PM
: Tuesday to Sunday 10:00 AM - 5:00 PM
: Tuesday to Sunday 10:00 AM - 5:00 PM
: Tuesday to Sunday 10:00 AM - 5:00 PM
: Tuesday to Sunday 10:00 AM - 5:00 PM
: Tuesday to Sunday 10:00 AM - 5:00 PM
: Tuesday to Sunday 10:00 AM - 5:00 PM
: Tuesday to Sunday 10:00 AM - 5:00 PM
: Tuesday to Sunday 10:00 AM - 5:00 PM
: Tuesday to Sunday 10:00 AM - 5:00 PM

: Everyday 9:00 AM - 6:00 PM
: Everyday 9:00 AM - 6:00 PM
: Everyday 9:00 AM - 6:00 PM
: Everyday 9:00 AM - 6:00 PM
: Everyday 9:00 AM - 6:00 PM
: Everyday 9:00 AM - 6:00 PM
: Everyday 9:00 AM - 6:00 PM
: Everyday 9:00 AM - 6:00 PM
: Everyday 9:00 AM - 6:00 PM
: Everyday 9:00 AM - 6:00 PM
: Everyday 9:00 AM - 6:00 PM
: Everyday 9:00 AM - 6:00 PM

: Everyday 9:00 AM - 7:00 PM
: Everyday 9:00 AM - 7:00 PM
: Everyday 9:00 AM - 7:00 PM
: Everyday 9:00 AM - 7:00 PM
: Everyday 9:00 AM - 7:00 PM
: Everyday 9:00 AM - 7:00 PM
: Everyday 9:00 AM - 7:00 PM
: Everyday 9:00 AM - 7:00 PM
: Everyday 9:00 AM - 7:00 PM
: Everyday 9:00 AM - 7:00 PM
: Everyday 9:00 AM - 7:00 PM
: Everyday 9:00 AM - 7:00 PM

: Everyday 5:00 PM - 7:00 PM
: Everyday 5:00 PM - 7:00 PM
: Everyday 5:00 PM - 7:00 PM
: Everyday 5:00 PM - 7:00 PM
: Everyday 5:00 PM - 7:00 PM
: Everyday 5:00 PM - 7:00 PM
: Everyday 5:00 PM - 7:00 PM
: Everyday 5:00 PM - 7:00 PM
: Everyday 5:00 PM - 7:00 PM
: Everyday 5:00 PM - 7:00 PM
: Everyday 5:00 PM - 7:00 PM
: Everyday 5:00 PM - 7:00 PM

: Everyday 24 Hrs
: Everyday 24 Hrs
: Everyday 24 Hrs
: Everyday 24 Hrs
: Everyday 24 Hrs
: Everyday 24 Hrs
: Everyday 24 Hrs
: Everyday 24 Hrs
: Everyday 24 Hrs
: Everyday 24 Hrs
: Everyday 24 Hrs
: Everyday 24 Hrs

: Everyday 9:00 AM - 4:00 PM
: Everyday 9:00 AM - 4:00 PM
: Everyday 9:00 AM - 4:00 PM
: Everyday 9:00 AM - 4:00 PM
: Everyday 9:00 AM - 4:00 PM
: Everyday 9:00 AM - 4:00 PM
: Everyday 9:00 AM - 4:00 PM
: Everyday 9:00 AM - 4:00 PM
: Everyday 9:00 AM - 4:00 PM
: Everyday 9:00 AM - 4:00 PM
: Everyday 9:00 AM - 4:00 PM
: Everyday 9:00 AM - 4:00 PM

: Everyday 10:00 AM - 7:00 PM
: Everyday 10:00 AM - 7:00 PM
: Everyday 10:00 AM - 7:00 PM
: Everyday 10:00 AM - 7:00 PM
: Everyday 10:00 AM - 7:00 PM
: Everyday 10:00 AM - 7:00 PM
: Everyday 10:00 AM - 7:00 PM
: Everyday 10:00 AM - 7:00 PM
: Everyday 10:00 AM - 7:00 PM
: Everyday 10:00 AM - 7:00 PM
: Everyday 10:00 AM - 7:00 PM
: Everyday 10:00 AM - 7:00 PM

: Everyday 10:00 AM - 5:00 PM
: Everyday 10:00 AM - 5:00 PM
: Everyday 10:00 AM - 5:00 PM
: Everyday 10:00 AM - 5:00 PM
: Everyday 10:00 AM - 5:00 PM
: Everyday 10:00 AM - 5:00 PM
: Everyday 10:00 AM - 5:00 PM
: Everyday 10:00 AM - 5:00 PM
: Everyday 10:00 AM - 5:00 PM
: Everyday 10:00 AM - 5:00 PM
: Everyday 10:00 AM - 5:00 PM
: Everyday 10:00 AM - 5:00 PM

: Monday to Saturday 8:00 AM - 5:00 PM
: Monday to Saturday 8:00 AM - 5:00 PM
: Monday to Saturday 8:00 AM - 5:00 PM
: Monday to Saturday 8:00 AM - 5:00 PM
: Monday to Saturday 8:00 AM - 5:00 PM
: Monday to Saturday 8:00 AM - 5:00 PM
: Monday to Saturday 8:00 AM - 5:00 PM
: Monday to Saturday 8:00 AM - 5:00 PM
: Monday to Saturday 8:00 AM - 5:00 PM
: Monday to Saturday 8:00 AM - 5:00 PM
: Monday to Saturday 8:00 AM - 5:00 PM
: Monday to Saturday 8:00 AM - 5:00 PM

: Everyday 10:00 AM - 5:00 PM
: Everyday 10:00 AM - 5:00 PM
: Everyday 10:00 AM - 5:00 PM
: Everyday 10:00 AM - 5:00 PM
: Everyday 10:00 AM - 5:00 PM
: Everyday 10:00 AM - 5:00 PM
: Everyday 10:00 AM - 5:00 PM
: Everyday 10:00 AM - 5:00 PM
: Everyday 10:00 AM - 5:00 PM
: Everyday 10:00 AM - 5:00 PM
: Everyday 10:00 AM - 5:00 PM
: Everyday 10:00 AM - 5:00 PM

: Everyday 7:00 AM - 5:00 PM
: Everyday 7:00 AM - 5:00 PM
: Everyday 7:00 AM - 5:00 PM
: Everyday 7:00 AM - 5:00 PM
: Everyday 7:00 AM - 5:00 PM
: Everyday 7:00 AM - 5:00 PM
: Everyday 7:00 AM - 5:00 PM
: Everyday 7:00 AM - 5:00 PM
: Everyday 7:00 AM - 5:00 PM
: Everyday 7:00 AM - 5:00 PM
: Everyday 7:00 AM - 5:00 PM
: Everyday 7:00 AM - 5:00 PM

: Everyday 9:00 AM - 4:00 PM
: Everyday 9:00 AM - 4:00 PM
: Everyday 9:00 AM - 4:00 PM
: Everyday 9:00 AM - 4:00 PM
: Everyday 9:00 AM - 4:00 PM
: Everyday 9:00 AM - 4:00 PM
: Everyday 9:00 AM - 4:00 PM
: Everyday 9:00 AM - 4:00 PM
: Everyday 9:00 AM - 4:00 PM
: Everyday 9:00 AM - 4:00 PM
: Everyday 9:00 AM - 4:00 PM
: Everyday 9:00 AM - 4:00 PM

: Everyday 9:00 AM - 6:00 PM
: Everyday 9:00 AM - 6:00 PM
: Everyday 9:00 AM - 6:00 PM
: Everyday 9:00 AM - 6:00 PM
: Everyday 9:00 AM - 6:00 PM
: Everyday 9:00 AM - 6:00 PM
: Everyday 9:00 AM - 6:00 PM
: Everyday 9:00 AM - 6:00 PM
: Everyday 9:00 AM - 6:00 PM
: Everyday 9:00 AM - 6:00 PM
: Everyday 9:00 AM - 6:00 PM
: Everyday 9:00 AM - 6:00 PM

: Everyday 7:00 AM - 11:00 AM
: Everyday 7:00 AM - 11:00 AM
: Everyday 7:00 AM - 11:00 AM
: Everyday 7:00 AM - 11:00 AM
: Everyday 7:00 AM - 11:00 AM
: Everyday 7:00 AM - 11:00 AM
: Everyday 7:00 AM - 11:00 AM
: Everyday 7:00 AM - 11:00 AM
: Everyday 7:00 AM - 11:00 AM
: Everyday 7:00 AM - 11:00 AM
: Everyday 7:00 AM - 11:00 AM
: Everyday 7:00 AM - 11:00 AM

: Everyday 8:00 AM - 4:00 PM
: Everyday 8:00 AM - 4:00 PM
: Everyday 8:00 AM - 4:00 PM
: Everyday 8:00 AM - 4:00 PM
: Everyday 8:00 AM - 4:00 PM
: Everyday 8:00 AM - 4:00 PM
: Everyday 8:00 AM - 4:00 PM
: Everyday 8:00 AM - 4:00 PM
: Everyday 8:00 AM - 4:00 PM
: Everyday 8:00 AM - 4:00 PM
: Everyday 8:00 AM - 4:00 PM
: Everyday 8:00 AM - 4:00 PM

: Everyday 9:00 AM - 4:00 PM
: Everyday 9:00 AM - 4:00 PM
: Everyday 9:00 AM - 4:00 PM
: Everyday 9:00 AM - 4:00 PM
: Everyday 9:00 AM - 4:00 PM
: Everyday 9:00 AM - 4:00 PM
: Everyday 9:00 AM - 4:00 PM
: Everyday 9:00 AM - 4:00 PM
: Everyday 9:00 AM - 4:00 PM
: Everyday 9:00 AM - 4:00 PM
: Everyday 9:00 AM - 4:00 PM
: Everyday 9:00 AM - 4:00 PM

: Everyday 7:00 AM - 6:00 PM
: Everyday 7:00 AM - 6:00 PM
: Everyday 7:00 AM - 6:00 PM
: Everyday 7:00 AM - 6:00 PM
: Everyday 7:00 AM - 6:00 PM
: Everyday 7:00 AM - 6:00 PM
: Everyday 7:00 AM - 6:00 PM
: Everyday 7:00 AM - 6:00 PM
: Everyday 7:00 AM - 6:00 PM
: Everyday 7:00 AM - 6:00 PM
: Everyday 7:00 AM - 6:00 PM
: Everyday 7:00 AM - 6:00 PM

: Everyday 8:00 AM - 1:00 PM
: Everyday 8:00 AM - 1:00 PM
: Everyday 8:00 AM - 1:00 PM
: Everyday 8:00 AM - 1:00 PM
: Everyday 8:00 AM - 1:00 PM
: Everyday 8:00 AM - 1:00 PM
: Everyday 8:00 AM - 1:00 PM
: Everyday 8:00 AM - 1:00 PM
: Everyday 8:00 AM - 1:00 PM
: Everyday 8:00 AM - 1:00 PM
: Everyday 8:00 AM - 1:00 PM
: Everyday 8:00 AM - 1:00 PM

: Everyday 10:00 AM - 5:00 PM
: Everyday 10:00 AM - 5:00 PM
: Everyday 10:00 AM - 5:00 PM
: Everyday 10:00 AM - 5:00 PM
: Everyday 10:00 AM - 5:00 PM
: Everyday 10:00 AM - 5:00 PM
: Everyday 10:00 AM - 5:00 PM
: Everyday 10:00 AM - 5:00 PM
: Everyday 10:00 AM - 5:00 PM
: Everyday 10:00 AM - 5:00 PM
: Everyday 10:00 AM - 5:00 PM
: Everyday 10:00 AM - 5:00 PM

: Everyday 10:00 AM - 5:00 PM
: Everyday 10:00 AM - 5:00 PM
: Everyday 10:00 AM - 5:00 PM
: Everyday 10:00 AM - 5:00 PM
: Everyday 10:00 AM - 5:00 PM
: Everyday 10:00 AM - 5:00 PM
: Everyday 10:00 AM - 5:00 PM
: Everyday 10:00 AM - 5:00 PM
: Everyday 10:00 AM - 5:00 PM
: Everyday 10:00 AM - 5:00 PM
: Everyday 10:00 AM - 5:00 PM
: Everyday 10:00 AM - 5:00 PM

: Everyday 10:00 AM - 2:00 PM
: Everyday 10:00 AM - 2:00 PM
: Everyday 10:00 AM - 2:00 PM
: Everyday 10:00 AM - 2:00 PM
: Everyday 10:00 AM - 2:00 PM
: Everyday 10:00 AM - 2:00 PM
: Everyday 10:00 AM - 2:00 PM
: Everyday 10:00 AM - 2:00 PM
: Everyday 10:00 AM - 2:00 PM
: Everyday 10:00 AM - 2:00 PM
: Everyday 10:00 AM - 2:00 PM
: Everyday 10:00 AM - 2:00 PM

: Everyday 8:00 AM - 2:00 PM
: Everyday 8:00 AM - 2:00 PM
: Everyday 8:00 AM - 2:00 PM
: Everyday 8:00 AM - 2:00 PM
: Everyday 8:00 AM - 2:00 PM
: Everyday 8:00 AM - 2:00 PM
: Everyday 8:00 AM - 2:00 PM
: Everyday 8:00 AM - 2:00 PM
: Everyday 8:00 AM - 2:00 PM
: Everyday 8:00 AM - 2:00 PM
: Everyday 8:00 AM - 2:00 PM
: Everyday 8:00 AM - 2:00 PM

: Everyday 7:00 AM - 2:00 PM
: Everyday 7:00 AM - 2:00 PM
: Everyday 7:00 AM - 2:00 PM
: Everyday 7:00 AM - 2:00 PM
: Everyday 7:00 AM - 2:00 PM
: Everyday 7:00 AM - 2:00 PM
: Everyday 7:00 AM - 2:00 PM
: Everyday 7:00 AM - 2:00 PM
: Everyday 7:00 AM - 2:00 PM
: Everyday 7:00 AM - 2:00 PM
: Everyday 7:00 AM - 2:00 PM
: Everyday 7:00 AM - 2:00 PM

: Everyday 9:00 AM - 3:00 PM
: Everyday 9:00 AM - 3:00 PM
: Everyday 9:00 AM - 3:00 PM
: Everyday 9:00 AM - 3:00 PM
: Everyday 9:00 AM - 3:00 PM
: Everyday 9:00 AM - 3:00 PM
: Everyday 9:00 AM - 3:00 PM
: Everyday 9:00 AM - 3:00 PM
: Everyday 9:00 AM - 3:00 PM
: Everyday 9:00 AM - 3:00 PM
: Everyday 9:00 AM - 3:00 PM
: Everyday 9:00 AM - 3:00 PM

: Everyday 24 Hrs
: Everyday 24 Hrs
: Everyday 24 Hrs
: Everyday 24 Hrs
: Everyday 24 Hrs
: Everyday 24 Hrs
: Everyday 24 Hrs
: Everyday 24 Hrs
: Everyday 24 Hrs
: Everyday 24 Hrs
: Everyday 24 Hrs
: Everyday 24 Hrs

: Everyday 7:00 AM - 11:00 AM
: Everyday 7:00 AM - 11:00 AM
: Everyday 7:00 AM - 11:00 AM
: Everyday 7:00 AM - 11:00 AM
: Everyday 7:00 AM - 11:00 AM
: Everyday 7:00 AM - 11:00 AM
: Everyday 7:00 AM - 11:00 AM
: Everyday 7:00 AM - 11:00 AM
: Everyday 7:00 AM - 11:00 AM
: Everyday 7:00 AM - 11:00 AM
: Everyday 7:00 AM - 11:00 AM
: Everyday 7:00 AM - 11:00 AM