Oman, a beautiful country, is a part of the Arabian Peninsula. Oman has been promoting tourism over decades and as a result, they have seen a significant high in their country`s tourism from the 2000s. Presently, the tourism industry has become a major part of their nation. Oman has offered lots of tourist attractions, especially on the cultural front.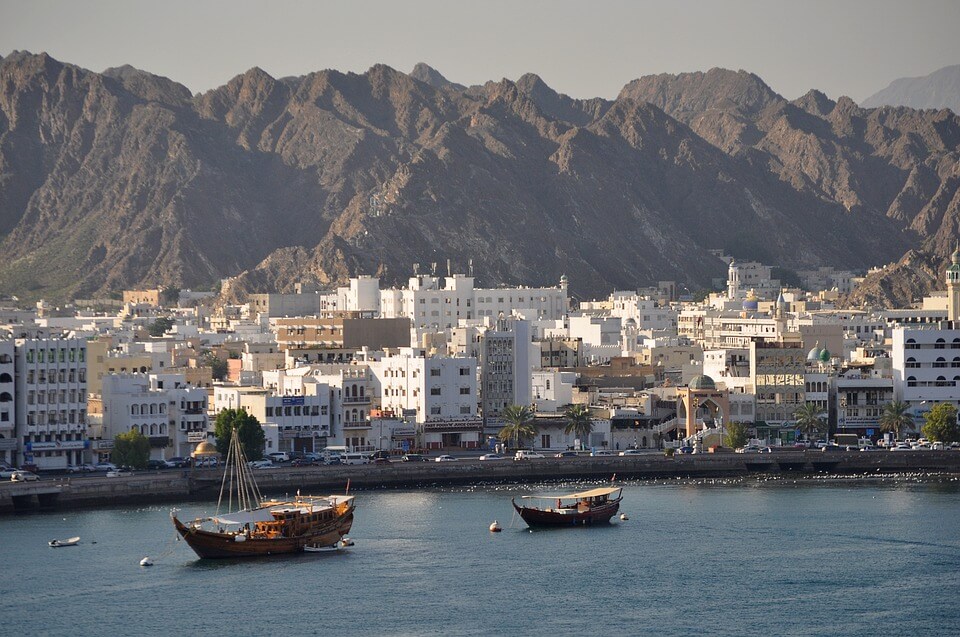 Photo: pixabay.com
Muscat is a popular city in Oman that attracts a lot of tourist crowd and has been designated as the Capital of Arab Tourism in 2012. The historic appeal of the city is exotic to foreign travelers and they love to delve deeper into this realm of Muscat. This Arab city has great religious tolerance and this is what makes it the best place to visit for tourists around the world. The Arabian hospitality and laid-back attitude are reflected in its cities like Muscat.
Here is a list of top tourist attractions and 15 best things to do in Muscat:
1. Imbibe the old city feels
Parts of old Muscat have a very different vibe when compared to the newer developed parts. In the backdrop of barren mountains and surrounded by water bodies, here is where the history of the city resides. Taking a touristy walk around this part of the city will surely help you Muscat better. Al-Mirani fort, Al Alam/Sultan's Palace, and the National Museum are some of the things worthy your visit here.
2. Admire the royalty of Al Alam Palace

Photo: wikimedia.org
The palace and the museum is just a short walk apart. The palace is not accessible to public but can be admired from a distance before proceeding to explore the National Museum.
3. Get educated in National Museum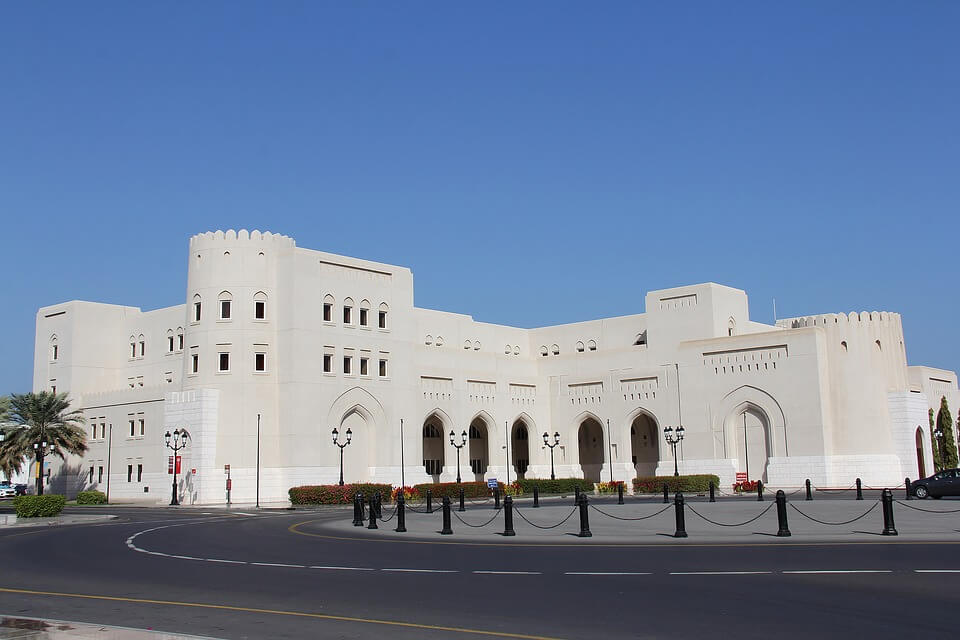 Photo: pixabay.com
The National Museum, situated just opposite to the Al Alam Palace, speaks all about Oman`s history and culture. For people who like to take a dig into their travel destination`s history will find it a worthwhile visit.
4. Know all about Muscat in Gate Museum

Photo: wikimedia.org
This museum concentrates more on Muscat`s history and takes you through the city`s developmental stages over time.
5. Look up-top at the Al-Jailal Fort

Photo: wikimedia.org
Muscat is full of a bunch of forts. If you are traveling around the city aimlessly, you will be able to spot quite a few of them. Even though most of these forts are not open to public access, they architectural beauty can be enjoyed with picture postcard snapshots.
6. Serenity at its best in Mutrah Corniche
Mutrah is the main port that is present in Muscat. The Corniche is a walkway that is built by the water. The complete stretch of walkway takes you to Old Muscat from Mutrah. People rent bicycles near Al-Riyam Park to cover this scenic walkway.
7. Shop your heart out at Mutrah Souq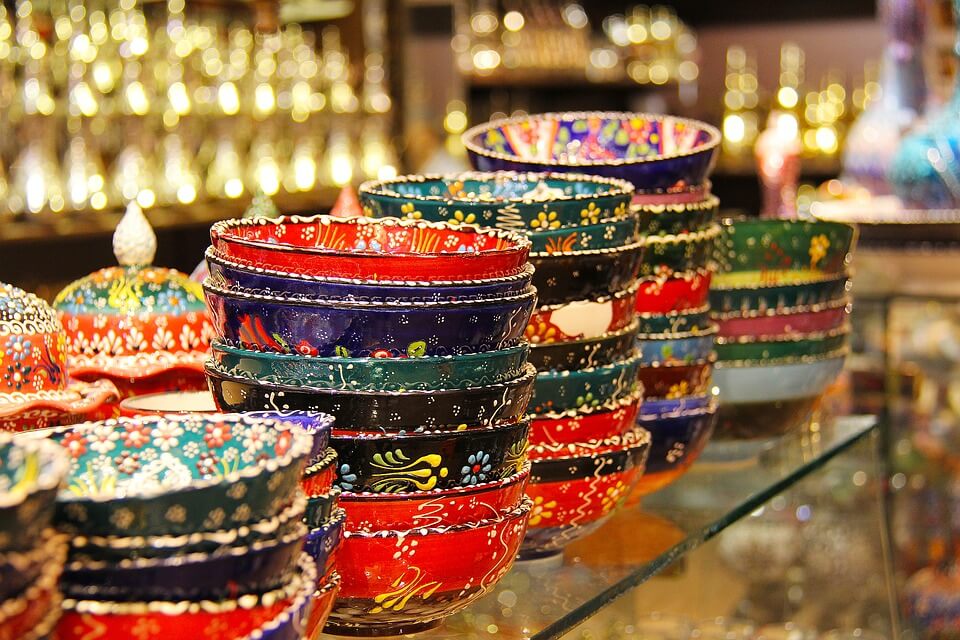 Photo: pixabay.com
This is one of the most popular places to visit in Muscat among locals and travelers alike. To make the most of your experience, it is recommended to visit this souq in the evening since in the morning, not all the stalls stay open. Travels who love to pick up souvenirs and trinkets from their travel destinations must pay a visit to this market of Muscat.
8. Explore the local flavor in Mutrah Fish Market
They say, to experience the actual culture of the place you visit, you must visit the local markets of the place. For seafood lovers who would love to grab a bite of a fresh catch for a sumptuous meal, a visit to this fish market early in the morning is a must. The fishermen display their hard work for sea-food lovers.
9. Bait-Al-Baranda museum will take you back in time
This one is a humble and small museum that dates back Muscat`s history to nearly 750 million years ago. From the very beginning, that is how the tectonic plates shifted to give rise to the mountains around Muscat, one can get to the bottom of it all. For geology and geography lover, a lot of old maps along with their significance can be found in this museum. Also, this museum is unique interactive in enriching you with Muscat knowledge.
10. Relax all you can in Al-Riyam Park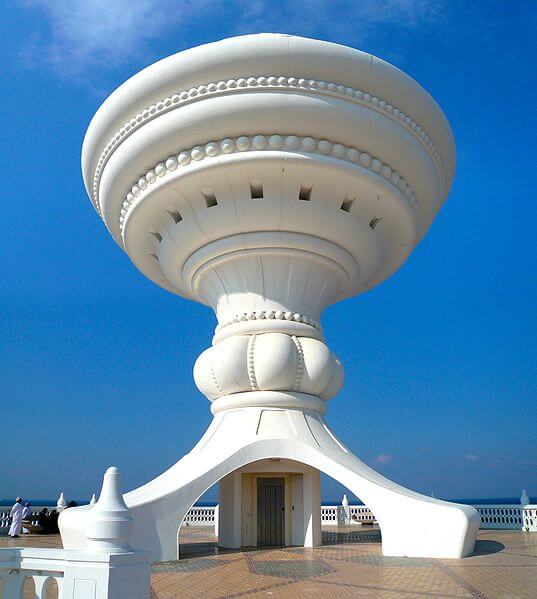 Photo: wikimedia.org
A giant incense burner is the main attraction of this park. Also, this is a kid-friendly park with playground. In the park, a short walk will take you to the giant incense burner from where you can enjoy a breathtaking view of Mutrah.
11. Take a dip in Shatti Al Qurum Beach
Beautiful weather and beautiful beaches defines Muscat in general. This beach is pristine and serene among the beaches in Muscat for people who would like to enjoy a dip and a peaceful tan. The beach is lined with a strip that houses a bunch of restaurants and cafes for you to enjoy a meal and a view.
12. Explore local culture in Royal Opera House
Located in Shatti Al Qurum, you can go to this beautiful Royal Opera House Muscat after the beach. The building itself is an architectural beauty worth having a look at. The shows inside are sought after by the locals too.
13. Take a religious dig in Sultan Qaboos Grand Mosque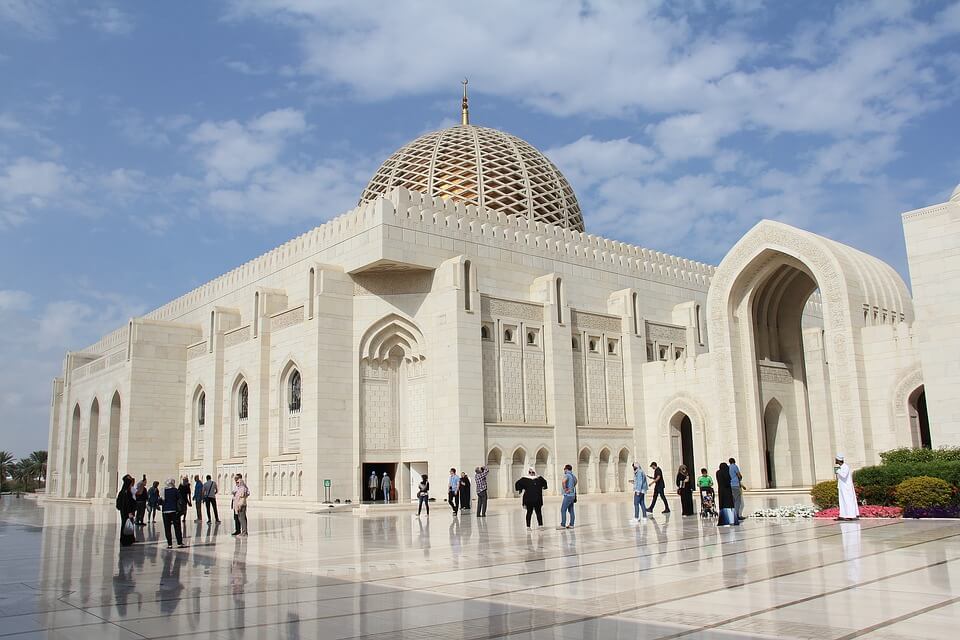 Photo: pixabay.com
The word "grand" did justice to the beauty of this Mosque. It can house 20,000 worshippers at a time in its main prayer hall. The main prayer hall also boasts of having the second largest Persian carpet on its wall. Apparently, this second largest carpet was weaved by 600 women artisans for around four years. This majestic Mosque of Muscat is located on the airport road. So, if you are on a transit in Muscat and looking around for things to do near Muscat airport, you have this grandeur of a mosque to go to.
It is to be noted that this mosque is open to public only from 9 am to 11 am and little kids are not allowed inside the mosque. Also, rules like a dress-code, footwear restrictions and gender segregation need to be followed when inside the mosque premises.
14. Go for a spin in Big Bus Tour from the Mutrah Souq
For lazy travelers who do not like to be the Columbus when in a new place, the best way to get to Muscat would be by this means. The big bus tour covers all the famous tourist spots in Muscat. This hop-on-hop-off city tour is very convenient and time saving for people who have a short stay in Muscat or are looking for things to do in Muscat in one day. Also, the taxi fares in Muscat is sky-high if you would want to go around from one spot to another yourself. The Grand Mosque is however excluded in this bus trip, which needs to be covered separately.
15. Awaken the adventure side of you in Sand dune bashing
The sprawling desert of Oman offers this adrenaline-pumping sport of sand dune bashing in luxury SUVs. Interest tourists who are looking for some fun things to do in Muscat can book themselves in these desert safaris and enjoy a day in the desert.