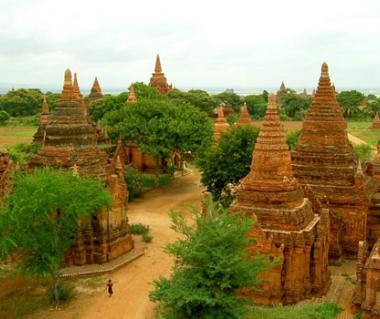 Myanmar Trip Planner
Plan your customized trip plan for Myanmar. Choose from Top Toursim cities and tourist attarctions of Myanmar using trip planner.
Myanmar Overview
Lush, tortured and rich in tradition, Myanmar is one of South East Asia's hardest to tour countries. It's highly unfortunate that long periods of political and military turmoil have left this vibrant country so inaccessible. Still, what little you can see is a treasure.
REASONS To Visit MYANMAR:
The people! Casual, humorous and laid back, the Burmese people are a colourful bunch. Outside of cities, they live close to their lands and haven't changed much over the years. The people are highly friendly and welcoming, especially if you're courteous and have been picking up the Burmese language. Shopping in Burma, you won't find too many luxury brands, but the place is a handicraft haven. And as for the food… let's say it can sometime be an acquired taste.
Nature! You could be at the beaches. You could be at the Inle Lake. You could be trekking through miles of forest or climbing up rock. And at each point this country's natural beauty and lush atmosphere will leave you spell bound. And don't forget, the Southern Myanmar Sea is brilliant for scuba diving.
The History! The 2500 year old golden Shwedagon Pagoda is the largest golden throne in the world. The largest book (and bible) ever created. Mingun Bell, the largest ringing bell in the world. The incredible Golden Rock. The never decaying mummies! The largest man made stone cave. Enough said, now go explore people!
CLIMATE AND BEST TIMES:
It rains a lot in Burma. The most popular tourist season, then, is the dry season between November and February. It's horribly hot between March and May, so definitely avoid going then, unless you're visiting a hill station. Temperatures can reach north of 40ºC in some places! Between July and September, the monsoon rains will try and drown the lands, making it extremely difficult to get around.
GETTING IN:
Getting into Myanmar is usually simple. Apply to the local Myanmar embassy for your visa. The process is simple and only takes a few days in most places. ASEAN and EU countries and the USA are provided with various visas on arrival schemes. Check the embassy website for details. Regular tourist visas are valid for 3 months but only last 28 days post your arrival in the country. This does not extend beyond visa validity period. Places without embassies can get an approval letter online.
You MUST fly into the country in most cases. Getting in through the border is not currently permitted to the general public. Most flights will be connected into Myanmar (Yangon) from Bangkok, Singapore and Kuala Lumpur. There are also occasional flights from Kolkata, Taipei, Hong Kong, Guangzhou, Ho Chi Minh, Seoul and a few others. There are three land entries into Myanmar from Thailand, but obtaining permits and the logistics of travel are a huge hassle.
GET AROUND:
Myanmar has been in a state of political unrest for along time now and many international sanctions have been imposed on the country. Many of its areas are restricted, and getting access to them requires special permits, usually from Yangon. These permits can be had from the Myanmar Tours and Travels (MTT) offices or from police stations. Still, the infrastructure is terrible. By far the best way to get around the country is by flight. If you're flying, remember to pick up your tickets at least a day in advance, preferably two if possible.
Travelling by train is an unhygienic and uncomfortable nightmare. Buses are cheaper, less exploitative and faster. Still, the rail trip form Mandalay to Pwin U Lwin is something spectacular. And trains are a wonderful way to meet and mingle with the people. River ferries have a large network. Another good way to get around is hire a car and driver. The rates are quite reasonable.
EAT AND DRINK:
Rice and vegetarian food is a Burmese staple, but foreigners may find initial exposure to the cuisine to be a bit off-putting. Still, it's cheap in most places. The cuisine is influence heavily by Chinese and Indian traditions. Seafood is common along the coast. Some of the must try dishes (be brave) include mohinga (a fish gravy), Onnokauswe (noodles in coconut milk chicken broth), Nan GyiThoke (rice noodle with chicken sauce) and some really spicy curry.
Avoid tap water at all costs. Carry bottled water everywhere. Avoid Chinese tea, but definitely try the Indian milk tea. Don't consume alcohol if you're in a conservative area, at least not in public. Of the local bears, Myanmar Beer and Mandalay Beer seem to be the best options. Also try toddy juice (made from fermented sugar cane) and Shwe le maw.
ACCOMMODATION AND SAFETY:
Myanmar is not fussy about how well its visitors sleep. Hotels are perfunctorily outfitted and are rarely luxurious. Rooms are usually small, but will generally contain hot water if the hotel is licensed for foreigners. Electricity is unstable; it comes and it goes, so be opportunistic about charging your phones. And even if you've paid for it, there's no guarantee your Air Conditioner will work. All these problems are considerably reduced in the bigger cities though.
Myanmar has a good reputation for tourist safety but that doesn't mean you can get careless. You'll find many beggars around on the streets in the cities, and if you're from Europe or the US, a dollar is an extremely generous charity. Keep your belongings secure no matter where you've kept them though
CELEBRATE:
Moe Byae Festival, 11th - 14th February 2014: Thousands visit A beautiful pagoda market/fete. Performances and intense bartering for goods happen at this fiesta.
Thingyan (Water) Festival: 13th - 17th April 2014: The festival is about purification. The young and old alike cleanse themselves in water play.
Kason Sacred Bo Tree Watering Ceremony: 13th May 2014: Celebrates the Buddha and his teachings.
PhaungDawOo Pagoda Festival: 24th September - 11th October 2014: Four Buddha statues on barges are taken clockwise around the lake. Races are held.
Thidingyut Festival (Festival of Lights) 7th - 9th October 2014: Marks Buddha's descent from heaven after lent. The people welcome him with the brightest and most colourful of lights.
Balloon Flying Festival: 1st - 6th November 2014: Balloons are flown in Taunggyi, Shan State and competitions are held regarding their beauty and height gained.
Do's
Tuck your feet away.
Smile
Learn basic Burmese words
Participate in festivals
Don't bribe.
Don'ts
Don't point with your foot.
Don't touch people's heads
Don't kiss in public
Don't disturb prayer time
Don't raise index finger in the air
Don't buy wildlife products.
Searching for something specific?