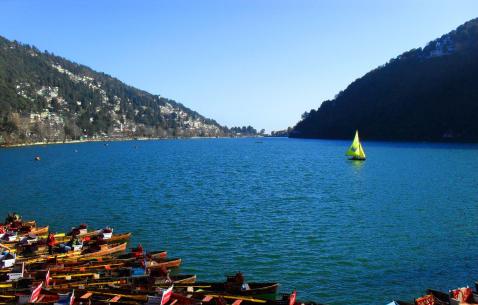 Nainital is a hill station in the state of Uttarakhand, India, located in Kumaon foothills of the outer Himalayas. Owing to its mild and pleasant weather, it is an extremely popular tourist destination, especially for travellers from the northern parts of the country who are trying to beat the stifling heat especially during the summer season. Nainital's location is absolutely picture perfect: it is set in a valley that contains a lake (the Naini Lake) that is shaped like a pear. The surrounding peaks are magnificent and you can get a stunning view of the valley and the surrounding snow-capped mountains.
Very little is known about Nainital's actual history besides the fact that during ancient times, it was ruled by the Khasis and was known as Khasdesh. The Naini Lake finds mention in the Puranas (ancient scriptures of India) and was called the Tririshi Sarovar, where three sages (rishis) had found a hole and then filled it with water with the power of their meditation. The area is steeped in legend and myth as it is said that King Dakhsa held a ritual sacrifice or 'yajna' but did not invite Lord Shiva and Parvati. Parvati could not bear the insult and came to the yajna and sacrificed herself to those very flames. Her charred body was retrieved by Lord Shiva who cut it into 51 pieces and each piece fell on earth and each place is known as Shakti Peeth. Nainital is where her 'nain' or eyes fell. Interesting or spooky? You decide.
Later, Nainital was discovered by the British and became the summer headquarters of the provincial colonial administration during the British Rule.
Today, expect a staggering amount of tourists during the summers. However, if it's a quiet and peaceful vacation you are looking for, Nainital should be in your vacation planner; especially in winters when the snow makes the view worthy of poems and epics. Going for boating in the lake should definitely be a part of your itineraries.
Essential travel information and Nainital tips for your visit
There are no stand-alone bars in Nainital. Alcohol is only served in top-end hotels.
The state of Uttarakhand is prone to cloudbursts, landslides and flash floods, especially during the monsoon season. Keep yourself updated with weather conditions in the area or contact a travel guide or the tourist information office (Oak Park, Nainital, (05964- 36209/36356) to find out whether it is safe to travel.
Nainital Time Zone: India Time Zone UTC+05:30
Currency- Currency used in Nainital is Indian Rupees.
Electricity- India uses 230 Volts, 50 Hz alternating current as the power source. Plugs and sockets have grounded / earthed 3 Pin connections (Type D) or ungrounded 2 pin connections (Type C). The two pin plug is also called the Europlug.
Internet- 3G and 4G Wi-Fi connections are available in almost all the hotels in the city.
Languages- Language spoken in Nainital is Hindi.
Security- Police Control Room, Nainital: 100, +91-5942-235847, Fire Brigade, Nainital: +91-5942-235626, Emergency Service in Uttarakhand: 108
Tipping- Tipping is generally expected for the services rendered.
Hill stations are colder in summer than plain areas so don't forget to carry warm clothes in order to beat the chill. If kids are on board too, make sure you carry extra sufficient woollens and blankets.
Be it a good traveller and abide by the rules and norms of the city that you are travelling. Make your contribution in keeping the city of Nainital clean and beautiful by being a responsible traveller.
Nainital Trip Planner
Plan your customized day by day trip plan for nainital. Choose from various experinces categories as adventure, romantic and family and kids friendly for your trip using using nainital trip planner.