15 Things to Do in Naples With Family and Kids
Naples is translated to mean a new city. It is the regional capital of Campania. The city ranks at number three among the most large municipalities in Italy. This is one of the cities that many tourists flood every year. Blame this on the fact that it has a perfect blend of the old age and the new era is every street corner. The city has a lot of top attractions in Italy, and everyone that comes here falls in love with the city. There is so much to do, but these 15 things to do in Naples Italy with family and kids will suffice for now.
Excellent Places for Kids
1. Virtual Pompeii
This place is located along Via Plinio, and it is perfect for kids. They may not enjoy the Pompeii ruins tour a lot, but they will have a great time here. The virtual Pompeii exhibition is a center that is educational and entertaining. There is a projection room that shows the reconstruction of Pompeii in 3D. There are also demonstrations of handicraft-making techniques from ancient Rome.
Admission: entry charges may apply here. The place is open for everyone other than kids only.
2. Enjoy Pizza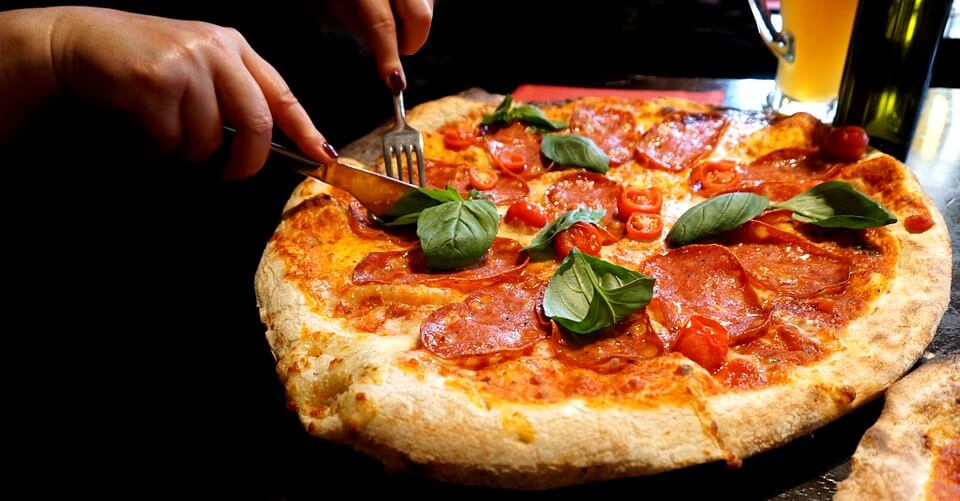 Image Source: Pixabay.com
There is a belief that modern pizza has its roots in Naples. Therefore, it will be an injustice if anyone left Naples without ever tasting their pizza. These pizzas are mouthwatering, and no one will ever have enough. The most famous place to grab some pizzas is at L'Antica Pizzeria da Michele.
Admission: the restaurants are open for everyone.
3. Zoo Di Napoli
This zoo sits over an area that covers 25 acres. It is a spectacular and fantastic zoo that educates and entertains as well. There is a vast number of animals to see here as well as an enormous garden filled with excellent and colorful plants. The exotic ambiance in this zoo is magical. Some of the animals to see here are tigers, zebras, leopards, elephants, camels, and so many others. The kids are going to have a glorious time interacting with the animals.
Admission: some entry fees apply.
Excellent Places for Families
4. Visit a Royal Palace – Palazzo Reale
It is a great thing to start the tour by visiting an enchanting place that is elegant, classy, and charming. This palace is stunning, and the construction and architecture are outstanding. The preserved rooms of the mansion are exquisite, and they have excellent decorations. The base of the palace has statues of twelve past kings of Naples, and they are very detailed. The throne room is the crowning beauty of the palace. There is also a great state theatre present.
Admission: the palace is open to visitors, and some charges may apply.
5. Visit the Sam Domenico Maggiore
This magnificent church was constructed in the year 1324, and it was founded by Dominican Friars. It is one of the most spectacular churches in Naples. The decorations in this church are excellently done. The church has a lot of artworks, sculptures, and decorations from the Renaissance era. The outside may not be so appealing, but everyone must make it to the inside because that is where all the glory is found.
Admission: some charges may apply here.
6. Go to Naples Cathedral
Italy is a very religious country and the same goes for Naples. This gorgeous cathedral stands tall and proud on the Via Duomo. The architecture features different styles that include Gothic, Baroque, and Renaissance. The techniques are because of the renovations that took place over the years. The cathedral dates back to the 13th century, and it is one of the leading churches in Naples.
Admission: there are n charges to enter the cathedral.
7. Visit the Castel Nuovo
Has anyone read the history of Charles I of the house of Anjou? If they have, they will be excited to visit this castle. This castle is also known as Maschio Angioino, and it dates back to the 13th century. The castle was completed in the year 1282. Castel Nuovo is enormous and has excellent artworks because Charles I was a patron of great artists such as Giotto. There are also Neapolitan paintings that are lovely as well, and they date back up to the 17th century.
Admission: visiting this castle may or may not require some entrance fees. But it is open to everyone.
8. Visit the Sansevero Chapel Museum
The Sansevero chapel was turned into an excellent museum that is full of beauty and awe. This museum is home to some of the unique art objects. The design and construction of the chapel are unique, and it is a very famous tourist attraction. While here, everyone will love the sculpture of Jesus Christ after the crucifixion. This sculpture is like none you have ever seen before. There are also numerous statues and sculptures that everyone will love.
Admission: the museum is open to everyone, and the charges can be up to EUR 7.
9. Learn Some History at the Naples National Archeological Museum
There is a lot to learn about the cultural history of Naples by visiting this archeological site. The museum was built in the year the 1750s. Initially, the museum served as a military and cavalry barracks. After a few years, it was turned into a museum. The museum has a wide range of Roman and Greek artifacts. Some statues depict different scenes from the ancient mythology. There are also exquisite mosaics from the Pompeii ruins. Everyone will be amazed at what this museum offers.
Admission: some charges apply before one can enter the museum.
10. A Tour of the Herculaneum Ruins
The ruin of Herculaneum is a must-see site. Herculaneum is a city that faced the devastation of the Vesuvius during 79 AD. The city was not within the proximity of Vesuvius but none the less the destruction was inescapable. The ruins have a series of skeleton remains of the groups of people that died because of the eruption. On a bright side, there are exciting sights such as the Villa of the Papyri and also beautiful paintings.
Admission: charges to this place may or may not apply.
11. A Tour of the Pompeii Ruins
Pompeii did not escape the devastation that Vesuvius brought. The eruption of the volcanic mountain brought Pompeii to its knees. One will expect to see the worst when they get here, but the truth is that Pompeii looks fantastic. There are excellent sites to see such as the amphitheater, the temple of Jupiter, the case del Fauno, and the Temple of Apollo. There are also sights of those that were buried under the ash when the mountain erupted.
Admission: some charges may apply or not.
12. Visit the Castel Dell'ovo
This castle is gorgeous, and it is one of the first things you will notice when you enter the port at Naples. The land that the castle rests upon was once an island. Thankfully, there was a construction of a footpath and road that connect the island to the mainland making the castle easily accessible. The Castle dell'Ovo was constructed in the 6th century BC, and it is one of the oldest fortifications in Naples that remains. There are a lot of art and history of the castle that is displayed, and everyone will love the castle.
Admission: the castle is open to the public. Charges may or may not apply.
13. Stroll at the Promenade
The beauty that a seafront provides to a city is impeccable. Everyone can go for a stroll in the evening along the waterfront and enjoy the beauty of Naples. There is so much to see. Remember, on every street; there is a blend of the historical and the modern aspects of the town. Explore every inch of the city while taking fun photos to capture the beautiful moments around Naples and along its seafront.
Admission: there are no special requirements to take a stroll.
14. Go Through the Galleria Borbonica
The Galleria Borbonica is Naples' most fascinating historical structure that everyone must see. It is one of the best places to visit in Naples. The site has a lot of history to teach. Ferdinand II of Bourbon ordered that the tunnels be built as a way of escape as he feared the population because of the revolutions. The tunnels were linked to the Royal Palace from the barracks and can also take a person to the sea. Being here exposes a person to over 500 years of history.
Admission: the amount a person spends will depend on the tickets they have.
Fun Activities for Adults
15. Hiking Mount Vesuvius
This mountain caused a lot of destruction once upon a time. But it is now safe for everyone to go for a hike. Even so, the little ones may not conquer the mountain, but the old ones can give it a try. It is a great chance to explore this mountain. The view of the city from the top of the mountain will mesmerize everyone.
Admission: teens and adults can manage to hike the mountain.
All these are fun activities that you can do in Naples with family and kids. These places are the best places to visit in Naples. They are the crowning glories of Naples.
Are you looking for a Naples travel itinerary? Create an itinerary within minutes, on your own!
Top-Rated Tourist Attractions in Naples, Florida
Must see places in Naples ranked on popularity. Here is the complete list of best attractions in Naples and point of interests to visit.
Tourist Attractions Near Naples
Find Your Naples Attractions on Map
Types of Things To Do in Naples
Find more attractions and places to visit in Naples under these things to do categories.
Top Naples Activities And Tours
Explore the best things to do in Naples. These are the most preferred tourist activities.
Find more places to see in Naples
Palm Cottage

137 12th Ave S

Historic and Protected Sites

Keewaydin Club

Historic and Protected Sites

Veteran's Services

Historic and Protected Sites

Capt. John Foley Horr House

Historic and Protected Sites

Bonita Springs School

Historic and Protected Sites
View On Map
Michael Angelo's Entertainment

1429 Saint Clair Shores Rd

Lakes
View On Map
Von Liebig Art Center

585 Park St

Museums

The Baker Museum

5833 Pelican Bay Blvd

Museums

Landmarks

Naples Depot Museum

1051 5th Ave S

Museums

Holocaust Museum of Southwest Florida

4760 Tamiami Trl N

Museums

Collier County Museum

3301 Tamiami Trl E

Museums

Golisano Children's Museum of Naples

15080 Livingston Rd

Museums
View On Map
Sun-N-Fun Lagoon

15000 Livingston Rd

Amusement Parks

Restaurants

Collier County Fair & Exhibition

751 39th Ave NE

Amusement Parks

Nauti-Gal Fishing Adventures

13535 Vanderbilt Dr

Amusement Parks

King Richard's Family Fun Park

6780 Airport Pulling Rd N

Amusement Parks

Restaurants

King Richards Fun Park

10201 Tamiami Trl

Amusement Parks

Restaurants

Pats Kids Club

2825 Airport Pulling Rd N

Amusement Parks
View On Map
Taps Restaurant Bar & Lounge

9108 Strada Pl

American

Bars

Chili's Grill & Bar

2431 Tarpon Bay Blvd

American

Bars

Blue Martini

9114 Strada Pl

Bars

Restaurants

The Brass Tap

895 Wiggins Pass Rd

Bars

Captain & Krewe Seafood Market and Raw Bar

629 8th St S

Seafood

Bars

Blue Monkey Bar and Grille

7550 Mission Hills Dr

Bars

American

Pizza
View On Map
Naples Bingo Palace

6750 Golden Gate Pkwy

Casinos and Gaming

Casino Royale

2780 Davis Blvd

Casinos and Gaming

Hotels and Motels

Casino Parties by Showbiz Productions

8805 Tamiami Trl N

Casinos and Gaming

Jack Pots

13020 Livingston Rd

Casinos and Gaming

Cafes, Coffee and Tea Houses

Winners Vegas Style Games

13560 Tamiami Trl N

Casinos and Gaming

Hotels and Motels

Vegas Casinos

4937 Rattlesnake Hammock Rd

Casinos and Gaming
View On Map
Delnor-Wiggins Pass State Park

11135 Gulf Shore Dr

Natural Parks

W Cl-Artesia Sales

Natural Parks
View On Map
Naples Dog Park

201-295 Riverside Cir

Dog Parks

Conner Park

111 Avenue North

Dog Parks

Rover Run Dog Park

1895 Veterans Park Dr

Dog Parks

Bonita Springs Dog Park

11071 E Terry St

Dog Parks

City Of Bonita Springs Parks

26740 Pine Ave

Dog Parks
View On Map
Clam Pass Beach Park

465 Seagate Dr

Beaches

Vanderbilt Beach

280 Vanderbilt Beach Rd

Beaches

Naples Beach Adventures

11135 Gulf Shore Dr

Beaches

Seagate Beach

100 Seagate Dr

Beaches

The Gulf Of Mexico

Beaches
View On Map
Rookery Bay Nat'l Estaurine RSRV

Hiking

Black Island Trail

Hiking
View On Map
What To Do in Naples: Day-Wise Ideas
Find what not to miss in Naples! Recommended Naples itineraries and vacation ideas created by travelers across the world.