Best Time To Visit Nara
Explore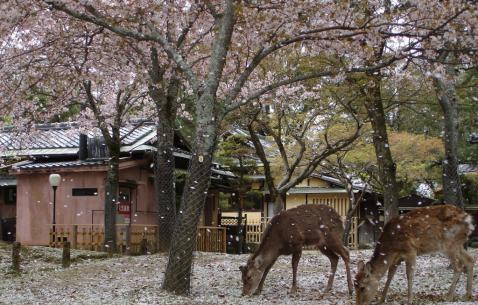 Best Time To Go To Nara
While planning your Nara itinerary, keep the following weather information in mind:
Summers last from June to August and tend to be hot and humid.
Winters last from December to February and temperatures can reach below 0°.
Rainy season merges with summers and it rains from mid-June to late July. But it doesn't rain every day and you can travel in this season as well.
The best time to visit Nara is between the months of October and November (autumn season) and between March to May (spring season).
Best time to go to Nara Attractions

: Monday, Tuesday, Wednesday, Friday, Saturday, Sunday 8:00 AM - 4:00 PM
: Monday, Tuesday, Wednesday, Friday, Saturday, Sunday 8:00 AM - 4:00 PM
: Monday, Tuesday, Wednesday, Friday, Saturday, Sunday 8:00 AM - 4:00 PM
: Monday, Tuesday, Wednesday, Friday, Saturday, Sunday 8:00 AM - 4:00 PM
: Monday, Tuesday, Wednesday, Friday, Saturday, Sunday 8:00 AM - 4:00 PM
: Monday, Tuesday, Wednesday, Friday, Saturday, Sunday 8:00 AM - 4:00 PM
: Monday, Tuesday, Wednesday, Friday, Saturday, Sunday 8:00 AM - 4:00 PM
: Monday, Tuesday, Wednesday, Friday, Saturday, Sunday 8:00 AM - 4:00 PM
: Monday, Tuesday, Wednesday, Friday, Saturday, Sunday 8:00 AM - 4:00 PM
: Monday, Tuesday, Wednesday, Friday, Saturday, Sunday 8:00 AM - 4:00 PM
: Monday, Tuesday, Wednesday, Friday, Saturday, Sunday 8:00 AM - 4:00 PM
: Monday, Tuesday, Wednesday, Friday, Saturday, Sunday 8:00 AM - 4:00 PM

: Everyday 7:00 AM - 8:00 PM
: Everyday 7:00 AM - 8:00 PM
: Everyday 7:00 AM - 8:00 PM
: Everyday 7:00 AM - 8:00 PM
: Everyday 7:00 AM - 8:00 PM
: Everyday 7:00 AM - 8:00 PM
: Everyday 7:00 AM - 8:00 PM
: Everyday 7:00 AM - 8:00 PM
: Everyday 7:00 AM - 8:00 PM
: Everyday 7:00 AM - 8:00 PM
: Everyday 7:00 AM - 8:00 PM
: Everyday 7:00 AM - 8:00 PM

: Everyday 8:30 AM - 4:00 PM
: Everyday 8:30 AM - 4:00 PM
: Everyday 8:30 AM - 4:00 PM
: Everyday 8:30 AM - 4:00 PM
: Everyday 8:30 AM - 4:00 PM
: Everyday 8:30 AM - 4:00 PM
: Everyday 8:30 AM - 4:00 PM
: Everyday 8:30 AM - 4:00 PM
: Everyday 8:30 AM - 4:00 PM
: Everyday 8:30 AM - 4:00 PM
: Everyday 8:30 AM - 4:00 PM
: Everyday 8:30 AM - 4:00 PM

: Everyday 8:30 AM - 4:00 PM
: Everyday 8:30 AM - 4:00 PM
: Everyday 8:30 AM - 4:00 PM
: Everyday 8:30 AM - 4:00 PM
: Everyday 8:30 AM - 4:00 PM
: Everyday 8:30 AM - 4:00 PM
: Everyday 8:30 AM - 4:00 PM
: Everyday 8:30 AM - 4:00 PM
: Everyday 8:30 AM - 4:00 PM
: Everyday 8:30 AM - 4:00 PM
: Everyday 8:30 AM - 4:00 PM
: Everyday 8:30 AM - 4:00 PM

: Everyday 8:30 AM - 4:00 PM
: Everyday 8:30 AM - 4:00 PM
: Everyday 8:30 AM - 4:00 PM
: Everyday 8:30 AM - 4:00 PM
: Everyday 8:30 AM - 4:00 PM
: Everyday 8:30 AM - 4:00 PM
: Everyday 8:30 AM - 4:00 PM
: Everyday 8:30 AM - 4:00 PM
: Everyday 8:30 AM - 4:00 PM
: Everyday 8:30 AM - 4:00 PM
: Everyday 8:30 AM - 4:00 PM
: Everyday 8:30 AM - 4:00 PM

: Tuesday to Sunday 9:30 AM - 4:00 PM
: Tuesday to Sunday 9:30 AM - 4:00 PM
: Tuesday to Sunday 9:30 AM - 4:00 PM
: Tuesday to Sunday 9:30 AM - 4:00 PM
: Tuesday to Sunday 9:30 AM - 4:00 PM
: Tuesday to Sunday 9:30 AM - 4:00 PM
: Tuesday to Sunday 9:30 AM - 4:00 PM
: Tuesday to Sunday 9:30 AM - 4:00 PM
: Tuesday to Sunday 9:30 AM - 4:00 PM
: Tuesday to Sunday 9:30 AM - 4:00 PM
: Tuesday to Sunday 9:30 AM - 4:00 PM
: Tuesday to Sunday 9:30 AM - 4:00 PM

: Everyday 7:00 AM - 11:00 AM; Everyday 7:00 AM - 11:00 AM | 6:00 PM - 9:00 PM
: Everyday 7:00 AM - 11:00 AM; Everyday 7:00 AM - 11:00 AM | 6:00 PM - 9:00 PM
: Everyday 7:00 AM - 11:00 AM; Everyday 7:00 AM - 11:00 AM | 6:00 PM - 9:00 PM
: Everyday 7:00 AM - 11:00 AM; Everyday 7:00 AM - 11:00 AM | 6:00 PM - 9:00 PM
: Everyday 7:00 AM - 11:00 AM; Everyday 7:00 AM - 11:00 AM | 6:00 PM - 9:00 PM
: Everyday 7:00 AM - 11:00 AM; Everyday 7:00 AM - 11:00 AM | 6:00 PM - 9:00 PM
: Everyday 7:00 AM - 11:00 AM; Everyday 7:00 AM - 11:00 AM | 6:00 PM - 9:00 PM
: Everyday 7:00 AM - 11:00 AM; Everyday 7:00 AM - 11:00 AM | 6:00 PM - 9:00 PM
: Everyday 7:00 AM - 11:00 AM; Everyday 7:00 AM - 11:00 AM | 6:00 PM - 9:00 PM
: Everyday 7:00 AM - 11:00 AM; Everyday 7:00 AM - 11:00 AM | 6:00 PM - 9:00 PM
: Everyday 7:00 AM - 11:00 AM; Everyday 7:00 AM - 11:00 AM | 6:00 PM - 9:00 PM
: Everyday 7:00 AM - 11:00 AM; Everyday 7:00 AM - 11:00 AM | 6:00 PM - 9:00 PM

: Monday, Wednesday, Thursday, Friday, Saturday, Sunday 9:30 AM - 3:00 PM
: Monday, Wednesday, Thursday, Friday, Saturday, Sunday 9:30 AM - 3:00 PM
: Monday, Wednesday, Thursday, Friday, Saturday, Sunday 9:30 AM - 3:00 PM
: Monday, Wednesday, Thursday, Friday, Saturday, Sunday 9:30 AM - 3:00 PM
: Monday, Wednesday, Thursday, Friday, Saturday, Sunday 9:30 AM - 3:00 PM
: Monday, Wednesday, Thursday, Friday, Saturday, Sunday 9:30 AM - 3:00 PM
: Monday, Wednesday, Thursday, Friday, Saturday, Sunday 9:30 AM - 3:00 PM
: Monday, Wednesday, Thursday, Friday, Saturday, Sunday 9:30 AM - 3:00 PM
: Monday, Wednesday, Thursday, Friday, Saturday, Sunday 9:30 AM - 3:00 PM
: Monday, Wednesday, Thursday, Friday, Saturday, Sunday 9:30 AM - 3:00 PM
: Monday, Wednesday, Thursday, Friday, Saturday, Sunday 9:30 AM - 3:00 PM
: Monday, Wednesday, Thursday, Friday, Saturday, Sunday 9:30 AM - 3:00 PM

: Tuesday to Sunday 9:00 AM - 4:00 PM
: Tuesday to Sunday 9:00 AM - 4:00 PM
: Tuesday to Sunday 9:00 AM - 4:00 PM
: Tuesday to Sunday 9:00 AM - 4:00 PM
: Tuesday to Sunday 9:00 AM - 4:00 PM
: Tuesday to Sunday 9:00 AM - 4:00 PM
: Tuesday to Sunday 9:00 AM - 4:00 PM
: Tuesday to Sunday 9:00 AM - 4:00 PM
: Tuesday to Sunday 9:00 AM - 4:00 PM
: Tuesday to Sunday 9:00 AM - 4:00 PM
: Tuesday to Sunday 9:00 AM - 4:00 PM
: Tuesday to Sunday 9:00 AM - 4:00 PM

: Everyday 9:00 AM - 4:00 PM
: Everyday 9:00 AM - 4:00 PM
: Everyday 9:00 AM - 4:00 PM
: Everyday 9:00 AM - 4:00 PM
: Everyday 9:00 AM - 4:00 PM
: Everyday 9:00 AM - 4:00 PM
: Everyday 9:00 AM - 4:00 PM
: Everyday 9:00 AM - 4:00 PM
: Everyday 9:00 AM - 4:00 PM
: Everyday 9:00 AM - 4:00 PM
: Everyday 9:00 AM - 4:00 PM
: Everyday 9:00 AM - 4:00 PM

: Everyday 6:30 AM - 4:00 PM
: Everyday 6:30 AM - 4:00 PM
: Everyday 6:30 AM - 4:00 PM
: Everyday 6:30 AM - 4:00 PM
: Everyday 6:30 AM - 4:00 PM
: Everyday 6:30 AM - 4:00 PM
: Everyday 6:30 AM - 4:00 PM
: Everyday 6:30 AM - 4:00 PM
: Everyday 6:30 AM - 4:00 PM
: Everyday 6:30 AM - 4:00 PM
: Everyday 6:30 AM - 4:00 PM
: Everyday 6:30 AM - 4:00 PM

:
:
:
: Everyday 9:00 AM - 3:00 PM
: Everyday 9:00 AM - 3:00 PM
:
:
:
:
: Everyday 9:00 AM - 3:00 PM
:
:

: Everyday 24 Hrs
: Everyday 24 Hrs
: Everyday 24 Hrs
: Everyday 24 Hrs
: Everyday 24 Hrs
: Everyday 24 Hrs
: Everyday 24 Hrs
: Everyday 24 Hrs
: Everyday 24 Hrs
: Everyday 24 Hrs
: Everyday 24 Hrs
: Everyday 24 Hrs