Best Time To Visit Nassau
Explore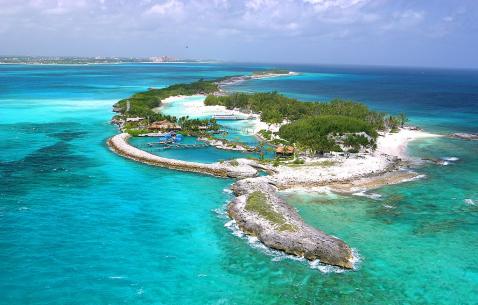 Best Time To Go To Nassau
Given its location in the Bahamas, Nassau experiences a tropical monsoon climate. The temperatures remain almost constant throughout the year, with some variations in the so-called summer and winter temperatures. Nassau weather conditions maybe classified into three main categories as summer, monsoon and winter. As the temperatures, remain constant, January, nevertheless, can be classified as the best time to visit Nassau, for it is the coolest month.
Summer: April to August are the hottest months, with the onset of precipitation towards the end of the season. August is the hottest of the months with the highest temperature reaching 32.1 degrees Celsius, and the lowest being around 23.8 degrees Celsius.
Monsoon: June to October is monsoon, although the temperatures may be pretty high. So, high that these months are also classified as the summer months. August, again, is the wettest of months along with being the hottest. This is when the city receives its maximum precipitation of 235.5 millimeters.
Winter: November to March can classified as the winter months. January is the coolest month, hence the best time to visit Nassau, given a pleasant temperature of 25.6 degrees Celsius as the highest and 17.1 degrees Celsius the lowest.
Best time to go to Nassau Attractions

: Everyday 9:00 AM - 6:00 PM
: Everyday 9:00 AM - 6:00 PM
: Everyday 9:00 AM - 6:00 PM
: Everyday 9:00 AM - 6:00 PM
: Everyday 9:00 AM - 6:00 PM
: Everyday 9:00 AM - 6:00 PM
: Everyday 9:00 AM - 6:00 PM
: Everyday 9:00 AM - 6:00 PM
: Everyday 9:00 AM - 6:00 PM
: Everyday 9:00 AM - 6:00 PM
: Everyday 9:00 AM - 6:00 PM
: Everyday 9:00 AM - 6:00 PM

: Everyday 9:00 AM - 6:00 PM
: Everyday 9:00 AM - 6:00 PM
: Everyday 9:00 AM - 6:00 PM
: Everyday 9:00 AM - 6:00 PM
: Everyday 9:00 AM - 6:00 PM
: Everyday 9:00 AM - 6:00 PM
: Everyday 9:00 AM - 6:00 PM
: Everyday 9:00 AM - 6:00 PM
: Everyday 9:00 AM - 6:00 PM
: Everyday 9:00 AM - 6:00 PM
: Everyday 9:00 AM - 6:00 PM
: Everyday 9:00 AM - 6:00 PM

: Everyday 8:00 AM - 5:00 PM
: Everyday 8:00 AM - 5:00 PM
: Everyday 8:00 AM - 5:00 PM
: Everyday 8:00 AM - 5:00 PM
: Everyday 8:00 AM - 5:00 PM
: Everyday 8:00 AM - 5:00 PM
: Everyday 8:00 AM - 5:00 PM
: Everyday 8:00 AM - 5:00 PM
: Everyday 8:00 AM - 5:00 PM
: Everyday 8:00 AM - 5:00 PM
: Everyday 8:00 AM - 5:00 PM
: Everyday 8:00 AM - 5:00 PM

: Everyday 9:30 AM - 2:00 PM
: Everyday 9:30 AM - 2:00 PM
: Everyday 9:30 AM - 2:00 PM
: Everyday 9:30 AM - 2:00 PM
: Everyday 9:30 AM - 2:00 PM
: Everyday 9:30 AM - 2:00 PM
: Everyday 9:30 AM - 2:00 PM
: Everyday 9:30 AM - 2:00 PM
: Everyday 9:30 AM - 2:00 PM
: Everyday 9:30 AM - 2:00 PM
: Everyday 9:30 AM - 2:00 PM
: Everyday 9:30 AM - 2:00 PM

: Monday to Saturday 9:30 AM - 4:30 PM; Sunday 9:00 AM - 4:30 PM
: Monday to Saturday 9:30 AM - 4:30 PM; Sunday 9:00 AM - 4:30 PM
: Monday to Saturday 9:30 AM - 4:30 PM; Sunday 9:00 AM - 4:30 PM
: Monday to Saturday 9:30 AM - 4:30 PM; Sunday 9:00 AM - 4:30 PM
: Monday to Saturday 9:30 AM - 4:30 PM; Sunday 9:00 AM - 4:30 PM
: Monday to Saturday 9:30 AM - 4:30 PM; Sunday 9:00 AM - 4:30 PM
: Monday to Saturday 9:30 AM - 4:30 PM; Sunday 9:00 AM - 4:30 PM
: Monday to Saturday 9:30 AM - 4:30 PM; Sunday 9:00 AM - 4:30 PM
: Monday to Saturday 9:30 AM - 4:30 PM; Sunday 9:00 AM - 4:30 PM
: Monday to Saturday 9:30 AM - 4:30 PM; Sunday 9:00 AM - 4:30 PM
: Monday to Saturday 9:30 AM - 4:30 PM; Sunday 9:00 AM - 4:30 PM
: Monday to Saturday 9:30 AM - 4:30 PM; Sunday 9:00 AM - 4:30 PM

: Everyday 8:00 AM - 2:00 PM
: Everyday 8:00 AM - 2:00 PM
: Everyday 8:00 AM - 2:00 PM
: Everyday 8:00 AM - 2:00 PM
: Everyday 8:00 AM - 2:00 PM
: Everyday 8:00 AM - 2:00 PM
: Everyday 8:00 AM - 2:00 PM
: Everyday 8:00 AM - 2:00 PM
: Everyday 8:00 AM - 2:00 PM
: Everyday 8:00 AM - 2:00 PM
: Everyday 8:00 AM - 2:00 PM
: Everyday 8:00 AM - 2:00 PM

: Everyday 9:00 AM - 2:00 PM
: Everyday 9:00 AM - 2:00 PM
: Everyday 9:00 AM - 2:00 PM
: Everyday 9:00 AM - 2:00 PM
: Everyday 9:00 AM - 2:00 PM
: Everyday 9:00 AM - 2:00 PM
: Everyday 9:00 AM - 2:00 PM
: Everyday 9:00 AM - 2:00 PM
: Everyday 9:00 AM - 2:00 PM
: Everyday 9:00 AM - 2:00 PM
: Everyday 9:00 AM - 2:00 PM
: Everyday 9:00 AM - 2:00 PM

: Everyday 10:30 AM - 2:00 PM
: Everyday 10:30 AM - 2:00 PM
: Everyday 10:30 AM - 2:00 PM
: Everyday 10:30 AM - 2:00 PM
: Everyday 10:30 AM - 2:00 PM
: Everyday 10:30 AM - 2:00 PM
: Everyday 10:30 AM - 2:00 PM
: Everyday 10:30 AM - 2:00 PM
: Everyday 10:30 AM - 2:00 PM
: Everyday 10:30 AM - 2:00 PM
: Everyday 10:30 AM - 2:00 PM
: Everyday 10:30 AM - 2:00 PM

: Everyday 9:00 AM - 5:00 PM
: Everyday 9:00 AM - 5:00 PM
: Everyday 9:00 AM - 5:00 PM
: Everyday 9:00 AM - 5:00 PM
: Everyday 9:00 AM - 5:00 PM
: Everyday 9:00 AM - 5:00 PM
: Everyday 9:00 AM - 5:00 PM
: Everyday 9:00 AM - 5:00 PM
: Everyday 9:00 AM - 5:00 PM
: Everyday 9:00 AM - 5:00 PM
: Everyday 9:00 AM - 5:00 PM
: Everyday 9:00 AM - 5:00 PM

: Everyday 9:30 AM - 5:00 PM
: Everyday 9:30 AM - 5:00 PM
: Everyday 9:30 AM - 5:00 PM
: Everyday 9:30 AM - 5:00 PM
: Everyday 9:30 AM - 5:00 PM
: Everyday 9:30 AM - 5:00 PM
: Everyday 9:30 AM - 5:00 PM
: Everyday 9:30 AM - 5:00 PM
: Everyday 9:30 AM - 5:00 PM
: Everyday 9:30 AM - 5:00 PM
: Everyday 9:30 AM - 5:00 PM
: Everyday 9:30 AM - 5:00 PM

: Everyday 10:30 AM - 4:00 PM
: Everyday 10:30 AM - 4:00 PM
: Everyday 10:30 AM - 4:00 PM
: Everyday 10:30 AM - 4:00 PM
: Everyday 10:30 AM - 4:00 PM
: Everyday 10:30 AM - 4:00 PM
: Everyday 10:30 AM - 4:00 PM
: Everyday 10:30 AM - 4:00 PM
: Everyday 10:30 AM - 4:00 PM
: Everyday 10:30 AM - 4:00 PM
: Everyday 10:30 AM - 4:00 PM
: Everyday 10:30 AM - 4:00 PM

: Everyday 8:30 AM - 2:00 PM
: Everyday 8:30 AM - 2:00 PM
: Everyday 8:30 AM - 2:00 PM
: Everyday 8:30 AM - 2:00 PM
: Everyday 8:30 AM - 2:00 PM
: Everyday 8:30 AM - 2:00 PM
: Everyday 8:30 AM - 2:00 PM
: Everyday 8:30 AM - 2:00 PM
: Everyday 8:30 AM - 2:00 PM
: Everyday 8:30 AM - 2:00 PM
: Everyday 8:30 AM - 2:00 PM
: Everyday 8:30 AM - 2:00 PM

: Everyday 8:30 AM - 2:00 PM
: Everyday 8:30 AM - 2:00 PM
: Everyday 8:30 AM - 2:00 PM
: Everyday 8:30 AM - 2:00 PM
: Everyday 8:30 AM - 2:00 PM
: Everyday 8:30 AM - 2:00 PM
: Everyday 8:30 AM - 2:00 PM
: Everyday 8:30 AM - 2:00 PM
: Everyday 8:30 AM - 2:00 PM
: Everyday 8:30 AM - 2:00 PM
: Everyday 8:30 AM - 2:00 PM
: Everyday 8:30 AM - 2:00 PM

: Monday to Friday 10:00 AM - 5:10 PM
: Monday to Friday 10:00 AM - 5:10 PM
: Monday to Friday 10:00 AM - 5:10 PM
: Monday to Friday 10:00 AM - 5:10 PM
: Monday to Friday 10:00 AM - 5:10 PM
: Monday to Friday 10:00 AM - 5:10 PM
: Monday to Friday 10:00 AM - 5:10 PM
: Monday to Friday 10:00 AM - 5:10 PM
: Monday to Friday 10:00 AM - 5:10 PM
: Monday to Friday 10:00 AM - 5:10 PM
: Monday to Friday 10:00 AM - 5:10 PM
: Monday to Friday 10:00 AM - 5:10 PM

: Everyday 9:00 AM - 4:00 PM
: Everyday 9:00 AM - 4:00 PM
: Everyday 9:00 AM - 4:00 PM
: Everyday 9:00 AM - 4:00 PM
: Everyday 9:00 AM - 4:00 PM
: Everyday 9:00 AM - 4:00 PM
: Everyday 9:00 AM - 4:00 PM
: Everyday 9:00 AM - 4:00 PM
: Everyday 9:00 AM - 4:00 PM
: Everyday 9:00 AM - 4:00 PM
: Everyday 9:00 AM - 4:00 PM
: Everyday 9:00 AM - 4:00 PM

: Monday to Friday 9:30 AM - 4:15 PM
: Monday to Friday 9:30 AM - 4:15 PM
: Monday to Friday 9:30 AM - 4:15 PM
: Monday to Friday 9:30 AM - 4:15 PM
: Monday to Friday 9:30 AM - 4:15 PM
: Monday to Friday 9:30 AM - 4:15 PM
: Monday to Friday 9:30 AM - 4:15 PM
: Monday to Friday 9:30 AM - 4:15 PM
: Monday to Friday 9:30 AM - 4:15 PM
: Monday to Friday 9:30 AM - 4:15 PM
: Monday to Friday 9:30 AM - 4:15 PM
: Monday to Friday 9:30 AM - 4:15 PM

: Everyday 10:30 AM - 4:30 PM
: Everyday 10:30 AM - 4:30 PM
: Everyday 10:30 AM - 4:30 PM
: Everyday 10:30 AM - 4:30 PM
: Everyday 10:30 AM - 4:30 PM
: Everyday 10:30 AM - 4:30 PM
: Everyday 10:30 AM - 4:30 PM
: Everyday 10:30 AM - 4:30 PM
: Everyday 10:30 AM - 4:30 PM
: Everyday 10:30 AM - 4:30 PM
: Everyday 10:30 AM - 4:30 PM
: Everyday 10:30 AM - 4:30 PM

: Monday to Saturday 10:00 AM - 3:30 PM
: Monday to Saturday 10:00 AM - 3:30 PM
: Monday to Saturday 10:00 AM - 3:30 PM
: Monday to Saturday 10:00 AM - 3:30 PM
: Monday to Saturday 10:00 AM - 3:30 PM
: Monday to Saturday 10:00 AM - 3:30 PM
: Monday to Saturday 10:00 AM - 3:30 PM
: Monday to Saturday 10:00 AM - 3:30 PM
: Monday to Saturday 10:00 AM - 3:30 PM
: Monday to Saturday 10:00 AM - 3:30 PM
: Monday to Saturday 10:00 AM - 3:30 PM
: Monday to Saturday 10:00 AM - 3:30 PM

: Everyday 8:00 AM - 3:30 PM
: Everyday 8:00 AM - 3:30 PM
: Everyday 8:00 AM - 3:30 PM
: Everyday 8:00 AM - 3:30 PM
: Everyday 8:00 AM - 3:30 PM
: Everyday 8:00 AM - 3:30 PM
: Everyday 8:00 AM - 3:30 PM
: Everyday 8:00 AM - 3:30 PM
: Everyday 8:00 AM - 3:30 PM
: Everyday 8:00 AM - 3:30 PM
: Everyday 8:00 AM - 3:30 PM
: Everyday 8:00 AM - 3:30 PM

: Monday to Friday 9:30 AM - 4:40 PM
: Monday to Friday 9:30 AM - 4:40 PM
: Monday to Friday 9:30 AM - 4:40 PM
: Monday to Friday 9:30 AM - 4:40 PM
: Monday to Friday 9:30 AM - 4:40 PM
: Monday to Friday 9:30 AM - 4:40 PM
: Monday to Friday 9:30 AM - 4:40 PM
: Monday to Friday 9:30 AM - 4:40 PM
: Monday to Friday 9:30 AM - 4:40 PM
: Monday to Friday 9:30 AM - 4:40 PM
: Monday to Friday 9:30 AM - 4:40 PM
: Monday to Friday 9:30 AM - 4:40 PM

: Monday to Friday 9:30 AM - 4:00 PM
: Monday to Friday 9:30 AM - 4:00 PM
: Monday to Friday 9:30 AM - 4:00 PM
: Monday to Friday 9:30 AM - 4:00 PM
: Monday to Friday 9:30 AM - 4:00 PM
: Monday to Friday 9:30 AM - 4:00 PM
: Monday to Friday 9:30 AM - 4:00 PM
: Monday to Friday 9:30 AM - 4:00 PM
: Monday to Friday 9:30 AM - 4:00 PM
: Monday to Friday 9:30 AM - 4:00 PM
: Monday to Friday 9:30 AM - 4:00 PM
: Monday to Friday 9:30 AM - 4:00 PM

: Everyday 9:00 AM - 6:00 PM
: Everyday 9:00 AM - 6:00 PM
: Everyday 9:00 AM - 6:00 PM
: Everyday 9:00 AM - 6:00 PM
: Everyday 9:00 AM - 6:00 PM
: Everyday 9:00 AM - 6:00 PM
: Everyday 9:00 AM - 6:00 PM
: Everyday 9:00 AM - 6:00 PM
: Everyday 9:00 AM - 6:00 PM
: Everyday 9:00 AM - 6:00 PM
: Everyday 9:00 AM - 6:00 PM
: Everyday 9:00 AM - 6:00 PM

: Monday, Tuesday, Wednesday, Friday 10:00 AM - 3:30 PM; Thursday 10:00 AM - 1:00 PM
: Monday, Tuesday, Wednesday, Friday 10:00 AM - 3:30 PM; Thursday 10:00 AM - 1:00 PM
: Monday, Tuesday, Wednesday, Friday 10:00 AM - 3:30 PM; Thursday 10:00 AM - 1:00 PM
: Monday, Tuesday, Wednesday, Friday 10:00 AM - 3:30 PM; Thursday 10:00 AM - 1:00 PM
: Monday, Tuesday, Wednesday, Friday 10:00 AM - 3:30 PM; Thursday 10:00 AM - 1:00 PM
: Monday, Tuesday, Wednesday, Friday 10:00 AM - 3:30 PM; Thursday 10:00 AM - 1:00 PM
: Monday, Tuesday, Wednesday, Friday 10:00 AM - 3:30 PM; Thursday 10:00 AM - 1:00 PM
: Monday, Tuesday, Wednesday, Friday 10:00 AM - 3:30 PM; Thursday 10:00 AM - 1:00 PM
: Monday, Tuesday, Wednesday, Friday 10:00 AM - 3:30 PM; Thursday 10:00 AM - 1:00 PM
: Monday, Tuesday, Wednesday, Friday 10:00 AM - 3:30 PM; Thursday 10:00 AM - 1:00 PM
: Monday, Tuesday, Wednesday, Friday 10:00 AM - 3:30 PM; Thursday 10:00 AM - 1:00 PM
: Monday, Tuesday, Wednesday, Friday 10:00 AM - 3:30 PM; Thursday 10:00 AM - 1:00 PM

: Tuesday to Thursday 10:30 AM - 5:00 PM; Saturday 11:00 AM - 5:00 PM
: Tuesday to Thursday 10:30 AM - 5:00 PM; Saturday 11:00 AM - 5:00 PM
: Tuesday to Thursday 10:30 AM - 5:00 PM; Saturday 11:00 AM - 5:00 PM
: Tuesday to Thursday 10:30 AM - 5:00 PM; Saturday 11:00 AM - 5:00 PM
: Tuesday to Thursday 10:30 AM - 5:00 PM; Saturday 11:00 AM - 5:00 PM
: Tuesday to Thursday 10:30 AM - 5:00 PM; Saturday 11:00 AM - 5:00 PM
: Tuesday to Thursday 10:30 AM - 5:00 PM; Saturday 11:00 AM - 5:00 PM
: Tuesday to Thursday 10:30 AM - 5:00 PM; Saturday 11:00 AM - 5:00 PM
: Tuesday to Thursday 10:30 AM - 5:00 PM; Saturday 11:00 AM - 5:00 PM
: Tuesday to Thursday 10:30 AM - 5:00 PM; Saturday 11:00 AM - 5:00 PM
: Tuesday to Thursday 10:30 AM - 5:00 PM; Saturday 11:00 AM - 5:00 PM
: Tuesday to Thursday 10:30 AM - 5:00 PM; Saturday 11:00 AM - 5:00 PM

: Monday to Thursday 10:30 AM - 7:00 PM; Friday 10:30 AM - 5:00 PM; Saturday 10:30 AM - 4:00 PM
: Monday to Thursday 10:30 AM - 7:00 PM; Friday 10:30 AM - 5:00 PM; Saturday 10:30 AM - 4:00 PM
: Monday to Thursday 10:30 AM - 7:00 PM; Friday 10:30 AM - 5:00 PM; Saturday 10:30 AM - 4:00 PM
: Monday to Thursday 10:30 AM - 7:00 PM; Friday 10:30 AM - 5:00 PM; Saturday 10:30 AM - 4:00 PM
: Monday to Thursday 10:30 AM - 7:00 PM; Friday 10:30 AM - 5:00 PM; Saturday 10:30 AM - 4:00 PM
: Monday to Thursday 10:30 AM - 7:00 PM; Friday 10:30 AM - 5:00 PM; Saturday 10:30 AM - 4:00 PM
: Monday to Thursday 10:30 AM - 7:00 PM; Friday 10:30 AM - 5:00 PM; Saturday 10:30 AM - 4:00 PM
: Monday to Thursday 10:30 AM - 7:00 PM; Friday 10:30 AM - 5:00 PM; Saturday 10:30 AM - 4:00 PM
: Monday to Thursday 10:30 AM - 7:00 PM; Friday 10:30 AM - 5:00 PM; Saturday 10:30 AM - 4:00 PM
: Monday to Thursday 10:30 AM - 7:00 PM; Friday 10:30 AM - 5:00 PM; Saturday 10:30 AM - 4:00 PM
: Monday to Thursday 10:30 AM - 7:00 PM; Friday 10:30 AM - 5:00 PM; Saturday 10:30 AM - 4:00 PM
: Monday to Thursday 10:30 AM - 7:00 PM; Friday 10:30 AM - 5:00 PM; Saturday 10:30 AM - 4:00 PM

: Everyday 9:00 AM - 7:00 PM
: Everyday 9:00 AM - 7:00 PM
: Everyday 9:00 AM - 7:00 PM
: Everyday 9:00 AM - 7:00 PM
: Everyday 9:00 AM - 7:00 PM
: Everyday 9:00 AM - 7:00 PM
: Everyday 9:00 AM - 7:00 PM
: Everyday 9:00 AM - 7:00 PM
: Everyday 9:00 AM - 7:00 PM
: Everyday 9:00 AM - 7:00 PM
: Everyday 9:00 AM - 7:00 PM
: Everyday 9:00 AM - 7:00 PM

: Monday to Saturday 10:00 AM - 3:00 PM
: Monday to Saturday 10:00 AM - 3:00 PM
: Monday to Saturday 10:00 AM - 3:00 PM
: Monday to Saturday 10:00 AM - 3:00 PM
: Monday to Saturday 10:00 AM - 3:00 PM
: Monday to Saturday 10:00 AM - 3:00 PM
: Monday to Saturday 10:00 AM - 3:00 PM
: Monday to Saturday 10:00 AM - 3:00 PM
: Monday to Saturday 10:00 AM - 3:00 PM
: Monday to Saturday 10:00 AM - 3:00 PM
: Monday to Saturday 10:00 AM - 3:00 PM
: Monday to Saturday 10:00 AM - 3:00 PM