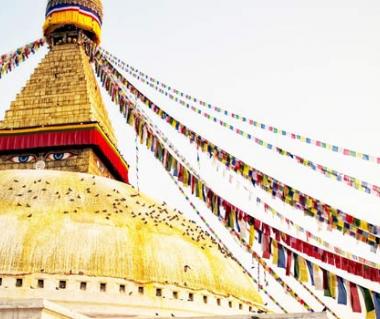 Nepal Trip Planner
Plan your customized trip plan for Nepal. Choose from Top Toursim cities and tourist attarctions of Nepal using trip planner.
Nepal Overview
Nepal is a landlocked country in Southern Asia, between the Tibet autonomous region of China and India. It contains eight of the world's 10 highest peaks, including Mount Everest - the world's tallest - on the border with Tibet, and Lumbini, the birth place of Gautama Buddha, the founder of Buddhism. Nepal is one of the poorest countries in the world. Known as the Land of Everest and being "The only Hindu Kingdom in the world", the kingdom of Nepal is a land of sublime scenery, one of the world's best and Archeologically very important temples, and some of the best walking trails on the Earth.
How to Enter
Air:
Visas are free for all tourists who come from a SAARC country. Indian nationals do not need a visa. Nationals of Nigeria, Ghana, Zimbabwe, Swaziland, Cameroon, Somalia, Liberia, Ethiopia, Iraq, Palestine and Afghanistan are required to obtain Visa before arrival, as they are denied the right to "Visa on arrival" by Nepal.
Road/Rail:
Cargo and passenger trains operate between Sirsiya in southern Nepal, and the Indian town of Raxaul.There are no trains in Nepal, other than an obscure branch line from India of limited interest to travelers.
There are five border crossings open to tourists. The Sunauli-Bhairawa border crossing is the closest to Varanasi, the Raxaul-Birganj crossing to Patna, Kolkata, and Siliguri-Kakarbhitta is to Darjeeling. The Banbassa-Mahendrenagar border crossing in the extreme west of Nepal is the closest to Delhi. The bahraich-Nepalganj border is the one closest to Lucknow which is the easiest destination by air or train from Delhi.
Climate and Best time to visit:
Nepal climate varies according to its season. Autumn and spring are the two most favorable seasons for visiting Nepal. Autumn starts from early September to early December and brings in clear weather with sunny days and warm nights. Whereas spring starts from the beginning of March to the end of May with occasional rain falls.
What to see:
Nepal has been claimed as one of the best sightseeing destination among the tourists with all its varied language, tradition & unique hospitality of the people inhabited in the countryside. The amazing & magnificent sight of the Himalayas, a diversity of beautiful landscape, all are beyond human imagination. Nepal's widespread fame in the world being the birthplace of Buddha - 'Light of Asia' is thing of glory for every Nepalese people.
Eateries: Dal, Bhat and Tarkari - Translated as Lentils, Rice and Curried vegetable. It is the main staple diet of most Nepali people.
Searching for something specific?