Best Time To Visit New Orleans
Explore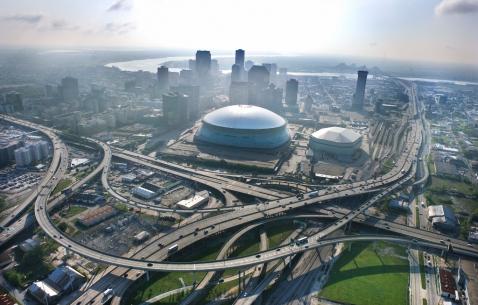 Best Time To Go To New Orleans
Wondering when to visit New Orleans? Weather in New Orleans is sub-tropical. So, the winters are mildly cold and the summers are hot and humid. The area is hurricane prone.
February-May: This is the peak season to visit New Orleans. This is the season of Mardi Gras, coinciding with springtime when the weather is comfortably warm, with average high temperatures ranging from the low 70s to the mid-80s.
June-August: This is the rainiest season and the tourists can get best deals with hotels. Although considered to be an off season, you can get the best hotel stay during this span.
September- November: Hotels remain at lower costs, although this marks the season of hurricanes.
December- January: There are fewer tourists, but this remains to be one of the best time to visit New Orleans as the temperatures remain cool enough. Also, you won't get the rush which you otherwise get during Mardi Gras.
Best time to visit New Orleans is in the months from February to May. This is the time when festivities and celebrations take place. Temperatures vary between 48°F and 85°F.
However, if you want to avoid the Mardi Gras rush, the months of December and January will suite you fine. Temperatures vary between 46°F to 63°F.
Best time to go to New Orleans Attractions

: Everyday 10:00 AM - 6:00 PM
: Everyday 10:00 AM - 6:00 PM
: Everyday 10:00 AM - 6:00 PM
: Everyday 10:00 AM - 6:00 PM
: Everyday 10:00 AM - 6:00 PM
: Everyday 10:00 AM - 6:00 PM
: Everyday 10:00 AM - 6:00 PM
: Everyday 10:00 AM - 6:00 PM
: Everyday 10:00 AM - 6:00 PM
: Everyday 10:00 AM - 6:00 PM
: Everyday 10:00 AM - 6:00 PM
: Everyday 10:00 AM - 6:00 PM

: Everyday 8:00 PM - 10:00 PM
: Everyday 8:00 PM - 10:00 PM
: Everyday 8:00 PM - 10:00 PM
: Everyday 8:00 PM - 10:00 PM
: Everyday 8:00 PM - 10:00 PM
: Everyday 8:00 PM - 10:00 PM
: Everyday 8:00 PM - 10:00 PM
: Everyday 8:00 PM - 10:00 PM
: Everyday 8:00 PM - 10:00 PM
: Everyday 8:00 PM - 10:00 PM
: Everyday 8:00 PM - 10:00 PM
: Everyday 8:00 PM - 10:00 PM

: Everyday 9:30 AM - 7:00 PM
: Everyday 9:30 AM - 7:00 PM
: Everyday 9:30 AM - 7:00 PM
: Everyday 9:30 AM - 7:00 PM
: Everyday 9:30 AM - 7:00 PM
: Everyday 9:30 AM - 7:00 PM
: Everyday 9:30 AM - 7:00 PM
: Everyday 9:30 AM - 7:00 PM
: Everyday 9:30 AM - 7:00 PM
: Everyday 9:30 AM - 7:00 PM
: Everyday 9:30 AM - 7:00 PM
: Everyday 9:30 AM - 7:00 PM

: Everyday 9:00 AM - 4:00 PM
: Everyday 9:00 AM - 4:00 PM
: Everyday 9:00 AM - 4:00 PM
: Everyday 9:00 AM - 4:00 PM
: Everyday 9:00 AM - 4:00 PM
: Everyday 9:00 AM - 4:00 PM
: Everyday 9:00 AM - 4:00 PM
: Everyday 9:00 AM - 4:00 PM
: Everyday 9:00 AM - 4:00 PM
: Everyday 9:00 AM - 4:00 PM
: Everyday 9:00 AM - 4:00 PM
: Everyday 9:00 AM - 4:00 PM

: Everyday 7:30 AM - 7:30 PM
: Everyday 7:30 AM - 7:30 PM
: Everyday 7:30 AM - 7:30 PM
: Everyday 7:30 AM - 7:30 PM
: Everyday 7:30 AM - 7:30 PM
: Everyday 7:30 AM - 7:30 PM
: Everyday 7:30 AM - 7:30 PM
: Everyday 7:30 AM - 7:30 PM
: Everyday 7:30 AM - 7:30 PM
: Everyday 7:30 AM - 7:30 PM
: Everyday 7:30 AM - 7:30 PM
: Everyday 7:30 AM - 7:30 PM

: Everyday 9:30 AM - 4:30 PM
: Everyday 9:30 AM - 4:30 PM
: Everyday 9:30 AM - 4:30 PM
: Everyday 9:30 AM - 4:30 PM
: Everyday 9:30 AM - 4:30 PM
: Everyday 9:30 AM - 4:30 PM
: Everyday 9:30 AM - 4:30 PM
: Everyday 9:30 AM - 4:30 PM
: Everyday 9:30 AM - 4:30 PM
: Everyday 9:30 AM - 4:30 PM
: Everyday 9:30 AM - 4:30 PM
: Everyday 9:30 AM - 4:30 PM

: Tuesday to Sunday 10:00 AM - 2:30 PM
: Tuesday to Sunday 10:00 AM - 2:30 PM
: Tuesday to Sunday 10:00 AM - 2:30 PM
: Tuesday to Sunday 10:00 AM - 2:30 PM
: Tuesday to Sunday 10:00 AM - 2:30 PM
: Tuesday to Sunday 10:00 AM - 2:30 PM
: Tuesday to Sunday 10:00 AM - 2:30 PM
: Tuesday to Sunday 10:00 AM - 2:30 PM
: Tuesday to Sunday 10:00 AM - 2:30 PM
: Tuesday to Sunday 10:00 AM - 2:30 PM
: Tuesday to Sunday 10:00 AM - 2:30 PM
: Tuesday to Sunday 10:00 AM - 2:30 PM

: Everyday 7:30 AM - 2:00 PM
: Everyday 7:30 AM - 2:00 PM
: Everyday 7:30 AM - 2:00 PM
: Everyday 7:30 AM - 2:00 PM
: Everyday 7:30 AM - 2:00 PM
: Everyday 7:30 AM - 2:00 PM
: Everyday 7:30 AM - 2:00 PM
: Everyday 7:30 AM - 2:00 PM
: Everyday 7:30 AM - 2:00 PM
: Everyday 7:30 AM - 2:00 PM
: Everyday 7:30 AM - 2:00 PM
: Everyday 7:30 AM - 2:00 PM

: Monday to Saturday 9:30 AM - 2:00 PM; Sunday 9:30 AM - 11:00 AM
: Monday to Saturday 9:30 AM - 2:00 PM; Sunday 9:30 AM - 11:00 AM
: Monday to Saturday 9:30 AM - 2:00 PM; Sunday 9:30 AM - 11:00 AM
: Monday to Saturday 9:30 AM - 2:00 PM; Sunday 9:30 AM - 11:00 AM
: Monday to Saturday 9:30 AM - 2:00 PM; Sunday 9:30 AM - 11:00 AM
: Monday to Saturday 9:30 AM - 2:00 PM; Sunday 9:30 AM - 11:00 AM
: Monday to Saturday 9:30 AM - 2:00 PM; Sunday 9:30 AM - 11:00 AM
: Monday to Saturday 9:30 AM - 2:00 PM; Sunday 9:30 AM - 11:00 AM
: Monday to Saturday 9:30 AM - 2:00 PM; Sunday 9:30 AM - 11:00 AM
: Monday to Saturday 9:30 AM - 2:00 PM; Sunday 9:30 AM - 11:00 AM
: Monday to Saturday 9:30 AM - 2:00 PM; Sunday 9:30 AM - 11:00 AM
: Monday to Saturday 9:30 AM - 2:00 PM; Sunday 9:30 AM - 11:00 AM

: Tuesday to Saturday 10:30 AM - 3:00 PM
: Tuesday to Saturday 10:30 AM - 3:00 PM
: Tuesday to Saturday 10:30 AM - 3:00 PM
: Tuesday to Saturday 10:30 AM - 3:00 PM
: Tuesday to Saturday 10:30 AM - 3:00 PM
: Tuesday to Saturday 10:30 AM - 3:00 PM
: Tuesday to Saturday 10:30 AM - 3:00 PM
: Tuesday to Saturday 10:30 AM - 3:00 PM
: Tuesday to Saturday 10:30 AM - 3:00 PM
: Tuesday to Saturday 10:30 AM - 3:00 PM
: Tuesday to Saturday 10:30 AM - 3:00 PM
: Tuesday to Saturday 10:30 AM - 3:00 PM

: Everyday 8:30 AM - 8:00 PM
: Everyday 8:30 AM - 8:00 PM
: Everyday 8:30 AM - 8:00 PM
: Everyday 8:30 AM - 8:00 PM
: Everyday 8:30 AM - 8:00 PM
: Everyday 8:30 AM - 8:00 PM
: Everyday 8:30 AM - 8:00 PM
: Everyday 8:30 AM - 8:00 PM
: Everyday 8:30 AM - 8:00 PM
: Everyday 8:30 AM - 8:00 PM
: Everyday 8:30 AM - 8:00 PM
: Everyday 8:30 AM - 8:00 PM

: Everyday 10:00 AM - 6:00 PM
: Everyday 10:00 AM - 6:00 PM
: Everyday 10:00 AM - 6:00 PM
: Everyday 10:00 AM - 6:00 PM
: Everyday 10:00 AM - 6:00 PM
: Everyday 10:00 AM - 6:00 PM
: Everyday 10:00 AM - 6:00 PM
: Everyday 10:00 AM - 6:00 PM
: Everyday 10:00 AM - 6:00 PM
: Everyday 10:00 AM - 6:00 PM
: Everyday 10:00 AM - 6:00 PM
: Everyday 10:00 AM - 6:00 PM

: Everyday 8:00 AM - 10:00 AM; Everyday 8:00 AM - 10:00 AM | 2:00 PM - 4:00 PM
: Everyday 8:00 AM - 10:00 AM; Everyday 8:00 AM - 10:00 AM | 2:00 PM - 4:00 PM
: Everyday 8:00 AM - 10:00 AM; Everyday 8:00 AM - 10:00 AM | 2:00 PM - 4:00 PM
: Everyday 8:00 AM - 10:00 AM; Everyday 8:00 AM - 10:00 AM | 2:00 PM - 4:00 PM
: Everyday 8:00 AM - 10:00 AM; Everyday 8:00 AM - 10:00 AM | 2:00 PM - 4:00 PM
: Everyday 8:00 AM - 10:00 AM; Everyday 8:00 AM - 10:00 AM | 2:00 PM - 4:00 PM
: Everyday 8:00 AM - 10:00 AM; Everyday 8:00 AM - 10:00 AM | 2:00 PM - 4:00 PM
: Everyday 8:00 AM - 10:00 AM; Everyday 8:00 AM - 10:00 AM | 2:00 PM - 4:00 PM
: Everyday 8:00 AM - 10:00 AM; Everyday 8:00 AM - 10:00 AM | 2:00 PM - 4:00 PM
: Everyday 8:00 AM - 10:00 AM; Everyday 8:00 AM - 10:00 AM | 2:00 PM - 4:00 PM
: Everyday 8:00 AM - 10:00 AM; Everyday 8:00 AM - 10:00 AM | 2:00 PM - 4:00 PM
: Everyday 8:00 AM - 10:00 AM; Everyday 8:00 AM - 10:00 AM | 2:00 PM - 4:00 PM

: Everyday 5:00 PM - 7:00 PM
: Everyday 5:00 PM - 7:00 PM
: Everyday 5:00 PM - 7:00 PM
: Everyday 5:00 PM - 7:00 PM
: Everyday 5:00 PM - 7:00 PM
: Everyday 5:00 PM - 7:00 PM
: Everyday 5:00 PM - 7:00 PM
: Everyday 5:00 PM - 7:00 PM
: Everyday 5:00 PM - 7:00 PM
: Everyday 5:00 PM - 7:00 PM
: Everyday 5:00 PM - 7:00 PM
: Everyday 5:00 PM - 7:00 PM

: Everyday 11:00 AM - 3:00 PM
: Everyday 11:00 AM - 3:00 PM
: Everyday 11:00 AM - 3:00 PM
: Everyday 11:00 AM - 3:00 PM
: Everyday 11:00 AM - 3:00 PM
: Everyday 11:00 AM - 3:00 PM
: Everyday 11:00 AM - 3:00 PM
: Everyday 11:00 AM - 3:00 PM
: Everyday 11:00 AM - 3:00 PM
: Everyday 11:00 AM - 3:00 PM
: Everyday 11:00 AM - 3:00 PM
: Everyday 11:00 AM - 3:00 PM

: Everyday 6:00 AM - 9:30 PM
: Everyday 6:00 AM - 9:30 PM
: Everyday 6:00 AM - 9:30 PM
: Everyday 6:00 AM - 9:30 PM
: Everyday 6:00 AM - 9:30 PM
: Everyday 6:00 AM - 9:30 PM
: Everyday 6:00 AM - 9:30 PM
: Everyday 6:00 AM - 9:30 PM
: Everyday 6:00 AM - 9:30 PM
: Everyday 6:00 AM - 9:30 PM
: Everyday 6:00 AM - 9:30 PM
: Everyday 6:00 AM - 9:30 PM

: Everyday 10:00 AM - 10:00 PM
: Everyday 10:00 AM - 10:00 PM
: Everyday 10:00 AM - 10:00 PM
: Everyday 10:00 AM - 10:00 PM
: Everyday 10:00 AM - 10:00 PM
: Everyday 10:00 AM - 10:00 PM
: Everyday 10:00 AM - 10:00 PM
: Everyday 10:00 AM - 10:00 PM
: Everyday 10:00 AM - 10:00 PM
: Everyday 10:00 AM - 10:00 PM
: Everyday 10:00 AM - 10:00 PM
: Everyday 10:00 AM - 10:00 PM

: Everyday 10:00 AM - 11:00 AM
: Everyday 10:00 AM - 11:00 AM
: Everyday 10:00 AM - 11:00 AM
: Everyday 10:00 AM - 11:00 AM
: Everyday 10:00 AM - 11:00 AM
: Everyday 10:00 AM - 11:00 AM
: Everyday 10:00 AM - 11:00 AM
: Everyday 10:00 AM - 11:00 AM
: Everyday 10:00 AM - 11:00 AM
: Everyday 10:00 AM - 11:00 AM
: Everyday 10:00 AM - 11:00 AM
: Everyday 10:00 AM - 11:00 AM

: Monday to Saturday 10:30 AM - 2:00 PM
: Monday to Saturday 10:30 AM - 2:00 PM
: Monday to Saturday 10:30 AM - 2:00 PM
: Monday to Saturday 10:30 AM - 2:00 PM
: Monday to Saturday 10:30 AM - 2:00 PM
: Monday to Saturday 10:30 AM - 2:00 PM
: Monday to Saturday 10:30 AM - 2:00 PM
: Monday to Saturday 10:30 AM - 2:00 PM
: Monday to Saturday 10:30 AM - 2:00 PM
: Monday to Saturday 10:30 AM - 2:00 PM
: Monday to Saturday 10:30 AM - 2:00 PM
: Monday to Saturday 10:30 AM - 2:00 PM

: Everyday 10:30 AM - 7:00 PM
: Everyday 10:30 AM - 7:00 PM
: Everyday 10:30 AM - 7:00 PM
: Everyday 10:30 AM - 7:00 PM
: Everyday 10:30 AM - 7:00 PM
: Everyday 10:30 AM - 7:00 PM
: Everyday 10:30 AM - 7:00 PM
: Everyday 10:30 AM - 7:00 PM
: Everyday 10:30 AM - 7:00 PM
: Everyday 10:30 AM - 7:00 PM
: Everyday 10:30 AM - 7:00 PM
: Everyday 10:30 AM - 7:00 PM

: Tuesday to Saturday 10:30 AM - 3:00 PM
: Tuesday to Saturday 10:30 AM - 3:00 PM
: Tuesday to Saturday 10:30 AM - 3:00 PM
: Tuesday to Saturday 10:30 AM - 3:00 PM
: Tuesday to Saturday 10:30 AM - 3:00 PM
: Tuesday to Saturday 10:30 AM - 3:00 PM
: Tuesday to Saturday 10:30 AM - 3:00 PM
: Tuesday to Saturday 10:30 AM - 3:00 PM
: Tuesday to Saturday 10:30 AM - 3:00 PM
: Tuesday to Saturday 10:30 AM - 3:00 PM
: Tuesday to Saturday 10:30 AM - 3:00 PM
: Tuesday to Saturday 10:30 AM - 3:00 PM

: Everyday 10:30 AM - 5:00 PM
: Everyday 10:30 AM - 5:00 PM
: Everyday 10:30 AM - 5:00 PM
: Everyday 10:30 AM - 5:00 PM
: Everyday 10:30 AM - 5:00 PM
: Everyday 10:30 AM - 5:00 PM
: Everyday 10:30 AM - 5:00 PM
: Everyday 10:30 AM - 5:00 PM
: Everyday 10:30 AM - 5:00 PM
: Everyday 10:30 AM - 5:00 PM
: Everyday 10:30 AM - 5:00 PM
: Everyday 10:30 AM - 5:00 PM

: Tuesday to Sunday 10:30 AM - 3:00 PM
: Tuesday to Sunday 10:30 AM - 3:00 PM
: Tuesday to Sunday 10:30 AM - 3:00 PM
: Tuesday to Sunday 10:30 AM - 3:00 PM
: Tuesday to Sunday 10:30 AM - 3:00 PM
: Tuesday to Sunday 10:30 AM - 3:00 PM
: Tuesday to Sunday 10:30 AM - 3:00 PM
: Tuesday to Sunday 10:30 AM - 3:00 PM
: Tuesday to Sunday 10:30 AM - 3:00 PM
: Tuesday to Sunday 10:30 AM - 3:00 PM
: Tuesday to Sunday 10:30 AM - 3:00 PM
: Tuesday to Sunday 10:30 AM - 3:00 PM

: Everyday 7:30 AM - 9:00 PM
: Everyday 7:30 AM - 9:00 PM
: Everyday 7:30 AM - 9:00 PM
: Everyday 7:30 AM - 9:00 PM
: Everyday 7:30 AM - 9:00 PM
: Everyday 7:30 AM - 9:00 PM
: Everyday 7:30 AM - 9:00 PM
: Everyday 7:30 AM - 9:00 PM
: Everyday 7:30 AM - 9:00 PM
: Everyday 7:30 AM - 9:00 PM
: Everyday 7:30 AM - 9:00 PM
: Everyday 7:30 AM - 9:00 PM

: Thursday to Sunday 8:00 PM - 10:00 PM
: Thursday to Sunday 8:00 PM - 10:00 PM
: Thursday to Sunday 8:00 PM - 10:00 PM
: Thursday to Sunday 8:00 PM - 10:00 PM
: Thursday to Sunday 8:00 PM - 10:00 PM
: Thursday to Sunday 8:00 PM - 10:00 PM
: Thursday to Sunday 8:00 PM - 10:00 PM
: Thursday to Sunday 8:00 PM - 10:00 PM
: Thursday to Sunday 8:00 PM - 10:00 PM
: Thursday to Sunday 8:00 PM - 10:00 PM
: Thursday to Sunday 8:00 PM - 10:00 PM
: Thursday to Sunday 8:00 PM - 10:00 PM

: Everyday 4:00 PM - 8:00 PM
: Everyday 4:00 PM - 8:00 PM
: Everyday 4:00 PM - 8:00 PM
: Everyday 4:00 PM - 8:00 PM
: Everyday 4:00 PM - 8:00 PM
: Everyday 4:00 PM - 8:00 PM
: Everyday 4:00 PM - 8:00 PM
: Everyday 4:00 PM - 8:00 PM
: Everyday 4:00 PM - 8:00 PM
: Everyday 4:00 PM - 8:00 PM
: Everyday 4:00 PM - 8:00 PM
: Everyday 4:00 PM - 8:00 PM

: Monday to Saturday 10:30 AM - 4:00 PM; Sunday 1:30 PM - 4:00 PM
: Monday to Saturday 10:30 AM - 4:00 PM; Sunday 1:30 PM - 4:00 PM
: Monday to Saturday 10:30 AM - 4:00 PM; Sunday 1:30 PM - 4:00 PM
: Monday to Saturday 10:30 AM - 4:00 PM; Sunday 1:30 PM - 4:00 PM
: Monday to Saturday 10:30 AM - 4:00 PM; Sunday 1:30 PM - 4:00 PM
: Monday to Saturday 10:30 AM - 4:00 PM; Sunday 1:30 PM - 4:00 PM
: Monday to Saturday 10:30 AM - 4:00 PM; Sunday 1:30 PM - 4:00 PM
: Monday to Saturday 10:30 AM - 4:00 PM; Sunday 1:30 PM - 4:00 PM
: Monday to Saturday 10:30 AM - 4:00 PM; Sunday 1:30 PM - 4:00 PM
: Monday to Saturday 10:30 AM - 4:00 PM; Sunday 1:30 PM - 4:00 PM
: Monday to Saturday 10:30 AM - 4:00 PM; Sunday 1:30 PM - 4:00 PM
: Monday to Saturday 10:30 AM - 4:00 PM; Sunday 1:30 PM - 4:00 PM

: Tuesday to Sunday 11:00 AM - 4:00 PM
: Tuesday to Sunday 11:00 AM - 4:00 PM
: Tuesday to Sunday 11:00 AM - 4:00 PM
: Tuesday to Sunday 11:00 AM - 4:00 PM
: Tuesday to Sunday 11:00 AM - 4:00 PM
: Tuesday to Sunday 11:00 AM - 4:00 PM
: Tuesday to Sunday 11:00 AM - 4:00 PM
: Tuesday to Sunday 11:00 AM - 4:00 PM
: Tuesday to Sunday 11:00 AM - 4:00 PM
: Tuesday to Sunday 11:00 AM - 4:00 PM
: Tuesday to Sunday 11:00 AM - 4:00 PM
: Tuesday to Sunday 11:00 AM - 4:00 PM