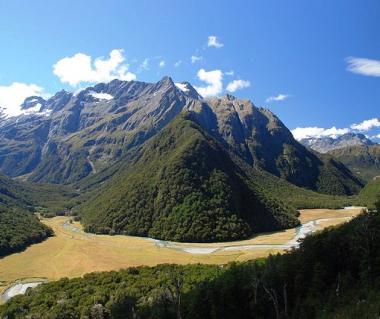 New Zealand Trip Planner
Plan your customized trip plan for New Zealand. Choose from Top Toursim cities and tourist attarctions of New Zealand using trip planner.
New Zealand Overview
One of the farthest countries in the world, a nation that wakes up to the first sunshine on the planet every day, New Zealand is definitely a land like no other. It is the adventure capital of the planet and yet this fact is just one of the feathers of its cap. Its landscapes have hypnotized many filmmakers and have convinced them to use this country as the backdrop for their movies; The Lord of the Rings trilogy, The Hobbit trilogy, and a few others bear testimony to this. From splendid walks to mesmerizing drives, from adrenaline thumping adventure sports to cultural tours, from hot water beaches to ski resort New Zealand has something to offer to everybody. The country has recently been voted as the friendliest nation on the planet by a study conducted by HSBC. One of the farthest places from anywhere (except Australia of course) is also the closest you can get to Neverland.
Getting in and Around New Zealand
By Air: - Since New Zealand does not have an international land border with any country it is best to get here by air. Wellington and Auckland are the main points of entry. New Zealand has a good network of domestic flights, at times it is a cheaper medium than train or road especially when traveling between different Islands.
By Road: New Zealand has a good network of the Bus system and self-drive tours are very popular. One of the best ways to appreciate the beauty of this country is to drive through it. Christchurch is the city with road transport.
By Rail: There is a limited railway system here and Auckland and Wellington are the major terminuses.
By Boat: There are ferry services on the Cook's straight to cross over from the North Island to the South Island (and vice versa). These are not always punctual though.
Best time to visit New Zealand
New Zealand is located towards the Southern end of the Southern Hemisphere and thus has seasons contrasting to those of North America, Eurasia and parts of Africa. The months of December, January and February is summertime and its winter from June to August. December & January is peak tourist season time hence it is advisable to book in advance. The same goes to say for ski resorts like Queenstown for the winter months. New Zealand however is an all-round the year destination, so it won't fail to impress you any time you visit.
What to see & Experience
New Zealand is a land of splendid natural beauties; a visit to the Southern Alps is a memorable experience in the winter. Dig your own natural spa in the at the hot water beaches near Whitianga or stand in awe of the greenish yellow Sulphur lakes in Rotoura, or just drive through the beautiful country roads, there is definitely a lot to see here.
New Zealand is one of the best destinations in the world to go to in case you are an adventure sports freak, from Bungee Jumping to Cave rafting, rock climbing, scuba diving, skydiving, just name it and you have it. For those travelers who are keen to learn about cultures unknown, a Maori cultural tour is a must which gives you an idea about the indigenous population.
Searching for something specific?