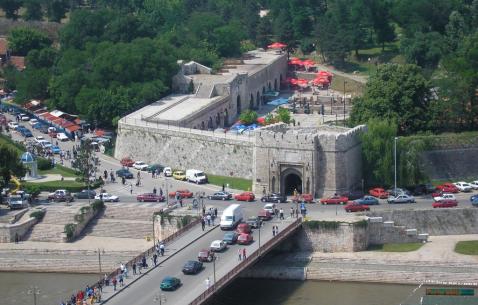 Nis is the third largest city of Serbia and the administrative centre of Nisava district. It is one of the oldest cities in Europe and an important gateway between the West and the Middle East. An important commercial hub of the country, Niš is known for its electronics, textiles, and tobacco industries. The city's tourism has also become a significant part of its economy over the years.
In 279BC, after the Balkan Invasions, Scordisci named the region as Navissos. Romans conquered the city in 75BC. Constantine the Great, the first Christian Emperor was born here. It was subsequently ruled by Slavs, Burglars and Byzantines until it was given to Serbs in the 12th century. Ottomans conquered Nis in the 15th century and it was finally freed by the Serb forces in the Serbian-Ottoman war of 1878. During the Second World War, Niš served as a concentration camp for the extermination of Jews.
Surrounded by mountains, picturesque landscapes, rivers and gorges, Nis is a great place to be on your trip planners, especially on your way to Greece or the Middle Eastern countries. The city entices you with its magnificent fortress, which is said to be among the best-preserved constructions of the Central Balkans. It is also home to one of the oldest English churches in the country.
In addition to the historical monuments located in the city, Nis's surroundings are bestowed with a number of sightseeing places which include two beautiful gorges, a huge natural reserve, and wonderful cave formations known as CerjanskaPecina. There are also seasonal spas and holiday resorts around the city that offer adventure sports and several other activities to do.
Nis is an important educational centre with universities and academic institutions catering to the needs of more than 30,000 students. The city also has several sports clubs, including a couple of professional football and handball teams.
Essential travel information and Nis tips for your visit
Carry the city maps to navigate freely in the city without any problems.
Exchange your money only in banks. There will be a few fraudulent people who will approach you for exchanging money at tempting rates. Do not fall in their trap.
Be careful while hiring the taxis. They may trick you and charge high.
Nis Trip Planner
Plan your customized day by day trip plan for nis. Choose from various experinces categories as adventure, romantic and family and kids friendly for your trip using using nis trip planner.