Best Time To Visit Norrkopping
Explore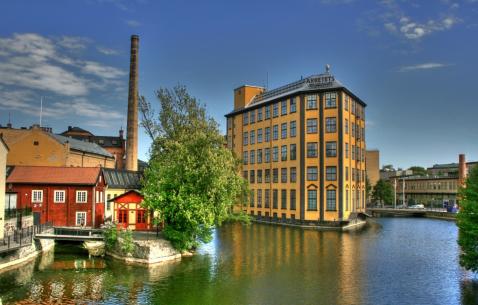 Best Time To Go To Norrkopping
Summer (June through August)- The best time to visit Norrköping is summer. City is packed with visitors and locals enjoy long days as the sun never sets, or it does only for few hours only to come back up soon! The prices of accommodation and flights may well rise quite high but the almost perfect weather makes it a delight to enjoy outdoor activities.
Spring (March through May)- Locals welcome spring and bid adieu to a long winter season starting March. Although it may still be cold, it changes as the month's progresses and City looks even more beautiful with spring blossoms all over!
Autumn (September)- With days getting shorter, the hotels start to slash down the prices and the attractions in the City have limited visiting hours or some close down. An off-season where you might not see much of visitor around.
Winter (November through March)- Harsh weather and very few hours of sunlight doesn't attract much visitors. If you are brave enough to weather the conditions, then Christmas is a good time to spend in Norrkoping City gets a makeover in it that there are Christmas decorations all over. An added plus is the lower prices.
Best time to go to Norrkopping Attractions

: Everyday 24 Hrs
: Everyday 24 Hrs
: Everyday 24 Hrs
: Everyday 24 Hrs
: Everyday 24 Hrs
: Everyday 24 Hrs
: Everyday 24 Hrs
: Everyday 24 Hrs
: Everyday 24 Hrs
: Everyday 24 Hrs
: Everyday 24 Hrs
: Everyday 24 Hrs

: Everyday 24 Hrs
: Everyday 24 Hrs
: Everyday 24 Hrs
: Everyday 24 Hrs
: Everyday 24 Hrs
: Everyday 24 Hrs
: Everyday 24 Hrs
: Everyday 24 Hrs
: Everyday 24 Hrs
: Everyday 24 Hrs
: Everyday 24 Hrs
: Everyday 24 Hrs

: Everyday 24 Hrs
: Everyday 24 Hrs
: Everyday 24 Hrs
: Everyday 24 Hrs
: Everyday 24 Hrs
: Everyday 24 Hrs
: Everyday 24 Hrs
: Everyday 24 Hrs
: Everyday 24 Hrs
: Everyday 24 Hrs
: Everyday 24 Hrs
: Everyday 24 Hrs

: Everyday 24 Hrs
: Everyday 24 Hrs
: Everyday 24 Hrs
: Everyday 24 Hrs
: Everyday 24 Hrs
: Everyday 24 Hrs
: Everyday 24 Hrs
: Everyday 24 Hrs
: Everyday 24 Hrs
: Everyday 24 Hrs
: Everyday 24 Hrs
: Everyday 24 Hrs

: Everyday 24 Hrs
: Everyday 24 Hrs
: Everyday 24 Hrs
: Everyday 24 Hrs
: Everyday 24 Hrs
: Everyday 24 Hrs
: Everyday 24 Hrs
: Everyday 24 Hrs
: Everyday 24 Hrs
: Everyday 24 Hrs
: Everyday 24 Hrs
: Everyday 24 Hrs

: Everyday 24 Hrs
: Everyday 24 Hrs
: Everyday 24 Hrs
: Everyday 24 Hrs
: Everyday 24 Hrs
: Everyday 24 Hrs
: Everyday 24 Hrs
: Everyday 24 Hrs
: Everyday 24 Hrs
: Everyday 24 Hrs
: Everyday 24 Hrs
: Everyday 24 Hrs

: Everyday 24 Hrs
: Everyday 24 Hrs
: Everyday 24 Hrs
: Everyday 24 Hrs
: Everyday 24 Hrs
: Everyday 24 Hrs
: Everyday 24 Hrs
: Everyday 24 Hrs
: Everyday 24 Hrs
: Everyday 24 Hrs
: Everyday 24 Hrs
: Everyday 24 Hrs

: Everyday 24 Hrs
: Everyday 24 Hrs
: Everyday 24 Hrs
: Everyday 24 Hrs
: Everyday 24 Hrs
: Everyday 24 Hrs
: Everyday 24 Hrs
: Everyday 24 Hrs
: Everyday 24 Hrs
: Everyday 24 Hrs
: Everyday 24 Hrs
: Everyday 24 Hrs

: Everyday 24 Hrs
: Everyday 24 Hrs
: Everyday 24 Hrs
: Everyday 24 Hrs
: Everyday 24 Hrs
: Everyday 24 Hrs
: Everyday 24 Hrs
: Everyday 24 Hrs
: Everyday 24 Hrs
: Everyday 24 Hrs
: Everyday 24 Hrs
: Everyday 24 Hrs

: Wednesday 11:00 AM - 8:00 PM; Tuesday, Thursday, Friday, Saturday, Sunday 11:00 AM - 5:00 PM
: Wednesday 11:00 AM - 8:00 PM; Tuesday, Thursday, Friday, Saturday, Sunday 11:00 AM - 5:00 PM
: Wednesday 11:00 AM - 8:00 PM; Tuesday, Thursday, Friday, Saturday, Sunday 11:00 AM - 5:00 PM
: Wednesday 11:00 AM - 8:00 PM; Tuesday, Thursday, Friday, Saturday, Sunday 11:00 AM - 5:00 PM
: Wednesday 11:00 AM - 8:00 PM; Tuesday, Thursday, Friday, Saturday, Sunday 11:00 AM - 5:00 PM
: Wednesday 11:00 AM - 8:00 PM; Tuesday, Thursday, Friday, Saturday, Sunday 11:00 AM - 5:00 PM
: Wednesday 11:00 AM - 8:00 PM; Tuesday, Thursday, Friday, Saturday, Sunday 11:00 AM - 5:00 PM
: Wednesday 11:00 AM - 8:00 PM; Tuesday, Thursday, Friday, Saturday, Sunday 11:00 AM - 5:00 PM
: Wednesday 11:00 AM - 8:00 PM; Tuesday, Thursday, Friday, Saturday, Sunday 11:00 AM - 5:00 PM
: Wednesday 11:00 AM - 8:00 PM; Tuesday, Thursday, Friday, Saturday, Sunday 11:00 AM - 5:00 PM
: Wednesday 11:00 AM - 8:00 PM; Tuesday, Thursday, Friday, Saturday, Sunday 11:00 AM - 5:00 PM
: Wednesday 11:00 AM - 8:00 PM; Tuesday, Thursday, Friday, Saturday, Sunday 11:00 AM - 5:00 PM

: Tuesday, Wednesday, Friday 11:00 AM - 5:00 PM; Thursday 11:00 AM - 8:00 PM; Saturday, Sunday 11:00 AM - 4:00 PM
: Tuesday, Wednesday, Friday 11:00 AM - 5:00 PM; Thursday 11:00 AM - 8:00 PM; Saturday, Sunday 11:00 AM - 4:00 PM
: Tuesday, Wednesday, Friday 11:00 AM - 5:00 PM; Thursday 11:00 AM - 8:00 PM; Saturday, Sunday 11:00 AM - 4:00 PM
: Tuesday, Wednesday, Friday 11:00 AM - 5:00 PM; Thursday 11:00 AM - 8:00 PM; Saturday, Sunday 11:00 AM - 4:00 PM
: Tuesday, Wednesday, Friday 11:00 AM - 5:00 PM; Thursday 11:00 AM - 8:00 PM; Saturday, Sunday 11:00 AM - 4:00 PM
: Tuesday, Wednesday, Friday 11:00 AM - 5:00 PM; Thursday 11:00 AM - 8:00 PM; Saturday, Sunday 11:00 AM - 4:00 PM
: Tuesday, Wednesday, Friday 11:00 AM - 5:00 PM; Thursday 11:00 AM - 8:00 PM; Saturday, Sunday 11:00 AM - 4:00 PM
: Tuesday, Wednesday, Friday 11:00 AM - 5:00 PM; Thursday 11:00 AM - 8:00 PM; Saturday, Sunday 11:00 AM - 4:00 PM
: Tuesday, Wednesday, Friday 11:00 AM - 5:00 PM; Thursday 11:00 AM - 8:00 PM; Saturday, Sunday 11:00 AM - 4:00 PM
: Tuesday, Wednesday, Friday 11:00 AM - 5:00 PM; Thursday 11:00 AM - 8:00 PM; Saturday, Sunday 11:00 AM - 4:00 PM
: Tuesday, Wednesday, Friday 11:00 AM - 5:00 PM; Thursday 11:00 AM - 8:00 PM; Saturday, Sunday 11:00 AM - 4:00 PM
: Tuesday, Wednesday, Friday 11:00 AM - 5:00 PM; Thursday 11:00 AM - 8:00 PM; Saturday, Sunday 11:00 AM - 4:00 PM

: Monday, Tuesday, Wednesday, Friday 8:00 AM - 4:00 PM; Thursday 8:00 AM - 8:00 PM; Saturday, Sunday 11:00 AM - 4:00 PM
: Monday, Tuesday, Wednesday, Friday 8:00 AM - 4:00 PM; Thursday 8:00 AM - 8:00 PM; Saturday, Sunday 11:00 AM - 4:00 PM
: Monday, Tuesday, Wednesday, Friday 8:00 AM - 4:00 PM; Thursday 8:00 AM - 8:00 PM; Saturday, Sunday 11:00 AM - 4:00 PM
: Monday, Tuesday, Wednesday, Friday 8:00 AM - 4:00 PM; Thursday 8:00 AM - 8:00 PM; Saturday, Sunday 11:00 AM - 4:00 PM
: Monday, Tuesday, Wednesday, Friday 8:00 AM - 4:00 PM; Thursday 8:00 AM - 8:00 PM; Saturday, Sunday 11:00 AM - 4:00 PM
: Monday, Tuesday, Wednesday, Friday 8:00 AM - 4:00 PM; Thursday 8:00 AM - 8:00 PM; Saturday, Sunday 11:00 AM - 4:00 PM
: Monday, Tuesday, Wednesday, Friday 8:00 AM - 4:00 PM; Thursday 8:00 AM - 8:00 PM; Saturday, Sunday 11:00 AM - 4:00 PM
: Monday, Tuesday, Wednesday, Friday 8:00 AM - 4:00 PM; Thursday 8:00 AM - 8:00 PM; Saturday, Sunday 11:00 AM - 4:00 PM
: Monday, Tuesday, Wednesday, Friday 8:00 AM - 4:00 PM; Thursday 8:00 AM - 8:00 PM; Saturday, Sunday 11:00 AM - 4:00 PM
: Monday, Tuesday, Wednesday, Friday 8:00 AM - 4:00 PM; Thursday 8:00 AM - 8:00 PM; Saturday, Sunday 11:00 AM - 4:00 PM
: Monday, Tuesday, Wednesday, Friday 8:00 AM - 4:00 PM; Thursday 8:00 AM - 8:00 PM; Saturday, Sunday 11:00 AM - 4:00 PM
: Monday, Tuesday, Wednesday, Friday 8:00 AM - 4:00 PM; Thursday 8:00 AM - 8:00 PM; Saturday, Sunday 11:00 AM - 4:00 PM

: Everyday 11:00 AM - 5:00 PM
: Everyday 11:00 AM - 5:00 PM
: Everyday 11:00 AM - 5:00 PM
: Everyday 11:00 AM - 5:00 PM
: Everyday 11:00 AM - 5:00 PM
: Everyday 11:00 AM - 5:00 PM
: Everyday 11:00 AM - 5:00 PM
: Everyday 11:00 AM - 5:00 PM
: Everyday 11:00 AM - 5:00 PM
: Everyday 11:00 AM - 5:00 PM
: Everyday 11:00 AM - 5:00 PM
: Everyday 11:00 AM - 5:00 PM

: Everyday 24 Hrs
: Everyday 24 Hrs
: Everyday 24 Hrs
: Everyday 24 Hrs
: Everyday 24 Hrs
: Everyday 24 Hrs
: Everyday 24 Hrs
: Everyday 24 Hrs
: Everyday 24 Hrs
: Everyday 24 Hrs
: Everyday 24 Hrs
: Everyday 24 Hrs

: Everyday 24 Hrs
: Everyday 24 Hrs
: Everyday 24 Hrs
: Everyday 24 Hrs
: Everyday 24 Hrs
: Everyday 24 Hrs
: Everyday 24 Hrs
: Everyday 24 Hrs
: Everyday 24 Hrs
: Everyday 24 Hrs
: Everyday 24 Hrs
: Everyday 24 Hrs

: Everyday 24 Hrs
: Everyday 24 Hrs
: Everyday 24 Hrs
: Everyday 24 Hrs
: Everyday 24 Hrs
: Everyday 24 Hrs
: Everyday 24 Hrs
: Everyday 24 Hrs
: Everyday 24 Hrs
: Everyday 24 Hrs
: Everyday 24 Hrs
: Everyday 24 Hrs