Comfort Suites, North Bergen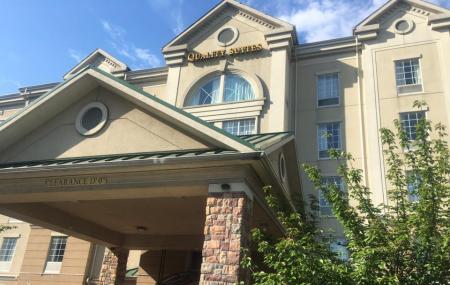 Comfort Suites - A Quick Overview
[Contribute/Review]
Address: 1200 Tonnelle Ave, North Bergen, NJ 07047, USA, United States
Phone: +1-2013920008
Timings: 24-hrs Details
Currently Open
Added 25 times in trip plans
Hotel, Family And Kids
Website: http://en.wikipedia.org/wiki?curid=17153257
The best way to avoid last minute glitches is to plan your travel itinerary early!
Are you associated with this business? Get in touch
About Comfort Suites, North Bergen
Quality Suites is a 3-star hotel located in North Bergen, New Jersey. These suits are true to their name and offer extreme comfort. And who wouldn't love having a free continental breakfast, free WiFi, fitness center, and a business center on the premises? The staff is well-trained and efficient. They will go an extra mile to make your stay memorable. Clean and neat premises is warmly decorated. It's proximity to New York City has made it even more popular amongst tourists. Consider booking a room in advance to avoid peak season rush.
How To reach Comfort Suites by Public Transport
Comfort Suites, North Bergen is an excellent point of interest in United States. Thinking about adding Comfort Suites, North Bergen to your travel itinerary? You can find all the necessary information to plan a visit to the Comfort Suites, North Bergen listed on this page.
Right from the address and the contact number to the timings and ticket prices, this page ensures that all the essential data related to the Comfort Suites, North Bergen is available at your disposal. Also, the images of Comfort Suites, North Bergen displayed on this page will help you get a better idea of what to expect when you head to this popular attraction. Plus, to ease your process of trip planning, a map view of Comfort Suites, North Bergen is also presented on this page.
What's more, you can also assist us in improving the accuracy of this data by contributing and editing this info! So, if you think you have better photos of Comfort Suites, North Bergen from your recent trip here or maybe have some updated inputs regarding the timings, address, contact number and ticket prices, then feel free to contribute to this page!
Apart from the basic logistics you can also find information related to nearby important places located in the vicinity of Comfort Suites, North Bergen here.
The most crucial bit of info that people are looking for when they plan a visit to Comfort Suites, North Bergen is that about best places to eat here. If you are traveling on a tight budget and a tight time schedule, then consider heading to these quickbite places listed below. If grabbing a couple of drinks and chilling is on your agenda near Comfort Suites, North Bergen then do visit the wonderful bars like the ones listed on this page.
Suppose a quick coffee and donut stop is all that you are looking for when visiting Comfort Suites, North Bergen then the cafes and bakeries listed on this page are perfect to serve you. If you are a fussy foodie and have a lot of time on your hands, then do plan a visit to restaurants specializing in different cuisines and genres of dining, these are offered by TripHobo as well.
The tourist information centre will provide you with all the information and assistance that you need upon visiting Comfort Suites, North Bergen. Also, various net cafes located around this popular attraction will make sure that you have quick access to internet. Also, Hotels and BNBs assure you of a convenient, comfortable and affordable stay near Comfort Suites, North Bergen.
Gas Stations and parking lots are located near Comfort Suites, North Bergen; so, you need not worry about parking and refueling woes upon your visit. If you are not visiting Comfort Suites, North Bergen in your private vehicle and are dependent upon public transport, then the data about bus stations and train stations will help you commute around this place.
In case of any monetary emergencies, head to the nearest ATM or bank near Comfort Suites, North Bergen. Public safety stations like fire stations, police stations, etc. situated near Comfort Suites, North Bergen should be contacted in case of any emergency. Similarly, you can head to the pharmacies listed below if at all you need any medical help when you are at Comfort Suites, North Bergen.
Apart from Comfort Suites, North Bergen the city of North Bergen has numerous other things to offer. Check out the list of things to do in North Bergen to make the most out of your holiday. Additionally, you can also make the use of this North Bergen trip planner to have a fabulous and a memorable vacation. Do not forget to go through the North Bergen vacation packages as well; these packages will recommend you some of the best itineraries for your North Bergen holiday! Also, do not forget to calculate the average cost of your trip to North Bergen using our exclusive budget calculator. If you are looking for other things to do in United States, then check out this United States trip planner for more ideas!
Comfort Suites, North Bergen Reviews
Great service from all staff. Conveniently located from Manhattan and the Manhattan Cruise Terminal. Hotel allowed me to leave my car at the hotel for the duration of my cruise for $10/day. Very good breakfast served daily - including in hotel charge. I don't think you can find a better deal in this area. Highly recommended!

Quality Suites was very comforting and the staff was great. Their service was quite nice. They provided occupants at the hotel with complimentary breakfast. I would recommend it to most people.

My stay was for three nights. The room was fine, the lady at the front desk was nice, the breakfast people were all very nice. Two problems. 1) They kept charging my cards in increments of $20 twices, and $40 once on top of my original stay. I was not informed of any charges. Usually on the last day at any choice hotel, you get a RECEIPT the morning of your last day slid under your door. I was not given one. When I turned in my key cards, a receipt was not offered to me either. Fine, I usually get an email with a receipt, which wasn't sent either!!!! I was never informed why they charged me $80 extra and all at different times. So I can only conclude that since they charged me without consent and did not show me the charges even after I left, they either tried to steal an extra $80 from me or gave my credit card info to someone else. I had to call my bank and tell them about this and had a new car shipped out to me. 2) There is a very creepy older worker here who stared at me and my friend the entire time we brought our luggage into the room. He did not look anywhere else, he was dead on staring at us. And then when I went to drop off the cart back down, he was still staring at me. Even when I made direct eye contact with him, he was still staring at me. Someone needs to do something about this. Very uncomfortable. I would like to be contacted about my charges.

The hotel staff was really great. When I arrived I was greeted in the lobby by someone who appeared to be going on break. I introduced myself and made my request known. He stayed with me until the other staff covering for him was able to help me. I arrived around 1230h They assisted me with checking in early even though it was not previously requested. My room was clean, it had a kitchenette area with a microwave and a mini bar, the bed was comfortable. I was totally impressed with the fact that they provided shower caps and Q-tips. Breakfast was great, I stayed 2 night and found they offered a variety. I chose this location as I wanted to do some sightseeing in NYC and hotels in NYC is very costly in addition to daily parking rates. The hotel offers a shuttle service at a reasonable price however, I didn't use it. I took public transit to Manhattan which was only about 30 mins commute including walking time to the bus stop. Overall, it was a great stay. If and when I do visit NYC again I'd def be staying here!

Location may seem a little weird, but it is around a decent area, is located on a main road and is around many other hotels. There is a shuttle that departs and picks up from NYC each day. Breakfast is solid but nothing special. Rooms are comfortable and well appointed. Building looks dated but it has clearly had internal renovations and upgrades. Only one elevator, be prepared to wait for it or walk the stairs.
Read all reviews
Find places near Comfort Suites, North Bergen
Bank of America ATM

4800 Bergenline Ave

Bank of America ATM

700 Plaza Dr

Bank of America ATM

3109 Bergenline Ave

Bank of America ATM

1834 Willow Ave

Bank of America ATM

3300 Bergenline Ave

TD Bank & ATM

800 Summit Ave
View On Map
Chase Bank

3196 Kennedy Blvd

Wells Fargo Bank

3522 Park Ave

Wells Fargo Bank

2 14th St

Bank of America

303 Central Ave

Chase Bank

374 Central Ave
View On Map
North Bergen Police Department

4233 Kennedy Blvd

Union City Police Department

3715 Palisade Ave

Secaucus Police Department

1203 Paterson Plank Rd

Jersey City Police Department

282 Central Ave

Weehawken Police Department

400 Park Ave

Union City Police Department

617 Bergenline Ave
View On Map
CVS Pharmacy

4700 Bergenline Ave

CVS Pharmacy

1200 Harbor Blvd

Rite Aid

1320 Shipyard Ln

Jersey Drugs

286 Central Ave

Tucker Drugs

1000 Washington St
View On Map
Chili's Grill & Bar

700 Plaza Dr

Lincoln Inn

13 Lincoln St

8th Street Tavern

800 Washington St
View On Map
Buffalo Wild Wings

470 Harmon Meadow Boulevard Harmon Mdw

Ringside Lounge

475 Tonnele Ave

Cheeseburger

700 Plaza Dr

Hoboken Bar & Grill

230 Washington St

Onieal's Restaurant & Bar

343 Park Ave

Manhattan Bar & Grill Restaurant & Lounge

1711 Manhattan Ave
View On Map
Bin 14

1314 Washington St

Borges Wine Bar

717 Willow Ave

The Penthouse

101 Clinton St
View On Map
Dunkin' Donuts

216 County Ave

Dunkin' Donuts

318 Central Ave

Dunkin' Donuts

2000 Bergenline Ave

Dunkin' Donuts

3438 John F Kennedy Blvd

Dunkin' Donuts

700 Washington St
View On Map
Panera Bread

310 Washington St

Palermo's Bakery

3701 Park Ave

Noches Restaurant & Bakery

2821 Bergenline Ave

Taquerias Veracruz

434 51st St

Old German Bakery

332 Washington St
View On Map
New Jersey Beer Company

4201 Tonnelle Ave
View On Map
Patsey's Italian American Bistro

93 Franklin St

Six Corners Cafe

4301 Bergen Tpke

Fruit Bunch Cafe

4929 Bergenline Ave

Dark Side of the Moo Cafe

52 Bowers St
View On Map
Precieux Flower Cake

1500 Hudson St

Gladys Homemade Cakes

2508 Palisade Ave

GoodieBox Bake Shop

3712 Park Ave

Jacques Enterprises

2112 Bergenline Ave
View On Map
Ben & Jerry's

405 Washington St

16 Handles

1185 Maxwell Ln

Cremas Artisan Flavors

4301 Park Ave

Cups Frozen Yogurt

700 Plaza Dr

Baskin-Robbins

4801 Park Ave

Baskin-Robbins

704 Kennedy Blvd
View On Map
J & S International Multi-Service

425 Central Ave

Global Latin Services

4707 Bergenline Ave
View On Map
Total Nutrition Kitchen

322 Washington St

Fruteria Juice Bar

4115 Park Ave
View On Map
Restaurant Depot

777 Secaucus Rd

La Isla Restaurant - Uptown

25 12th St

Argentina Bakery

1611 Bergenline Ave

Bwè Kafe

1002 Washington St

Finnegan's Pub

734 Willow Ave

Angel Azul Bakery Cafe

460 Central Ave
View On Map
Juana's Restaurant #1

2709 Summit Ave

White Mana

470 Tonnele Ave
View On Map
Noodlefan

514 Central Ave

Touch Of Spice

4114 Park Ave

Chicken Factory

529 Washington St

First Wok

2608 Paterson Plank Rd

Kennedy Center Chinese Restaurant

3130 Henry St

Central Wok Chinese Restaurant

499 Central Ave
View On Map
Chic King

4205 Bergenline Ave

Maria Mentiras Bar & Grill

328 32nd St

El Conuco Colombiano

3401 Bergenline Ave

Louie's BBQ Pit

5107 Palisade Ave

Corkscrew Bar

61 Congress St

Latin BBQ

707 Kennedy Blvd
View On Map
Bareburger

515 Washington St

Burger King

330 Central Ave

McDonald's

260 Central Ave

Burger King

3501 Bergenline Ave

Red Robin Gourmet Burgers

450 Harmon Meadow Blvd

McDonald's

737 Secaucus Rd
View On Map
Illuzion

337 Washington St

Caribbean Favor

99 Franklin St

Francesca Chinese Restaurant

2411 Bergenline Ave

Yeung II Sushi Asian Cuisine

1120 Washington St

Mr Rice's Kitchen

3495 John F Kennedy Blvd

Po Wong Restaurant

617 Summit Ave
View On Map
Havana Sandwich Queen

106 48th St

Fiore Deli of Hoboken

414 Adams St

Aspen Marketplace

226 Washington St

El Carretero

4602 Bergenline Ave
View On Map
Four Star Diner

543 32nd St

Empire Coffee & Tea Co of Nj

338 Bloomfield St

Legends Diner

130 County Ave

Coach House Restaurant

921 Kennedy Blvd

Schnackenberg's Luncheonette

1110 Washington St

Malibu Diner Restaurant

257 14th St
View On Map
Chipotle Mexican Grill

700 Plaza Dr

White Castle

3810 Kennedy Blvd

Sonic Drive-In

2819 Kennedy Blvd

Taco Bell

2020 Tonnelle Ave

McDonald's

3215 Kennedy Blvd

John's Fried Chicken

521 32nd St
View On Map
Aroy-D, The Thai Elephant Truck

1 14th St

Sabrett Hot Dog Stand

350 9th St
View On Map
Elysian Cafe

1001 Washington St

Madison Bar & Grill

1316 Washington St

Crepe Guru

315 Washington St

Zack's Oak Bar & Restaurant

232 Willow Ave

Amanda's

908 Washington St
View On Map
Chef of India

324 Central Ave

El Pollo Supremo

3223 Bergenline Ave

Karma Kafe

505 Washington St

Mausam Indian Cuisine

1150 Paterson Plank Rd

Matt & Meera

618 Washington St

Supreme Chicken Of Nj

4209 Bergenline Ave
View On Map
Conchy's

1908 Bergenline Ave

Latin America

4317 Bergenline Ave

Morenaje Restaurant

419 24th St

Isla Bonita

406 Central Ave

Beyti Restaurant

4105 Park Ave

Noches De Colombia

4329 Bergenline Ave
View On Map
Terra Nostra Pizzeria & Restaurant

200 39th St

Casa De Napoli

703 32nd St

Gino's Pizzeria

380 Central Ave

Carrabba's Italian Grill

475 Harmon Meadow Blvd

De Palma Pizzeria & Ristorante

1814 New York Ave
View On Map
Ginger Grill

5008 Bergenline Ave

Ayame Hibachi & Sushi

526 Washington St

Las Olas Sushi Bar & Grill

1319 Washington St

Asian Fusion Grills & Sushi

4900 Bergenline Ave

Teri Teri Japanese Restaurant

3415 Bergenline Ave

Robongi

520 Washington St
View On Map
Sabor Peruano

5119 Bergenline Ave

El Carretero Restaurant

2116 Bergenline Ave

Los Amigos Restaurant

395 Central Ave

Taquerias Veracruz

3418 Bergenline Ave

La Fusta Restaurant

1110 Tonnelle Ave

Ceja's Restaurant

800 Kennedy Blvd
View On Map
Flatbread Grill

517 Washington St

Trattoria Saporito

328 Washington St

It's Greek To Me

538 Washington St

Mamoun's Falafel

502 Washington St
View On Map
Pizza Masters

278 Central Ave

Augustino's

1104 Washington St

Little Caesars Pizza

408 Central Ave

10th & Willow Bar & Grill

935 Willow Ave

Pizzarra's Restaurant & Pizzeria

4000 Bergenline Ave

Park Avenue Pizza

3515 John F Kennedy Blvd
View On Map
McLoone's Pier House

1300 Sinatra Dr

Pollos A La Brasa Mario

4215 Bergenline Ave

El Farolito

4116 Bergenline Ave
View On Map
Outback Steakhouse

455 Harmon Meadow Blvd

Arthurs Tavern

237 Washington St

La Pupusa 2

4709 Bergenline Ave

Los Americos Restaurant

4509 Bergenline Ave

Philly's Cheesesteaks

523 Washington St

Ricky's Frontier

1218 Kennedy Blvd
View On Map
Niko Niko Sushi

700 Plaza Dr

Tokyo Buffett

700 Plaza Dr

Casual Thai & Sushi

1006 Washington St

Asia Sushi & Chinese Cuisine

926 Washington St

Teri Teri Japanese Restaurant

398 Central Ave

Istana Sushi & Wok

936 Washington St
View On Map
Sri Thai

234 Bloomfield St

Hi-So Thai

1903 Willow Ave

Five Stars Thai Cuisine

324 29th St

Bangkok City Thai Restaurant

335 Washington St

Rice Shop Restaurant

304 Washington St

Linda Thai Kitchen

204 County Ave
View On Map
Zena Grocery

400 Jefferson St

Gaslight Restaurant

400 Adams St

Maoz Vegetarian

315 Washington St
View On Map
Jersey City Parking Authority

394 Central Ave

Edison ParkFast

675 New County Rd

Sylvan Sky Garage

125 Marshall St

Little Man Parking

2 12th St

Sylvan Jefferson Street Garage

800 Jefferson St

Hoboken Midtown Garage

330 Clinton St
View On Map
Nj Transit

2600 Penhorn Ave

Eastern Bus Co.

406 32nd St

Latin Express

406 32nd St
View On Map
Secaucus Junction

675 New County Rd

Seacacus Junction Rail Station - Track B 2 NYC

-

New Jersey Transit

5901 W Side Ave

NJT NJCL 3273 - 6:01 from Penn Station NYC

-
View On Map
Isabella's Suites

111 Webster Ave

Japalian Villa Short-Term Apartment

173 20th St

Bulgarian Filipino Central

1003 Bergenline Ave

Gibson House Bed & Breakfast

1100 Bloomfield St

Oasis Spa

4300 Bergenline Ave
View On Map
Explore Hotel and Hostel

415 38th St
View On Map