Best Time To Visit Oakland
Explore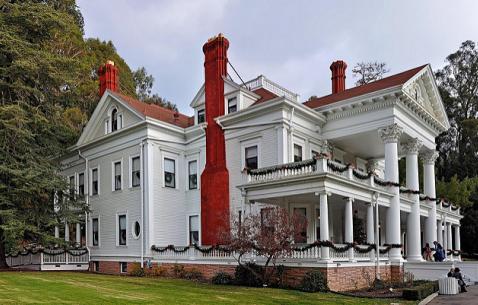 Best Time To Go To Oakland
Contradictory to what California is depicted, Oakland isn't always "beach-sunny". With a mere difference of 30 degrees Fahrenheit between its extreme temperatures, it is one of those few places that you can visit anytime according to your preference.
The best season to visit Oakland is Fall, that is September to November when the temperatures are most warm and perfect if you are travelling with your family. If you want to beat the crowd, this is the time for you. Another good time to visit is Spring, from March to May. The lack of rain, mild temperatures, and the peak season prices yet to take form make this season favourable.
June to August is the peak season in terms of crowd, prices, and temperatures. With the weather fluctuating, beware of your beach day being beaten down. Also, for those who don't mind the chill in the air, winter may not be a bad time either. Just make sure you carry some extra layers.
Spring: Spring in Oakland is from March to May, when the highest and lowest temperatures are 49 degrees Fahrenheit and 69 degrees Fahrenheit.
Summer: Summer, the peak season is from June to August, when the highest and lowest temperatures are 73 degrees Fahrenheit and 55 degrees Fahrenheit.
Fall: Fall is from September to November, when the highest and lowest temperatures are 74 degrees Fahrenheit and 49 degrees Fahrenheit. September is the warmest month of the year.
Winter: Winter in Oakland is from December to February, when the temperatures are at the year's lowest. The highest and lowest temperatures are 65 degrees Fahrenheit and 44 degrees Fahrenheit.
Best time to go to Oakland Attractions

: Wednesday to Sunday 11:00 AM - 4:00 PM
: Wednesday to Sunday 11:00 AM - 4:00 PM
: Wednesday to Sunday 11:00 AM - 4:00 PM
: Wednesday to Sunday 11:00 AM - 4:00 PM
: Wednesday to Sunday 11:00 AM - 4:00 PM
: Wednesday to Sunday 11:00 AM - 4:00 PM
: Wednesday to Sunday 11:00 AM - 4:00 PM
: Wednesday to Sunday 11:00 AM - 4:00 PM
: Wednesday to Sunday 11:00 AM - 4:00 PM
: Wednesday to Sunday 11:00 AM - 4:00 PM
: Wednesday to Sunday 11:00 AM - 4:00 PM
: Wednesday to Sunday 11:00 AM - 4:00 PM

: Everyday 6:00 AM - 4:00 PM
: Everyday 6:00 AM - 4:00 PM
: Everyday 6:00 AM - 4:00 PM
: Everyday 6:00 AM - 4:00 PM
: Everyday 6:00 AM - 4:00 PM
: Everyday 6:00 AM - 4:00 PM
: Everyday 6:00 AM - 4:00 PM
: Everyday 6:00 AM - 4:00 PM
: Everyday 6:00 AM - 4:00 PM
: Everyday 6:00 AM - 4:00 PM
: Everyday 6:00 AM - 4:00 PM
: Everyday 6:00 AM - 4:00 PM

: Everyday 10:00 AM - 5:00 PM
: Everyday 10:00 AM - 5:00 PM
: Everyday 10:00 AM - 5:00 PM
: Everyday 10:00 AM - 5:00 PM
: Everyday 10:00 AM - 5:00 PM
: Everyday 10:00 AM - 5:00 PM
: Everyday 10:00 AM - 5:00 PM
: Everyday 10:00 AM - 5:00 PM
: Everyday 10:00 AM - 5:00 PM
: Everyday 10:00 AM - 5:00 PM
: Everyday 10:00 AM - 5:00 PM
: Everyday 10:00 AM - 5:00 PM

: Everyday 10:30 AM - 2:00 PM
: Everyday 10:30 AM - 2:00 PM
: Everyday 10:30 AM - 2:00 PM
: Everyday 10:30 AM - 2:00 PM
: Everyday 10:30 AM - 2:00 PM
: Everyday 10:30 AM - 2:00 PM
: Everyday 10:30 AM - 2:00 PM
: Everyday 10:30 AM - 2:00 PM
: Everyday 10:30 AM - 2:00 PM
: Everyday 10:30 AM - 2:00 PM
: Everyday 10:30 AM - 2:00 PM
: Everyday 10:30 AM - 2:00 PM

: Monday to Friday 10:30 AM - 2:00 PM
: Monday to Friday 10:30 AM - 2:00 PM
: Monday to Friday 10:30 AM - 2:00 PM
: Monday to Friday 10:30 AM - 2:00 PM
: Monday to Friday 10:30 AM - 2:00 PM
: Monday to Friday 10:30 AM - 2:00 PM
: Monday to Friday 10:30 AM - 2:00 PM
: Monday to Friday 10:30 AM - 2:00 PM
: Monday to Friday 10:30 AM - 2:00 PM
: Monday to Friday 10:30 AM - 2:00 PM
: Monday to Friday 10:30 AM - 2:00 PM
: Monday to Friday 10:30 AM - 2:00 PM

: Everyday 9:00 AM - 3:30 PM
: Everyday 9:00 AM - 3:30 PM
: Everyday 9:00 AM - 3:30 PM
: Everyday 9:00 AM - 3:30 PM
: Everyday 9:00 AM - 3:30 PM
: Everyday 9:00 AM - 3:30 PM
: Everyday 9:00 AM - 3:30 PM
: Everyday 9:00 AM - 3:30 PM
: Everyday 9:00 AM - 3:30 PM
: Everyday 9:00 AM - 3:30 PM
: Everyday 9:00 AM - 3:30 PM
: Everyday 9:00 AM - 3:30 PM

: Everyday 10:30 AM - 1:00 PM
: Everyday 10:30 AM - 1:00 PM
: Everyday 10:30 AM - 1:00 PM
: Everyday 10:30 AM - 1:00 PM
: Everyday 10:30 AM - 1:00 PM
: Everyday 10:30 AM - 1:00 PM
: Everyday 10:30 AM - 1:00 PM
: Everyday 10:30 AM - 1:00 PM
: Everyday 10:30 AM - 1:00 PM
: Everyday 10:30 AM - 1:00 PM
: Everyday 10:30 AM - 1:00 PM
: Everyday 10:30 AM - 1:00 PM

: Everyday 6:30 AM - 6:00 PM
: Everyday 6:30 AM - 6:00 PM
: Everyday 6:30 AM - 6:00 PM
: Everyday 6:30 AM - 6:00 PM
: Everyday 6:30 AM - 6:00 PM
: Everyday 6:30 AM - 6:00 PM
: Everyday 6:30 AM - 6:00 PM
: Everyday 6:30 AM - 6:00 PM
: Everyday 6:30 AM - 6:00 PM
: Everyday 6:30 AM - 6:00 PM
: Everyday 6:30 AM - 6:00 PM
: Everyday 6:30 AM - 6:00 PM

: Wednesday to Sunday 10:00 AM - 1:00 PM
: Wednesday to Sunday 10:00 AM - 1:00 PM
: Wednesday to Sunday 10:00 AM - 1:00 PM
: Wednesday to Sunday 10:00 AM - 1:00 PM
: Wednesday to Sunday 10:00 AM - 1:00 PM
: Wednesday to Sunday 10:00 AM - 1:00 PM
: Wednesday to Sunday 10:00 AM - 1:00 PM
: Wednesday to Sunday 10:00 AM - 1:00 PM
: Wednesday to Sunday 10:00 AM - 1:00 PM
: Wednesday to Sunday 10:00 AM - 1:00 PM
: Wednesday to Sunday 10:00 AM - 1:00 PM
: Wednesday to Sunday 10:00 AM - 1:00 PM

: Tuesday to Saturday 11:00 AM - 1:00 PM; Sunday 11:00 AM - 3:00 PM
: Tuesday to Saturday 11:00 AM - 1:00 PM; Sunday 11:00 AM - 3:00 PM
: Tuesday to Saturday 11:00 AM - 1:00 PM; Sunday 11:00 AM - 3:00 PM
: Tuesday to Saturday 11:00 AM - 1:00 PM; Sunday 11:00 AM - 3:00 PM
: Tuesday to Saturday 11:00 AM - 1:00 PM; Sunday 11:00 AM - 3:00 PM
: Tuesday to Saturday 11:00 AM - 1:00 PM; Sunday 11:00 AM - 3:00 PM
: Tuesday to Saturday 11:00 AM - 1:00 PM; Sunday 11:00 AM - 3:00 PM
: Tuesday to Saturday 11:00 AM - 1:00 PM; Sunday 11:00 AM - 3:00 PM
: Tuesday to Saturday 11:00 AM - 1:00 PM; Sunday 11:00 AM - 3:00 PM
: Tuesday to Saturday 11:00 AM - 1:00 PM; Sunday 11:00 AM - 3:00 PM
: Tuesday to Saturday 11:00 AM - 1:00 PM; Sunday 11:00 AM - 3:00 PM
: Tuesday to Saturday 11:00 AM - 1:00 PM; Sunday 11:00 AM - 3:00 PM

: Everyday 10:00 AM - 6:00 PM
: Everyday 10:00 AM - 6:00 PM
: Everyday 10:00 AM - 6:00 PM
: Everyday 10:00 AM - 6:00 PM
: Everyday 10:00 AM - 6:00 PM
: Everyday 10:00 AM - 6:00 PM
: Everyday 10:00 AM - 6:00 PM
: Everyday 10:00 AM - 6:00 PM
: Everyday 10:00 AM - 6:00 PM
: Everyday 10:00 AM - 6:00 PM
: Everyday 10:00 AM - 6:00 PM
: Everyday 10:00 AM - 6:00 PM

: Everyday 10:00 AM - 4:00 PM
: Everyday 10:00 AM - 4:00 PM
: Everyday 10:00 AM - 4:00 PM
: Everyday 10:00 AM - 4:00 PM
: Everyday 10:00 AM - 4:00 PM
: Everyday 10:00 AM - 4:00 PM
: Everyday 10:00 AM - 4:00 PM
: Everyday 10:00 AM - 4:00 PM
: Everyday 10:00 AM - 4:00 PM
: Everyday 10:00 AM - 4:00 PM
: Everyday 10:00 AM - 4:00 PM
: Everyday 10:00 AM - 4:00 PM

: Everyday 8:30 AM - 3:00 PM
: Everyday 8:30 AM - 3:00 PM
: Everyday 8:30 AM - 3:00 PM
: Everyday 8:30 AM - 3:00 PM
: Everyday 8:30 AM - 3:00 PM
: Everyday 8:30 AM - 3:00 PM
: Everyday 8:30 AM - 3:00 PM
: Everyday 8:30 AM - 3:00 PM
: Everyday 8:30 AM - 3:00 PM
: Everyday 8:30 AM - 3:00 PM
: Everyday 8:30 AM - 3:00 PM
: Everyday 8:30 AM - 3:00 PM

: Everyday 11:00 AM - 8:00 PM
: Everyday 11:00 AM - 8:00 PM
: Everyday 11:00 AM - 8:00 PM
: Everyday 11:00 AM - 8:00 PM
: Everyday 11:00 AM - 8:00 PM
: Everyday 11:00 AM - 8:00 PM
: Everyday 11:00 AM - 8:00 PM
: Everyday 11:00 AM - 8:00 PM
: Everyday 11:00 AM - 8:00 PM
: Everyday 11:00 AM - 8:00 PM
: Everyday 11:00 AM - 8:00 PM
: Everyday 11:00 AM - 8:00 PM

: Everyday 7:00 AM - 4:00 PM
: Everyday 7:00 AM - 4:00 PM
: Everyday 7:00 AM - 4:00 PM
: Everyday 7:00 AM - 4:00 PM
: Everyday 7:00 AM - 4:00 PM
: Everyday 7:00 AM - 4:00 PM
: Everyday 7:00 AM - 4:00 PM
: Everyday 7:00 AM - 4:00 PM
: Everyday 7:00 AM - 4:00 PM
: Everyday 7:00 AM - 4:00 PM
: Everyday 7:00 AM - 4:00 PM
: Everyday 7:00 AM - 4:00 PM

: Everyday 6:00 AM - 7:00 PM
: Everyday 6:00 AM - 7:00 PM
: Everyday 6:00 AM - 7:00 PM
: Everyday 6:00 AM - 7:00 PM
: Everyday 6:00 AM - 7:00 PM
: Everyday 6:00 AM - 7:00 PM
: Everyday 6:00 AM - 7:00 PM
: Everyday 6:00 AM - 7:00 PM
: Everyday 6:00 AM - 7:00 PM
: Everyday 6:00 AM - 7:00 PM
: Everyday 6:00 AM - 7:00 PM
: Everyday 6:00 AM - 7:00 PM

: Everyday 6:00 AM - 5:00 PM
: Everyday 6:00 AM - 5:00 PM
: Everyday 6:00 AM - 5:00 PM
: Everyday 6:00 AM - 5:00 PM
: Everyday 6:00 AM - 5:00 PM
: Everyday 6:00 AM - 5:00 PM
: Everyday 6:00 AM - 5:00 PM
: Everyday 6:00 AM - 5:00 PM
: Everyday 6:00 AM - 5:00 PM
: Everyday 6:00 AM - 5:00 PM
: Everyday 6:00 AM - 5:00 PM
: Everyday 6:00 AM - 5:00 PM

: Everyday 9:00 AM - 8:00 PM
: Everyday 9:00 AM - 8:00 PM
: Everyday 9:00 AM - 8:00 PM
: Everyday 9:00 AM - 8:00 PM
: Everyday 9:00 AM - 8:00 PM
: Everyday 9:00 AM - 8:00 PM
: Everyday 9:00 AM - 8:00 PM
: Everyday 9:00 AM - 8:00 PM
: Everyday 9:00 AM - 8:00 PM
: Everyday 9:00 AM - 8:00 PM
: Everyday 9:00 AM - 8:00 PM
: Everyday 9:00 AM - 8:00 PM

: Everyday 7:00 AM - 8:00 PM
: Everyday 7:00 AM - 8:00 PM
: Everyday 7:00 AM - 8:00 PM
: Everyday 7:00 AM - 8:00 PM
: Everyday 7:00 AM - 8:00 PM
: Everyday 7:00 AM - 8:00 PM
: Everyday 7:00 AM - 8:00 PM
: Everyday 7:00 AM - 8:00 PM
: Everyday 7:00 AM - 8:00 PM
: Everyday 7:00 AM - 8:00 PM
: Everyday 7:00 AM - 8:00 PM
: Everyday 7:00 AM - 8:00 PM

: Tuesday to Friday 11:00 AM - 3:00 PM
: Tuesday to Friday 11:00 AM - 3:00 PM
: Tuesday to Friday 11:00 AM - 3:00 PM
: Tuesday to Friday 11:00 AM - 3:00 PM
: Tuesday to Friday 11:00 AM - 3:00 PM
: Tuesday to Friday 11:00 AM - 3:00 PM
: Tuesday to Friday 11:00 AM - 3:00 PM
: Tuesday to Friday 11:00 AM - 3:00 PM
: Tuesday to Friday 11:00 AM - 3:00 PM
: Tuesday to Friday 11:00 AM - 3:00 PM
: Tuesday to Friday 11:00 AM - 3:00 PM
: Tuesday to Friday 11:00 AM - 3:00 PM

: Everyday 11:00 AM - 4:00 PM
: Everyday 11:00 AM - 4:00 PM
: Everyday 11:00 AM - 4:00 PM
: Everyday 11:00 AM - 4:00 PM
: Everyday 11:00 AM - 4:00 PM
: Everyday 11:00 AM - 4:00 PM
: Everyday 11:00 AM - 4:00 PM
: Everyday 11:00 AM - 4:00 PM
: Everyday 11:00 AM - 4:00 PM
: Everyday 11:00 AM - 4:00 PM
: Everyday 11:00 AM - 4:00 PM
: Everyday 11:00 AM - 4:00 PM

: Everyday 7:00 AM - 5:00 PM
: Everyday 7:00 AM - 5:00 PM
: Everyday 7:00 AM - 7:00 PM
: Everyday 7:00 AM - 7:00 PM
: Everyday 7:00 AM - 7:00 PM
: Everyday 7:00 AM - 7:00 PM
: Everyday 7:00 AM - 7:00 PM
: Everyday 7:00 AM - 7:00 PM
: Everyday 7:00 AM - 7:00 PM
: Everyday 7:00 AM - 7:00 PM
: Everyday 7:00 AM - 5:00 PM
: Everyday 7:00 AM - 5:00 PM

: Everyday 9:00 AM - 4:00 PM
: Everyday 9:00 AM - 4:00 PM
: Everyday 9:00 AM - 4:00 PM
: Everyday 9:00 AM - 4:00 PM
: Everyday 9:00 AM - 4:00 PM
: Everyday 9:00 AM - 4:00 PM
: Everyday 9:00 AM - 4:00 PM
: Everyday 9:00 AM - 4:00 PM
: Everyday 9:00 AM - 4:00 PM
: Everyday 9:00 AM - 4:00 PM
: Everyday 9:00 AM - 4:00 PM
: Everyday 9:00 AM - 4:00 PM

: Everyday 8:30 AM - 5:00 PM
: Everyday 8:30 AM - 5:00 PM
: Everyday 8:30 AM - 5:00 PM
: Everyday 8:30 AM - 5:00 PM
: Everyday 8:30 AM - 5:00 PM
: Everyday 8:30 AM - 5:00 PM
: Everyday 8:30 AM - 5:00 PM
: Everyday 8:30 AM - 5:00 PM
: Everyday 8:30 AM - 5:00 PM
: Everyday 8:30 AM - 5:00 PM
: Everyday 8:30 AM - 5:00 PM
: Everyday 8:30 AM - 5:00 PM

: Monday to Friday 8:00 AM - 3:00 PM
: Monday to Friday 8:00 AM - 3:00 PM
: Monday to Friday 8:00 AM - 3:00 PM
: Monday to Friday 8:00 AM - 3:00 PM
: Monday to Friday 8:00 AM - 3:00 PM
: Monday to Friday 8:00 AM - 3:00 PM
: Monday to Friday 8:00 AM - 3:00 PM
: Monday to Friday 8:00 AM - 3:00 PM
: Monday to Friday 8:00 AM - 3:00 PM
: Monday to Friday 8:00 AM - 3:00 PM
: Monday to Friday 8:00 AM - 3:00 PM
: Monday to Friday 8:00 AM - 3:00 PM