Best Time To Visit Ocean City
Explore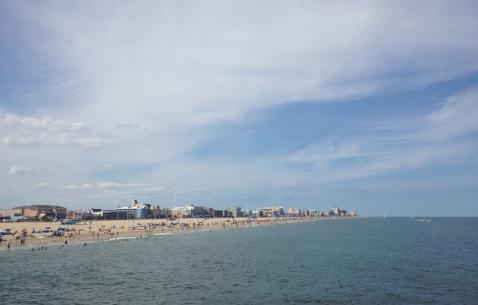 Best Time To Go To Ocean City
The best time to visit Ocean City is from late May to early September. The best season to visit Ocean City is summer.
Spring: Spring time in Ocean City is from April to late May. The temperature is just warm to enjoy the sun.
Summer: Late May to early September is when Ocean City experiences summer. Visitors flock the city the most during this time, making it the peak season.
Fall: Ocean City enjoys fall from mid-September to October. There a lot of festivals that take place in the city during this time.
Winter: November to March is when winter hits Ocean City. This is the off season when many places pull their shutters down, but there are many winter festivals that take place.
To avoid the crowds of summer, Ocean City can also be visited during the winter, around the scheduled time for the festivals.
Best time to go to Ocean City Attractions

: Everyday 8:00 AM - 8:00 PM
: Everyday 8:00 AM - 8:00 PM
: Everyday 8:00 AM - 8:00 PM
: Everyday 8:00 AM - 8:00 PM
: Everyday 8:00 AM - 8:00 PM
: Everyday 8:00 AM - 8:00 PM
: Everyday 8:00 AM - 8:00 PM
: Everyday 8:00 AM - 8:00 PM
: Everyday 8:00 AM - 8:00 PM
: Everyday 8:00 AM - 8:00 PM
: Everyday 8:00 AM - 8:00 PM
: Everyday 8:00 AM - 8:00 PM

: Everyday 8:00 AM - 4:00 PM
: Everyday 8:00 AM - 4:00 PM
: Everyday 8:00 AM - 4:00 PM
: Everyday 8:00 AM - 4:00 PM
: Everyday 8:00 AM - 4:00 PM
: Everyday 8:00 AM - 4:00 PM
: Everyday 8:00 AM - 4:00 PM
: Everyday 8:00 AM - 4:00 PM
: Everyday 8:00 AM - 4:00 PM
: Everyday 8:00 AM - 4:00 PM
: Everyday 8:00 AM - 4:00 PM
: Everyday 8:00 AM - 4:00 PM

: Everyday 10:00 AM - 8:00 PM
: Everyday 10:00 AM - 8:00 PM
: Everyday 10:00 AM - 8:00 PM
: Everyday 10:00 AM - 8:00 PM
: Everyday 10:00 AM - 8:00 PM
: Everyday 10:00 AM - 8:00 PM
: Everyday 10:00 AM - 8:00 PM
: Everyday 10:00 AM - 8:00 PM
: Everyday 10:00 AM - 8:00 PM
: Everyday 10:00 AM - 8:00 PM
: Everyday 10:00 AM - 8:00 PM
: Everyday 10:00 AM - 8:00 PM

: Saturday, Sunday 10:00 AM - 2:00 PM
: Saturday, Sunday 10:00 AM - 2:00 PM
: Saturday, Sunday 10:00 AM - 2:00 PM
: Wednesday to Sunday 10:00 AM - 2:00 PM
: Everyday 10:00 AM - 2:00 PM
: Everyday 10:00 AM - 6:00 PM
: Everyday 10:00 AM - 6:00 PM
: Everyday 10:00 AM - 6:00 PM
: Everyday 10:00 AM - 6:00 PM
: Everyday 10:00 AM - 2:00 PM
: Wednesday to Sunday 10:00 AM - 2:00 PM
: Saturday, Sunday 10:00 AM - 2:00 PM

: Everyday 10:00 AM - 2:00 PM
: Everyday 10:00 AM - 2:00 PM
: Everyday 10:00 AM - 2:00 PM
: Everyday 10:00 AM - 2:00 PM
: Everyday 10:00 AM - 2:00 PM
: Everyday 10:00 AM - 2:00 PM
: Everyday 10:00 AM - 2:00 PM
: Everyday 10:00 AM - 2:00 PM
: Everyday 10:00 AM - 2:00 PM
: Everyday 10:00 AM - 2:00 PM
: Everyday 10:00 AM - 2:00 PM
: Everyday 10:00 AM - 2:00 PM

: Everyday 10:00 AM - 11:00 AM
: Everyday 10:00 AM - 11:00 AM
: Everyday 10:00 AM - 11:00 AM
: Everyday 10:00 AM - 11:00 AM
: Everyday 10:00 AM - 11:00 AM
: Everyday 10:00 AM - 11:00 AM
: Everyday 10:00 AM - 11:00 AM
: Everyday 10:00 AM - 11:00 AM
: Everyday 10:00 AM - 11:00 AM
: Everyday 10:00 AM - 11:00 AM
: Everyday 10:00 AM - 11:00 AM
: Everyday 10:00 AM - 11:00 AM

: Monday to Friday 8:00 AM - 4:00 PM
: Monday to Friday 8:00 AM - 4:00 PM
: Monday to Friday 8:00 AM - 4:00 PM
: Monday to Friday 8:00 AM - 4:00 PM
: Monday to Friday 8:00 AM - 4:00 PM
: Monday to Friday 8:00 AM - 4:00 PM
: Monday to Friday 8:00 AM - 4:00 PM
: Monday to Friday 8:00 AM - 4:00 PM
: Monday to Friday 8:00 AM - 4:00 PM
: Monday to Friday 8:00 AM - 4:00 PM
: Monday to Friday 8:00 AM - 4:00 PM
: Monday to Friday 8:00 AM - 4:00 PM

: Monday to Saturday 11:00 AM - 3:00 PM
: Monday to Saturday 11:00 AM - 3:00 PM
: Monday to Saturday 11:00 AM - 3:00 PM
: Monday to Saturday 11:00 AM - 3:00 PM
: Monday to Saturday 11:00 AM - 3:00 PM
: Monday to Saturday 11:00 AM - 3:00 PM
: Monday to Saturday 11:00 AM - 3:00 PM
: Monday to Saturday 11:00 AM - 3:00 PM
: Monday to Saturday 11:00 AM - 3:00 PM
: Monday to Saturday 11:00 AM - 3:00 PM
: Monday to Saturday 11:00 AM - 3:00 PM
: Monday to Saturday 11:00 AM - 3:00 PM

: Everyday 10:00 AM - 5:00 PM
: Everyday 10:00 AM - 5:00 PM
: Everyday 10:00 AM - 5:00 PM
: Everyday 10:00 AM - 5:00 PM
: Everyday 10:00 AM - 5:00 PM
: Everyday 10:00 AM - 5:00 PM
: Everyday 10:00 AM - 5:00 PM
: Everyday 10:00 AM - 5:00 PM
: Everyday 10:00 AM - 5:00 PM
: Everyday 10:00 AM - 5:00 PM
: Everyday 10:00 AM - 5:00 PM
: Everyday 10:00 AM - 5:00 PM

: Everyday 8:00 AM - 5:00 PM
: Everyday 8:00 AM - 5:00 PM
: Everyday 8:00 AM - 5:00 PM
: Everyday 8:00 AM - 5:00 PM
: Everyday 8:00 AM - 5:00 PM
: Everyday 8:00 AM - 5:00 PM
: Everyday 8:00 AM - 5:00 PM
: Everyday 8:00 AM - 5:00 PM
: Everyday 8:00 AM - 5:00 PM
: Everyday 8:00 AM - 5:00 PM
: Everyday 8:00 AM - 5:00 PM
: Everyday 8:00 AM - 5:00 PM

: Everyday 11:00 AM - 5:00 PM
: Everyday 11:00 AM - 5:00 PM
: Everyday 11:00 AM - 5:00 PM
: Everyday 11:00 AM - 5:00 PM
: Everyday 11:00 AM - 5:00 PM
: Everyday 11:00 AM - 5:00 PM
: Everyday 11:00 AM - 5:00 PM
: Everyday 11:00 AM - 5:00 PM
: Everyday 11:00 AM - 5:00 PM
: Everyday 11:00 AM - 5:00 PM
: Everyday 11:00 AM - 5:00 PM
: Everyday 11:00 AM - 5:00 PM

: Everyday 10:00 AM - 6:00 PM
: Everyday 10:00 AM - 6:00 PM
: Everyday 10:00 AM - 6:00 PM
: Everyday 10:00 AM - 6:00 PM
: Everyday 10:00 AM - 6:00 PM
: Everyday 10:00 AM - 6:00 PM
: Everyday 10:00 AM - 6:00 PM
: Everyday 10:00 AM - 6:00 PM
: Everyday 10:00 AM - 6:00 PM
: Everyday 10:00 AM - 6:00 PM
: Everyday 10:00 AM - 6:00 PM
: Everyday 10:00 AM - 6:00 PM

: Everyday 11:00 AM - 5:00 PM
: Everyday 11:00 AM - 5:00 PM
: Everyday 11:00 AM - 5:00 PM
: Everyday 11:00 AM - 5:00 PM
: Everyday 11:00 AM - 5:00 PM
: Everyday 11:00 AM - 5:00 PM
: Everyday 11:00 AM - 5:00 PM
: Everyday 11:00 AM - 5:00 PM
: Everyday 11:00 AM - 5:00 PM
: Everyday 11:00 AM - 5:00 PM
: Everyday 11:00 AM - 5:00 PM
: Everyday 11:00 AM - 5:00 PM

: Everyday 8:00 AM - 5:00 PM
: Everyday 8:00 AM - 5:00 PM
: Everyday 8:00 AM - 5:00 PM
: Everyday 8:00 AM - 5:00 PM
: Everyday 8:00 AM - 5:00 PM
: Everyday 8:00 AM - 5:00 PM
: Everyday 8:00 AM - 5:00 PM
: Everyday 8:00 AM - 5:00 PM
: Everyday 8:00 AM - 5:00 PM
: Everyday 8:00 AM - 5:00 PM
: Everyday 8:00 AM - 5:00 PM
: Everyday 8:00 AM - 5:00 PM

: Monday to Saturday 10:00 AM - 2:00 PM
: Monday to Saturday 10:00 AM - 2:00 PM
: Everyday 10:00 AM - 2:00 PM
: Everyday 10:00 AM - 2:00 PM
: Everyday 10:00 AM - 2:00 PM
: Everyday 10:00 AM - 2:00 PM
: Everyday 10:00 AM - 2:00 PM
: Everyday 10:00 AM - 2:00 PM
: Everyday 10:00 AM - 2:00 PM
: Everyday 10:00 AM - 2:00 PM
: Everyday 10:00 AM - 2:00 PM
: Everyday 10:00 AM - 2:00 PM

: Monday, Tuesday, Thursday, Friday, Saturday, Sunday 2:00 PM - 5:00 PM
: Monday, Tuesday, Thursday, Friday, Saturday, Sunday 2:00 PM - 5:00 PM
: Monday, Tuesday, Thursday, Friday, Saturday, Sunday 2:00 PM - 5:00 PM
: Everyday 2:00 PM - 5:00 PM
: Everyday 2:00 PM - 5:00 PM
: Everyday 2:00 PM - 5:00 PM
: Everyday 2:00 PM - 5:00 PM
: Everyday 2:00 PM - 5:00 PM
: Everyday 2:00 PM - 5:00 PM
: Everyday 2:00 PM - 5:00 PM
: Everyday 2:00 PM - 5:00 PM
: Everyday 2:00 PM - 5:00 PM

: Everyday 24 Hrs
: Everyday 24 Hrs
: Everyday 24 Hrs
: Everyday 24 Hrs
: Everyday 24 Hrs
: Everyday 24 Hrs
: Everyday 24 Hrs
: Everyday 24 Hrs
: Everyday 24 Hrs
: Everyday 24 Hrs
: Everyday 24 Hrs
: Everyday 24 Hrs

: Friday, Saturday 11:30 AM - 11:59 PM; Monday, Tuesday, Wednesday, Thursday, Sunday 11:30 AM - 11:00 PM
: Friday, Saturday 11:30 AM - 11:59 PM; Monday, Tuesday, Wednesday, Thursday, Sunday 11:30 AM - 11:00 PM
: Friday, Saturday 11:30 AM - 11:59 PM; Monday, Tuesday, Wednesday, Thursday, Sunday 11:30 AM - 11:00 PM
: Friday, Saturday 11:30 AM - 11:59 PM; Monday, Tuesday, Wednesday, Thursday, Sunday 11:30 AM - 11:00 PM
: Friday, Saturday 11:30 AM - 11:59 PM; Monday, Tuesday, Wednesday, Thursday, Sunday 11:30 AM - 11:00 PM
: Friday, Saturday 11:30 AM - 11:59 PM; Monday, Tuesday, Wednesday, Thursday, Sunday 11:30 AM - 11:00 PM
: Friday, Saturday 11:30 AM - 11:59 PM; Monday, Tuesday, Wednesday, Thursday, Sunday 11:30 AM - 11:00 PM
: Friday, Saturday 11:30 AM - 11:59 PM; Monday, Tuesday, Wednesday, Thursday, Sunday 11:30 AM - 11:00 PM
: Friday, Saturday 11:30 AM - 11:59 PM; Monday, Tuesday, Wednesday, Thursday, Sunday 11:30 AM - 11:00 PM
: Friday, Saturday 11:30 AM - 11:59 PM; Monday, Tuesday, Wednesday, Thursday, Sunday 11:30 AM - 11:00 PM
: Friday, Saturday 11:30 AM - 11:59 PM; Monday, Tuesday, Wednesday, Thursday, Sunday 11:30 AM - 11:00 PM
: Friday, Saturday 11:30 AM - 11:59 PM; Monday, Tuesday, Wednesday, Thursday, Sunday 11:30 AM - 11:00 PM

: Everyday 9:00 AM - 5:00 PM
: Everyday 9:00 AM - 5:00 PM
: Everyday 9:00 AM - 5:00 PM
: Everyday 9:00 AM - 5:00 PM
: Everyday 9:00 AM - 5:00 PM
: Everyday 9:00 AM - 5:00 PM
: Everyday 9:00 AM - 5:00 PM
: Everyday 9:00 AM - 5:00 PM
: Everyday 9:00 AM - 5:00 PM
: Everyday 9:00 AM - 5:00 PM
: Everyday 9:00 AM - 5:00 PM
: Everyday 9:00 AM - 5:00 PM

: Friday, Saturday 00:1 AM - 2:30 AM; Friday, Saturday 00:1 AM - 2:30 AM | 10:00 AM - 11:59 PM; Monday, Tuesday, Wednesday, Thursday, Sunday 00:1 AM - 1:00 AM; Monday, Tuesday, Wednesday, Thursday, Sunday 00:1 AM - 1:00 AM | 10:00 AM - 11:59 PM
: Friday, Saturday 00:1 AM - 2:30 AM; Friday, Saturday 00:1 AM - 2:30 AM | 10:00 AM - 11:59 PM; Monday, Tuesday, Wednesday, Thursday, Sunday 00:1 AM - 1:00 AM; Monday, Tuesday, Wednesday, Thursday, Sunday 00:1 AM - 1:00 AM | 10:00 AM - 11:59 PM
: Friday, Saturday 00:1 AM - 2:30 AM; Friday, Saturday 00:1 AM - 2:30 AM | 10:00 AM - 11:59 PM; Monday, Tuesday, Wednesday, Thursday, Sunday 00:1 AM - 1:00 AM; Monday, Tuesday, Wednesday, Thursday, Sunday 00:1 AM - 1:00 AM | 10:00 AM - 11:59 PM
: Friday, Saturday 00:1 AM - 2:30 AM; Friday, Saturday 00:1 AM - 2:30 AM | 10:00 AM - 11:59 PM; Monday, Tuesday, Wednesday, Thursday, Sunday 00:1 AM - 1:00 AM; Monday, Tuesday, Wednesday, Thursday, Sunday 00:1 AM - 1:00 AM | 10:00 AM - 11:59 PM
: Friday, Saturday 00:1 AM - 2:30 AM; Friday, Saturday 00:1 AM - 2:30 AM | 10:00 AM - 11:59 PM; Monday, Tuesday, Wednesday, Thursday, Sunday 00:1 AM - 1:00 AM; Monday, Tuesday, Wednesday, Thursday, Sunday 00:1 AM - 1:00 AM | 10:00 AM - 11:59 PM
: Friday, Saturday 00:1 AM - 2:30 AM; Friday, Saturday 00:1 AM - 2:30 AM | 10:00 AM - 11:59 PM; Monday, Tuesday, Wednesday, Thursday, Sunday 00:1 AM - 1:00 AM; Monday, Tuesday, Wednesday, Thursday, Sunday 00:1 AM - 1:00 AM | 10:00 AM - 11:59 PM
: Friday, Saturday 00:1 AM - 2:30 AM; Friday, Saturday 00:1 AM - 2:30 AM | 10:00 AM - 11:59 PM; Monday, Tuesday, Wednesday, Thursday, Sunday 00:1 AM - 1:00 AM; Monday, Tuesday, Wednesday, Thursday, Sunday 00:1 AM - 1:00 AM | 10:00 AM - 11:59 PM
: Friday, Saturday 00:1 AM - 2:30 AM; Friday, Saturday 00:1 AM - 2:30 AM | 10:00 AM - 11:59 PM; Monday, Tuesday, Wednesday, Thursday, Sunday 00:1 AM - 1:00 AM; Monday, Tuesday, Wednesday, Thursday, Sunday 00:1 AM - 1:00 AM | 10:00 AM - 11:59 PM
: Friday, Saturday 00:1 AM - 2:30 AM; Friday, Saturday 00:1 AM - 2:30 AM | 10:00 AM - 11:59 PM; Monday, Tuesday, Wednesday, Thursday, Sunday 00:1 AM - 1:00 AM; Monday, Tuesday, Wednesday, Thursday, Sunday 00:1 AM - 1:00 AM | 10:00 AM - 11:59 PM
: Friday, Saturday 00:1 AM - 2:30 AM; Friday, Saturday 00:1 AM - 2:30 AM | 10:00 AM - 11:59 PM; Monday, Tuesday, Wednesday, Thursday, Sunday 00:1 AM - 1:00 AM; Monday, Tuesday, Wednesday, Thursday, Sunday 00:1 AM - 1:00 AM | 10:00 AM - 11:59 PM
: Friday, Saturday 00:1 AM - 2:30 AM; Friday, Saturday 00:1 AM - 2:30 AM | 10:00 AM - 11:59 PM; Monday, Tuesday, Wednesday, Thursday, Sunday 00:1 AM - 1:00 AM; Monday, Tuesday, Wednesday, Thursday, Sunday 00:1 AM - 1:00 AM | 10:00 AM - 11:59 PM
: Friday, Saturday 00:1 AM - 2:30 AM; Friday, Saturday 00:1 AM - 2:30 AM | 10:00 AM - 11:59 PM; Monday, Tuesday, Wednesday, Thursday, Sunday 00:1 AM - 1:00 AM; Monday, Tuesday, Wednesday, Thursday, Sunday 00:1 AM - 1:00 AM | 10:00 AM - 11:59 PM

: Monday to Friday 00:1 AM - 2:00 AM; Monday to Friday 00:1 AM - 2:00 AM | 8:00 AM - 11:59 PM
: Monday to Friday 00:1 AM - 2:00 AM; Monday to Friday 00:1 AM - 2:00 AM | 8:00 AM - 11:59 PM
: Monday to Friday 00:1 AM - 2:00 AM; Monday to Friday 00:1 AM - 2:00 AM | 8:00 AM - 11:59 PM
: Monday to Friday 00:1 AM - 2:00 AM; Monday to Friday 00:1 AM - 2:00 AM | 8:00 AM - 11:59 PM
: Monday to Friday 00:1 AM - 2:00 AM; Monday to Friday 00:1 AM - 2:00 AM | 8:00 AM - 11:59 PM
: Monday to Friday 00:1 AM - 2:00 AM; Monday to Friday 00:1 AM - 2:00 AM | 8:00 AM - 11:59 PM
: Monday to Friday 00:1 AM - 2:00 AM; Monday to Friday 00:1 AM - 2:00 AM | 8:00 AM - 11:59 PM
: Monday to Friday 00:1 AM - 2:00 AM; Monday to Friday 00:1 AM - 2:00 AM | 8:00 AM - 11:59 PM
: Monday to Friday 00:1 AM - 2:00 AM; Monday to Friday 00:1 AM - 2:00 AM | 8:00 AM - 11:59 PM
: Monday to Friday 00:1 AM - 2:00 AM; Monday to Friday 00:1 AM - 2:00 AM | 8:00 AM - 11:59 PM
: Monday to Friday 00:1 AM - 2:00 AM; Monday to Friday 00:1 AM - 2:00 AM | 8:00 AM - 11:59 PM
: Monday to Friday 00:1 AM - 2:00 AM; Monday to Friday 00:1 AM - 2:00 AM | 8:00 AM - 11:59 PM

: Everyday 6:30 AM - 1:30 PM
: Everyday 6:30 AM - 1:30 PM
: Everyday 6:30 AM - 1:30 PM
: Everyday 6:30 AM - 1:30 PM
: Everyday 6:30 AM - 1:30 PM
: Everyday 6:30 AM - 1:30 PM
: Everyday 6:30 AM - 1:30 PM
: Everyday 6:30 AM - 1:30 PM
: Everyday 6:30 AM - 1:30 PM
: Everyday 6:30 AM - 1:30 PM
: Everyday 6:30 AM - 1:30 PM
: Everyday 6:30 AM - 1:30 PM