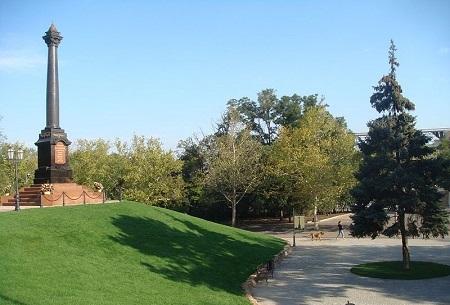 Situated in the coastal part of Ukraine adjoining the Black Sea, Odessa is the Pearl of the Black Sea. This city is a thriving economic hub and a major port in the Black Sea. The port is close to the famous Potemkin stairs, named so after the optical illusion made an appearance in the silent classic, The Battleship Potemkin. Odessa's history dates back some centuries before that. It was first seen as a hamlet in the 13th Century and in 1794, Empress Catherine the Great moved a decree and founded the Odessa we know of today. Till 1991 (the year that Ukraine became independent from Russia), Odessa was one of the most important cities in Russia. It was then overtaken in importance by the Ukranian capital of Kiev. Despite being situated in one of the world's coldest regions, the weather in Odessa is recommended by health care experts to be good for human health. This has given rise to several spas and therapeutic resorts in and around the city. Besides this, the city is a prominent landmark for arts and festivals. Several famous authors have stayed in Odessa, and an equally vast number of musicians have performed in its theatres. The city is big on humour, some of its annual festivals include a humour parade as well as international festivals for comedy ad miming. Despite having all modern amenities, Odessa has retained its old-world charm with its wide boulevards and stately architecture. Trams running up and down these streets make a rather nostalgic sight. One of its unique characteristics is the fact that though temperatures on land drop way below zero-degrees Celsius, the port rarely freezes completely. Neither is there heavy snowfall in the city though the weather is icy. There are many museums in the city if you are interested in learning everything about Odessa. Visiting Odessa is a must if you wish to discover the few places on earth which have retained their old-world poise and yet not entirely shirked modernity.
Essential travel information and Odessa tips for your visit
Time zone: UTC -06.00
Currency: Ukrainian Hryvnia
Electricity: 220 volts
Internet: Odessa has free Wi-Fi available in most public places.
Languages: Russian, Ukrainian
Security: Emergency: 112
Police: 102
Ambulance: 103
Tourist Hotline: 123
Tourist Traps: Mugging, pickpockets and street crime are common in Odessa so it is advised to stay safe. Avoid dark areas at night. If possible, be along with a person who knows Russian. Keep your passport or its coloured copy with you always.
Tipping: Most hotels add service charges to the bill. Tipping in other places is not expected, but is appreciated.
The best tours and activities in the city, guided by experts to give you a local insight to the best of Odessa