Best Time To Visit Odessa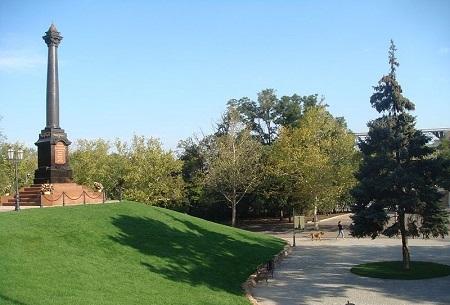 Best Time To Go To Odessa
Spring (March to May): Odessa is sunny in spring and the temperature usually fluctuates between 0-4-degrees Celsius. Most of the days are cloudy and sometimes there are mild showers.
Summer (June to August): Summer is relatively cooler than other areas and the temperature rarely exceeds beyond 30-degrees Celsius. Tourists visit Odessa mostly in this season so be prepared for crowds.
Autumn (September to November): Autumn marks the onset of winter in Odessa and the days begin to get colder. Sometimes the mercury dips into a negative in this season itself.
Winter (December to February): Temperatures in winter continue to stay below zero throughout the season. However, due to Odessa's proximity to the sea, it does not snow heavily here.
Best time to go to Odessa Attractions

: Everyday 11:00 AM - 7:00 PM
: Everyday 11:00 AM - 7:00 PM
: Everyday 11:00 AM - 7:00 PM
: Everyday 11:00 AM - 7:00 PM
: Everyday 11:00 AM - 7:00 PM
: Everyday 11:00 AM - 7:00 PM
: Everyday 11:00 AM - 7:00 PM
: Everyday 11:00 AM - 7:00 PM
: Everyday 11:00 AM - 7:00 PM
: Everyday 11:00 AM - 7:00 PM
: Everyday 11:00 AM - 7:00 PM
: Everyday 11:00 AM - 7:00 PM

: Everyday 11:00 AM - 7:00 PM
: Everyday 11:00 AM - 7:00 PM
: Everyday 11:00 AM - 7:00 PM
: Everyday 11:00 AM - 7:00 PM
: Everyday 11:00 AM - 7:00 PM
: Everyday 11:00 AM - 7:00 PM
: Everyday 11:00 AM - 7:00 PM
: Everyday 11:00 AM - 7:00 PM
: Everyday 11:00 AM - 7:00 PM
: Everyday 11:00 AM - 7:00 PM
: Everyday 11:00 AM - 7:00 PM
: Everyday 11:00 AM - 7:00 PM

: Everyday 7:00 AM - 7:00 PM
: Everyday 7:00 AM - 7:00 PM
: Everyday 7:00 AM - 7:00 PM
: Everyday 7:00 AM - 7:00 PM
: Everyday 7:00 AM - 7:00 PM
: Everyday 7:00 AM - 7:00 PM
: Everyday 7:00 AM - 7:00 PM
: Everyday 7:00 AM - 7:00 PM
: Everyday 7:00 AM - 7:00 PM
: Everyday 7:00 AM - 7:00 PM
: Everyday 7:00 AM - 7:00 PM
: Everyday 7:00 AM - 7:00 PM

: Everyday 7:00 AM - 6:00 PM
: Everyday 7:00 AM - 6:00 PM
: Everyday 7:00 AM - 6:00 PM
: Everyday 7:00 AM - 6:00 PM
: Everyday 7:00 AM - 6:00 PM
: Everyday 7:00 AM - 6:00 PM
: Everyday 7:00 AM - 6:00 PM
: Everyday 7:00 AM - 6:00 PM
: Everyday 7:00 AM - 6:00 PM
: Everyday 7:00 AM - 6:00 PM
: Everyday 7:00 AM - 6:00 PM
: Everyday 7:00 AM - 6:00 PM

: Everyday 7:00 AM - 7:00 PM
: Everyday 7:00 AM - 7:00 PM
: Everyday 7:00 AM - 7:00 PM
: Everyday 7:00 AM - 7:00 PM
: Everyday 7:00 AM - 7:00 PM
: Everyday 7:00 AM - 7:00 PM
: Everyday 7:00 AM - 7:00 PM
: Everyday 7:00 AM - 7:00 PM
: Everyday 7:00 AM - 7:00 PM
: Everyday 7:00 AM - 7:00 PM
: Everyday 7:00 AM - 7:00 PM
: Everyday 7:00 AM - 7:00 PM

: Tuesday to Sunday 10:00 AM - 3:00 PM
: Tuesday to Sunday 10:00 AM - 3:00 PM
: Tuesday to Sunday 10:00 AM - 3:00 PM
: Tuesday to Sunday 10:00 AM - 3:00 PM
: Tuesday to Sunday 10:00 AM - 3:00 PM
: Tuesday to Sunday 10:00 AM - 3:00 PM
: Tuesday to Sunday 10:00 AM - 3:00 PM
: Tuesday to Sunday 10:00 AM - 3:00 PM
: Tuesday to Sunday 10:00 AM - 3:00 PM
: Tuesday to Sunday 10:00 AM - 3:00 PM
: Tuesday to Sunday 10:00 AM - 3:00 PM
: Tuesday to Sunday 10:00 AM - 3:00 PM

: Everyday 11:00 AM - 6:00 PM
: Everyday 11:00 AM - 6:00 PM
: Everyday 11:00 AM - 6:00 PM
: Everyday 11:00 AM - 6:00 PM
: Everyday 11:00 AM - 6:00 PM
: Everyday 11:00 AM - 6:00 PM
: Everyday 11:00 AM - 6:00 PM
: Everyday 11:00 AM - 6:00 PM
: Everyday 11:00 AM - 6:00 PM
: Everyday 11:00 AM - 6:00 PM
: Everyday 11:00 AM - 6:00 PM
: Everyday 11:00 AM - 6:00 PM

: Everyday 7:00 AM - 8:00 PM
: Everyday 7:00 AM - 8:00 PM
: Everyday 7:00 AM - 8:00 PM
: Everyday 7:00 AM - 8:00 PM
: Everyday 7:00 AM - 8:00 PM
: Everyday 7:00 AM - 8:00 PM
: Everyday 7:00 AM - 8:00 PM
: Everyday 7:00 AM - 8:00 PM
: Everyday 7:00 AM - 8:00 PM
: Everyday 7:00 AM - 8:00 PM
: Everyday 7:00 AM - 8:00 PM
: Everyday 7:00 AM - 8:00 PM

: Everyday 7:00 AM - 7:00 PM
: Everyday 7:00 AM - 7:00 PM
: Everyday 7:00 AM - 7:00 PM
: Everyday 7:00 AM - 7:00 PM
: Everyday 7:00 AM - 7:00 PM
: Everyday 7:00 AM - 7:00 PM
: Everyday 7:00 AM - 7:00 PM
: Everyday 7:00 AM - 7:00 PM
: Everyday 7:00 AM - 7:00 PM
: Everyday 7:00 AM - 7:00 PM
: Everyday 7:00 AM - 7:00 PM
: Everyday 7:00 AM - 7:00 PM

: Everyday 6:00 AM - 4:00 PM
: Everyday 6:00 AM - 4:00 PM
: Everyday 6:00 AM - 4:00 PM
: Everyday 6:00 AM - 4:00 PM
: Everyday 6:00 AM - 4:00 PM
: Everyday 6:00 AM - 4:00 PM
: Everyday 6:00 AM - 4:00 PM
: Everyday 6:00 AM - 4:00 PM
: Everyday 6:00 AM - 4:00 PM
: Everyday 6:00 AM - 4:00 PM
: Everyday 6:00 AM - 4:00 PM
: Everyday 6:00 AM - 4:00 PM

: Everyday 1:45 PM - 2:00 PM
: Everyday 1:45 PM - 2:00 PM
: Everyday 1:45 PM - 2:00 PM
: Everyday 1:45 PM - 2:00 PM
: Everyday 1:45 PM - 2:00 PM
: Everyday 1:45 PM - 2:00 PM
: Everyday 1:45 PM - 2:00 PM
: Everyday 1:45 PM - 2:00 PM
: Everyday 1:45 PM - 2:00 PM
: Everyday 1:45 PM - 2:00 PM
: Everyday 1:45 PM - 2:00 PM
: Everyday 1:45 PM - 2:00 PM

: Everyday 8:00 AM - 4:00 PM
: Everyday 8:00 AM - 4:00 PM
: Everyday 8:00 AM - 4:00 PM
: Everyday 8:00 AM - 4:00 PM
: Everyday 8:00 AM - 4:00 PM
: Everyday 8:00 AM - 4:00 PM
: Everyday 8:00 AM - 4:00 PM
: Everyday 8:00 AM - 4:00 PM
: Everyday 8:00 AM - 4:00 PM
: Everyday 8:00 AM - 4:00 PM
: Everyday 8:00 AM - 4:00 PM
: Everyday 8:00 AM - 4:00 PM

: Monday to Saturday 10:00 AM - 5:00 PM
: Monday to Saturday 10:00 AM - 5:00 PM
: Monday to Saturday 10:00 AM - 5:00 PM
: Monday to Saturday 10:00 AM - 5:00 PM
: Monday to Saturday 10:00 AM - 5:00 PM
: Monday to Saturday 10:00 AM - 5:00 PM
: Monday to Saturday 10:00 AM - 5:00 PM
: Monday to Saturday 10:00 AM - 5:00 PM
: Monday to Saturday 10:00 AM - 5:00 PM
: Monday to Saturday 10:00 AM - 5:00 PM
: Monday to Saturday 10:00 AM - 5:00 PM
: Monday to Saturday 10:00 AM - 5:00 PM

: Everyday 10:00 AM - 5:00 PM
: Everyday 10:00 AM - 5:00 PM
: Everyday 10:00 AM - 5:00 PM
: Everyday 10:00 AM - 5:00 PM
: Everyday 10:00 AM - 5:00 PM
: Everyday 10:00 AM - 5:00 PM
: Everyday 10:00 AM - 5:00 PM
: Everyday 10:00 AM - 5:00 PM
: Everyday 10:00 AM - 5:00 PM
: Everyday 10:00 AM - 5:00 PM
: Everyday 10:00 AM - 5:00 PM
: Everyday 10:00 AM - 5:00 PM

: Everyday 8:00 AM - 3:00 PM
: Everyday 8:00 AM - 3:00 PM
: Everyday 8:00 AM - 3:00 PM
: Everyday 8:00 AM - 3:00 PM
: Everyday 8:00 AM - 3:00 PM
: Everyday 8:00 AM - 3:00 PM
: Everyday 8:00 AM - 3:00 PM
: Everyday 8:00 AM - 3:00 PM
: Everyday 8:00 AM - 3:00 PM
: Everyday 8:00 AM - 3:00 PM
: Everyday 8:00 AM - 3:00 PM
: Everyday 8:00 AM - 3:00 PM

: Tuesday to Sunday 9:00 AM - 3:00 PM
: Tuesday to Sunday 9:00 AM - 3:00 PM
: Tuesday to Sunday 9:00 AM - 3:00 PM
: Tuesday to Sunday 9:00 AM - 3:00 PM
: Tuesday to Sunday 9:00 AM - 3:00 PM
: Tuesday to Sunday 9:00 AM - 3:00 PM
: Everyday 8:00 AM - 3:00 PM
: Everyday 8:00 AM - 3:00 PM
: Tuesday to Sunday 9:00 AM - 3:00 PM
: Tuesday to Sunday 9:00 AM - 3:00 PM
: Tuesday to Sunday 9:00 AM - 3:00 PM
: Tuesday to Sunday 9:00 AM - 3:00 PM

: Everyday 11:00 AM - 8:00 PM
: Everyday 11:00 AM - 8:00 PM
: Everyday 11:00 AM - 8:00 PM
: Everyday 11:00 AM - 8:00 PM
: Everyday 11:00 AM - 8:00 PM
: Everyday 11:00 AM - 8:00 PM
: Everyday 11:00 AM - 8:00 PM
: Everyday 11:00 AM - 8:00 PM
: Everyday 11:00 AM - 8:00 PM
: Everyday 11:00 AM - 8:00 PM
: Everyday 11:00 AM - 8:00 PM
: Everyday 11:00 AM - 8:00 PM

: Monday, Wednesday, Thursday, Friday, Saturday, Sunday 10:00 AM - 2:00 PM
: Monday, Wednesday, Thursday, Friday, Saturday, Sunday 10:00 AM - 2:00 PM
: Monday, Wednesday, Thursday, Friday, Saturday, Sunday 10:00 AM - 2:00 PM
: Monday, Wednesday, Thursday, Friday, Saturday, Sunday 10:00 AM - 2:00 PM
: Monday, Wednesday, Thursday, Friday, Saturday, Sunday 10:00 AM - 2:00 PM
: Monday, Wednesday, Thursday, Friday, Saturday, Sunday 10:00 AM - 2:00 PM
: Monday, Wednesday, Thursday, Friday, Saturday, Sunday 10:00 AM - 2:00 PM
: Monday, Wednesday, Thursday, Friday, Saturday, Sunday 10:00 AM - 2:00 PM
: Monday, Wednesday, Thursday, Friday, Saturday, Sunday 10:00 AM - 2:00 PM
: Monday, Wednesday, Thursday, Friday, Saturday, Sunday 10:00 AM - 2:00 PM
: Monday, Wednesday, Thursday, Friday, Saturday, Sunday 10:00 AM - 2:00 PM
: Monday, Wednesday, Thursday, Friday, Saturday, Sunday 10:00 AM - 2:00 PM

: Everyday 7:00 AM - 5:00 PM
: Everyday 7:00 AM - 5:00 PM
: Everyday 7:00 AM - 5:00 PM
: Everyday 7:00 AM - 5:00 PM
: Everyday 7:00 AM - 5:00 PM
: Everyday 7:00 AM - 5:00 PM
: Everyday 7:00 AM - 5:00 PM
: Everyday 7:00 AM - 5:00 PM
: Everyday 7:00 AM - 5:00 PM
: Everyday 7:00 AM - 5:00 PM
: Everyday 7:00 AM - 5:00 PM
: Everyday 7:00 AM - 5:00 PM

: Everyday 9:00 AM - 3:00 PM
: Everyday 9:00 AM - 3:00 PM
: Everyday 9:00 AM - 3:00 PM
: Everyday 9:00 AM - 3:00 PM
: Everyday 9:00 AM - 3:00 PM
: Everyday 9:00 AM - 3:00 PM
: Everyday 9:00 AM - 3:00 PM
: Everyday 9:00 AM - 3:00 PM
: Everyday 9:00 AM - 3:00 PM
: Everyday 9:00 AM - 3:00 PM
: Everyday 9:00 AM - 3:00 PM
: Everyday 9:00 AM - 3:00 PM

: Monday, Tuesday, Wednesday, Thursday, Saturday, Sunday 10:00 AM - 4:00 PM
: Monday, Tuesday, Wednesday, Thursday, Saturday, Sunday 10:00 AM - 4:00 PM
: Monday, Tuesday, Wednesday, Thursday, Saturday, Sunday 10:00 AM - 4:00 PM
: Monday, Tuesday, Wednesday, Thursday, Saturday, Sunday 10:00 AM - 4:00 PM
: Monday, Tuesday, Wednesday, Thursday, Saturday, Sunday 10:00 AM - 4:00 PM
: Monday, Tuesday, Wednesday, Thursday, Saturday, Sunday 10:00 AM - 4:00 PM
: Monday, Tuesday, Wednesday, Thursday, Saturday, Sunday 10:00 AM - 4:00 PM
: Monday, Tuesday, Wednesday, Thursday, Saturday, Sunday 10:00 AM - 4:00 PM
: Monday, Tuesday, Wednesday, Thursday, Saturday, Sunday 10:00 AM - 4:00 PM
: Monday, Tuesday, Wednesday, Thursday, Saturday, Sunday 10:00 AM - 4:00 PM
: Monday, Tuesday, Wednesday, Thursday, Saturday, Sunday 10:00 AM - 4:00 PM
: Monday, Tuesday, Wednesday, Thursday, Saturday, Sunday 10:00 AM - 4:00 PM

: Wednesday to Sunday 10:00 AM - 3:00 PM
: Wednesday to Sunday 10:00 AM - 3:00 PM
: Sunday 10:00 AM - 3:00 PM
: Sunday 10:00 AM - 3:00 PM
: Sunday 10:00 AM - 3:00 PM
: Sunday 10:00 AM - 3:00 PM
: Sunday 10:00 AM - 3:00 PM
: Sunday 10:00 AM - 3:00 PM
: Sunday 10:00 AM - 3:00 PM
: Sunday 10:00 AM - 3:00 PM
: Sunday 10:00 AM - 3:00 PM
: Wednesday to Sunday 10:00 AM - 3:00 PM

: Monday, Tuesday, Wednesday, Thursday, Sunday 1:00 PM - 3:00 PM
: Monday, Tuesday, Wednesday, Thursday, Sunday 1:00 PM - 3:00 PM
: Monday, Tuesday, Wednesday, Thursday, Sunday 1:00 PM - 3:00 PM
: Monday, Tuesday, Wednesday, Thursday, Sunday 1:00 PM - 3:00 PM
: Monday, Tuesday, Wednesday, Thursday, Sunday 1:00 PM - 3:00 PM
: Monday, Tuesday, Wednesday, Thursday, Sunday 1:00 PM - 3:00 PM
: Monday, Tuesday, Wednesday, Thursday, Sunday 1:00 PM - 3:00 PM
: Monday, Tuesday, Wednesday, Thursday, Sunday 1:00 PM - 3:00 PM
: Monday, Tuesday, Wednesday, Thursday, Sunday 1:00 PM - 3:00 PM
: Monday, Tuesday, Wednesday, Thursday, Sunday 1:00 PM - 3:00 PM
: Monday, Tuesday, Wednesday, Thursday, Sunday 1:00 PM - 3:00 PM
: Monday, Tuesday, Wednesday, Thursday, Sunday 1:00 PM - 3:00 PM

: Everyday 8:00 AM - 6:00 PM
: Everyday 8:00 AM - 6:00 PM
: Everyday 8:00 AM - 6:00 PM
: Everyday 8:00 AM - 6:00 PM
: Everyday 8:00 AM - 6:00 PM
: Everyday 8:00 AM - 6:00 PM
: Everyday 8:00 AM - 6:00 PM
: Everyday 8:00 AM - 6:00 PM
: Everyday 8:00 AM - 6:00 PM
: Everyday 8:00 AM - 6:00 PM
: Everyday 8:00 AM - 6:00 PM
: Everyday 8:00 AM - 6:00 PM

: Everyday 7:00 AM - 4:00 PM
: Everyday 7:00 AM - 4:00 PM
: Everyday 7:00 AM - 4:00 PM
: Everyday 7:00 AM - 4:00 PM
: Everyday 7:00 AM - 4:00 PM
: Everyday 7:00 AM - 4:00 PM
: Everyday 7:00 AM - 4:00 PM
: Everyday 7:00 AM - 4:00 PM
: Everyday 7:00 AM - 4:00 PM
: Everyday 7:00 AM - 4:00 PM
: Everyday 7:00 AM - 4:00 PM
: Everyday 7:00 AM - 4:00 PM

: Everyday 7:00 AM - 4:00 PM
: Everyday 7:00 AM - 4:00 PM
: Everyday 7:00 AM - 4:00 PM
: Everyday 7:00 AM - 4:00 PM
: Everyday 7:00 AM - 4:00 PM
: Everyday 7:00 AM - 4:00 PM
: Everyday 7:00 AM - 4:00 PM
: Everyday 7:00 AM - 4:00 PM
: Everyday 7:00 AM - 4:00 PM
: Everyday 7:00 AM - 4:00 PM
: Everyday 7:00 AM - 4:00 PM
: Everyday 7:00 AM - 4:00 PM