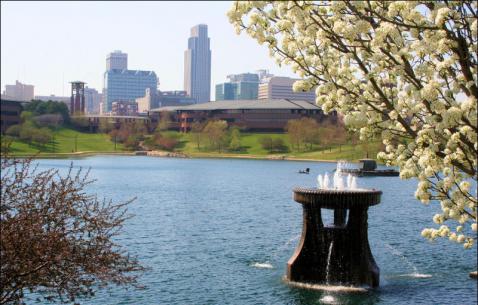 Omaha is the largest city in Nebraska located in the Midwestern United States. The city is picturesque and scenic in every form of the word and is simply amazing when it comes to tourism. The place has the highest number of millionaires per capita in the nation. The destination is famed for its architectural value as well; there are lots of architecturally important buildings in the destination that will appeal to you here. Other than gigantic buildings and other man-made wonders the city also has a lot of parks and open spaces that you can enjoy. The city has a great mix of ultra-modern attractions to serene and picturesque ones that is sure to liven up your spirit. The people are friendly, polite and inviting that just adds to the charm of the destination. From great food to soulful theatres and from scintillating sceneries to historic museums the place always has something to do and so you are sure to find something that fits your taste. Omaha also has many spots for photography and shopping that are just a delight to visit while on your trip here. If you are someone who loves to party then this destination will surely be your retreat, with many pubs bars and restaurants the city will surely give you everything that you might need. The local food is a must try in the city as it has more restaurants per capita than almost anywhere else in the world. The city has a good reputation when it comes to greeting visitors and so visiting the city is a good idea if you are travelling with your family or even alone. There are many attractions in the city that suit people of every age and therefore the place is just perfect for a family outing or a trip with friends.
Essential travel information and Omaha tips for your visit
ESSENTIAL INFORMATION
Time Zone: Central Time Zone- UTC- 06:00
Currency: USD- United states Dollars
Electricity and Internet: 220 and 240 volts (50 or 60 Hz) fairly extensive Internet connectivity
Languages: English, Some people may also speak Spanish.
Security:
Omaha Police Department: +1 402-444-7555
Fire Station: +1 402-444-5700
Douglas County Sheriff-Research: +1 402-444-6641
VA Nebraska-Western Iowa Health Care System: +1 800-451-5796
Off-beaten Path- If any (non-touristy things to do in city):
Bob Kerrey Pedestrian Bridge: Bob Kerrey Pedestrian Bridge is a picturesque bridge in the city and taking an evening walk on it is a good option as not many people are around. Also the scenic view and picturesque scenery is worth all the effort.
Roberts Skate Park: Roberts Skate Park is filled with skaters and you can see the cool sport in front of your eyes. May be even give it a try; not without protective gear of course
Tipping: Tipping is appreciated but not mandatory.
Tourist Traps:
Do not go into dark alleys as they might be dangerous.
The city is fairly safe but avoid shady neighborhood.