Things to do in Omkareshwar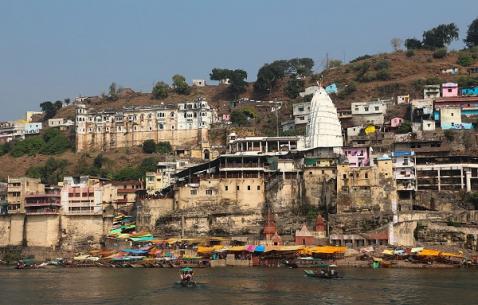 The Best Things To Do in Omkareshwar
Since Omkareshwar is primarily a holy city, your list of things to do in this city will consist of visiting the famous temples and religious centres. Omkareshwar is home to one of the twelve jyotirlingas that adorn India. This jyotirlinga is preserved inside the famous Omkareshwar temples that exudes great spiritual aura and devotion. Apart from this temple, there are some other temples as well that are worth seeing. These are: The Siddhnath Temple which is a classic example of early medieval Brahminic architecture and is known for its wall paintings of elephants, over 1.5 m high, carved on a stone slab. You can also visit the 10th century Satmatrika Temples and the Kajal Rani Cave situated nearby for a pure spiritual indulgence. Other beautiful temples include Ranmukteshwar Temple, Mamleshwar Temple among many. Ahilya ghat is also a nearby attraction where you can spend some time for spiritual reflection. Apart from the temples, the natural beauty and local corners are worth exploring and noticing here.
Explore the travel planning tool for your visit to Omkareshwar and create a flawless plan in few simple steps!
9 Tourist Attractions in Omkareshwar

Must see places in Omkareshwar ranked on popularity. Here is the complete list of best attractions in Omkareshwar and point of interests to visit.
Tourist Attractions Near Omkareshwar
Find Your Omkareshwar Attractions on Map
Types of Things To Do in Omkareshwar
Find more attractions and places to visit in Omkareshwar under these things to do categories.
What To Do in Omkareshwar: Day-Wise Ideas
Find what not to miss in Omkareshwar! Recommended Omkareshwar itineraries and vacation ideas created by travelers across the world.