Doddabetta Peak
Book Now
Book Now
Book Now
Show More
About Doddabetta Peak, Ooty
Doddabetta (தமிழ்:தொட்டபெட்டா)is the highest mountain in the Nilgiri Hills at 2,637 metres (8,650 feet). There is a reserved forest area around the peak. It is 9 km from Ooty, on the Ooty-Kotagiri Road in the Nilgiris District of Tamil Nadu, South India. It is a popular tourist attraction with road access to the summit. It is the fourth highest peak in South India next to Anamudi, Mannamalai and Meesapulimala. The peaks Hecuba (2375 m), Kattadadu (2418 m) and Kulkudi (2439 m) are the three closely linked summits in the west of the Doddabetta range near to Udagamandalam.
Wikipedia
Overview of Doddabetta Peak
Doddabetta Peak lies in the city of Ooty in India. On your trip to Ooty, you can consider a quick visit to Doddabetta Peak. Use this comprehensive guide to plan your visit to Doddabetta Peak and you'll thank us later!
Doddabetta Peak is not one of the most important things to do in Ooty like Nilgiri Mountain Railway, Pykara Lake, Government Botanical Gardens, Avalanche Lake and Upper Bhavani Lake And View Point.
What's travelling like if you don't want to explore it like a local! Book local Ooty tours and experiences.
More about Ooty
Find the joy in planning a D.I.Y. trip by using this awesome Ooty trip planner.
You can enjoy a comfortable stay in the city by booking the best hotels in Ooty like Oyo Rooms Mysore Road Ooty, Hotel Welbeck Residency, Tulips Elkhill Resorts and Tulips Valley View Resorts.
There are plenty of ready-to-book Ooty vacation packages available that will cover the major attractions, accommodation concerns including the prime one like how to reach Ooty.
Book Doddabetta Peak Tickets And Tours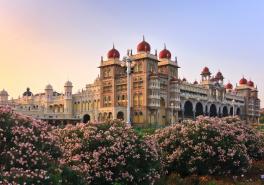 Take a break from the chaos of city life and visit hillstations of Karnataka and Tamil Nadu in this 4 days tour package.
Mysore:
The birthplace of proud kings of olden times, the city of Mysore in the state of Karnataka has a unique allure. Whenever the name ' Mysore' is mentioned, grand palaces with intricate and vibrant architecture come to mind. But Mysore is more than these majestic works in stone.
Ooty:
Amidst the glory of the splendid blue-hued Nilgiri mountains in Tamil Nadu, lies the fascinating little town of Ooty. The quaint green paths, overshadowed by towering pine trees, reminds one of an English countryside. The charming colonial era bungalows take you back to the British era. In contrast, the bustling town centre consists of chaotic streets, busy markets and throngs of tourists
Share your experience - Rate Doddabetta Peak, Ooty
Highest peak of the Nilgiri hills at 2637 metres. I'd recommend anyone to carry warm jackets with them even during the summer. It's extremely cold up the air but an experience you will never forget. Very special.

Very nice places to visit Nilgiri hills... there are more places to visit near by...best options to go side seen to cover all places...Bike or car..

It is the fourth highest peak-2637metres(8650feet) in South India. Incredible place. Visited here with friends. wish to visit again.I wonder why pay toll at all. Magendiran :)

Its a high altitude place where you can see the whole ooty, but its a small area and nothing special too see other than the view and the experience of cold and foggy breeze. Parking charge is 20rs and entry fee is just 7rs. You can also buy sweaters woolen gloves riding gloves which are cheap. Easily drivable upto destination.

Yes, it is the highest peak in tamil nadu. View from.here is stunning and the climate is always cold with light rain and heavy wind. The telescope tower in here is an absolute waste. When we went there, the telescope was positioned to observe some house. The guide who was supposed to explain us the details was sitting there playing some mobile games. 😢 Apart from that, i really enjoyed my visit here.
Read all reviews