Sagar Holiday Resorts
Book Now
Book Now
Book Now
Show More
About Sagar Holiday Resorts, Ooty
Book Sagar Holiday Resorts Tickets And Tours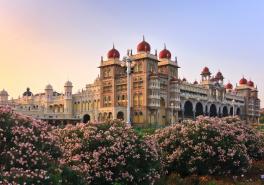 Take a break from the chaos of city life and visit hillstations of Karnataka and Tamil Nadu in this 4 days tour package.
Mysore:
The birthplace of proud kings of olden times, the city of Mysore in the state of Karnataka has a unique allure. Whenever the name ' Mysore' is mentioned, grand palaces with intricate and vibrant architecture come to mind. But Mysore is more than these majestic works in stone.
Ooty:
Amidst the glory of the splendid blue-hued Nilgiri mountains in Tamil Nadu, lies the fascinating little town of Ooty. The quaint green paths, overshadowed by towering pine trees, reminds one of an English countryside. The charming colonial era bungalows take you back to the British era. In contrast, the bustling town centre consists of chaotic streets, busy markets and throngs of tourists
Getting around Sagar Holiday Resorts, Ooty
Taxi
Take a Taxi. The total distance will be 1.93 Kilometre costing INR 250 and the duration of the trip will be 2 minutes.
Walk
You can reach Nilgiri Mountain Railway on foot. The distance is 1.93 Kilometre and it will take around 23 minutes.
Taxi
Suggested transit method is Taxi. The distance between the points being 22.49 Kilometre, the time taken for the journey is 20 minutes. The expense of the trip is INR 800.
Car
The most preferred mode of transport is Car. The transit will take around 20 minutes, covering a distance of 22.49 Kilometre. The trip will cost you roughly USD 3.
Taxi
It is recommended to take Taxi which will cost you roughly INR 310, taking around 4 minutes. The distance between the two points is 4.46 Kilometre.
Walk
By walking for 56 minutes for a distance of 4.67 Kilometre.
Share your experience - Rate Sagar Holiday Resorts, Ooty
The rooms are a little small and the bathroom lights are a little dim. The view is just simply breathtaking and the weather adds on to the fun. The staff is friendly. This hotel is enough for 3 to 4 people

It has a very good view, building had a good designed, maintaining well. Nice to sit in gallery and watching view, and lovely weather.

Staff is rude and cunning, they hid their rooms on goibibo and wanted me to pay the rates they were offering at the reception (which were way higher) rather than online... Upon escalation they denied talking to goibibo and said that the website had expired rates... The location/the natural view is the only amazing thing here, or rather the only thing worth a notice... The rooms are just ordinary rooms... Sub par service and staff...

Nice view from hotel balcony. Separate cottage. Good breakfast :)

Balcony view is superb. Food is ok. But inside room everything is broken (chairs, light lamp, bathroom curtains..,) even their TV didn't work in night. So much electricity voltage fluctuation.
Read all reviews