Best Time To Visit Oranienburg
Explore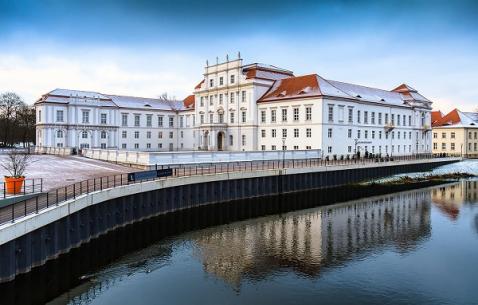 Best Time To Go To Oranienburg
Since Oranienburg is quite close to Berlin, it shares the same temperature as the latter city does. These cities tend to be pretty cold and thus gray for most of the time of the year. Thus the best time to visit Oranienbug would be summers when the days remain sunny enough for the tourists.
Summers (February- September): Summers can be pleasant enough to roam around Oranienburg. But, you still need to pack your jackets with you as it can get bit chilled in the evenings. This is also the best time to visit as you can easily laze around and walk on the streets to explore the city.
Winters (October-January):Winters can prove to be bit harsh given the cold climate that surrounds the city. Although it that time of the year when you can get hotels at cheap prices, it is still cold enough to visit Oranienburg.
Best time to go to Oranienburg Attractions

: Everyday 11:00 AM - 2:00 PM
: Everyday 11:00 AM - 2:00 PM
: Everyday 11:00 AM - 2:00 PM
: Everyday 11:00 AM - 2:00 PM
: Everyday 11:00 AM - 2:00 PM
: Everyday 11:00 AM - 2:00 PM
: Everyday 11:00 AM - 2:00 PM
: Everyday 11:00 AM - 2:00 PM
: Everyday 11:00 AM - 2:00 PM
: Everyday 11:00 AM - 2:00 PM
: Everyday 11:00 AM - 2:00 PM
: Everyday 11:00 AM - 2:00 PM

: Everyday 10:00 AM - 4:00 PM
: Everyday 10:00 AM - 4:00 PM
: Everyday 10:00 AM - 4:00 PM
: Everyday 10:00 AM - 4:00 PM
: Everyday 10:00 AM - 4:00 PM
: Everyday 10:00 AM - 4:00 PM
: Everyday 10:00 AM - 4:00 PM
: Everyday 10:00 AM - 4:00 PM
: Everyday 10:00 AM - 4:00 PM
: Everyday 10:00 AM - 4:00 PM
: Everyday 10:00 AM - 4:00 PM
: Everyday 10:00 AM - 4:00 PM

: Monday to Friday 7:00 AM - 3:00 PM
: Monday to Friday 7:00 AM - 3:00 PM
: Monday to Friday 7:00 AM - 3:00 PM
: Monday to Friday 7:00 AM - 3:00 PM
: Monday to Friday 7:00 AM - 3:00 PM
: Monday to Friday 7:00 AM - 3:00 PM
: Monday to Friday 7:00 AM - 3:00 PM
: Monday to Friday 7:00 AM - 3:00 PM
: Monday to Friday 7:00 AM - 3:00 PM
: Monday to Friday 7:00 AM - 3:00 PM
: Monday to Friday 7:00 AM - 3:00 PM
: Monday to Friday 7:00 AM - 3:00 PM

: Everyday 10:00 AM - 4:00 PM
: Everyday 10:00 AM - 4:00 PM
: Everyday 10:00 AM - 4:00 PM
: Everyday 10:00 AM - 4:00 PM
: Everyday 10:00 AM - 4:00 PM
: Everyday 10:00 AM - 4:00 PM
: Everyday 10:00 AM - 4:00 PM
: Everyday 10:00 AM - 4:00 PM
: Everyday 10:00 AM - 4:00 PM
: Everyday 10:00 AM - 4:00 PM
: Everyday 10:00 AM - 4:00 PM
: Everyday 10:00 AM - 4:00 PM

: Everyday 24 Hrs
: Everyday 24 Hrs
: Everyday 24 Hrs
: Everyday 24 Hrs
: Everyday 24 Hrs
: Everyday 24 Hrs
: Everyday 24 Hrs
: Everyday 24 Hrs
: Everyday 24 Hrs
: Everyday 24 Hrs
: Everyday 24 Hrs
: Everyday 24 Hrs

: Everyday 24 Hrs
: Everyday 24 Hrs
: Everyday 24 Hrs
: Everyday 24 Hrs
: Everyday 24 Hrs
: Everyday 24 Hrs
: Everyday 24 Hrs
: Everyday 24 Hrs
: Everyday 24 Hrs
: Everyday 24 Hrs
: Everyday 24 Hrs
: Everyday 24 Hrs

: Monday to Thursday 6:30 AM - 5:00 PM; Friday 6:30 AM - 4:00 PM
: Monday to Thursday 6:30 AM - 5:00 PM; Friday 6:30 AM - 4:00 PM
: Monday to Thursday 6:30 AM - 5:00 PM; Friday 6:30 AM - 4:00 PM
: Monday to Thursday 6:30 AM - 5:00 PM; Friday 6:30 AM - 4:00 PM
: Monday to Thursday 6:30 AM - 5:00 PM; Friday 6:30 AM - 4:00 PM
: Monday to Thursday 6:30 AM - 5:00 PM; Friday 6:30 AM - 4:00 PM
: Monday to Thursday 6:30 AM - 5:00 PM; Friday 6:30 AM - 4:00 PM
: Monday to Thursday 6:30 AM - 5:00 PM; Friday 6:30 AM - 4:00 PM
: Monday to Thursday 6:30 AM - 5:00 PM; Friday 6:30 AM - 4:00 PM
: Monday to Thursday 6:30 AM - 5:00 PM; Friday 6:30 AM - 4:00 PM
: Monday to Thursday 6:30 AM - 5:00 PM; Friday 6:30 AM - 4:00 PM
: Monday to Thursday 6:30 AM - 5:00 PM; Friday 6:30 AM - 4:00 PM

: Monday to Thursday 8:00 AM - 5:45 PM; Friday, Saturday, Sunday 8:00 AM - 6:45 PM
: Monday to Thursday 8:00 AM - 5:45 PM; Friday, Saturday, Sunday 8:00 AM - 6:45 PM
: Monday to Thursday 8:00 AM - 5:45 PM; Friday, Saturday, Sunday 8:00 AM - 6:45 PM
: Monday to Thursday 8:00 AM - 5:45 PM; Friday, Saturday, Sunday 8:00 AM - 6:45 PM
: Monday to Thursday 8:00 AM - 5:45 PM; Friday, Saturday, Sunday 8:00 AM - 6:45 PM
: Monday to Thursday 8:00 AM - 5:45 PM; Friday, Saturday, Sunday 8:00 AM - 6:45 PM
: Monday to Thursday 8:00 AM - 5:45 PM; Friday, Saturday, Sunday 8:00 AM - 6:45 PM
: Monday to Thursday 8:00 AM - 5:45 PM; Friday, Saturday, Sunday 8:00 AM - 6:45 PM
: Monday to Thursday 8:00 AM - 5:45 PM; Friday, Saturday, Sunday 8:00 AM - 6:45 PM
: Monday to Thursday 8:00 AM - 5:45 PM; Friday, Saturday, Sunday 8:00 AM - 6:45 PM
: Monday to Thursday 8:00 AM - 5:45 PM; Friday, Saturday, Sunday 8:00 AM - 6:45 PM
: Monday to Thursday 8:00 AM - 5:45 PM; Friday, Saturday, Sunday 8:00 AM - 6:45 PM