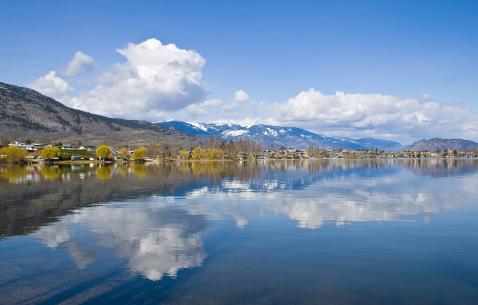 Osoyoos (/ɒˈsuːjuːs/ o-SOO-ews, historically /ˈsuːjuːs/ SOO-ews) is the southern-most town in the Okanagan Valley in British Columbia between Penticton and Omak. Near the border with Washington state, the town is also adjacent to the Indian Reserve of the Osoyoos Indian Band. The origin of the name Osoyoos was the word sẁiẁs (pronounced "soo-yoos") meaning "narrowing of the waters" in the local Okanagan language (Syilx'tsn). The "O-" prefix is not indigenous in origin and was attached by settler-promoters wanting to harmonize the name with other place names beginning with O in the Okanagan Country (Oliver, Omak, Oroville, Okanogan). There is one local newspaper, the Osoyoos Times. The town's population of 4,845 swells in the summer months with visitors from elsewhere in British Columbia and neighboring Alberta, as well as elsewhere in Canada. Also, a newer contingent of international visitors is supported by proximity to the Kelowna and Penticton Airports. A growing year-round retiree population is evidenced by the predominance in the population of people over 50 years old and with the recent boom of condominium and suburban development (though somewhat thwarted by the 2008–09 economic downturn). Another 1,892 people surround the town within the "Okanagan-Similkameen A" area.
Wikipedia
This small agricultural town in Okanagan Valley shares the border with Washington and is chosen as a Customs point for the US – Canada border. It got its initial name "Soyoos" meaning "narrowing of waters" in the native language and was later renamed as "Osoyoos" mainly to rhyme it with the neighboring towns like Oliver, Oroville, Okanagan and Omak.
Tourism in Osoyoos is growing fast owing to its ideal weather conditions – perfect for the farming, wineries and orchards, for hiking and biking, stargazing, bird watching and for the tourists wanting to soak up the sun at the beaches and it also gives Osoyoos its infamous warmest lake in Canada. This resort town of Okanagan has something for everyone – whether you are here for a business meeting or a conference, for a wedding or just to relax and unwind – Osoyoos is the destination to explore!
Head onto Highway 3 to enjoy the water sports – jet boats, ski boats, aqua bikes and many more; if being at the beachside is not your thing or you would like explore a different side of Osoyoos, then make a trip to the desert – Sonoran that is said to have its origin in Mexico.
Essential travel information and Osoyoos tips for your visit
Avoid visiting beaches at night as there might be some unscrupulous activities.
Make sure you check the boat condition well before you rent it, lest you are blamed for any damage.
Carry a large tube or bottle of sunscreen and cover yourself well if planning to travel in summer. Summer here is longer and the days can get quite hot and dry.
Keep yourself hydrated throughout your visit in Osoyoos, if travelling in summer.
Carry a good pair of shoes along if biking and hiking is your idea of day well spent.
And of course don't forget to pack your best swim wear as Osoyoos has a lot of beaches and the best of all its own warm freshwater lake.