Best Time To Visit Pachmarhi
Explore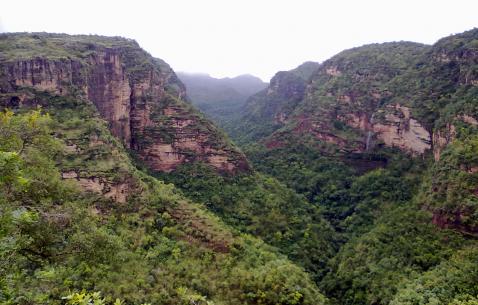 Best Time To Go To Pachmarhi
Located at the heart of the Satpura Range, the cityhas heavy rainfalls, mild sunlight and chilly winters. The weather is perfect for a weekend trip and owing to the forested areas and natural reserves in Panchmarhi, is a year-round destination.
Summer: Summer season starts off from the month of May and ends in July. The average high temperature touches 35 degrees Celsius but barely exceeds it. Since it is a hill station, the weather is pretty pleasant during the summer season.
Monsoon: The Monsoon season kick starts in July and extends till September. Rainfall is pretty heavy and adds to the waterfalls and natural reserves of the small town- making it the perfect time to visit Panchmarhi if you don't mind the rain. Fog embraces the mountains, adding to the romance of the place. The average temperature ranges from 19 to 25 degrees Celsius.
Winter: November to March is the winter season with December and January being the coldest months of the year. The temperature can dip as low as 4 degrees Celsius while the warmer months range in temperature from 10 to 14 degrees Celsius.
The best time to visit Panchmarhi is post-monsoonduring the winter season, when the waterfalls are cascading at their best.
Best time to go to Pachmarhi Attractions

: Everyday 8:00 AM - 3:00 PM
: Everyday 8:00 AM - 3:00 PM
: Everyday 8:00 AM - 3:00 PM
: Everyday 8:00 AM - 3:00 PM
: Everyday 8:00 AM - 3:00 PM
: Everyday 8:00 AM - 3:00 PM
: Everyday 8:00 AM - 3:00 PM
: Everyday 8:00 AM - 3:00 PM
: Everyday 8:00 AM - 3:00 PM
: Everyday 8:00 AM - 3:00 PM
: Everyday 8:00 AM - 3:00 PM
: Everyday 8:00 AM - 3:00 PM

: Everyday 8:00 AM - 2:00 PM
: Everyday 8:00 AM - 2:00 PM
: Everyday 8:00 AM - 2:00 PM
: Everyday 8:00 AM - 2:00 PM
: Everyday 8:00 AM - 2:00 PM
: Everyday 8:00 AM - 2:00 PM
: Everyday 8:00 AM - 2:00 PM
: Everyday 8:00 AM - 2:00 PM
: Everyday 8:00 AM - 2:00 PM
: Everyday 8:00 AM - 2:00 PM
: Everyday 8:00 AM - 2:00 PM
: Everyday 8:00 AM - 2:00 PM

: Everyday 8:30 AM - 3:00 PM
: Everyday 8:30 AM - 3:00 PM
: Everyday 8:30 AM - 3:00 PM
: Everyday 8:30 AM - 3:00 PM
: Everyday 8:30 AM - 3:00 PM
: Everyday 8:30 AM - 3:00 PM
: Everyday 8:30 AM - 3:00 PM
: Everyday 8:30 AM - 3:00 PM
: Everyday 8:30 AM - 3:00 PM
: Everyday 8:30 AM - 3:00 PM
: Everyday 8:30 AM - 3:00 PM
: Everyday 8:30 AM - 3:00 PM

: Everyday 9:00 AM - 5:30 PM
: Everyday 9:00 AM - 5:30 PM
: Everyday 9:00 AM - 5:30 PM
: Everyday 9:00 AM - 5:30 PM
: Everyday 9:00 AM - 5:30 PM
: Everyday 9:00 AM - 5:30 PM
: Everyday 9:00 AM - 5:30 PM
: Everyday 9:00 AM - 5:30 PM
: Everyday 9:00 AM - 5:30 PM
: Everyday 9:00 AM - 5:30 PM
: Everyday 9:00 AM - 5:30 PM
: Everyday 9:00 AM - 5:30 PM

: Everyday 7:00 AM - 11:00 AM
: Everyday 7:00 AM - 11:00 AM
: Everyday 7:00 AM - 11:00 AM
: Everyday 7:00 AM - 11:00 AM
: Everyday 7:00 AM - 11:00 AM
:
:
:
: Everyday 7:00 AM - 11:00 AM
: Everyday 7:00 AM - 11:00 AM
: Everyday 7:00 AM - 11:00 AM

: Everyday 8:00 AM - 1:00 PM
: Everyday 8:00 AM - 1:00 PM
: Everyday 8:00 AM - 1:00 PM
: Everyday 8:00 AM - 1:00 PM
: Everyday 8:00 AM - 1:00 PM
: Everyday 8:00 AM - 1:00 PM
: Everyday 8:00 AM - 1:00 PM
: Everyday 8:00 AM - 1:00 PM
: Everyday 8:00 AM - 1:00 PM
: Everyday 8:00 AM - 1:00 PM
: Everyday 8:00 AM - 1:00 PM
: Everyday 8:00 AM - 1:00 PM

: Everyday 7:30 AM - 4:00 PM
: Everyday 7:30 AM - 4:00 PM
: Everyday 7:30 AM - 4:00 PM
: Everyday 7:30 AM - 4:00 PM
: Everyday 7:30 AM - 4:00 PM
: Everyday 7:30 AM - 4:00 PM
: Everyday 7:30 AM - 4:00 PM
: Everyday 7:30 AM - 4:00 PM
: Everyday 7:30 AM - 4:00 PM
: Everyday 7:30 AM - 4:00 PM
: Everyday 7:30 AM - 4:00 PM
: Everyday 7:30 AM - 4:00 PM

: Everyday 7:00 AM - 1:30 PM
: Everyday 7:00 AM - 1:30 PM
: Everyday 7:00 AM - 1:30 PM
: Everyday 7:00 AM - 1:30 PM
: Everyday 7:00 AM - 1:30 PM
: Everyday 7:00 AM - 1:30 PM
: Everyday 7:00 AM - 1:30 PM
: Everyday 7:00 AM - 1:30 PM
: Everyday 7:00 AM - 1:30 PM
: Everyday 7:00 AM - 1:30 PM
: Everyday 7:00 AM - 1:30 PM
: Everyday 7:00 AM - 1:30 PM

: Everyday 8:00 AM - 5:30 PM
: Everyday 8:00 AM - 5:30 PM
: Everyday 8:00 AM - 5:30 PM
: Everyday 8:00 AM - 5:30 PM
: Everyday 8:00 AM - 5:30 PM
: Everyday 8:00 AM - 5:30 PM
: Everyday 8:00 AM - 5:30 PM
: Everyday 8:00 AM - 5:30 PM
: Everyday 8:00 AM - 5:30 PM
: Everyday 8:00 AM - 5:30 PM
: Everyday 8:00 AM - 5:30 PM
: Everyday 8:00 AM - 5:30 PM

: Everyday 8:00 AM - 5:00 PM
: Everyday 8:00 AM - 5:00 PM
: Everyday 8:00 AM - 5:00 PM
: Everyday 8:00 AM - 5:00 PM
: Everyday 8:00 AM - 5:00 PM
: Everyday 8:00 AM - 5:00 PM
: Everyday 8:00 AM - 5:00 PM
: Everyday 8:00 AM - 5:00 PM
: Everyday 8:00 AM - 5:00 PM
: Everyday 8:00 AM - 5:00 PM
: Everyday 8:00 AM - 5:00 PM
: Everyday 8:00 AM - 5:00 PM

: Everyday 7:00 AM - 4:00 PM
: Everyday 7:00 AM - 4:00 PM
: Everyday 7:00 AM - 4:00 PM
: Everyday 7:00 AM - 4:00 PM
: Everyday 7:00 AM - 4:00 PM
: Everyday 7:00 AM - 4:00 PM
: Everyday 7:00 AM - 4:00 PM
: Everyday 7:00 AM - 4:00 PM
: Everyday 7:00 AM - 4:00 PM
: Everyday 7:00 AM - 4:00 PM
: Everyday 7:00 AM - 4:00 PM
: Everyday 7:00 AM - 4:00 PM

: Everyday 8:00 AM - 2:00 PM
: Everyday 8:00 AM - 2:00 PM
: Everyday 8:00 AM - 2:00 PM
: Everyday 8:00 AM - 2:00 PM
: Everyday 8:00 AM - 2:00 PM
: Everyday 8:00 AM - 2:00 PM
: Everyday 8:00 AM - 2:00 PM
: Everyday 8:00 AM - 2:00 PM
: Everyday 8:00 AM - 2:00 PM
: Everyday 8:00 AM - 2:00 PM
: Everyday 8:00 AM - 2:00 PM
: Everyday 8:00 AM - 2:00 PM

: Everyday 7:00 AM - 2:00 PM
: Everyday 7:00 AM - 2:00 PM
: Everyday 7:00 AM - 2:00 PM
: Everyday 7:00 AM - 2:00 PM
: Everyday 7:00 AM - 2:00 PM
: Everyday 7:00 AM - 2:00 PM
: Everyday 7:00 AM - 2:00 PM
: Everyday 7:00 AM - 2:00 PM
: Everyday 7:00 AM - 2:00 PM
: Everyday 7:00 AM - 2:00 PM
: Everyday 7:00 AM - 2:00 PM
: Everyday 7:00 AM - 2:00 PM

: Tuesday to Sunday 9:00 AM - 1:00 PM; Tuesday to Sunday 9:00 AM - 1:00 PM | 4:00 PM - 6:00 PM
: Tuesday to Sunday 9:00 AM - 1:00 PM; Tuesday to Sunday 9:00 AM - 1:00 PM | 4:00 PM - 6:00 PM
: Tuesday to Sunday 9:00 AM - 1:00 PM; Tuesday to Sunday 9:00 AM - 1:00 PM | 4:00 PM - 6:00 PM
: Tuesday to Sunday 8:30 AM - 11:00 AM; Tuesday to Sunday 8:30 AM - 11:00 AM | 4:00 PM - 6:00 PM
: Tuesday to Sunday 8:30 AM - 11:00 AM; Tuesday to Sunday 8:30 AM - 11:00 AM | 4:00 PM - 6:00 PM
: Tuesday to Sunday 8:30 AM - 11:00 AM; Tuesday to Sunday 8:30 AM - 11:00 AM | 4:00 PM - 6:00 PM
: Tuesday to Sunday 8:30 AM - 11:00 AM; Tuesday to Sunday 8:30 AM - 11:00 AM | 4:00 PM - 6:00 PM
: Tuesday to Sunday 8:30 AM - 11:00 AM; Tuesday to Sunday 8:30 AM - 11:00 AM | 4:00 PM - 6:00 PM
: Tuesday to Sunday 8:30 AM - 11:00 AM; Tuesday to Sunday 8:30 AM - 11:00 AM | 4:00 PM - 6:00 PM
: Tuesday to Sunday 8:30 AM - 11:00 AM; Tuesday to Sunday 8:30 AM - 11:00 AM | 4:00 PM - 6:00 PM
: Tuesday to Sunday 9:00 AM - 1:00 PM; Tuesday to Sunday 9:00 AM - 1:00 PM | 4:00 PM - 6:00 PM
: Tuesday to Sunday 9:00 AM - 1:00 PM; Tuesday to Sunday 9:00 AM - 1:00 PM | 4:00 PM - 6:00 PM

: Everyday 8:00 AM - 3:00 PM
: Everyday 8:00 AM - 3:00 PM
: Everyday 8:00 AM - 3:00 PM
: Everyday 8:00 AM - 3:00 PM
: Everyday 8:00 AM - 3:00 PM
: Everyday 8:00 AM - 3:00 PM
: Everyday 8:00 AM - 3:00 PM
: Everyday 8:00 AM - 3:00 PM
: Everyday 8:00 AM - 3:00 PM
: Everyday 8:00 AM - 3:00 PM
: Everyday 8:00 AM - 3:00 PM
: Everyday 8:00 AM - 3:00 PM

: Everyday 8:00 AM - 4:00 PM
: Everyday 8:00 AM - 4:00 PM
: Everyday 8:00 AM - 4:00 PM
: Everyday 8:00 AM - 4:00 PM
: Everyday 8:00 AM - 4:00 PM
: Everyday 8:00 AM - 4:00 PM
: Everyday 8:00 AM - 4:00 PM
: Everyday 8:00 AM - 4:00 PM
: Everyday 8:00 AM - 4:00 PM
: Everyday 8:00 AM - 4:00 PM
: Everyday 8:00 AM - 4:00 PM
: Everyday 8:00 AM - 4:00 PM

: Everyday 7:30 AM - 6:00 PM
: Everyday 7:30 AM - 6:00 PM
: Everyday 7:30 AM - 6:00 PM
: Everyday 7:30 AM - 6:00 PM
: Everyday 7:30 AM - 6:00 PM
: Everyday 7:30 AM - 6:00 PM
: Everyday 7:30 AM - 6:00 PM
: Everyday 7:30 AM - 6:00 PM
: Everyday 7:30 AM - 6:00 PM
: Everyday 7:30 AM - 6:00 PM
: Everyday 7:30 AM - 6:00 PM
: Everyday 7:30 AM - 6:00 PM

: Everyday 24 Hrs
: Everyday 24 Hrs
: Everyday 24 Hrs
: Everyday 24 Hrs
: Everyday 24 Hrs
: Everyday 24 Hrs
: Everyday 24 Hrs
: Everyday 24 Hrs
: Everyday 24 Hrs
: Everyday 24 Hrs
: Everyday 24 Hrs
: Everyday 24 Hrs