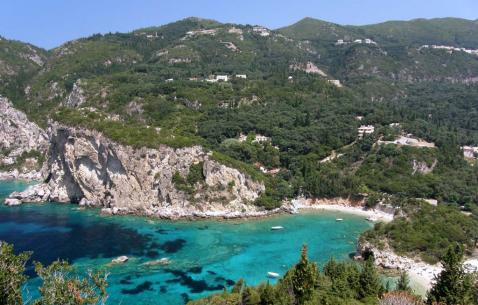 Greece is a lovely country to be in. Corfu Town stands out for its amazing cuisine which distinctly differs from the rest of the Greek Cuisine. Palaiokastritsa is a part of this town and offers you the very famous monastery. Apart from which you can also undertake a lot of water sports and activities and spend roughly a week or so just exploring the beaches. While in Greece, do make it a point to come to this beautiful town and also witness the Bella Vista.
The history of this town is not very well known, but it is known to be a Byzantine settlement which was in the ancient times located between Alipa and Saint Spyridon bays. The date of establishment cannot be traced, even though this Byzantine settlement was quite big. Even the community was quite prosperous and in the olden times, the area was called Paleopoli. It used to have four churches in the past out of which the ruins of two of them can still be found.
The name of Palaiokastritsa means old castle in Greek and indicates the existence of an old Castle, which is said to be present on the hillside where the famous Monastery of Theotokos is situated today. It is also contemplated that the name was first given to the Monastery after which the name of the city was copied.
Essential travel information and Palaiokastritsa tips for your visit
Time Zone
Time zone- EET (UTC+2)
Summer (DST)- EEST (UTC+3)
Currency
Euro is the followed currency here.
Electricity and Internet
Greece has 220-volt, 50 cycle AC electric current. Internet is not fast enough as it is a small town although available in most places.
Languages
The Greek language is the most widely spoken language here. Even knowing basic phrases can invite a really enthusiastic welcome. You can make your way through in English too.
Security
Some useful telephone numbers
Directory Inquires-131
Police-100
Tourist Police-171
Ambulance-166
Fire Brigade-199
Roadside Assistance-104
Tourist Traps
Taxis are fairly cheap, although you will be charged extra for trips to or from the airport or ferry terminal. Insist that all fares are shown on the meter.
Customs
If you are invited to someone's house for a drink, a meal, or to spend the night do not offer money, no matter how poor the people may be. The suggestion of payment is offensive. Instead offer a gift for the family or for the children.
Nude sun bathing is considered inappropriate unless you are on a designated nude beach or in a remote area where you are not be likely to be seen. Topless sunbathing is common in the summer. No one will fine you, but you may offend some people.
Tipping
Service is always included in restaurant bills and hotel bills but it is customary to tip the waiter or chambermaid if you are satisfied with the service.