Best Time To Visit Palermo
Explore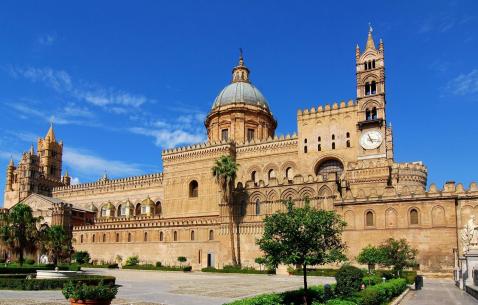 Accommodations with

See All
Best Time To Go To Palermo
Climate: They have got a hot summer, Mediterranean type of climate. The winters are wet and mild. Many people love the weather here due to the warm nights.
The best time to travel to Palermo is during summer when it is warm and sometimes hot. Winter months are also not bad although they can be very wet.
Explore the best travel planner for your visit to Palermo and create a flawless plan in few simple steps!
Best time to go to Palermo Attractions

: Monday to Saturday 9:00 AM - ; Monday to Saturday 9:00 AM - | 3:00 PM - 5:00 PM; Sunday 8:15 AM - 1:00 PM
: Monday to Saturday 9:00 AM - 1:00 PM; Monday to Saturday 9:00 AM - 1:00 PM | 3:00 PM - 5:00 PM; Sunday 8:15 AM - 1:00 PM
: Monday to Saturday 9:00 AM - 1:00 PM; Monday to Saturday 9:00 AM - 1:00 PM | 3:00 PM - 5:00 PM; Sunday 8:15 AM - 1:00 PM
: Monday to Saturday 9:00 AM - 1:00 PM; Monday to Saturday 9:00 AM - 1:00 PM | 3:00 PM - 5:00 PM; Sunday 8:15 AM - 1:00 PM
: Monday to Saturday 9:00 AM - 1:00 PM; Monday to Saturday 9:00 AM - 1:00 PM | 3:00 PM - 5:00 PM; Sunday 8:15 AM - 1:00 PM
: Monday to Saturday 9:00 AM - 1:00 PM; Monday to Saturday 9:00 AM - 1:00 PM | 3:00 PM - 5:00 PM; Sunday 8:15 AM - 1:00 PM
: Monday to Saturday 9:00 AM - 1:00 PM; Monday to Saturday 9:00 AM - 1:00 PM | 3:00 PM - 5:00 PM; Sunday 8:15 AM - 1:00 PM
: Monday to Saturday 9:00 AM - 1:00 PM; Monday to Saturday 9:00 AM - 1:00 PM | 3:00 PM - 5:00 PM; Sunday 8:15 AM - 1:00 PM
: Monday to Saturday 9:00 AM - 1:00 PM; Monday to Saturday 9:00 AM - 1:00 PM | 3:00 PM - 5:00 PM; Sunday 8:15 AM - 1:00 PM
: Monday to Saturday 9:00 AM - 1:00 PM; Monday to Saturday 9:00 AM - 1:00 PM | 3:00 PM - 5:00 PM; Sunday 8:15 AM - 1:00 PM
: Monday to Saturday 9:00 AM - 1:00 PM; Monday to Saturday 9:00 AM - 1:00 PM | 3:00 PM - 5:00 PM; Sunday 8:15 AM - 1:00 PM
: Monday to Saturday 9:00 AM - 1:00 PM; Monday to Saturday 9:00 AM - 1:00 PM | 3:00 PM - 5:00 PM; Sunday 8:15 AM - 1:00 PM

: Everyday 9:30 AM - 5:30 PM
: Everyday 9:30 AM - 5:30 PM
: Everyday 9:30 AM - 5:30 PM
: Everyday 9:30 AM - 5:30 PM
: Everyday 9:30 AM - 5:30 PM
: Everyday 9:30 AM - 5:30 PM
: Everyday 9:30 AM - 5:30 PM
: Everyday 9:30 AM - 5:30 PM
: Everyday 9:30 AM - 5:30 PM
: Everyday 9:30 AM - 5:30 PM
: Everyday 9:30 AM - 5:30 PM
: Everyday 9:30 AM - 5:30 PM

: Everyday 9:00 AM - 5:30 PM
: Everyday 9:00 AM - 5:30 PM
: Everyday 9:00 AM - 5:30 PM
: Everyday 9:00 AM - 5:30 PM
: Everyday 9:00 AM - 5:30 PM
: Everyday 9:00 AM - 5:30 PM
: Everyday 9:00 AM - 5:30 PM
: Everyday 9:00 AM - 5:30 PM
: Everyday 9:00 AM - 5:30 PM
: Everyday 9:00 AM - 5:30 PM
: Everyday 9:00 AM - 5:30 PM
: Everyday 9:00 AM - 5:30 PM

: Everyday 24 Hrs
: Everyday 24 Hrs
: Everyday 24 Hrs
: Everyday 24 Hrs
: Everyday 24 Hrs
: Everyday 24 Hrs
: Everyday 24 Hrs
: Everyday 24 Hrs
: Everyday 24 Hrs
: Everyday 24 Hrs
: Everyday 24 Hrs
: Everyday 24 Hrs

: Everyday 9:00 AM - 12:00 PM
: Everyday 9:00 AM - 12:00 PM
: Everyday 9:00 AM - 12:00 PM
: Everyday 9:00 AM - 12:00 PM
: Everyday 9:00 AM - 12:00 PM
: Everyday 9:00 AM - 12:00 PM
: Everyday 9:00 AM - 12:00 PM
: Everyday 9:00 AM - 12:00 PM
: Everyday 9:00 AM - 12:00 PM
: Everyday 9:00 AM - 12:00 PM
: Everyday 9:00 AM - 12:00 PM
: Everyday 9:00 AM - 12:00 PM

: Everyday 10:00 AM - 1:00 PM; Everyday 10:00 AM - 1:00 PM | 3:30 PM - 6:30 PM
: Everyday 10:00 AM - 1:00 PM; Everyday 10:00 AM - 1:00 PM | 3:30 PM - 6:30 PM
: Everyday 10:00 AM - 1:00 PM; Everyday 10:00 AM - 1:00 PM | 3:30 PM - 6:30 PM
: Everyday 10:00 AM - 1:00 PM; Everyday 10:00 AM - 1:00 PM | 3:30 PM - 6:30 PM
: Everyday 10:00 AM - 1:00 PM; Everyday 10:00 AM - 1:00 PM | 3:30 PM - 6:30 PM
: Everyday 10:00 AM - 1:00 PM; Everyday 10:00 AM - 1:00 PM | 3:30 PM - 6:30 PM
: Everyday 10:00 AM - 1:00 PM; Everyday 10:00 AM - 1:00 PM | 3:30 PM - 6:30 PM
: Everyday 10:00 AM - 1:00 PM; Everyday 10:00 AM - 1:00 PM | 3:30 PM - 6:30 PM
: Everyday 10:00 AM - 1:00 PM; Everyday 10:00 AM - 1:00 PM | 3:30 PM - 6:30 PM
: Everyday 10:00 AM - 1:00 PM; Everyday 10:00 AM - 1:00 PM | 3:30 PM - 6:30 PM
: Everyday 10:00 AM - 1:00 PM; Everyday 10:00 AM - 1:00 PM | 3:30 PM - 6:30 PM
: Everyday 10:00 AM - 1:00 PM; Everyday 10:00 AM - 1:00 PM | 3:30 PM - 6:30 PM

: Everyday 10:00 AM - 5:00 PM
: Everyday 10:00 AM - 5:00 PM
: Everyday 10:00 AM - 5:00 PM
: Everyday 10:00 AM - 5:00 PM
: Everyday 10:00 AM - 5:00 PM
: Everyday 10:00 AM - 5:00 PM
: Everyday 10:00 AM - 5:00 PM
: Everyday 10:00 AM - 5:00 PM
: Everyday 10:00 AM - 5:00 PM
: Everyday 10:00 AM - 5:00 PM
: Everyday 10:00 AM - 5:00 PM
: Everyday 10:00 AM - 5:00 PM

: Monday to Saturday 9:00 AM - 5:30 PM
: Monday to Saturday 9:00 AM - 5:30 PM
: Monday to Saturday 9:00 AM - 5:30 PM
: Monday to Saturday 9:00 AM - 5:30 PM
: Monday to Saturday 9:00 AM - 5:30 PM
: Monday to Saturday 9:00 AM - 5:30 PM
: Monday to Saturday 9:00 AM - 5:30 PM
: Monday to Saturday 9:00 AM - 5:30 PM
: Monday to Saturday 9:00 AM - 5:30 PM
: Monday to Saturday 9:00 AM - 5:30 PM
: Monday to Saturday 9:00 AM - 5:30 PM
: Monday to Saturday 9:00 AM - 5:30 PM

: Tuesday to Saturday 9:00 AM - 6:00 PM; Sunday 9:00 AM - 1:30 PM
: Tuesday to Saturday 9:00 AM - 6:00 PM; Sunday 9:00 AM - 1:30 PM
: Tuesday to Saturday 9:00 AM - 6:00 PM; Sunday 9:00 AM - 1:30 PM
: Tuesday to Saturday 9:00 AM - 6:00 PM; Sunday 9:00 AM - 1:30 PM
: Tuesday to Saturday 9:00 AM - 6:00 PM; Sunday 9:00 AM - 1:30 PM
: Tuesday to Saturday 9:00 AM - 6:00 PM; Sunday 9:00 AM - 1:30 PM
: Tuesday to Saturday 9:00 AM - 6:00 PM; Sunday 9:00 AM - 1:30 PM
: Tuesday to Saturday 9:00 AM - 6:00 PM; Sunday 9:00 AM - 1:30 PM
: Tuesday to Saturday 9:00 AM - 6:00 PM; Sunday 9:00 AM - 1:30 PM
: Tuesday to Saturday 9:00 AM - 6:00 PM; Sunday 9:00 AM - 1:30 PM
: Tuesday to Saturday 9:00 AM - 6:00 PM; Sunday 9:00 AM - 1:30 PM
: Tuesday to Saturday 9:00 AM - 6:00 PM; Sunday 9:00 AM - 1:30 PM

: Tuesday to Sunday 9:00 AM - 1:00 PM
: Tuesday to Sunday 9:00 AM - 1:00 PM
: Tuesday to Sunday 9:00 AM - 1:00 PM
: Tuesday to Sunday 9:00 AM - 1:00 PM
: Tuesday to Sunday 9:00 AM - 1:00 PM
: Tuesday to Sunday 9:00 AM - 1:00 PM
: Tuesday to Sunday 9:00 AM - 1:00 PM
: Tuesday to Sunday 9:00 AM - 1:00 PM
: Tuesday to Sunday 9:00 AM - 1:00 PM
: Tuesday to Sunday 9:00 AM - 1:00 PM
: Tuesday to Sunday 9:00 AM - 1:00 PM
: Tuesday to Sunday 9:00 AM - 1:00 PM

: Monday to Friday 10:00 AM - 1:00 PM
: Monday to Friday 10:00 AM - 1:00 PM
: Monday to Friday 10:00 AM - 1:00 PM
: Monday to Friday 10:00 AM - 1:00 PM
: Monday to Friday 10:00 AM - 1:00 PM
: Monday to Friday 10:00 AM - 1:00 PM
: Monday to Friday 10:00 AM - 1:00 PM
: Monday to Friday 10:00 AM - 1:00 PM
: Monday to Friday 10:00 AM - 1:00 PM
: Monday to Friday 10:00 AM - 1:00 PM
: Monday to Friday 10:00 AM - 1:00 PM
: Monday to Friday 10:00 AM - 1:00 PM

: Tuesday to Sunday 10:00 AM - 5:00 PM
: Tuesday to Sunday 10:00 AM - 5:00 PM
: Tuesday to Sunday 10:00 AM - 5:00 PM
: Tuesday to Sunday 10:00 AM - 5:00 PM
: Tuesday to Sunday 10:00 AM - 5:00 PM
: Tuesday to Sunday 10:00 AM - 5:00 PM
: Tuesday to Sunday 10:00 AM - 5:00 PM
: Tuesday to Sunday 10:00 AM - 5:00 PM
: Tuesday to Sunday 10:00 AM - 5:00 PM
: Tuesday to Sunday 10:00 AM - 5:00 PM
: Tuesday to Sunday 10:00 AM - 5:00 PM
: Tuesday to Sunday 10:00 AM - 5:00 PM

: Everyday 10:00 AM - 8:00 PM
: Everyday 10:00 AM - 8:00 PM
: Everyday 10:00 AM - 8:00 PM
: Everyday 10:00 AM - 8:00 PM
: Everyday 10:00 AM - 8:00 PM
: Everyday 10:00 AM - 8:00 PM
: Everyday 10:00 AM - 8:00 PM
: Everyday 10:00 AM - 8:00 PM
: Everyday 10:00 AM - 8:00 PM
: Everyday 10:00 AM - 8:00 PM
: Everyday 10:00 AM - 8:00 PM
: Everyday 10:00 AM - 8:00 PM

: Everyday 24 Hrs
: Everyday 24 Hrs
: Everyday 24 Hrs
: Everyday 24 Hrs
: Everyday 24 Hrs
: Everyday 24 Hrs
: Everyday 24 Hrs
: Everyday 24 Hrs
: Everyday 24 Hrs
: Everyday 24 Hrs
: Everyday 24 Hrs
: Everyday 24 Hrs

: Everyday 24 Hrs
: Everyday 24 Hrs
: Everyday 24 Hrs
: Everyday 24 Hrs
: Everyday 24 Hrs
: Everyday 24 Hrs
: Everyday 24 Hrs
: Everyday 24 Hrs
: Everyday 24 Hrs
: Everyday 24 Hrs
: Everyday 24 Hrs
: Everyday 24 Hrs

: Everyday 24 Hrs
: Everyday 24 Hrs
: Everyday 24 Hrs
: Everyday 24 Hrs
: Everyday 24 Hrs
: Everyday 24 Hrs
: Everyday 24 Hrs
: Everyday 24 Hrs
: Everyday 24 Hrs
: Everyday 24 Hrs
: Everyday 24 Hrs
: Everyday 24 Hrs

: Everyday 24 Hrs
: Everyday 24 Hrs
: Everyday 24 Hrs
: Everyday 24 Hrs
: Everyday 24 Hrs
: Everyday 24 Hrs
: Everyday 24 Hrs
: Everyday 24 Hrs
: Everyday 24 Hrs
: Everyday 24 Hrs
: Everyday 24 Hrs
: Everyday 24 Hrs

: Everyday 24 Hrs
: Everyday 24 Hrs
: Everyday 24 Hrs
: Everyday 24 Hrs
: Everyday 24 Hrs
: Everyday 24 Hrs
: Everyday 24 Hrs
: Everyday 24 Hrs
: Everyday 24 Hrs
: Everyday 24 Hrs
: Everyday 24 Hrs
: Everyday 24 Hrs

: Everyday 24 Hrs
: Everyday 24 Hrs
: Everyday 24 Hrs
: Everyday 24 Hrs
: Everyday 24 Hrs
: Everyday 24 Hrs
: Everyday 24 Hrs
: Everyday 24 Hrs
: Everyday 24 Hrs
: Everyday 24 Hrs
: Everyday 24 Hrs
: Everyday 24 Hrs

: Everyday 24 Hrs
: Everyday 24 Hrs
: Everyday 24 Hrs
: Everyday 24 Hrs
: Everyday 24 Hrs
: Everyday 24 Hrs
: Everyday 24 Hrs
: Everyday 24 Hrs
: Everyday 24 Hrs
: Everyday 24 Hrs
: Everyday 24 Hrs
: Everyday 24 Hrs

: Everyday 24 Hrs
: Everyday 24 Hrs
: Everyday 24 Hrs
: Everyday 24 Hrs
: Everyday 24 Hrs
: Everyday 24 Hrs
: Everyday 24 Hrs
: Everyday 24 Hrs
: Everyday 24 Hrs
: Everyday 24 Hrs
: Everyday 24 Hrs
: Everyday 24 Hrs

: Everyday 24 Hrs
: Everyday 24 Hrs
: Everyday 24 Hrs
: Everyday 24 Hrs
: Everyday 24 Hrs
: Everyday 24 Hrs
: Everyday 24 Hrs
: Everyday 24 Hrs
: Everyday 24 Hrs
: Everyday 24 Hrs
: Everyday 24 Hrs
: Everyday 24 Hrs

: Everyday 24 Hrs
: Everyday 24 Hrs
: Everyday 24 Hrs
: Everyday 24 Hrs
: Everyday 24 Hrs
: Everyday 24 Hrs
: Everyday 24 Hrs
: Everyday 24 Hrs
: Everyday 24 Hrs
: Everyday 24 Hrs
: Everyday 24 Hrs
: Everyday 24 Hrs

: Everyday 24 Hrs
: Everyday 24 Hrs
: Everyday 24 Hrs
: Everyday 24 Hrs
: Everyday 24 Hrs
: Everyday 24 Hrs
: Everyday 24 Hrs
: Everyday 24 Hrs
: Everyday 24 Hrs
: Everyday 24 Hrs
: Everyday 24 Hrs
: Everyday 24 Hrs

: Everyday 24 Hrs
: Everyday 24 Hrs
: Everyday 24 Hrs
: Everyday 24 Hrs
: Everyday 24 Hrs
: Everyday 24 Hrs
: Everyday 24 Hrs
: Everyday 24 Hrs
: Everyday 24 Hrs
: Everyday 24 Hrs
: Everyday 24 Hrs
: Everyday 24 Hrs