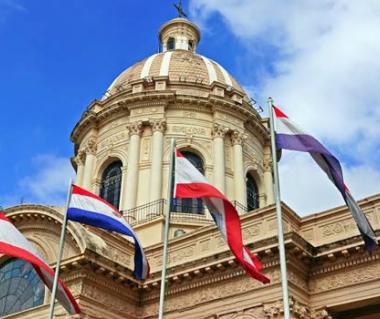 Paraguay Trip Planner
Plan your customized trip plan for Paraguay. Choose from Top Toursim cities and tourist attarctions of Paraguay using trip planner.
Paraguay Overview
Located in the heart of South America, Paraguay is a land-locked country bordered by Argentina, Brazil, and Bolivia. Having unlimited natural beauties and charm of old cities, Paraguay can be worth your trip. From fascinating culture to untamed plains, dense forests, lagoons and welcoming cities, the country of Paraguay is filled with countless wonders. Your Paraguay travel guide will plan your holiday in such a way that you can truly experience the culture as well as the natural beauty of this country.
Paraguay Visa Application Process
If arriving at the Silvio Pettirossi International Airport in Asuncion, citizens of Australia, USA, and Canada can acquire their Paraguay visa on arrival. However, if not arriving at the airport, then the citizens of these countries need to apply for the visa in advance at the Paraguayan Embassy. The nationals of Britain and countries under the European Union can enter this country visa-free and stay up to 90 days. All the nationals need to have valid passports with them.
Best Time for Visiting Paraguay
The best time to visit Paraguay is during the months of April to September. This is considered to be the peak season as the majority of festivals are celebrated during this time, such as San Blas Fiestas, Semanta Santa, and Festival del Nanduti etc. You can visit Paraguay during the summer and winter season also when cheapest deals on flights and hotels are available.
Significant Places to Visit in Paraguay
Jesus and Trinidad Jesuit ruins, Asuncion cathedral, Iguacu Falls, Itaipu Dam, ruins of La Santísima Trinidad de Paraná, the municipal park Saltos del Monday are some of the best places to visit in Paraguay. The Municipal Park Monday is one of the popular attractions of the country featuring a 120-meter wide and 45-meter tall waterfall, named Saltos del Monday. Among the top things to do in Paraguay, riding with the cowboys and trekking through the Ybycuí National Park are the most popular ones.
Best Options for Traveling Around In Paraguay
With the country offering plenty of different transport options, how to reach Paraguay tourist attractions won't be an issue. Taxis and car rentals are the most preferred options for traveling around in the country. However, there are also passenger boats available for traveling through the inland waterways. Though there are some railroads, but it's the bus service that is the most common type of public transport in this country.
Enjoy Your Stay and Food in Paraguay
There are various accommodation options available in Paraguay. You can choose from various budget lodges to top-class luxurious hotels. The La Mision Hotel Boutique, Bourbon ConmebolAssuncao Convention Hotel, and Hotel Convair are some of the most popular hotels in this country. While enjoying your stay in Paraguay, you can also savor the delicious local cuisines. Some of the most popular traditional Paraguayan dishes are BoriBori, varieties of Chipa, and Piracaldo.
Often referred to as the heart of America, this nature-rich country can offer you plenty of magnificent views that you'll cherish throughout your life. And the above mentioned major pointers can help you in making the maximum out of your stay in the beautiful country of Paraguay.
Searching for something specific?