Best Time To Visit Paris
Explore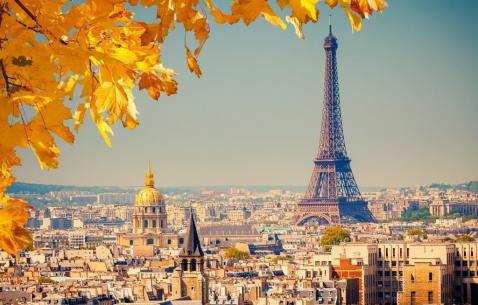 Best Time To Go To Paris
The best time to visit Paris is from June to August, during summer season, when the weather is perfect to enjoy the city.
The climate in Paris is so pleasant that it makes the city an all round destination to spend vacation. You'll get a lot things to do in Paris for every seasons and weather. However, to be specific the following chart describe the seasons of Paris:
Summer (June - August): In this season, the city experiences highest temperature, around 70 degree Fahrenheit making it a high season for tourists!
Autumn (September - November): To be specific, this season starts from the late September. The average temperature stays between 40 degree Fahrenheit and 60 degree Fahrenheit.
Winter (December - February): This is the best time to escape the holiday crowd. The temperature falls quite low in this season. If you are traveling in this season, be sure to carry heavy coats to protect yourself from the chilled winter. The cold weather makes it an off season to visit Paris. This is the best time to visit Paris with family since the rates drop down except around Xmas.
Spring (March - May): This season experiences pleasant weather. However, occasional rainfall happens in this season. If you want to explore Paris at your own pace and wondering when is the best time to visit, Spring is the season for you!
Among all these seasons, summer is always considered as the top season for Paris tours. However, the city gets too much crowded in this season. If crowd irritates you, spring and autumn can be considered as the best time to visit Paris.
Best time to go to Paris Attractions

: Everyday 9:00 AM - 11:00 PM
: Everyday 9:00 AM - 11:00 PM
: Everyday 9:00 AM - 11:00 PM
: Everyday 9:00 AM - 11:00 PM
: Everyday 9:00 AM - 11:00 PM
: Everyday 9:00 AM - 11:00 PM
: Everyday 9:00 AM - 11:00 PM
: Everyday 9:00 AM - 11:00 PM
: Everyday 9:00 AM - 11:00 PM
: Everyday 9:00 AM - 11:00 PM
: Everyday 9:00 AM - 11:00 PM
: Everyday 9:00 AM - 11:00 PM

: Monday, Thursday, Saturday, Sunday 9:00 AM - 4:00 PM; Wednesday, Friday 9:00 AM - 5:00 PM
: Monday, Thursday, Saturday, Sunday 9:00 AM - 4:00 PM; Wednesday, Friday 9:00 AM - 5:00 PM
: Monday, Thursday, Saturday, Sunday 9:00 AM - 4:00 PM; Wednesday, Friday 9:00 AM - 5:00 PM
: Monday, Thursday, Saturday, Sunday 9:00 AM - 4:00 PM; Wednesday, Friday 9:00 AM - 5:00 PM
: Monday, Thursday, Saturday, Sunday 9:00 AM - 4:00 PM; Wednesday, Friday 9:00 AM - 5:00 PM
: Monday, Thursday, Saturday, Sunday 9:00 AM - 4:00 PM; Wednesday, Friday 9:00 AM - 5:00 PM
: Monday, Thursday, Saturday, Sunday 9:00 AM - 4:00 PM; Wednesday, Friday 9:00 AM - 5:00 PM
: Monday, Thursday, Saturday, Sunday 9:00 AM - 4:00 PM; Wednesday, Friday 9:00 AM - 5:00 PM
: Monday, Thursday, Saturday, Sunday 9:00 AM - 4:00 PM; Wednesday, Friday 9:00 AM - 5:00 PM
: Monday, Thursday, Saturday, Sunday 9:00 AM - 4:00 PM; Wednesday, Friday 9:00 AM - 5:00 PM
: Monday, Thursday, Saturday, Sunday 9:00 AM - 4:00 PM; Wednesday, Friday 9:00 AM - 5:00 PM
: Monday, Thursday, Saturday, Sunday 9:00 AM - 4:00 PM; Wednesday, Friday 9:00 AM - 5:00 PM

: Tuesday to Sunday 10:00 AM - 5:00 PM
: Tuesday to Sunday 10:00 AM - 5:00 PM
: Tuesday to Sunday 10:00 AM - 5:00 PM
: Tuesday to Sunday 10:00 AM - 5:00 PM
: Tuesday to Sunday 10:00 AM - 5:00 PM
: Tuesday to Sunday 10:00 AM - 5:00 PM
: Tuesday to Sunday 10:00 AM - 5:00 PM
: Tuesday to Sunday 10:00 AM - 5:00 PM
: Tuesday to Sunday 10:00 AM - 5:00 PM
: Tuesday to Sunday 10:00 AM - 5:00 PM
: Tuesday to Sunday 10:00 AM - 5:00 PM
: Tuesday to Sunday 10:00 AM - 5:00 PM

: Everyday 9:00 AM - 4:00 PM
: Everyday 9:00 AM - 4:00 PM
: Everyday 9:00 AM - 4:00 PM
: Everyday 9:00 AM - 4:00 PM
: Everyday 9:00 AM - 4:00 PM
: Everyday 9:00 AM - 4:00 PM
: Everyday 9:00 AM - 4:00 PM
: Everyday 9:00 AM - 4:00 PM
: Everyday 9:00 AM - 4:00 PM
: Everyday 9:00 AM - 4:00 PM
: Everyday 9:00 AM - 4:00 PM
: Everyday 9:00 AM - 4:00 PM

: Everyday 5:00 PM - 7:00 PM
: Everyday 5:00 PM - 7:00 PM
: Everyday 5:00 PM - 7:00 PM
: Everyday 5:00 PM - 7:00 PM
: Everyday 5:00 PM - 7:00 PM
: Everyday 5:00 PM - 7:00 PM
: Everyday 5:00 PM - 7:00 PM
: Everyday 5:00 PM - 7:00 PM
: Everyday 5:00 PM - 7:00 PM
: Everyday 5:00 PM - 7:00 PM
: Everyday 5:00 PM - 7:00 PM
: Everyday 5:00 PM - 7:00 PM

: Everyday 6:30 PM - 9:00 PM
: Everyday 6:30 PM - 9:00 PM
: Everyday 6:30 PM - 9:00 PM
: Everyday 6:30 PM - 9:00 PM
: Everyday 6:30 PM - 9:00 PM
: Everyday 6:30 PM - 9:00 PM
: Everyday 6:30 PM - 9:00 PM
: Everyday 6:30 PM - 9:00 PM
: Everyday 6:30 PM - 9:00 PM
: Everyday 6:30 PM - 9:00 PM
: Everyday 6:30 PM - 9:00 PM
: Everyday 6:30 PM - 9:00 PM

: Everyday 4:00 PM - 8:00 PM
: Everyday 4:00 PM - 8:00 PM
: Everyday 4:00 PM - 8:00 PM
: Everyday 4:00 PM - 8:00 PM
: Everyday 4:00 PM - 8:00 PM
: Everyday 4:00 PM - 8:00 PM
: Everyday 4:00 PM - 8:00 PM
: Everyday 4:00 PM - 8:00 PM
: Everyday 4:00 PM - 8:00 PM
: Everyday 4:00 PM - 8:00 PM
: Everyday 4:00 PM - 8:00 PM
: Everyday 4:00 PM - 8:00 PM

: Everyday 9:00 AM - 5:00 PM
: Everyday 9:00 AM - 5:00 PM
: Everyday 9:00 AM - 5:00 PM
: Everyday 9:00 AM - 5:00 PM
: Everyday 9:00 AM - 5:00 PM
: Everyday 9:00 AM - 5:00 PM
: Everyday 9:00 AM - 5:00 PM
: Everyday 9:00 AM - 5:00 PM
: Everyday 9:00 AM - 5:00 PM
: Everyday 9:00 AM - 5:00 PM
: Everyday 9:00 AM - 5:00 PM
: Everyday 9:00 AM - 5:00 PM

: Everyday 9:30 AM - 11:30 AM
: Everyday 9:30 AM - 11:30 AM
: Everyday 9:30 AM - 11:30 AM
: Everyday 9:30 AM - 11:30 AM
: Everyday 9:30 AM - 11:30 AM
: Everyday 9:30 AM - 11:30 AM
: Everyday 9:30 AM - 11:30 AM
: Everyday 9:30 AM - 11:30 AM
: Everyday 9:30 AM - 11:30 AM
: Everyday 9:30 AM - 11:30 AM
: Everyday 9:30 AM - 11:30 AM
: Everyday 9:30 AM - 11:30 AM

: Monday, Wednesday, Thursday, Friday, Saturday, Sunday 11:00 AM - 5:00 PM
: Monday, Wednesday, Thursday, Friday, Saturday, Sunday 11:00 AM - 5:00 PM
: Monday, Wednesday, Thursday, Friday, Saturday, Sunday 11:00 AM - 5:00 PM
: Monday, Wednesday, Thursday, Friday, Saturday, Sunday 11:00 AM - 5:00 PM
: Monday, Wednesday, Thursday, Friday, Saturday, Sunday 11:00 AM - 5:00 PM
: Monday, Wednesday, Thursday, Friday, Saturday, Sunday 11:00 AM - 5:00 PM
: Monday, Wednesday, Thursday, Friday, Saturday, Sunday 11:00 AM - 5:00 PM
: Monday, Wednesday, Thursday, Friday, Saturday, Sunday 11:00 AM - 5:00 PM
: Monday, Wednesday, Thursday, Friday, Saturday, Sunday 11:00 AM - 5:00 PM
: Monday, Wednesday, Thursday, Friday, Saturday, Sunday 11:00 AM - 5:00 PM
: Monday, Wednesday, Thursday, Friday, Saturday, Sunday 11:00 AM - 5:00 PM
: Monday, Wednesday, Thursday, Friday, Saturday, Sunday 11:00 AM - 5:00 PM

: Everyday 11:00 AM - 3:00 PM
: Everyday 11:00 AM - 3:00 PM
: Everyday 11:00 AM - 3:00 PM
: Everyday 11:00 AM - 3:00 PM
: Everyday 11:00 AM - 3:00 PM
: Everyday 11:00 AM - 3:00 PM
: Everyday 11:00 AM - 3:00 PM
: Everyday 11:00 AM - 3:00 PM
: Everyday 11:00 AM - 3:00 PM
: Everyday 11:00 AM - 3:00 PM
: Everyday 11:00 AM - 3:00 PM
: Everyday 11:00 AM - 3:00 PM

: Everyday 7:00 AM - 9:00 AM
: Everyday 7:00 AM - 9:00 AM
: Everyday 7:00 AM - 9:00 AM
: Everyday 7:00 AM - 9:00 AM
: Everyday 7:00 AM - 9:00 AM
: Everyday 7:00 AM - 9:00 AM
: Everyday 7:00 AM - 9:00 AM
: Everyday 7:00 AM - 9:00 AM
: Everyday 7:00 AM - 9:00 AM
: Everyday 7:00 AM - 9:00 AM
: Everyday 7:00 AM - 9:00 AM
: Everyday 7:00 AM - 9:00 AM

: Wednesday 10:00 AM - 8:45 PM; Tuesday, Thursday, Friday, Saturday, Sunday 10:00 AM - 5:45 PM
: Wednesday 10:00 AM - 8:45 PM; Tuesday, Thursday, Friday, Saturday, Sunday 10:00 AM - 5:45 PM
: Wednesday 10:00 AM - 8:45 PM; Tuesday, Thursday, Friday, Saturday, Sunday 10:00 AM - 5:45 PM
: Wednesday 10:00 AM - 8:45 PM; Tuesday, Thursday, Friday, Saturday, Sunday 10:00 AM - 5:45 PM
: Wednesday 10:00 AM - 8:45 PM; Tuesday, Thursday, Friday, Saturday, Sunday 10:00 AM - 5:45 PM
: Wednesday 10:00 AM - 8:45 PM; Tuesday, Thursday, Friday, Saturday, Sunday 10:00 AM - 5:45 PM
: Wednesday 10:00 AM - 8:45 PM; Tuesday, Thursday, Friday, Saturday, Sunday 10:00 AM - 5:45 PM
: Wednesday 10:00 AM - 8:45 PM; Tuesday, Thursday, Friday, Saturday, Sunday 10:00 AM - 5:45 PM
: Wednesday 10:00 AM - 8:45 PM; Tuesday, Thursday, Friday, Saturday, Sunday 10:00 AM - 5:45 PM
: Wednesday 10:00 AM - 8:45 PM; Tuesday, Thursday, Friday, Saturday, Sunday 10:00 AM - 5:45 PM
: Wednesday 10:00 AM - 8:45 PM; Tuesday, Thursday, Friday, Saturday, Sunday 10:00 AM - 5:45 PM
: Wednesday 10:00 AM - 8:45 PM; Tuesday, Thursday, Friday, Saturday, Sunday 10:00 AM - 5:45 PM

: Everyday 6:00 PM - 8:00 PM
: Everyday 6:00 PM - 8:00 PM
: Everyday 6:00 PM - 8:00 PM
: Everyday 6:00 PM - 8:00 PM
: Everyday 6:00 PM - 8:00 PM
: Everyday 6:00 PM - 8:00 PM
: Everyday 6:00 PM - 8:00 PM
: Everyday 6:00 PM - 8:00 PM
: Everyday 6:00 PM - 8:00 PM
: Everyday 6:00 PM - 8:00 PM
: Everyday 6:00 PM - 8:00 PM
: Everyday 6:00 PM - 8:00 PM

: Everyday 9:00 AM - 5:00 PM
: Everyday 9:00 AM - 5:00 PM
: Everyday 9:00 AM - 5:00 PM
: Everyday 9:00 AM - 5:00 PM
: Everyday 9:00 AM - 5:00 PM
: Everyday 9:00 AM - 5:00 PM
: Everyday 9:00 AM - 5:00 PM
: Everyday 9:00 AM - 5:00 PM
: Everyday 9:00 AM - 5:00 PM
: Everyday 9:00 AM - 5:00 PM
: Everyday 9:00 AM - 5:00 PM
: Everyday 9:00 AM - 5:00 PM

: Everyday 10:00 AM - 3:00 PM
: Everyday 10:00 AM - 3:00 PM
: Everyday 10:00 AM - 3:00 PM
: Everyday 10:00 AM - 3:00 PM
: Everyday 10:00 AM - 3:00 PM
: Everyday 10:00 AM - 3:00 PM
: Everyday 10:00 AM - 3:00 PM
: Everyday 10:00 AM - 3:00 PM
: Everyday 10:00 AM - 3:00 PM
: Everyday 10:00 AM - 3:00 PM
: Everyday 10:00 AM - 3:00 PM
: Everyday 10:00 AM - 3:00 PM

: Everyday 5:00 PM - 7:00 PM
: Everyday 5:00 PM - 7:00 PM
: Everyday 5:00 PM - 7:00 PM
: Everyday 5:00 PM - 7:00 PM
: Everyday 5:00 PM - 7:00 PM
: Everyday 5:00 PM - 7:00 PM
: Everyday 5:00 PM - 7:00 PM
: Everyday 5:00 PM - 7:00 PM
: Everyday 5:00 PM - 7:00 PM
: Everyday 5:00 PM - 7:00 PM
: Everyday 5:00 PM - 7:00 PM
: Everyday 5:00 PM - 7:00 PM

: Everyday 9:00 AM - 7:00 PM
: Everyday 9:00 AM - 7:00 PM
: Everyday 9:00 AM - 7:00 PM
: Everyday 9:00 AM - 7:00 PM
: Everyday 9:00 AM - 7:00 PM
: Everyday 9:00 AM - 7:00 PM
: Everyday 9:00 AM - 7:00 PM
: Everyday 9:00 AM - 7:00 PM
: Everyday 9:00 AM - 7:00 PM
: Everyday 9:00 AM - 7:00 PM
: Everyday 9:00 AM - 7:00 PM
: Everyday 9:00 AM - 7:00 PM

: Everyday 9:00 AM - 3:00 PM
: Everyday 9:00 AM - 3:00 PM
: Everyday 9:00 AM - 3:00 PM
: Everyday 9:00 AM - 3:00 PM
: Everyday 9:00 AM - 3:00 PM
: Everyday 9:00 AM - 3:00 PM
: Everyday 9:00 AM - 3:00 PM
: Everyday 9:00 AM - 3:00 PM
: Everyday 9:00 AM - 3:00 PM
: Everyday 9:00 AM - 3:00 PM
: Everyday 9:00 AM - 3:00 PM
: Everyday 9:00 AM - 3:00 PM

: Everyday 4:00 PM - 8:00 PM
: Everyday 4:00 PM - 8:00 PM
: Everyday 4:00 PM - 8:00 PM
: Everyday 4:00 PM - 8:00 PM
: Everyday 4:00 PM - 8:00 PM
: Everyday 4:00 PM - 8:00 PM
: Everyday 4:00 PM - 8:00 PM
: Everyday 4:00 PM - 8:00 PM
: Everyday 4:00 PM - 8:00 PM
: Everyday 4:00 PM - 8:00 PM
: Everyday 4:00 PM - 8:00 PM
: Everyday 4:00 PM - 8:00 PM

: Everyday 11:00 AM - 4:00 PM
: Everyday 11:00 AM - 4:00 PM
: Everyday 11:00 AM - 4:00 PM
: Everyday 11:00 AM - 4:00 PM
: Everyday 11:00 AM - 4:00 PM
: Everyday 11:00 AM - 4:00 PM
: Everyday 11:00 AM - 4:00 PM
: Everyday 11:00 AM - 4:00 PM
: Everyday 11:00 AM - 4:00 PM
: Everyday 11:00 AM - 4:00 PM
: Everyday 11:00 AM - 4:00 PM
: Everyday 11:00 AM - 4:00 PM

: Monday, Wednesday, Thursday, Friday, Saturday, Sunday 11:00 AM - 8:00 PM
: Monday, Wednesday, Thursday, Friday, Saturday, Sunday 11:00 AM - 8:00 PM
: Monday, Wednesday, Thursday, Friday, Saturday, Sunday 11:00 AM - 8:00 PM
: Monday, Wednesday, Thursday, Friday, Saturday, Sunday 11:00 AM - 8:00 PM
: Monday, Wednesday, Thursday, Friday, Saturday, Sunday 11:00 AM - 8:00 PM
: Monday, Wednesday, Thursday, Friday, Saturday, Sunday 11:00 AM - 8:00 PM
: Monday, Wednesday, Thursday, Friday, Saturday, Sunday 11:00 AM - 8:00 PM
: Monday, Wednesday, Thursday, Friday, Saturday, Sunday 11:00 AM - 8:00 PM
: Monday, Wednesday, Thursday, Friday, Saturday, Sunday 11:00 AM - 8:00 PM
: Monday, Wednesday, Thursday, Friday, Saturday, Sunday 11:00 AM - 8:00 PM
: Monday, Wednesday, Thursday, Friday, Saturday, Sunday 11:00 AM - 8:00 PM
: Monday, Wednesday, Thursday, Friday, Saturday, Sunday 11:00 AM - 8:00 PM

: Tuesday to Sunday 10:00 AM - 8:00 PM
: Tuesday to Sunday 10:00 AM - 8:00 PM
: Tuesday to Sunday 10:00 AM - 8:00 PM
: Tuesday to Sunday 10:00 AM - 8:00 PM
: Tuesday to Sunday 10:00 AM - 8:00 PM
: Tuesday to Sunday 10:00 AM - 8:00 PM
: Tuesday to Sunday 10:00 AM - 8:00 PM
: Tuesday to Sunday 10:00 AM - 8:00 PM
: Tuesday to Sunday 10:00 AM - 8:00 PM
: Tuesday to Sunday 10:00 AM - 8:00 PM
: Tuesday to Sunday 10:00 AM - 8:00 PM
: Tuesday to Sunday 10:00 AM - 8:00 PM

: Everyday 8:00 AM - 11:00 AM; Everyday 8:00 AM - 11:00 AM | 5:00 PM - 9:00 PM
: Everyday 8:00 AM - 11:00 AM; Everyday 8:00 AM - 11:00 AM | 5:00 PM - 9:00 PM
: Everyday 8:00 AM - 11:00 AM; Everyday 8:00 AM - 11:00 AM | 5:00 PM - 9:00 PM
: Everyday 8:00 AM - 11:00 AM; Everyday 8:00 AM - 11:00 AM | 5:00 PM - 9:00 PM
: Everyday 8:00 AM - 11:00 AM; Everyday 8:00 AM - 11:00 AM | 5:00 PM - 9:00 PM
: Everyday 8:00 AM - 11:00 AM; Everyday 8:00 AM - 11:00 AM | 5:00 PM - 9:00 PM
: Everyday 8:00 AM - 11:00 AM; Everyday 8:00 AM - 11:00 AM | 5:00 PM - 9:00 PM
: Everyday 8:00 AM - 11:00 AM; Everyday 8:00 AM - 11:00 AM | 5:00 PM - 9:00 PM
: Everyday 8:00 AM - 11:00 AM; Everyday 8:00 AM - 11:00 AM | 5:00 PM - 9:00 PM
: Everyday 8:00 AM - 11:00 AM; Everyday 8:00 AM - 11:00 AM | 5:00 PM - 9:00 PM
: Everyday 8:00 AM - 11:00 AM; Everyday 8:00 AM - 11:00 AM | 5:00 PM - 9:00 PM
: Everyday 8:00 AM - 11:00 AM; Everyday 8:00 AM - 11:00 AM | 5:00 PM - 9:00 PM

: Everyday 7:30 AM - 7:30 PM
: Everyday 7:30 AM - 7:30 PM
: Everyday 7:30 AM - 7:30 PM
: Everyday 7:30 AM - 7:30 PM
: Everyday 7:30 AM - 7:30 PM
: Everyday 7:30 AM - 7:30 PM
: Everyday 7:30 AM - 7:30 PM
: Everyday 7:30 AM - 7:30 PM
: Everyday 7:30 AM - 7:30 PM
: Everyday 7:30 AM - 7:30 PM
: Everyday 7:30 AM - 7:30 PM
: Everyday 7:30 AM - 7:30 PM

: Everyday 10:00 AM - 6:00 PM
: Everyday 10:00 AM - 6:00 PM
: Everyday 10:00 AM - 6:00 PM
: Everyday 10:00 AM - 6:00 PM
: Everyday 10:00 AM - 6:00 PM
: Everyday 10:00 AM - 6:00 PM
: Everyday 10:00 AM - 6:00 PM
: Everyday 10:00 AM - 6:00 PM
: Everyday 10:00 AM - 6:00 PM
: Everyday 10:00 AM - 6:00 PM
: Everyday 10:00 AM - 6:00 PM
: Everyday 10:00 AM - 6:00 PM

: Tuesday to Sunday 11:00 AM - 3:00 PM
: Tuesday to Sunday 11:00 AM - 3:00 PM
: Tuesday to Sunday 11:00 AM - 3:00 PM
: Tuesday to Sunday 11:00 AM - 3:00 PM
: Tuesday to Sunday 11:00 AM - 3:00 PM
: Tuesday to Sunday 11:00 AM - 3:00 PM
: Tuesday to Sunday 11:00 AM - 3:00 PM
: Tuesday to Sunday 11:00 AM - 3:00 PM
: Tuesday to Sunday 11:00 AM - 3:00 PM
: Tuesday to Sunday 11:00 AM - 3:00 PM
: Tuesday to Sunday 11:00 AM - 3:00 PM
: Tuesday to Sunday 11:00 AM - 3:00 PM

: Everyday 10:00 AM - 5:00 PM
: Everyday 10:00 AM - 5:00 PM
: Everyday 10:00 AM - 5:00 PM
: Everyday 10:00 AM - 5:00 PM
: Everyday 10:00 AM - 5:00 PM
: Everyday 10:00 AM - 5:00 PM
: Everyday 10:00 AM - 5:00 PM
: Everyday 10:00 AM - 5:00 PM
: Everyday 10:00 AM - 5:00 PM
: Everyday 10:00 AM - 5:00 PM
: Everyday 10:00 AM - 5:00 PM
: Everyday 10:00 AM - 5:00 PM

: Monday, Tuesday 10:00 AM - 9:00 PM; Wednesday to Friday 10:00 AM - 7:00 PM; Saturday, Sunday 10:00 AM - 7:00 PM
: Monday, Tuesday 10:00 AM - 9:00 PM; Wednesday to Friday 10:00 AM - 7:00 PM; Saturday, Sunday 10:00 AM - 7:00 PM
: Monday, Tuesday 10:00 AM - 9:00 PM; Wednesday to Friday 10:00 AM - 7:00 PM; Saturday, Sunday 10:00 AM - 7:00 PM
: Monday, Tuesday 10:00 AM - 9:00 PM; Wednesday to Friday 10:00 AM - 7:00 PM; Saturday, Sunday 10:00 AM - 7:00 PM
: Monday, Tuesday 10:00 AM - 9:00 PM; Wednesday to Friday 10:00 AM - 7:00 PM; Saturday, Sunday 10:00 AM - 7:00 PM
: Monday, Tuesday 10:00 AM - 9:00 PM; Wednesday to Friday 10:00 AM - 7:00 PM; Saturday, Sunday 10:00 AM - 7:00 PM
: Monday, Tuesday 10:00 AM - 9:00 PM; Wednesday to Friday 10:00 AM - 7:00 PM; Saturday, Sunday 10:00 AM - 7:00 PM
: Monday, Tuesday 10:00 AM - 9:00 PM; Wednesday to Friday 10:00 AM - 7:00 PM; Saturday, Sunday 10:00 AM - 7:00 PM
: Monday, Tuesday 10:00 AM - 9:00 PM; Wednesday to Friday 10:00 AM - 7:00 PM; Saturday, Sunday 10:00 AM - 7:00 PM
: Monday, Tuesday 10:00 AM - 9:00 PM; Wednesday to Friday 10:00 AM - 7:00 PM; Saturday, Sunday 10:00 AM - 7:00 PM
: Monday, Tuesday 10:00 AM - 9:00 PM; Wednesday to Friday 10:00 AM - 7:00 PM; Saturday, Sunday 10:00 AM - 7:00 PM
: Monday, Tuesday 10:00 AM - 9:00 PM; Wednesday to Friday 10:00 AM - 7:00 PM; Saturday, Sunday 10:00 AM - 7:00 PM

: Monday, Wednesday, Thursday, Friday, Saturday, Sunday 2:00 PM - 5:00 PM
: Monday, Wednesday, Thursday, Friday, Saturday, Sunday 2:00 PM - 5:00 PM
: Monday, Wednesday, Thursday, Friday, Saturday, Sunday 2:00 PM - 5:00 PM
: Monday, Wednesday, Thursday, Friday, Saturday, Sunday 2:00 PM - 5:00 PM
: Monday, Wednesday, Thursday, Friday, Saturday, Sunday 2:00 PM - 5:00 PM
: Monday, Wednesday, Thursday, Friday, Saturday, Sunday 2:00 PM - 5:00 PM
: Monday, Wednesday, Thursday, Friday, Saturday, Sunday 2:00 PM - 5:00 PM
: Monday, Wednesday, Thursday, Friday, Saturday, Sunday 2:00 PM - 5:00 PM
: Monday, Wednesday, Thursday, Friday, Saturday, Sunday 2:00 PM - 5:00 PM
: Monday, Wednesday, Thursday, Friday, Saturday, Sunday 2:00 PM - 5:00 PM
: Monday, Wednesday, Thursday, Friday, Saturday, Sunday 2:00 PM - 5:00 PM
: Monday, Wednesday, Thursday, Friday, Saturday, Sunday 2:00 PM - 5:00 PM