Best Time To Visit Parma
Explore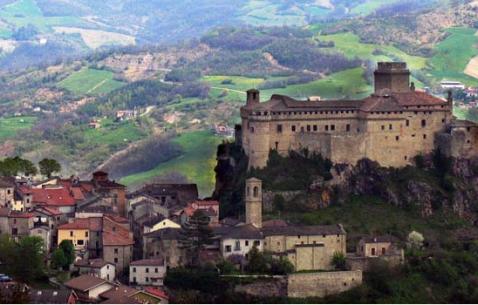 Best Time To Go To Parma
Parma has a warm humid temperate climate. There is a great deal of rainfall even in the driest month. The city can be best explored during the Autumn(September- November) season as it gives way to a number of festivals such as Annual Verdi festival in October, Festa del Prosciutto and Palio festival. Spring (March-May) also provides a beautiful season with sunny days and cold nights to get around in Parma and the countryside.
Summers : The summer season lasts from June to September with an average daily high temperature above 26 degree Celsius.
Winters : The winter season lasts from November to February with an average daily high temperature below 10 degree Celsius.
Best time to go to Parma Attractions

: Everyday 8:00 AM -
: Everyday 8:00 AM -
: Everyday 8:00 AM -
: Everyday 8:00 AM -
: Everyday 8:00 AM -
: Everyday 8:00 AM -
: Everyday 8:00 AM -
: Everyday 8:00 AM -
: Everyday 8:00 AM -
: Everyday 8:00 AM -
: Everyday 8:00 AM -
: Everyday 8:00 AM -

: Tuesday to Saturday 9:00 AM - 2:00 PM; Sunday 9:00 AM - 1:30 PM
: Tuesday to Saturday 9:00 AM - 2:00 PM; Sunday 9:00 AM - 1:30 PM
: Tuesday to Saturday 9:00 AM - 2:00 PM; Sunday 9:00 AM - 1:30 PM
: Tuesday to Saturday 9:00 AM - 2:00 PM; Sunday 9:00 AM - 1:30 PM
: Tuesday to Saturday 9:00 AM - 2:00 PM; Sunday 9:00 AM - 1:30 PM
: Tuesday to Saturday 9:00 AM - 2:00 PM; Sunday 9:00 AM - 1:30 PM
: Tuesday to Saturday 9:00 AM - 2:00 PM; Sunday 9:00 AM - 1:30 PM
: Tuesday to Saturday 9:00 AM - 2:00 PM; Sunday 9:00 AM - 1:30 PM
: Tuesday to Saturday 9:00 AM - 2:00 PM; Sunday 9:00 AM - 1:30 PM
: Tuesday to Saturday 9:00 AM - 2:00 PM; Sunday 9:00 AM - 1:30 PM
: Tuesday to Saturday 9:00 AM - 2:00 PM; Sunday 9:00 AM - 1:30 PM
: Tuesday to Saturday 9:00 AM - 2:00 PM; Sunday 9:00 AM - 1:30 PM

: Everyday 10:00 AM - 1:30 PM
: Everyday 10:00 AM - 1:30 PM
: Everyday 10:00 AM - 1:30 PM
: Everyday 10:00 AM - 1:30 PM
: Everyday 10:00 AM - 1:30 PM
: Everyday 10:00 AM - 1:30 PM
: Everyday 10:00 AM - 1:30 PM
: Everyday 10:00 AM - 1:30 PM
: Everyday 10:00 AM - 1:30 PM
: Everyday 10:00 AM - 1:30 PM
: Everyday 10:00 AM - 1:30 PM
: Everyday 10:00 AM - 1:30 PM

: Everyday 7:00 AM - 11:00 PM
: Everyday 7:00 AM - 11:00 PM
: Everyday 7:00 AM - 11:00 PM
: Everyday 7:00 AM - 11:00 PM
: Everyday 7:00 AM - 11:00 PM
: Everyday 7:00 AM - 11:00 PM
: Everyday 7:00 AM - 11:00 PM
: Everyday 7:00 AM - 11:00 PM
: Everyday 7:00 AM - 11:00 PM
: Everyday 7:00 AM - 11:00 PM
: Everyday 7:00 AM - 11:00 PM
: Everyday 7:00 AM - 11:00 PM

: Tuesday to Saturday 5:00 PM - 7:00 PM
: Tuesday to Saturday 5:00 PM - 7:00 PM
: Tuesday to Saturday 5:00 PM - 7:00 PM
: Tuesday to Saturday 5:00 PM - 7:00 PM
: Tuesday to Saturday 5:00 PM - 7:00 PM
: Tuesday to Saturday 5:00 PM - 7:00 PM
: Tuesday to Saturday 5:00 PM - 7:00 PM
: Tuesday to Saturday 5:00 PM - 7:00 PM
: Tuesday to Saturday 5:00 PM - 7:00 PM
: Tuesday to Saturday 5:00 PM - 7:00 PM
: Tuesday to Saturday 5:00 PM - 7:00 PM
: Tuesday to Saturday 5:00 PM - 7:00 PM

:
:
: Tuesday to Sunday 11:00 AM - 1:00 PM
: Tuesday to Sunday 11:00 AM - 1:00 PM
: Tuesday to Sunday 11:00 AM - 1:00 PM
: Tuesday to Sunday 11:00 AM - 1:00 PM
: Tuesday to Sunday 11:00 AM - 1:00 PM
: Tuesday to Sunday 11:00 AM - 1:00 PM
: Tuesday to Sunday 11:00 AM - 1:00 PM
: Tuesday to Sunday 11:00 AM - 1:00 PM
: Tuesday to Sunday 11:00 AM - 1:00 PM
: Tuesday to Sunday 11:00 AM - 1:00 PM

: Tuesday to Sunday 9:00 AM - 1:00 PM
: Tuesday to Sunday 9:00 AM - 1:00 PM
: Tuesday to Sunday 9:00 AM - 1:00 PM
: Tuesday to Sunday 9:00 AM - 1:00 PM
: Tuesday to Sunday 9:00 AM - 1:00 PM
: Tuesday to Sunday 9:00 AM - 1:00 PM
: Tuesday to Sunday 9:00 AM - 1:00 PM
: Tuesday to Sunday 9:00 AM - 1:00 PM
: Tuesday to Sunday 9:00 AM - 1:00 PM
: Tuesday to Sunday 9:00 AM - 1:00 PM
: Tuesday to Sunday 9:00 AM - 1:00 PM
: Tuesday to Sunday 9:00 AM - 1:00 PM

: Tuesday to Sunday 9:30 AM - 11:00 AM
: Tuesday to Sunday 9:30 AM - 11:00 AM
: Tuesday to Sunday 9:30 AM - 11:00 AM
: Tuesday to Sunday 9:30 AM - 11:00 AM
: Tuesday to Sunday 9:30 AM - 11:00 AM
: Tuesday to Sunday 9:30 AM - 11:00 AM
: Tuesday to Sunday 9:30 AM - 11:00 AM
: Tuesday to Sunday 9:30 AM - 11:00 AM
: Tuesday to Sunday 9:30 AM - 11:00 AM
: Tuesday to Sunday 9:30 AM - 11:00 AM
: Tuesday to Sunday 9:30 AM - 11:00 AM
: Tuesday to Sunday 9:30 AM - 11:00 AM

: Everyday 5:00 PM - 8:00 PM
: Everyday 5:00 PM - 8:00 PM
: Everyday 5:00 PM - 8:00 PM
: Everyday 5:00 PM - 8:00 PM
: Everyday 5:00 PM - 8:00 PM
: Everyday 5:00 PM - 8:00 PM
: Everyday 5:00 PM - 8:00 PM
: Everyday 5:00 PM - 8:00 PM
: Everyday 5:00 PM - 8:00 PM
: Everyday 5:00 PM - 8:00 PM
: Everyday 5:00 PM - 8:00 PM
: Everyday 5:00 PM - 8:00 PM

: Everyday 10:00 AM - 11:30 AM
: Everyday 10:00 AM - 11:30 AM
: Everyday 10:00 AM - 11:30 AM
: Everyday 10:00 AM - 11:30 AM
: Everyday 10:00 AM - 11:30 AM
: Everyday 10:00 AM - 11:30 AM
: Everyday 10:00 AM - 11:30 AM
: Everyday 10:00 AM - 11:30 AM
: Everyday 10:00 AM - 11:30 AM
: Everyday 10:00 AM - 11:30 AM
: Everyday 10:00 AM - 11:30 AM
: Everyday 10:00 AM - 11:30 AM

: Monday, Tuesday, Wednesday, Friday, Saturday 10:00 AM - 11:30 AM; Sunday 3:00 PM - 4:00 PM
: Monday, Tuesday, Wednesday, Friday, Saturday 10:00 AM - 11:30 AM; Sunday 3:00 PM - 4:00 PM
: Monday, Tuesday, Wednesday, Friday, Saturday 10:00 AM - 11:30 AM; Sunday 3:00 PM - 4:00 PM
: Monday, Tuesday, Wednesday, Friday, Saturday 10:00 AM - 11:30 AM; Sunday 3:00 PM - 4:00 PM
: Monday, Tuesday, Wednesday, Friday, Saturday 10:00 AM - 11:30 AM; Sunday 3:00 PM - 4:00 PM
: Monday, Tuesday, Wednesday, Friday, Saturday 10:00 AM - 11:30 AM; Sunday 3:00 PM - 4:00 PM
: Monday, Tuesday, Wednesday, Friday, Saturday 10:00 AM - 11:30 AM; Sunday 3:00 PM - 4:00 PM
: Monday, Tuesday, Wednesday, Friday, Saturday 10:00 AM - 11:30 AM; Sunday 3:00 PM - 4:00 PM
: Monday, Tuesday, Wednesday, Friday, Saturday 10:00 AM - 11:30 AM; Sunday 3:00 PM - 4:00 PM
: Monday, Tuesday, Wednesday, Friday, Saturday 10:00 AM - 11:30 AM; Sunday 3:00 PM - 4:00 PM
: Monday, Tuesday, Wednesday, Friday, Saturday 10:00 AM - 11:30 AM; Sunday 3:00 PM - 4:00 PM
: Monday, Tuesday, Wednesday, Friday, Saturday 10:00 AM - 11:30 AM; Sunday 3:00 PM - 4:00 PM

: Tuesday to Saturday 9:30 AM - 4:00 PM; Sunday 2:00 PM - 5:00 PM
: Tuesday to Saturday 9:30 AM - 5:00 PM; Sunday 2:00 PM - 5:00 PM
: Tuesday to Saturday 9:30 AM - 5:00 PM; Sunday 2:00 PM - 5:00 PM
: Tuesday to Saturday 9:30 AM - 5:00 PM; Sunday 2:00 PM - 5:00 PM
: Tuesday to Saturday 9:30 AM - 5:00 PM; Sunday 2:00 PM - 5:00 PM
: Tuesday to Saturday 9:30 AM - 5:00 PM; Sunday 2:00 PM - 5:00 PM
: Tuesday to Saturday 9:30 AM - 5:00 PM; Sunday 2:00 PM - 5:00 PM
: Tuesday to Saturday 9:30 AM - 5:00 PM; Sunday 2:00 PM - 5:00 PM
: Tuesday to Saturday 9:30 AM - 5:00 PM; Sunday 2:00 PM - 5:00 PM
: Tuesday to Saturday 9:30 AM - 5:00 PM; Sunday 2:00 PM - 5:00 PM
: Tuesday to Saturday 9:30 AM - 5:00 PM; Sunday 2:00 PM - 5:00 PM
: Tuesday to Saturday 9:30 AM - 5:00 PM; Sunday 2:00 PM - 5:00 PM

: Tuesday to Sunday 1:00 PM - 3:00 PM
: Tuesday to Sunday 1:00 PM - 3:00 PM
: Tuesday to Sunday 1:00 PM - 3:00 PM
: Tuesday to Sunday 1:00 PM - 3:00 PM
: Tuesday to Sunday 1:00 PM - 3:00 PM
: Tuesday to Sunday 1:00 PM - 3:00 PM
: Tuesday to Sunday 1:00 PM - 2:00 PM
: Tuesday to Sunday 1:00 PM - 2:00 PM
: Tuesday to Sunday 1:00 PM - 3:00 PM
: Tuesday to Sunday 1:00 PM - 3:00 PM
: Tuesday to Sunday 1:00 PM - 3:00 PM
: Tuesday to Sunday 1:00 PM - 3:00 PM

: Tuesday to Sunday 9:00 AM - 11:00 AM
: Tuesday to Sunday 9:00 AM - 11:00 AM
: Tuesday to Sunday 9:00 AM - 11:00 AM
: Tuesday to Sunday 9:00 AM - 11:00 AM
: Tuesday to Sunday 9:00 AM - 11:00 AM
: Tuesday to Sunday 9:00 AM - 11:00 AM
: Tuesday to Sunday 9:00 AM - 11:00 AM
: Tuesday to Sunday 9:00 AM - 11:00 AM
: Tuesday to Sunday 9:00 AM - 11:00 AM
: Tuesday to Sunday 9:00 AM - 11:00 AM
: Tuesday to Sunday 9:00 AM - 11:00 AM
: Tuesday to Sunday 9:00 AM - 11:00 AM

: Monday to Friday 9:00 AM - 4:30 PM
: Monday to Friday 9:00 AM - 4:30 PM
: Monday to Friday 9:00 AM - 4:30 PM
: Monday to Friday 9:00 AM - 4:30 PM
: Monday to Friday 9:00 AM - 4:30 PM
: Monday to Friday 9:00 AM - 4:30 PM
: Monday to Friday 9:00 AM - 4:30 PM
: Monday to Friday 9:00 AM - 4:30 PM
: Monday to Friday 9:00 AM - 4:30 PM
: Monday to Friday 9:00 AM - 4:30 PM
: Monday to Friday 9:00 AM - 4:30 PM
: Monday to Friday 9:00 AM - 4:30 PM

: Everyday 10:00 AM - 11:30 AM
: Everyday 10:00 AM - 11:30 AM
: Everyday 10:00 AM - 11:30 AM
: Everyday 10:00 AM - 11:30 AM
: Everyday 10:00 AM - 11:30 AM
: Everyday 10:00 AM - 11:30 AM
: Everyday 10:00 AM - 11:30 AM
: Everyday 10:00 AM - 11:30 AM
: Everyday 10:00 AM - 11:30 AM
: Everyday 10:00 AM - 11:30 AM
: Everyday 10:00 AM - 11:30 AM
: Everyday 10:00 AM - 11:30 AM

: Tuesday to Sunday 2:00 PM - 5:00 PM
: Tuesday to Sunday 2:00 PM - 5:00 PM
: Tuesday to Sunday 2:00 PM - 5:00 PM
: Tuesday to Sunday 2:00 PM - 6:00 PM
: Tuesday to Sunday 2:00 PM - 6:00 PM
: Tuesday to Sunday 2:00 PM - 6:00 PM
: Tuesday to Sunday 2:00 PM - 6:00 PM
: Tuesday to Sunday 2:00 PM - 6:00 PM
: Tuesday to Sunday 2:00 PM - 6:00 PM
: Tuesday to Sunday 2:00 PM - 5:00 PM
: Tuesday to Sunday 2:00 PM - 5:00 PM
: Tuesday to Sunday 2:00 PM - 5:00 PM

: Monday to Saturday 10:00 AM - 1:00 PM; Sunday 2:00 PM - 5:00 PM
: Monday to Saturday 10:00 AM - 1:00 PM; Sunday 2:00 PM - 5:00 PM
: Monday to Saturday 10:00 AM - 1:00 PM; Sunday 2:00 PM - 5:00 PM
: Monday to Saturday 10:00 AM - 1:00 PM; Sunday 2:00 PM - 5:00 PM
: Monday to Saturday 10:00 AM - 1:00 PM; Sunday 2:00 PM - 5:00 PM
: Monday to Saturday 10:00 AM - 1:00 PM; Sunday 2:00 PM - 5:00 PM
: Monday to Saturday 10:00 AM - 1:00 PM; Sunday 2:00 PM - 5:00 PM
: Monday to Saturday 10:00 AM - 1:00 PM; Sunday 2:00 PM - 5:00 PM
: Monday to Saturday 10:00 AM - 1:00 PM; Sunday 2:00 PM - 5:00 PM
: Monday to Saturday 10:00 AM - 1:00 PM; Sunday 2:00 PM - 5:00 PM
: Monday to Saturday 10:00 AM - 1:00 PM; Sunday 2:00 PM - 5:00 PM
: Monday to Saturday 10:00 AM - 1:00 PM; Sunday 2:00 PM - 5:00 PM

: Tuesday to Friday 10:00 AM - 1:00 PM; Saturday, Sunday 1:00 PM - 6:00 PM
: Tuesday to Friday 10:00 AM - 1:00 PM; Saturday, Sunday 1:00 PM - 6:00 PM
: Tuesday to Friday 10:00 AM - 1:00 PM; Saturday, Sunday 1:00 PM - 6:00 PM
: Tuesday to Friday 10:00 AM - 1:00 PM; Saturday, Sunday 1:00 PM - 6:00 PM
: Tuesday to Friday 10:00 AM - 1:00 PM; Saturday, Sunday 1:00 PM - 6:00 PM
: Tuesday to Friday 10:00 AM - 1:00 PM; Saturday, Sunday 1:00 PM - 6:00 PM
: Tuesday to Friday 10:00 AM - 1:00 PM; Saturday, Sunday 1:00 PM - 6:00 PM
: Tuesday to Friday 10:00 AM - 1:00 PM; Saturday, Sunday 1:00 PM - 6:00 PM
: Tuesday to Friday 10:00 AM - 1:00 PM; Saturday, Sunday 1:00 PM - 6:00 PM
: Tuesday to Friday 10:00 AM - 1:00 PM; Saturday, Sunday 1:00 PM - 6:00 PM
: Tuesday to Friday 10:00 AM - 1:00 PM; Saturday, Sunday 1:00 PM - 6:00 PM
: Tuesday to Friday 10:00 AM - 1:00 PM; Saturday, Sunday 1:00 PM - 6:00 PM

: Everyday 8:00 AM - 11:00 AM
: Everyday 8:00 AM - 11:00 AM
: Everyday 8:00 AM - 11:00 AM
: Everyday 8:00 AM - 11:00 AM
: Everyday 8:00 AM - 11:00 AM
: Everyday 8:00 AM - 11:00 AM
: Everyday 8:00 AM - 11:00 AM
: Everyday 8:00 AM - 11:00 AM
: Everyday 8:00 AM - 11:00 AM
: Everyday 8:00 AM - 11:00 AM
: Everyday 8:00 AM - 11:00 AM
: Everyday 8:00 AM - 11:00 AM

: Everyday 4:00 PM - 6:00 PM
: Everyday 4:00 PM - 6:00 PM
: Everyday 4:00 PM - 6:00 PM
: Everyday 4:00 PM - 6:00 PM
: Everyday 4:00 PM - 6:00 PM
: Everyday 4:00 PM - 6:00 PM
: Everyday 4:00 PM - 6:00 PM
: Everyday 4:00 PM - 6:00 PM
: Everyday 4:00 PM - 6:00 PM
: Everyday 4:00 PM - 6:00 PM
: Everyday 4:00 PM - 6:00 PM
: Everyday 4:00 PM - 6:00 PM

: Everyday 11:00 AM - 1:00 PM
: Everyday 11:00 AM - 1:00 PM
: Everyday 11:00 AM - 1:00 PM
: Everyday 11:00 AM - 1:00 PM
: Everyday 11:00 AM - 1:00 PM
: Everyday 11:00 AM - 1:00 PM
: Everyday 11:00 AM - 1:00 PM
: Everyday 11:00 AM - 1:00 PM
: Everyday 11:00 AM - 1:00 PM
: Everyday 11:00 AM - 1:00 PM
: Everyday 11:00 AM - 1:00 PM
: Everyday 11:00 AM - 1:00 PM

: Everyday 11:00 AM - 1:00 PM
: Everyday 11:00 AM - 1:00 PM
: Everyday 11:00 AM - 1:00 PM
: Everyday 11:00 AM - 1:00 PM
: Everyday 11:00 AM - 1:00 PM
: Everyday 11:00 AM - 1:00 PM
: Everyday 11:00 AM - 1:00 PM
: Everyday 11:00 AM - 1:00 PM
: Everyday 11:00 AM - 1:00 PM
: Everyday 11:00 AM - 1:00 PM
: Everyday 11:00 AM - 1:00 PM
: Everyday 11:00 AM - 1:00 PM

: Everyday 9:00 AM - 11:00 AM
: Everyday 9:00 AM - 11:00 AM
: Everyday 9:00 AM - 11:00 AM
: Everyday 9:00 AM - 11:00 AM
: Everyday 9:00 AM - 11:00 AM
: Everyday 9:00 AM - 11:00 AM
: Everyday 9:00 AM - 11:00 AM
: Everyday 9:00 AM - 11:00 AM
: Everyday 9:00 AM - 11:00 AM
: Everyday 9:00 AM - 11:00 AM
: Everyday 9:00 AM - 11:00 AM
: Everyday 9:00 AM - 11:00 AM

: Everyday 24 Hrs
: Everyday 24 Hrs
: Everyday 24 Hrs
: Everyday 24 Hrs
: Everyday 24 Hrs
: Everyday 24 Hrs
: Everyday 24 Hrs
: Everyday 24 Hrs
: Everyday 24 Hrs
: Everyday 24 Hrs
: Everyday 24 Hrs
: Everyday 24 Hrs

: Everyday 24 Hrs
: Everyday 24 Hrs
: Everyday 24 Hrs
: Everyday 24 Hrs
: Everyday 24 Hrs
: Everyday 24 Hrs
: Everyday 24 Hrs
: Everyday 24 Hrs
: Everyday 24 Hrs
: Everyday 24 Hrs
: Everyday 24 Hrs
: Everyday 24 Hrs

: Everyday 24 Hrs
: Everyday 24 Hrs
: Everyday 24 Hrs
: Everyday 24 Hrs
: Everyday 24 Hrs
: Everyday 24 Hrs
: Everyday 24 Hrs
: Everyday 24 Hrs
: Everyday 24 Hrs
: Everyday 24 Hrs
: Everyday 24 Hrs
: Everyday 24 Hrs

: Everyday 24 Hrs
: Everyday 24 Hrs
: Everyday 24 Hrs
: Everyday 24 Hrs
: Everyday 24 Hrs
: Everyday 24 Hrs
: Everyday 24 Hrs
: Everyday 24 Hrs
: Everyday 24 Hrs
: Everyday 24 Hrs
: Everyday 24 Hrs
: Everyday 24 Hrs

: Everyday 24 Hrs
: Everyday 24 Hrs
: Everyday 24 Hrs
: Everyday 24 Hrs
: Everyday 24 Hrs
: Everyday 24 Hrs
: Everyday 24 Hrs
: Everyday 24 Hrs
: Everyday 24 Hrs
: Everyday 24 Hrs
: Everyday 24 Hrs
: Everyday 24 Hrs

: Everyday 24 Hrs
: Everyday 24 Hrs
: Everyday 24 Hrs
: Everyday 24 Hrs
: Everyday 24 Hrs
: Everyday 24 Hrs
: Everyday 24 Hrs
: Everyday 24 Hrs
: Everyday 24 Hrs
: Everyday 24 Hrs
: Everyday 24 Hrs
: Everyday 24 Hrs