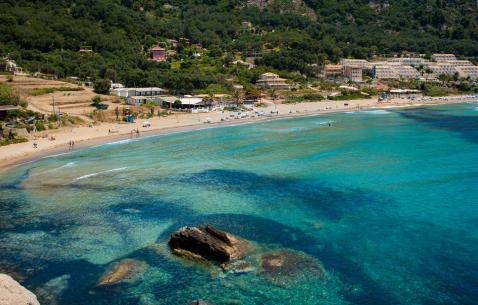 Pelekas is the kind of place where everyone can do something or the other. Located in the Corfu town of Greece, Pelekas is one of the best places to be at if you are looking for some golden sand beaches or even tavernas infringed by olive groves. You can also go for the water-sports and the nightlife is something that would keep you awake. The traditional food of Corfu sets this town too apart from the rest of Corfu. People here are really friendly and would always be very warm in their welcome. Pelekas have been a preferred destination for more than 40 years, especially for independent holiday planners who prefer to visit year after year. If you have not gone here yet and you are looking for a fairly different holiday destination, Pelekas is the place for you to explore. You can choose to just laze around on the beaches or even simply relax by a pool in July or August or even go shopping. You have the option of exploring the whole of the island on foot or by car in the quieter months and during this time you will be able to do justice to the natural beauty of the area. The origin of Pelekas as a name is still unknown, although some say that it is derived from the word "pelekis" which was basically a type of an ancient axe used by the villagers for carving stone or cutting wood. The date of the town is not known either, but Corfu records suggest 16th century and church records suggest 17th century. All in all, it is a lovely place to be at- you must try it out for a quiet peaceful getaway and definitely feature it on your go to list if you are a beach person!
Essential travel information and Pelekas tips for your visit
General Info:
Time Zone: EET (UTC+2), Summer (DST): EEST (UTC+3)
Currency: Euro is the followed currency here.
Electricity and Internet: Greece has 220-volt, 50 cycle AC electric current. Internet is not fast enough as it is a small town although available in most places.
Languages: The Greek language is the most widely spoken language here. Even knowing basic phrases can invite a really enthusiastic welcome. You can make your way through in English too.
Security:
Some useful telephone numbers:
Directory Inquires: 131
Police: 100
Tourist Police: 171
Ambulance: 166
Fire Brigade: 199
Roadside Assistance: 104
Tourist Traps:
Taxis are fairly cheap, although you will be charged extra for trips to or from the airport or ferry terminal. Insist that all fares are shown on the meter.
Customs:
If you are invited to someone's house for a drink, a meal, or to spend the night do not offer money, no matter how poor the people may be. The suggestion of payment is offensive. Instead offer a gift for the family or for the children.
When Greeks go out, they have lunch at about 1.00pm and dinner no earlier than 9.00pm. This is why if you walk around looking for a restaurant patronised by the "locals" as a sign of quality, it is very likely to be deserted before 9.00pm. It is not unusual to arrive at a restaurant at 11:00pm, especially in the summer. However if you would like to eat earlier than 9:00pm there is no problem at all. Tavernas are open from about 6:00pm.
Tipping:
Service is always included in restaurant bills and hotel bills but it is customary to tip the waiter or chambermaid if you are satisfied with the service.
Timings:
In general businesses, including most tourist attractions, are open from early morning (8 or 9 am) until early afternoon (2 or 3 pm). Three times a week on Tuesdays, Thursdays, and Fridays, shops (but never banks, museums, or post offices) will re-open in the evening from about 5 pm until 8 pm. In the summer, hours are sometimes extended and during the peak of high season some attractions stay open all day.
GENERAL TIPS:
Nude sun bathing is considered inappropriate unless you are on a designated nude beach or in a remote area where you are not be likely to be seen. Topless sunbathing is common in the summer. No one will fine you, but you may offend some people.
Most foreign nationals - including Americans, Australians and Canadians - may visit Greece without a visa, provided they do not stay for more than 90 days. As for Europeans, they too may travel to Greece without a visa thanks to the Schengen Agreement, which eliminated passport controls for countries that have signed it. A visa is not required for nationals of countries with which Greece has signed a visa waiver agreement.
Although tap water is safe in Corfu, bottled water tastes much better!
Drugs are not tolerated. Possession of even small quantities can result in lengthy imprisonment and large fines. Trafficking can mean life imprisonment.
You are advised to take out comprehensive holiday insurance. Medical treatment and repatriation can be very expensive.