Best Time To Visit Penang Hill
Explore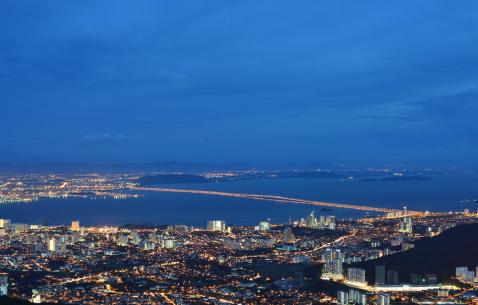 Best Time To Go To Penang Hill
Penang Hill has a tropical rainforest climate with fixed temperatures that are usually lower than the surrounding areas because of the station's higher altitude. The annual average temperature is around 21 – 22 degree Celsius. Variations are very minute and the temperature is constant year-round. Precipitation levels are generally quite high all over the year.
December – February: Least amount of rainfall is expected during this period and the weather is also the hottest in these months.
March – July: Rainfall expectancy is above average during this period and the weather is also a few degrees cooler. This is usually considered as an off season for tourism in Penang Hill.
August – November: Precipitation levels are very high during this period as maximum amount of rainfall from all over the year is received during these months. The temperature is also the coolest in this period, but not by a very significant margin.
The best time to visit Penang Hills is the time when rainfall levels are very low. This is usually during the December to February period. The temperature will be a little hot, but very few showers make up for the increase in temperature. Humidity levels are also comparatively lower.
Best time to go to Penang Hill Attractions

: Everyday 10:00 AM - 7:00 PM
: Everyday 10:00 AM - 7:00 PM
: Everyday 10:00 AM - 7:00 PM
: Everyday 10:00 AM - 7:00 PM
: Everyday 10:00 AM - 7:00 PM
: Everyday 10:00 AM - 7:00 PM
: Everyday 10:00 AM - 7:00 PM
: Everyday 10:00 AM - 7:00 PM
: Everyday 10:00 AM - 7:00 PM
: Everyday 10:00 AM - 7:00 PM
: Everyday 10:00 AM - 7:00 PM
: Everyday 10:00 AM - 7:00 PM

: Everyday 9:00 AM - 5:00 PM
: Everyday 9:00 AM - 5:00 PM
: Everyday 9:00 AM - 5:00 PM
: Everyday 9:00 AM - 5:00 PM
: Everyday 9:00 AM - 5:00 PM
: Everyday 9:00 AM - 5:00 PM
: Everyday 9:00 AM - 5:00 PM
: Everyday 9:00 AM - 5:00 PM
: Everyday 9:00 AM - 5:00 PM
: Everyday 9:00 AM - 5:00 PM
: Everyday 9:00 AM - 5:00 PM
: Everyday 9:00 AM - 5:00 PM

: Monday to Saturday 11:00 AM - 3:00 PM
: Monday to Saturday 11:00 AM - 3:00 PM
: Monday to Saturday 11:00 AM - 3:00 PM
: Monday to Saturday 11:00 AM - 3:00 PM
: Monday to Saturday 11:00 AM - 3:00 PM
: Monday to Saturday 11:00 AM - 3:00 PM
: Monday to Saturday 11:00 AM - 3:00 PM
: Monday to Saturday 11:00 AM - 3:00 PM
: Monday to Saturday 11:00 AM - 3:00 PM
: Monday to Saturday 11:00 AM - 3:00 PM
: Monday to Saturday 11:00 AM - 3:00 PM
: Monday to Saturday 11:00 AM - 3:00 PM

: Everyday 10:00 AM - 1:00 PM
: Everyday 10:00 AM - 1:00 PM
: Everyday 10:00 AM - 1:00 PM
: Everyday 10:00 AM - 1:00 PM
: Everyday 10:00 AM - 1:00 PM
: Everyday 10:00 AM - 1:00 PM
: Everyday 10:00 AM - 1:00 PM
: Everyday 10:00 AM - 1:00 PM
: Everyday 10:00 AM - 1:00 PM
: Everyday 10:00 AM - 1:00 PM
: Everyday 10:00 AM - 1:00 PM
: Everyday 10:00 AM - 1:00 PM

: Everyday 4:00 PM - 7:00 PM
: Everyday 4:00 PM - 7:00 PM
: Everyday 4:00 PM - 7:00 PM
: Everyday 4:00 PM - 7:00 PM
: Everyday 4:00 PM - 7:00 PM
: Everyday 4:00 PM - 7:00 PM
: Everyday 4:00 PM - 7:00 PM
: Everyday 4:00 PM - 7:00 PM
: Everyday 4:00 PM - 7:00 PM
: Everyday 4:00 PM - 7:00 PM
: Everyday 4:00 PM - 7:00 PM
: Everyday 4:00 PM - 7:00 PM

: Everyday 4:00 PM - 8:00 PM
: Everyday 4:00 PM - 8:00 PM
: Everyday 4:00 PM - 8:00 PM
: Everyday 4:00 PM - 8:00 PM
: Everyday 4:00 PM - 8:00 PM
: Everyday 4:00 PM - 8:00 PM
: Everyday 4:00 PM - 8:00 PM
: Everyday 4:00 PM - 8:00 PM
: Everyday 4:00 PM - 8:00 PM
: Everyday 4:00 PM - 8:00 PM
: Everyday 4:00 PM - 8:00 PM
: Everyday 4:00 PM - 8:00 PM

: Everyday 8:00 AM - 5:00 PM
: Everyday 8:00 AM - 5:00 PM
: Everyday 8:00 AM - 5:00 PM
: Everyday 8:00 AM - 5:00 PM
: Everyday 8:00 AM - 5:00 PM
: Everyday 8:00 AM - 5:00 PM
: Everyday 8:00 AM - 5:00 PM
: Everyday 8:00 AM - 5:00 PM
: Everyday 8:00 AM - 5:00 PM
: Everyday 8:00 AM - 5:00 PM
: Everyday 8:00 AM - 5:00 PM
: Everyday 8:00 AM - 5:00 PM

: Everyday 10:00 AM - 4:00 PM
: Everyday 10:00 AM - 4:00 PM
: Everyday 10:00 AM - 4:00 PM
: Everyday 10:00 AM - 4:00 PM
: Everyday 10:00 AM - 4:00 PM
: Everyday 10:00 AM - 4:00 PM
: Everyday 10:00 AM - 4:00 PM
: Everyday 10:00 AM - 4:00 PM
: Everyday 10:00 AM - 4:00 PM
: Everyday 10:00 AM - 4:00 PM
: Everyday 10:00 AM - 4:00 PM
: Everyday 10:00 AM - 4:00 PM

: Everyday 9:00 AM - 2:00 PM
: Everyday 9:00 AM - 2:00 PM
: Everyday 9:00 AM - 2:00 PM
: Everyday 9:00 AM - 2:00 PM
: Everyday 9:00 AM - 2:00 PM
: Everyday 9:00 AM - 2:00 PM
: Everyday 9:00 AM - 2:00 PM
: Everyday 9:00 AM - 2:00 PM
: Everyday 9:00 AM - 2:00 PM
: Everyday 9:00 AM - 2:00 PM
: Everyday 9:00 AM - 2:00 PM
: Everyday 9:00 AM - 2:00 PM

: Everyday 24 Hrs
: Everyday 24 Hrs
: Everyday 24 Hrs
: Everyday 24 Hrs
: Everyday 24 Hrs
: Everyday 24 Hrs
: Everyday 24 Hrs
: Everyday 24 Hrs
: Everyday 24 Hrs
: Everyday 24 Hrs
: Everyday 24 Hrs
: Everyday 24 Hrs

: Monday, Tuesday, Wednesday, Thursday, Saturday, Sunday :00 AM - 3:00 PM
: Monday, Tuesday, Wednesday, Thursday, Saturday, Sunday :00 AM - 3:00 PM
: Monday, Tuesday, Wednesday, Thursday, Saturday, Sunday :00 AM - 3:00 PM
: Monday, Tuesday, Wednesday, Thursday, Saturday, Sunday :00 AM - 3:00 PM
: Monday, Tuesday, Wednesday, Thursday, Saturday, Sunday :00 AM - 3:00 PM
: Monday, Tuesday, Wednesday, Thursday, Saturday, Sunday :00 AM - 3:00 PM
: Monday, Tuesday, Wednesday, Thursday, Saturday, Sunday :00 AM - 3:00 PM
: Monday, Tuesday, Wednesday, Thursday, Saturday, Sunday :00 AM - 3:00 PM
: Monday, Tuesday, Wednesday, Thursday, Saturday, Sunday :00 AM - 3:00 PM
: Monday, Tuesday, Wednesday, Thursday, Saturday, Sunday :00 AM - 3:00 PM
: Monday, Tuesday, Wednesday, Thursday, Saturday, Sunday :00 AM - 3:00 PM
: Monday, Tuesday, Wednesday, Thursday, Saturday, Sunday :00 AM - 3:00 PM

: Everyday 10:00 AM - 4:00 PM
: Everyday 10:00 AM - 4:00 PM
: Everyday 10:00 AM - 4:00 PM
: Everyday 10:00 AM - 4:00 PM
: Everyday 10:00 AM - 4:00 PM
: Everyday 10:00 AM - 4:00 PM
: Everyday 10:00 AM - 4:00 PM
: Everyday 10:00 AM - 4:00 PM
: Everyday 10:00 AM - 4:00 PM
: Everyday 10:00 AM - 4:00 PM
: Everyday 10:00 AM - 4:00 PM
: Everyday 10:00 AM - 4:00 PM

: Everyday 7:30 AM - 4:00 PM; Everyday 7:30 AM - 4:00 PM | 4:30 PM - 6:30 PM
: Everyday 7:30 AM - 4:00 PM; Everyday 7:30 AM - 4:00 PM | 4:30 PM - 6:30 PM
: Everyday 7:30 AM - 4:00 PM; Everyday 7:30 AM - 4:00 PM | 4:30 PM - 6:30 PM
: Everyday 7:30 AM - 4:00 PM; Everyday 7:30 AM - 4:00 PM | 4:30 PM - 6:30 PM
: Everyday 7:30 AM - 4:00 PM; Everyday 7:30 AM - 4:00 PM | 4:30 PM - 6:30 PM
: Everyday 7:30 AM - 4:00 PM; Everyday 7:30 AM - 4:00 PM | 4:30 PM - 6:30 PM
: Everyday 7:30 AM - 4:00 PM; Everyday 7:30 AM - 4:00 PM | 4:30 PM - 6:30 PM
: Everyday 7:30 AM - 4:00 PM; Everyday 7:30 AM - 4:00 PM | 4:30 PM - 6:30 PM
: Everyday 7:30 AM - 4:00 PM; Everyday 7:30 AM - 4:00 PM | 4:30 PM - 6:30 PM
: Everyday 7:30 AM - 4:00 PM; Everyday 7:30 AM - 4:00 PM | 4:30 PM - 6:30 PM
: Everyday 7:30 AM - 4:00 PM; Everyday 7:30 AM - 4:00 PM | 4:30 PM - 6:30 PM
: Everyday 7:30 AM - 4:00 PM; Everyday 7:30 AM - 4:00 PM | 4:30 PM - 6:30 PM

: Everyday 10:00 AM - 4:00 PM
: Everyday 10:00 AM - 4:00 PM
: Everyday 10:00 AM - 4:00 PM
: Everyday 10:00 AM - 4:00 PM
: Everyday 10:00 AM - 4:00 PM
: Everyday 10:00 AM - 4:00 PM
: Everyday 10:00 AM - 4:00 PM
: Everyday 10:00 AM - 4:00 PM
: Everyday 10:00 AM - 4:00 PM
: Everyday 10:00 AM - 4:00 PM
: Everyday 10:00 AM - 4:00 PM
: Everyday 10:00 AM - 4:00 PM

: Monday to Thursday 10:00 AM - 4:00 PM; Monday to Thursday 10:00 AM - 4:00 PM | 3:30 PM - 4:30 PM; Friday 2:30 PM - 4:30 PM; Saturday 10:00 AM - 4:30 PM; Sunday 10:00 AM - 4:30 PM
: Monday to Thursday 10:00 AM - 4:30 PM; Monday to Thursday 10:00 AM - 4:30 PM | 3:30 PM - 4:30 PM; Friday 2:30 PM - 4:30 PM; Saturday 10:00 AM - 4:30 PM; Sunday 10:00 AM - 4:30 PM
: Monday to Thursday 10:00 AM - 4:30 PM; Monday to Thursday 10:00 AM - 4:30 PM | 3:30 PM - 4:30 PM; Friday 2:30 PM - 4:30 PM; Saturday 10:00 AM - 4:30 PM; Sunday 10:00 AM - 4:30 PM
: Monday to Thursday 10:00 AM - 4:30 PM; Monday to Thursday 10:00 AM - 4:30 PM | 3:30 PM - 4:30 PM; Friday 2:30 PM - 4:30 PM; Saturday 10:00 AM - 4:30 PM; Sunday 10:00 AM - 4:30 PM
: Monday to Thursday 10:00 AM - 4:30 PM; Monday to Thursday 10:00 AM - 4:30 PM | 3:30 PM - 4:30 PM; Friday 2:30 PM - 4:30 PM; Saturday 10:00 AM - 4:30 PM; Sunday 10:00 AM - 4:30 PM
: Monday to Thursday 10:00 AM - 4:30 PM; Monday to Thursday 10:00 AM - 4:30 PM | 3:30 PM - 4:30 PM; Friday 2:30 PM - 4:30 PM; Saturday 10:00 AM - 4:30 PM; Sunday 10:00 AM - 4:30 PM
: Monday to Thursday 10:00 AM - 4:30 PM; Monday to Thursday 10:00 AM - 4:30 PM | 3:30 PM - 4:30 PM; Friday 2:30 PM - 4:30 PM; Saturday 10:00 AM - 4:30 PM; Sunday 10:00 AM - 4:30 PM
: Monday to Thursday 10:00 AM - 4:30 PM; Monday to Thursday 10:00 AM - 4:30 PM | 3:30 PM - 4:30 PM; Friday 2:30 PM - 4:30 PM; Saturday 10:00 AM - 4:30 PM; Sunday 10:00 AM - 4:30 PM
: Monday to Thursday 10:00 AM - 4:30 PM; Monday to Thursday 10:00 AM - 4:30 PM | 3:30 PM - 4:30 PM; Friday 2:30 PM - 4:30 PM; Saturday 10:00 AM - 4:30 PM; Sunday 10:00 AM - 4:30 PM
: Monday to Thursday 10:00 AM - 4:30 PM; Monday to Thursday 10:00 AM - 4:30 PM | 3:30 PM - 4:30 PM; Friday 2:30 PM - 4:30 PM; Saturday 10:00 AM - 4:30 PM; Sunday 10:00 AM - 4:30 PM
: Monday to Thursday 10:00 AM - 4:30 PM; Monday to Thursday 10:00 AM - 4:30 PM | 3:30 PM - 4:30 PM; Friday 2:30 PM - 4:30 PM; Saturday 10:00 AM - 4:30 PM; Sunday 10:00 AM - 4:30 PM
: Monday to Thursday 10:00 AM - 4:30 PM; Monday to Thursday 10:00 AM - 4:30 PM | 3:30 PM - 4:30 PM; Friday 2:30 PM - 4:30 PM; Saturday 10:00 AM - 4:30 PM; Sunday 10:00 AM - 4:30 PM

: Everyday 10:00 AM - 6:30 PM
: Everyday 10:00 AM - 6:30 PM
: Everyday 10:00 AM - 6:30 PM
: Everyday 10:00 AM - 6:30 PM
: Everyday 10:00 AM - 6:30 PM
: Everyday 10:00 AM - 6:30 PM
: Everyday 10:00 AM - 6:30 PM
: Everyday 10:00 AM - 6:30 PM
: Everyday 10:00 AM - 6:30 PM
: Everyday 10:00 AM - 6:30 PM
: Everyday 10:00 AM - 6:30 PM
: Everyday 10:00 AM - 6:30 PM

: Everyday 00:1 AM - 2:00 AM; Everyday 00:1 AM - 2:00 AM
: Everyday 00:1 AM - 2:00 AM; Everyday 00:1 AM - 2:00 AM
: Everyday 00:1 AM - 2:00 AM; Everyday 00:1 AM - 2:00 AM
: Everyday 00:1 AM - 2:00 AM; Everyday 00:1 AM - 2:00 AM
: Everyday 00:1 AM - 2:00 AM; Everyday 00:1 AM - 2:00 AM
: Everyday 00:1 AM - 2:00 AM; Everyday 00:1 AM - 2:00 AM
: Everyday 00:1 AM - 2:00 AM; Everyday 00:1 AM - 2:00 AM
: Everyday 00:1 AM - 2:00 AM; Everyday 00:1 AM - 2:00 AM
: Everyday 00:1 AM - 2:00 AM; Everyday 00:1 AM - 2:00 AM
: Everyday 00:1 AM - 2:00 AM; Everyday 00:1 AM - 2:00 AM
: Everyday 00:1 AM - 2:00 AM; Everyday 00:1 AM - 2:00 AM
: Everyday 00:1 AM - 2:00 AM; Everyday 00:1 AM - 2:00 AM