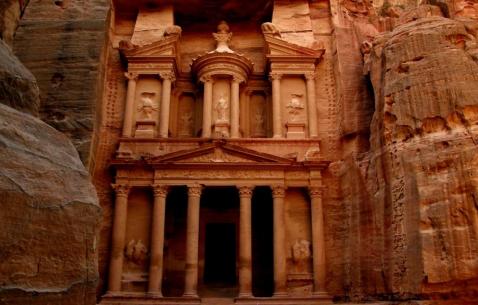 Petra (Arabic: البتراء, Al-Batrāʾ; Ancient Greek: Πέτρα), originally known to the Nabataeans as Raqmu, is a historical and archaeological city in southern Jordan. The city is famous for its rock-cut architecture and water conduit system. Another name for Petra is the Rose City due to the color of the stone out of which it is carved. Established possibly as early as 312 BC as the capital city of the Arab Nabataeans, it is a symbol of Jordan, as well as Jordan's most-visited tourist attraction. The Nabateans were nomadic Arabs who benefited from the proximity of Petra to the regional trade routes, in becoming a major trading hub, thus enabling them to gather wealth. The Nabateans are also known for their great ability in constructing efficient water collecting methods in the barren deserts and their talent in carving structures into solid rocks. It lies on the slope of Jebel al-Madhbah (identified by some as the biblical Mount Hor) in a basin among the mountains which form the eastern flank of Arabah (Wadi Araba), the large valley running from the Dead Sea to the Gulf of Aqaba. Petra has been a UNESCO World Heritage Site since 1985. The site remained unknown to the western world until 1812, when it was introduced by Swiss explorer Johann Ludwig Burckhardt. It was described as "a rose-red city half as old as time" in a Newdigate Prize-winning poem by John William Burgon. UNESCO has described it as "one of the most precious cultural properties of man's cultural heritage". Petra was named amongst the New7Wonders of the World in 2007 and was also chosen by the Smithsonian Magazine as one of the "28 Places to See Before You Die".
Wikipedia
Perhaps the most awe inspiring ancient city in the world, Petra is a pink hued wonder. Once a flourishing Nabataen settlement, Petra's fertile glory was soon abandoned after a devastating series of earthquakes around 555 AD. Be prepared to gasp in bewilderment at every footstep; Petra is full of sandstone surprises. The city has a mystical eerieness about it, built as it was in the honour of the dead. For centuries, Petra laid buried under the sands of time ; forgotten and in ruins. It was discovered in 1812 by an intrepid swiss traveler and has since seen a steady stream of wonderstruck travelers who attempt to fathom the grandiose of this magnanimous town. Keep your camera handy here, there are plenty of photo opportunities in Petra. From the legendary route of Siq that prepares you for the fantastic revelations that lay ahead, to the magnificent Treasury that stares at you in all its intricate opulence; Petra will leave you speechless.
Once an important trade centre, Petra has seen much wealth and prosperity. It commanded the spice and silk trail and thrived on the money it recieved in subsequent taxes. This is evident even today in almost every monument that has been painstakingly carved out of rose coloured stone ; each building speaks a glorious story of Petra's past.
Don't forget to visit the ethereal Street of Facades and the Royal tombs that whisper illustrious tales of the Nabataens . Stop for a moment, close your eyes, and breathe in a bit of the historic splendour of this city; Petra will stay with you long after you leave.
Essential travel information and Petra tips for your visit
1. If you're particularly determined get ahead of the crowds and visit Petra around sunrise at 5am
2.There's a lot of walking to be done in Petra, stay hydrated and wear comfortable shoes.
3. Avoid saying anything disrespectful about Islam, Jordan, or the King of Jordan.
4. Use plenty of sunscreen
5.Don't be fooled by the famous gold coin scam.
Petra Trip Planner
Plan your customized day by day trip plan for Petra. Choose from various experinces categories as adventure, romantic and family and kids friendly for your trip using using Petra trip planner.
The best tours and activities in the city, guided by experts to give you a local insight to the best of Petra