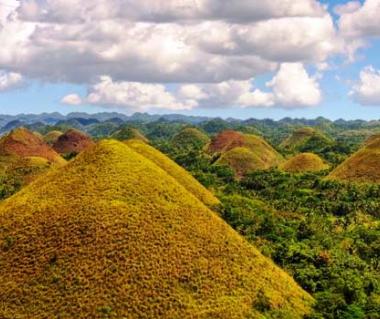 Philippines Trip Planner
Plan your customized trip plan for Philippines. Choose from Top Toursim cities and tourist attarctions of Philippines using trip planner.
Philippines Overview
The Philippines is the 7th most populated Asian country and the 12th most populated country in the world. The Philippines is defined by its emerald rice fields, teeming megacities, graffiti-splashed jeepneys, smoldering volcanoes, bug-eyed tarsiers, fuzzy water buffalo and smiling, happy-go-lucky people. The Philippines consists of more than 7000 islands, and at certain times of the year, it will feel like you have them all to yourself. The typical island boasts a jungle-clad, mountainous interior and a sandy coastline flanked by aquamarine waters and the requisite coral reef. But you'll find plenty of variations on this theme, from marooned slicks of sand in the middle of the ocean to sprawling, overpopulated mega-islands like Luzon and Mindanao.
Getting In and Around Philippines
By Air: Since most people fly to the Philippines and most flights land in Manila, Ninoy Aquino International Airport in Paranaque is likely to be your first taste of the Philippines.
By Sea: It's possible to travel by sea between the Philippines and nearby parts of Malaysia and Indonesia. However, schedules and routes are very liable to change so it's best to be flexible in your plans.
Best Time to Visit Philippines
The Philippines' weather has become more unpredictable in recent years, but January to May usually brings the best weather to most of the country. However, this is also the high tourist season. Foreign arrivals are highest in January to March, while Filipinos hit the road en masse in April and May for their 'summer' holidays
What to see and Adventures
The Philippines isn't just about finding an isolated beach and getting catatonic but also to explore the best cities in the Philippines like Makati city, Tagaytay, Baguio, Vigan city. From trekking in the mountains of North Luzon to getting airborne on a kiteboard in Boracay, to spelunking in the cave systems of Samar, the Philippines can capably raise any adrenaline junkies pulse. Much of the action in the Philippines naturally takes place in and around the water. Kite surfing and windsurfing are big in Boracay and in Daet, Bicol. While surfers are just catching on to the tasty waves that form on both coasts at certain times of the year, divers have long been enamored of the country's underwater charms. You need only know how to snorkel to go fin deep with the gentle butanding (whale sharks) in Luzon. Freshwater pursuits include rafting, kayaking, and wakeboarding. On terra firma, the rice terraces around Banaue are most popular for trekking,
Eateries:
No list of Filipino food would be complete without adobo. What really is Philippine food, then? Indigenous food from land and sea, field and forest
Searching for something specific?