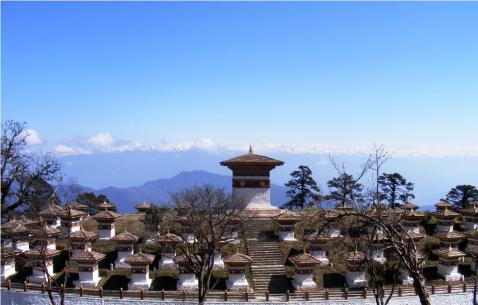 This frontier town in southern Bhutan is located at the base of the Himalayan foothills. Phuntsholing or Phuentsholing is the administrative seat of the Chukha district. A thriving commercial centre, it is home to a potpourri of ethnic groups intermingling at the point where the countries Bhutan and India meet.
Teeming with Indian, Bhutanese and Nepalese folks, this is also where the oft-photographed Bhutan Gate is situated, adjoining the Indian city of Jaigaon. Besides being a convenient entry/exit point for Bhutan, it is also a convenient link to visit West Bengal and a route to the cities of Kolkata and Siliguri in India – a tour combination that travel guides recommend.
There are many places to visit in Phuentsholing and from them crocodile breeding centre that is interesting for wildlife enthusiasts hoping to get a glimpse of marsh muggers and gharial crocodiles, and the two main religious shrines in the area are the Zangto Pelri Lhakhang and the Karbandi Goemba or Monastery, nestled in the hills from which you are blessed with commanding views of the valley below. That's more or less the sum of the best phuentsholing sightseeing experiences in the area.
During your trip to Phuentsholing Coming in from the Indian city of Jaigaon, you will immediately see the difference in municipal cleanliness and the planning of the buildings as well as the distinctive traditional Bhutanese style of architecture that you will find on the Phuentsholing side.
The Bhutan gate is patrolled by Bhutanese army officials and all non-Bhutanese citizens are advised to carry a photo ID/passport along with their Bhutanese Visa which is necessary for all foreign visitors except Indians. Indians are required to carry their permits to enter Bhutan through Phuentsholing and to travel to other parts of the country.
The cross-border trade between the two countries has led to a thriving economy and Phuentsholing is also the seat of the Bank of Bhutan.There's lot when you think about things to do in Phuentsholing city.