Best Time To Visit Phuentsholing
Explore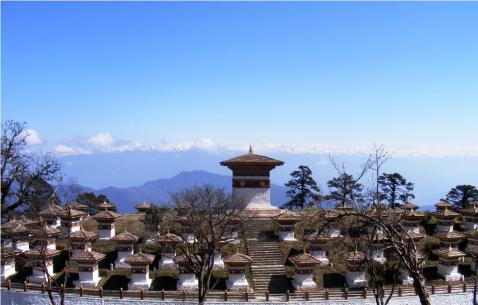 Best Time To Go To Phuentsholing
This is a small hamlet at the foothills of the Himalayas, which stays cold throughout the year. It is chilly here throughout the year and the temperature ranges between minus 20 degree Celsius to 15 degree Celsius.
Winters: The months between November to March mark the winter months around here. The temperatures range between minus 20 degree Celsius to zero degree Celsius around here, during this time. It is as chilly and cold as it can get. The city of Phuentsholing experiences cold temperatures during the winters and is chilly with snowfall. Due to the snowfall, you will find roads often closed or under construction during the winters, as there are higher chances of landslides, making the roads very treacherous to travel upon.
Monsoon: Phuentsholing receives its highest amount of rainfall between the months of May-August.
In the months between June to September, the temperatures stay above zero degree Celsius but is followed by rains.
The best time to visit Phuentsholing would be in the months of March to May as the temperatures are rising up slowly and the snow begins to thaw a little too.
Best time to go to Phuentsholing Attractions

: Everyday 10:00 AM -
: Everyday 10:00 AM -
: Everyday 10:00 AM -
: Everyday 10:00 AM -
: Everyday 10:00 AM -
: Everyday 10:00 AM -
: Everyday 10:00 AM -
: Everyday 10:00 AM -
: Everyday 10:00 AM -
: Everyday 10:00 AM -
: Everyday 10:00 AM -
: Everyday 10:00 AM -

: Everyday 8:00 AM - 9:00 AM
: Everyday 8:00 AM - 9:00 AM
: Everyday 8:00 AM - 9:00 AM
: Everyday 8:00 AM - 9:00 AM
: Everyday 8:00 AM - 9:00 AM
: Everyday 8:00 AM - 9:00 AM
: Everyday 8:00 AM - 9:00 AM
: Everyday 8:00 AM - 9:00 AM
: Everyday 8:00 AM - 9:00 AM
: Everyday 8:00 AM - 9:00 AM
: Everyday 8:00 AM - 9:00 AM
: Everyday 8:00 AM - 9:00 AM

: Everyday 4:00 PM - 7:00 PM
: Everyday 4:00 PM - 7:00 PM
: Everyday 4:00 PM - 7:00 PM
: Everyday 4:00 PM - 7:00 PM
: Everyday 4:00 PM - 7:00 PM
: Everyday 4:00 PM - 7:00 PM
: Everyday 4:00 PM - 7:00 PM
: Everyday 4:00 PM - 7:00 PM
: Everyday 4:00 PM - 7:00 PM
: Everyday 4:00 PM - 7:00 PM
: Everyday 4:00 PM - 7:00 PM
: Everyday 4:00 PM - 7:00 PM

: Everyday 7:00 AM - 9:00 AM
: Everyday 7:00 AM - 9:00 AM
: Everyday 7:00 AM - 9:00 AM
: Everyday 7:00 AM - 9:00 AM
: Everyday 7:00 AM - 9:00 AM
: Everyday 7:00 AM - 9:00 AM
: Everyday 7:00 AM - 9:00 AM
: Everyday 7:00 AM - 9:00 AM
: Everyday 7:00 AM - 9:00 AM
: Everyday 7:00 AM - 9:00 AM
: Everyday 7:00 AM - 9:00 AM
: Everyday 7:00 AM - 9:00 AM

: Everyday 24 Hrs
: Everyday 24 Hrs
: Everyday 24 Hrs
: Everyday 24 Hrs
: Everyday 24 Hrs
: Everyday 24 Hrs
: Everyday 24 Hrs
: Everyday 24 Hrs
: Everyday 24 Hrs
: Everyday 24 Hrs
: Everyday 24 Hrs
: Everyday 24 Hrs

: Everyday 1:00 AM - 11:59 PM
: Everyday 1:00 AM - 11:59 PM
: Everyday 1:00 AM - 11:59 PM
: Everyday 1:00 AM - 11:59 PM
: Everyday 1:00 AM - 11:59 PM
: Everyday 1:00 AM - 11:59 PM
: Everyday 1:00 AM - 11:59 PM
: Everyday 1:00 AM - 11:59 PM
: Everyday 1:00 AM - 11:59 PM
: Everyday 1:00 AM - 11:59 PM
: Everyday 1:00 AM - 11:59 PM
: Everyday 1:00 AM - 11:59 PM