Best Time To Visit Pisa
Explore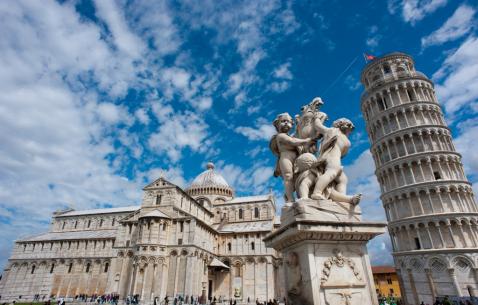 Accommodations with

See All
Best Time To Go To Pisa
Pisa has a typically Mediterranean climate, with a summer characterised by sunny days and high temperatures in July and August. The winter weather is colder and damper.
The temperatures of Pisa are most pleasant during spring and autumn, in the months of September to October and April to June. Be wary of November to February, when the weather can be quite unpredictable.
Explore the best travel planner for your visit to Pisa and create a flawless plan in few simple steps!
Best time to go to Pisa Attractions

: Tuesday to Sunday 10:00 AM - 2:00 PM
: Tuesday to Sunday 10:00 AM - 2:00 PM
: Tuesday to Sunday 10:00 AM - 2:00 PM
: Tuesday to Sunday 10:00 AM - 2:00 PM
: Tuesday to Sunday 10:00 AM - 2:00 PM
: Tuesday to Sunday 10:00 AM - 2:00 PM
: Tuesday to Sunday 10:00 AM - 2:00 PM
: Tuesday to Sunday 10:00 AM - 2:00 PM
: Tuesday to Sunday 10:00 AM - 2:00 PM
: Tuesday to Sunday 10:00 AM - 2:00 PM
: Tuesday to Sunday 10:00 AM - 2:00 PM
: Tuesday to Sunday 10:00 AM - 2:00 PM

: Everyday 10:00 AM - 3:00 PM
: Everyday 10:00 AM - 3:00 PM
: Everyday 10:00 AM - 3:00 PM
: Everyday 10:00 AM - 3:00 PM
: Everyday 10:00 AM - 3:00 PM
: Everyday 10:00 AM - 3:00 PM
: Everyday 10:00 AM - 3:00 PM
: Everyday 10:00 AM - 3:00 PM
: Everyday 10:00 AM - 3:00 PM
: Everyday 10:00 AM - 3:00 PM
: Everyday 10:00 AM - 3:00 PM
: Everyday 10:00 AM - 3:00 PM

: Everyday 10:00 AM - 1:00 PM
: Everyday 10:00 AM - 1:00 PM
: Everyday 10:00 AM - 1:00 PM
: Everyday 10:00 AM - 1:00 PM
: Everyday 10:00 AM - 1:00 PM
: Everyday 10:00 AM - 1:00 PM
: Everyday 10:00 AM - 1:00 PM
: Everyday 10:00 AM - 1:00 PM
: Everyday 10:00 AM - 1:00 PM
: Everyday 10:00 AM - 1:00 PM
: Everyday 10:00 AM - 1:00 PM
: Everyday 10:00 AM - 1:00 PM

: Everyday 11:00 AM - 8:00 PM
: Everyday 11:00 AM - 8:00 PM
: Everyday 11:00 AM - 8:00 PM
: Everyday 11:00 AM - 8:00 PM
: Everyday 11:00 AM - 8:00 PM
: Everyday 11:00 AM - 8:00 PM
: Everyday 11:00 AM - 8:00 PM
: Everyday 11:00 AM - 8:00 PM
: Everyday 11:00 AM - 8:00 PM
: Everyday 11:00 AM - 8:00 PM
: Everyday 11:00 AM - 8:00 PM
: Everyday 11:00 AM - 8:00 PM

: Tuesday to Sunday 10:00 AM - 5:00 PM
: Tuesday to Sunday 10:00 AM - 5:00 PM
: Tuesday to Sunday 10:00 AM - 5:00 PM
: Tuesday to Sunday 10:00 AM - 5:00 PM
: Tuesday to Sunday 10:00 AM - 5:00 PM
: Tuesday to Sunday 10:00 AM - 5:00 PM
: Tuesday to Sunday 10:00 AM - 5:00 PM
: Tuesday to Sunday 10:00 AM - 5:00 PM
: Tuesday to Sunday 10:00 AM - 5:00 PM
: Tuesday to Sunday 10:00 AM - 5:00 PM
: Tuesday to Sunday 10:00 AM - 5:00 PM
: Tuesday to Sunday 10:00 AM - 5:00 PM

: Tuesday to Sunday 10:00 AM - 1:00 PM
: Tuesday to Sunday 10:00 AM - 1:00 PM
: Tuesday to Sunday 10:00 AM - 1:00 PM
: Tuesday to Friday 10:00 AM - 1:00 PM
: Tuesday to Friday 10:00 AM - 1:00 PM
: Tuesday to Friday 10:00 AM - 1:00 PM
: Tuesday to Friday 10:00 AM - 1:00 PM
: Tuesday to Friday 10:00 AM - 1:00 PM
: Tuesday to Friday 10:00 AM - 1:00 PM
: Tuesday to Friday 10:00 AM - 1:00 PM
: Tuesday to Sunday 10:00 AM - 1:00 PM
: Tuesday to Sunday 10:00 AM - 1:00 PM

: Saturday, Sunday 10:00 AM - 5:00 PM
: Saturday, Sunday 10:00 AM - 5:00 PM
: Saturday, Sunday 10:00 AM - 5:00 PM
: Saturday, Sunday 10:00 AM - 5:00 PM
: Saturday, Sunday 10:00 AM - 5:00 PM
: Saturday, Sunday 10:00 AM - 5:00 PM
: Saturday, Sunday 10:00 AM - 5:00 PM
: Saturday, Sunday 10:00 AM - 5:00 PM
: Saturday, Sunday 10:00 AM - 5:00 PM
: Saturday, Sunday 10:00 AM - 5:00 PM
: Saturday, Sunday 10:00 AM - 5:00 PM
: Saturday, Sunday 10:00 AM - 5:00 PM

: Everyday 9:00 AM - 6:00 PM
: Everyday 9:00 AM - 6:00 PM
: Everyday 9:00 AM - 6:00 PM
: Everyday 9:00 AM - 6:00 PM
: Everyday 9:00 AM - 6:00 PM
: Everyday 9:00 AM - 6:00 PM
: Everyday 9:00 AM - 6:00 PM
: Everyday 9:00 AM - 6:00 PM
: Everyday 9:00 AM - 6:00 PM
: Everyday 9:00 AM - 6:00 PM
: Everyday 9:00 AM - 6:00 PM
: Everyday 9:00 AM - 6:00 PM

: Everyday 9:00 AM - 5:00 PM
: Everyday 9:00 AM - 5:00 PM
: Everyday 9:00 AM - 5:00 PM
: Everyday 9:00 AM - 5:00 PM
: Everyday 9:00 AM - 5:00 PM
: Everyday 9:00 AM - 5:00 PM
: Everyday 9:00 AM - 5:00 PM
: Everyday 9:00 AM - 5:00 PM
: Everyday 9:00 AM - 5:00 PM
: Everyday 9:00 AM - 5:00 PM
: Everyday 9:00 AM - 5:00 PM
: Everyday 9:00 AM - 5:00 PM

: Everyday 9:00 AM - 5:00 PM
: Everyday 9:00 AM - 5:00 PM
: Everyday 9:00 AM - 5:00 PM
: Everyday 9:00 AM - 5:00 PM
: Everyday 9:00 AM - 5:00 PM
: Everyday 9:00 AM - 5:00 PM
: Everyday 9:00 AM - 5:00 PM
: Everyday 9:00 AM - 5:00 PM
: Everyday 9:00 AM - 5:00 PM
: Everyday 9:00 AM - 5:00 PM
: Everyday 9:00 AM - 5:00 PM
: Everyday 9:00 AM - 5:00 PM

: Monday to Saturday 8:30 AM - 1:00 PM
: Monday to Saturday 8:30 AM - 1:00 PM
: Monday to Saturday 8:30 AM - 1:00 PM
: Monday to Saturday 8:30 AM - 1:00 PM
: Monday to Saturday 8:30 AM - 1:00 PM
: Monday to Saturday 8:30 AM - 1:00 PM
: Monday to Saturday 8:30 AM - 1:00 PM
: Monday to Saturday 8:30 AM - 1:00 PM
: Monday to Saturday 8:30 AM - 1:00 PM
: Monday to Saturday 8:30 AM - 1:00 PM
: Monday to Saturday 8:30 AM - 1:00 PM
: Monday to Saturday 8:30 AM - 1:00 PM

: Everyday 8:00 AM - 5:00 PM
: Everyday 8:00 AM - 5:00 PM
: Everyday 8:00 AM - 5:00 PM
: Everyday 8:00 AM - 5:00 PM
: Everyday 8:00 AM - 5:00 PM
: Everyday 8:00 AM - 5:00 PM
: Everyday 8:00 AM - 5:00 PM
: Everyday 8:00 AM - 5:00 PM
: Everyday 8:00 AM - 5:00 PM
: Everyday 8:00 AM - 5:00 PM
: Everyday 8:00 AM - 5:00 PM
: Everyday 8:00 AM - 5:00 PM

: Tuesday to Sunday 10:00 AM - 1:00 PM
: Tuesday to Sunday 10:00 AM - 1:00 PM
: Tuesday to Sunday 10:00 AM - 1:00 PM
: Tuesday to Sunday 10:00 AM - 1:00 PM
: Tuesday to Sunday 10:00 AM - 1:00 PM
: Tuesday to Sunday 10:00 AM - 1:00 PM
: Tuesday to Sunday 10:00 AM - 1:00 PM
: Tuesday to Sunday 10:00 AM - 1:00 PM
: Tuesday to Sunday 10:00 AM - 1:00 PM
: Tuesday to Sunday 10:00 AM - 1:00 PM
: Tuesday to Sunday 10:00 AM - 1:00 PM
: Tuesday to Sunday 10:00 AM - 1:00 PM

: Everyday 2:00 PM - 5:00 PM
: Everyday 2:00 PM - 5:00 PM
: Everyday 2:00 PM - 5:00 PM
: Everyday 2:00 PM - 5:00 PM
: Everyday 2:00 PM - 5:00 PM
: Everyday 2:00 PM - 5:00 PM
: Everyday 2:00 PM - 5:00 PM
: Everyday 2:00 PM - 5:00 PM
: Everyday 2:00 PM - 5:00 PM
: Everyday 2:00 PM - 5:00 PM
: Everyday 2:00 PM - 5:00 PM
: Everyday 2:00 PM - 5:00 PM

: Everyday 8:00 AM - 4:00 PM
: Everyday 8:00 AM - 4:00 PM
: Everyday 8:00 AM - 4:00 PM
: Everyday 8:00 AM - 4:00 PM
: Everyday 8:00 AM - 4:00 PM
: Everyday 8:00 AM - 4:00 PM
: Everyday 8:00 AM - 4:00 PM
: Everyday 8:00 AM - 4:00 PM
: Everyday 8:00 AM - 4:00 PM
: Everyday 8:00 AM - 4:00 PM
: Everyday 8:00 AM - 4:00 PM
: Everyday 8:00 AM - 4:00 PM

: Everyday 11:00 AM - 2:00 PM
: Everyday 11:00 AM - 2:00 PM
: Everyday 11:00 AM - 2:00 PM
: Everyday 11:00 AM - 2:00 PM
: Everyday 11:00 AM - 2:00 PM
: Everyday 11:00 AM - 2:00 PM
: Everyday 11:00 AM - 2:00 PM
: Everyday 11:00 AM - 2:00 PM
: Everyday 11:00 AM - 2:00 PM
: Everyday 11:00 AM - 2:00 PM
: Everyday 11:00 AM - 2:00 PM
: Everyday 11:00 AM - 2:00 PM

: Everyday 10:00 AM - 2:00 PM
: Everyday 10:00 AM - 2:00 PM
: Everyday 10:00 AM - 2:00 PM
: Everyday 10:00 AM - 2:00 PM
: Everyday 10:00 AM - 2:00 PM
: Everyday 10:00 AM - 2:00 PM
: Everyday 10:00 AM - 2:00 PM
: Everyday 10:00 AM - 2:00 PM
: Everyday 10:00 AM - 2:00 PM
: Everyday 10:00 AM - 2:00 PM
: Everyday 10:00 AM - 2:00 PM
: Everyday 10:00 AM - 2:00 PM

: Everyday 10:00 AM - 3:00 PM
: Everyday 10:00 AM - 3:00 PM
: Everyday 10:00 AM - 3:00 PM
: Everyday 10:00 AM - 3:00 PM
: Everyday 10:00 AM - 3:00 PM
: Everyday 10:00 AM - 3:00 PM
: Everyday 10:00 AM - 3:00 PM
: Everyday 10:00 AM - 3:00 PM
: Everyday 10:00 AM - 3:00 PM
: Everyday 10:00 AM - 3:00 PM
: Everyday 10:00 AM - 3:00 PM
: Everyday 10:00 AM - 3:00 PM

: Everyday 9:00 AM - 1:00 PM
: Everyday 9:00 AM - 1:00 PM
: Everyday 9:00 AM - 1:00 PM
: Everyday 9:00 AM - 1:00 PM
: Everyday 9:00 AM - 1:00 PM
: Everyday 9:00 AM - 1:00 PM
: Everyday 9:00 AM - 1:00 PM
: Everyday 9:00 AM - 1:00 PM
: Everyday 9:00 AM - 1:00 PM
: Everyday 9:00 AM - 1:00 PM
: Everyday 9:00 AM - 1:00 PM
: Everyday 9:00 AM - 1:00 PM

: Everyday 24 Hrs
: Everyday 24 Hrs
: Everyday 24 Hrs
: Everyday 24 Hrs
: Everyday 24 Hrs
: Everyday 24 Hrs
: Everyday 24 Hrs
: Everyday 24 Hrs
: Everyday 24 Hrs
: Everyday 24 Hrs
: Everyday 24 Hrs
: Everyday 24 Hrs

: Friday, Saturday 00:1 AM - 2:00 AM; Friday, Saturday 00:1 AM - 2:00 AM | 6:30 PM - 11:59 PM; Tuesday, Wednesday, Thursday, Sunday 00:1 AM - 1:00 AM; Tuesday, Wednesday, Thursday, Sunday 00:1 AM - 1:00 AM | 6:30 PM - 11:59 PM
: Friday, Saturday 00:1 AM - 2:00 AM; Friday, Saturday 00:1 AM - 2:00 AM | 6:30 PM - 11:59 PM; Tuesday, Wednesday, Thursday, Sunday 00:1 AM - 1:00 AM; Tuesday, Wednesday, Thursday, Sunday 00:1 AM - 1:00 AM | 6:30 PM - 11:59 PM
: Friday, Saturday 00:1 AM - 2:00 AM; Friday, Saturday 00:1 AM - 2:00 AM | 6:30 PM - 11:59 PM; Tuesday, Wednesday, Thursday, Sunday 00:1 AM - 1:00 AM; Tuesday, Wednesday, Thursday, Sunday 00:1 AM - 1:00 AM | 6:30 PM - 11:59 PM
: Friday, Saturday 00:1 AM - 2:00 AM; Friday, Saturday 00:1 AM - 2:00 AM | 6:30 PM - 11:59 PM; Tuesday, Wednesday, Thursday, Sunday 00:1 AM - 1:00 AM; Tuesday, Wednesday, Thursday, Sunday 00:1 AM - 1:00 AM | 6:30 PM - 11:59 PM
: Friday, Saturday 00:1 AM - 2:00 AM; Friday, Saturday 00:1 AM - 2:00 AM | 6:30 PM - 11:59 PM; Tuesday, Wednesday, Thursday, Sunday 00:1 AM - 1:00 AM; Tuesday, Wednesday, Thursday, Sunday 00:1 AM - 1:00 AM | 6:30 PM - 11:59 PM
: Friday, Saturday 00:1 AM - 2:00 AM; Friday, Saturday 00:1 AM - 2:00 AM | 6:30 PM - 11:59 PM; Tuesday, Wednesday, Thursday, Sunday 00:1 AM - 1:00 AM; Tuesday, Wednesday, Thursday, Sunday 00:1 AM - 1:00 AM | 6:30 PM - 11:59 PM
: Friday, Saturday 00:1 AM - 2:00 AM; Friday, Saturday 00:1 AM - 2:00 AM | 6:30 PM - 11:59 PM; Tuesday, Wednesday, Thursday, Sunday 00:1 AM - 1:00 AM; Tuesday, Wednesday, Thursday, Sunday 00:1 AM - 1:00 AM | 6:30 PM - 11:59 PM
: Friday, Saturday 00:1 AM - 2:00 AM; Friday, Saturday 00:1 AM - 2:00 AM | 6:30 PM - 11:59 PM; Tuesday, Wednesday, Thursday, Sunday 00:1 AM - 1:00 AM; Tuesday, Wednesday, Thursday, Sunday 00:1 AM - 1:00 AM | 6:30 PM - 11:59 PM
: Friday, Saturday 00:1 AM - 2:00 AM; Friday, Saturday 00:1 AM - 2:00 AM | 6:30 PM - 11:59 PM; Tuesday, Wednesday, Thursday, Sunday 00:1 AM - 1:00 AM; Tuesday, Wednesday, Thursday, Sunday 00:1 AM - 1:00 AM | 6:30 PM - 11:59 PM
: Friday, Saturday 00:1 AM - 2:00 AM; Friday, Saturday 00:1 AM - 2:00 AM | 6:30 PM - 11:59 PM; Tuesday, Wednesday, Thursday, Sunday 00:1 AM - 1:00 AM; Tuesday, Wednesday, Thursday, Sunday 00:1 AM - 1:00 AM | 6:30 PM - 11:59 PM
: Friday, Saturday 00:1 AM - 2:00 AM; Friday, Saturday 00:1 AM - 2:00 AM | 6:30 PM - 11:59 PM; Tuesday, Wednesday, Thursday, Sunday 00:1 AM - 1:00 AM; Tuesday, Wednesday, Thursday, Sunday 00:1 AM - 1:00 AM | 6:30 PM - 11:59 PM
: Friday, Saturday 00:1 AM - 2:00 AM; Friday, Saturday 00:1 AM - 2:00 AM | 6:30 PM - 11:59 PM; Tuesday, Wednesday, Thursday, Sunday 00:1 AM - 1:00 AM; Tuesday, Wednesday, Thursday, Sunday 00:1 AM - 1:00 AM | 6:30 PM - 11:59 PM