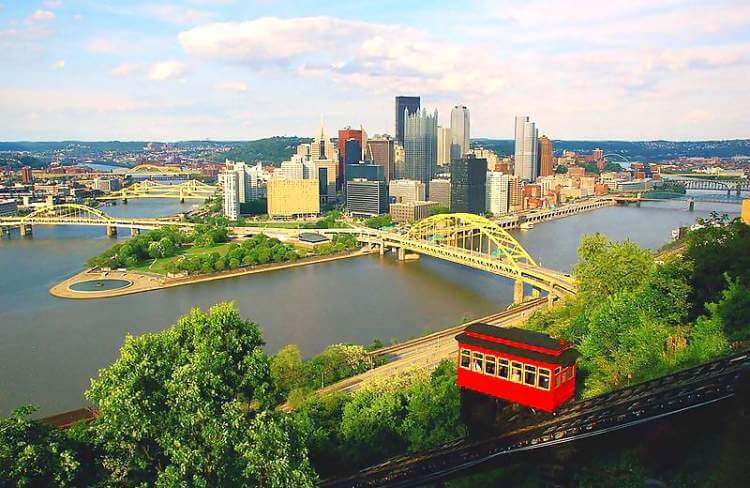 Image Source: wikimedia.org
Love the outdoors and seeking a place to spend a lovely vacation in Pennsylvania, think no beyond the beautiful Pittsburgh. Pioneering the steel industry in the state of Pennsylvania, Pittsburgh is also known as "the Steel City". With as many as a whopping 300 steel-related businesses sprawling across the boundaries of the city, one is likely to wonder what kind of a holiday can one possibly have here. To them, we inform the city is a plethora of great outdoors and an intriguing hopscotch of cultures. You will find everything from German, Italian, African to Jewish in Pittsburgh, which means a lot of culinary delights to look forward to. With a great weather all year round, Pittsburgh can be visited without planning much however statistically the best time to visit Pittsburgh remains to be Spring or Fall.
With that being said, here is a list of 20 Best Things To Do in Pittsburgh you must tick off your list.
1. Enjoy baseball at Pnc Park
A quintessential ballpark which Pnc Park, Pittsburgh is one of the most famous and well-maintained baseball parks in the country. The best place to experience the American sport atmosphere in Pittsburgh, this stadium is located on the banks of the majestic Allegheny River. Known to bequeath visitors with scenic views of the Pittsburgh skyline and riverfront, this park featuring a natural grass playing surface is a beautiful facility like no other and one of the best place to visit in Pittsburgh.
2. Take a ride of the Duquesne Incline
An inclined plane railroad, Duquesne Incline is a century-old cable car which bestows visitors with stunning views of downtown Pittsburgh. An observation deck at the topmost point of the ride is the biggest highlight of the Duquesne Incline. The incline has been featured in numerous Hollywood movies like 'The Next Three Days', 'Flash Dance' and 'Lady Beware'.
3. Walk amidst flowers and greens at the Phipps Conservatory
A picturesque oasis right in the heart of Pittsburgh, the Phipps Conservatory is a world-class botanical garden situated in Schenley Park. Primarily divided into two sections – indoor and outdoor- the conservatory displays countless exotic, rare and one-of-its-kind trees, plants, shrubs, flowers and ferns. In addition to the huge diversity of flora and fauna, this park also houses two waterfalls, several bridges, a stream and a healer's hut which are accessible to the public.
4. Admire the panoramic views from Mount Washington
Known for the panoramic city views it blesses the visitors with, Mount Washington is one of the most visited neighborhoods in Pittsburgh. Providing visitors with unique vantage points of Pittsburgh's gorgeous skyline, this spot is a steep hill. Along with the grand views, tourists can also enjoy delicious food at the numerous elegant fine-dine restaurants dotting this place. So, this place is not just a treat for the eyes, but also for the taste buds!
5. Spend time with animals at the Pittsburgh Zoo and Ppg Aquarium
Spanning over a massive area of 77 acres, Pittsburgh Zoo and Ppg Aquarium is home to more than 4,000 animals, including 20 endangered species. Originally known as the Highland Park Zoo, this facility was inaugurated way back in 1898. Categorized into various sections like The Asian Forest, Tropical Forest and African Savanna, a visit to this zoo and aquarium is one of the best things to do in Pittsburgh with kids. Housing rare species like Kodiak Bear, Amur Tigers, Snow Leopards, Komodo Dragons and poison dart frogs, this zoo is a magical place.
6. The Strip - the place to hunt on weekends
A vivacious hub of gourmet food shops, old-style grocers, street stands, eateries, nightclubs and bars, The Strip is an eclectic mix of old and new. This historic market district is always bustling with activity, with locals as well as tourists thronging the place in large numbers. The place mostly comes to life on weekends, when numerous open-air markets as well as retail and leisure facilities are organized here.
7. Catch a football game at Heinz Field
Considered to be the Mecca football lovers in Pittsburgh, Heinz Field serves as the home to the Pittsburgh Steelers of the National Football League. The spacious seating arrangement with a capacity of over 65,000 people at Heinz Field ensures that everyone can catch up on a game of football comfortably. In addition to the football games, this stadium also hosts various concerts and events.
8. Learn about natural history Carnegie Museum of Natural History
Consistently ranked as one of the top five natural history museums in the United States, Carnegie Museum of Natural History is an interesting place to visit in Pittsburgh. Preserving and maintaining an exceptional display of artifacts, objects, and scientific specimens, this museum aims to spread awareness regarding the sphere of natural history. Providing a glimpse into the fields of Anthropology, Birds, Botany, Herpetology, Invertebrate Paleontology, Mammals, and Minerals and Mollusks, this museum is a must-visit place in the city.
9. Experience a scientific time at Carnegie Science Center
Housing numerous scientific interactive displays and exhibits, the Carnegie Science Center is the most visited museum in Pittsburgh. Here, you can delve deeper into the fascinating world of magnetic forces, lasers, Exploration Stations, and robotics and have an informative time. Space Place, featuring a two-story, walk-in replica of the International Space Station, is a massive crowd-puller at this museum.
10. Spend time with birds at the National Aviary
An indoor non-profit zoo for birds, National Aviary, Pittsburgh is home to over 500 birds belonging to more than 150 species. Macaws, penguins, owls, kingfishers are some of the most famous inhabitants of this zoo. One of the main reasons behind the fame of this zoo is the daily interactive experience for visitors through various facilities. The numerous outdoor shows held here, from its new Sky Deck featuring live flight demonstrations of eagles, falcons and kites out over West Park, are majorly popular among visitors.
11. Ride down the Monongahela Incline
The oldest remaining funicular cliff railway in the US, the Monongahela Incline is the best way for visitors to enjoy the spectacular views of Pittsburgh. Standing at a maximum elevation of 369 feet, this incline ferries passengers up and down Mount Washington. A favorite amongst locals and tourists alike, this incline is still in a good working condition.
12. Discover Pennsylvania's history at Senator John Heinz History Center
The largest museum in the Commonwealth of Pennsylvania, Senator John Heinz History Center, Pittsburgh gives you a chance to discover 20 years of Western Penn history. Including six floors of permanent and changing exhibitions, this center was originally established in 1879. Western Pennsylvania Sports Museum housed in this center is the primary attraction here. Nothing less than a fairytale for sports lovers, this museum captures the essence of Pittsburgh's sporting history.
13. The Andy Warhol Museum
Housing engaging exhibits which tell Andy Warhol's story and look into his legacy through a collection of Warhol art and archives, the Andy Warhol Museum, Pittsburgh is the largest museum in the North America dedicated to a single artist. Containing 900 paintings, close to 2000 works, over 1000 published prints, and over 4000 Warhol films, this museum is a one-of-its-kind place.
14. Indulge in a game of poker at Rivers Casino
Offering slots, craps, poker and other table games, Rivers Casino is a gambler's heaven in Pittsburgh. With 120,000 square feet dedicated to the gaming, it is sure to keep visitors engrossed for hours. In addition to the games, it also consists of several restaurants and a dinner theater. So, the casino is nothing less than a partying paradise. Head over to this place to have a ball!
15. Admire the Cathedral Of Learning
An iconic landmark in Pittsburgh, the Cathedral Of Learning, also known as Cathy, is located in the center of the University of Pittsburgh's main campus. The 42 storey building is 535 feet in height and is considered to be one of the most remarkable buildings in the entire city. The Late Gothic Revival Cathedral functions as a primary classroom and administrative center of the university. Do not miss out on this architectural wonder when in the city!
16. Explore the Consol Energy Center
A multi-purpose indoor arena in Pittsburgh which serves as the home ground of the local hockey team, the Pittsburgh Penguins, Consol Energy Center one of the favorite venues of Pittsburgh Sports fans. A venue that has witnessed numerous thrilling ice hockey games, this stadium has a huge seating capacity. In addition to the games, this place is also known to host many music concerts.
17. Relive your childhood at the Children's Museum Of Pittsburgh
One of the best things to do in Pittsburgh with children, the Children's Museum Of Pittsburgh is known to host a huge number of exciting programs for children. Also known to organize workshops on artforms like pottery, Japanese paper cutting, animation and painting, this museum keeps your child engaged for a long period of time. The child friendly and interactive exhibits housed here promise a good time to both kids as well as adults.
18. Have a good time at The Nationality Rooms
A collection of 30 classrooms in the University of Pittsburgh's Cathedral of Learning, the Nationality Rooms have been designated as historical landmarks. While these rooms can be explored only via special guided tour, one can admire the beauty of the architecture from behind the glass doors as well. The Syrian- Lebanon room, originally a rich Damascan Merchant's library, is the Cathedral's most visited room.
19. Marvel at art at the Carnegie Museum Of Art
An art museum founded in 1895 by the Pittsburgh-based industrialist Andrew Carnegie, Carnegie Museum Of Art, Pittsburgh houses a distinguished collection of contemporary art. A famous collection of Japanese prints, paintings, sculptures and installations displayed here make for an interesting tour while the good collection of French Impressionist and post-Impressionist paintings, as well as American art impresses the visitors.
20. Take a historical tour at the Frick Art And Historical Center
A collection of historically significant buildings, Frick Art And Historical Center, Pittsburgh focuses on the interpretations of the life and times of Henry Clay Frick, an industrialist and art collector. The Frick Art Museum, The Car and Carriage Museum, the Greenhouse, the Frick children's playhouse, and The Café are the various structures housed here. So, from paintings to automobiles, the huge diversity of works displayed here is sure to leave you spellbound!
Summary List: Pittsburgh Points of Interest
Based on above recommendations, here is the summary of 20 points of interest in Pittsburgh to visit:
Pnc Park
Duquesne Incline
Phipps Conservatory
Mount Washington
Pittsburgh Zoo and Ppg Aquarium
The Strip
Heinz Field
Carnegie Museum of Natural History
Carnegie Science Center
National Aviary
Monongahela Incline
Senator John Heinz History Center
Andy Warhol Museum
Rivers Casino
Cathedral Of Learning
Consol Energy Center
Children's Museum Of Pittsburgh
The Nationality Rooms
Carnegie Museum Of Art
Frick Art And Historical Center