Things to do in Port Blair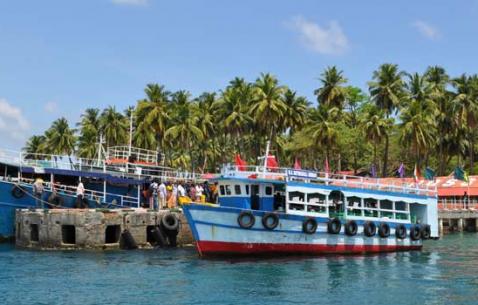 The Best Things To Do in Port Blair
Port Blair is the capital and the largest city in the union territory of Andaman and Nicobar Islands and has been awarded the title of the "Veritable Garden of Eden." Port Blair is often considered as the gateway to the exotic and pristine islands and boasts lush greenery, beautiful islands, golden sand beaches, a rugged coastline and a plethora of water based activities like snorkelling, scuba diving and sea cruises.
The scenic beauty, the tranquillity and the rustic ambience of the Port Blair, along with a plethora of activities, together make up for one of the most sought after travel destinations in the world. The best way to have a complete experience of this paradise amidst the seas is to indulge in some of the best things to do in Andamans which includes historical sites like Cellular Jail National Memorial and Ross Islands. The city is home to numerous museums like Anthropological Museum, Fisheries Museum, Samudrika or the Naval Marine Museum and Zoological Survey of India Museum. One of the main attractions in Port Blair are the pristine white sand beaches including Carbyn's Cove Beach, North Bay Beach, Chidiyatappu and Mundapahar Beach and Mundapahar Trek route. One can even indulge in numerous outdoor activities and adventure sports like scuba diving, snorkelling, game fishing, jet skiing, sea walking, trekking, hiking and much more. Other top things to do in Port Blair include attractions like Gandhi Park, Mount Harriet, Madhuban and Cinque Island. Port Blair is a picturesque natural paradise with beautiful white sandy beaches fringed with a green canopy of the rain-fed forests that is sure to give you some memories that would last a lifetime.
Explore the travel planning tool for your visit to Port Blair and create a flawless plan in few simple steps!
47 Tourist Attractions in Port Blair

Must see places in Port Blair ranked on popularity. Here is the complete list of best attractions in Port Blair and point of interests to visit.
Tourist Attractions Near Port Blair
Find Your Port Blair Attractions on Map
Types of Things To Do in Port Blair
Find more attractions and places to visit in Port Blair under these things to do categories.
What To Do in Port Blair: Day-Wise Ideas
Find what not to miss in Port Blair! Recommended Port Blair itineraries and vacation ideas created by travelers across the world.