Things to do in Port Dickson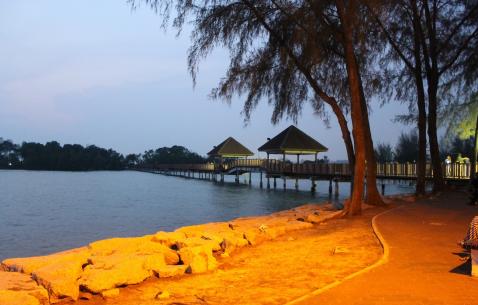 The Best Things To Do in Port Dickson
Port Dickinson is primarily known for its stretch of beaches. You can try a number of water activities that are available on the coast such as water-skiing, canoeing, snorkelling and wind surfing. There are also a number of things to do in port dicksonwith many cultural port dickson attractions such as Wan Loong Chinese Temple and Pengkalan Kempas where you can go and delve into art, history and architecture.
If you are thinking about what to do in Port Dickson then PD Waterfront is also another area where you can watch beautiful scenery and vast sea spread and enjoy some fun time in the evening hours.
You can also visit Army museum for an insight into the history of army dating back to the 16th century till the present time. If you a lover of animals, pay a visit to the beautiful ostrich farm of Port Dickson where you can see farm animals such as turkeys, ducks, goats and silky fowls.
Things to do in port Dickson for Adults
Beach lovers are certainly not unaware of this destination. Deemed to be one of the most popular coastal towns in Malaysia, this little piece of heaven is nicely tucked near Kuala Lumpur and sees droves of visitors every year. There might not be many monuments for you to see, but when it comes to popular port Dickson attractions, the place certainly does not disappoint. There is no dearth in the number of things to do in Port Dickson Malaysia. Among all the activities that you can enjoy here, Port Dickson water sports are a rave. You can go for activities like snorkelling, scuba diving and such. As for attractions, there are some places which you might like to explore during your Port Dickson visit. Take a trip to Kota Lukut which is one of the most prominent sites to see. Built in the 18th century, it will give you a nice peep into city's history. It also has a museum called Lukut Muzium adding to its history and creating more intrigue for history lovers. There are some other places apart from that you can go like Fort Kempas and Cape Rachado Lighthouse. Ensure to include Bagan Pinang Beach in your list which is the best beach in Port Dickson. If after all that, you still feel the need to explore, check out the Tanjung Tuan (also known as Cape Rachado), an exclave near Dickson which has plenty of indulgences too.
Things to do in port Dickson at night
Despite lacking in any major landmarks in the city, nights in Port Dickson are not very boring. In fact, it is the exact opposite when it comes to port Dickson nightlife. There are plenty to enjoy for party lovers here. Go to the beach side and enjoy a couple of beers there. The sound of waves accompanied by salty misty water and a happening will not only help you unwind but will make you have great fun too! If you are staying at a nice resort here, you can always check out their bars and boutiques. If there is one place in Port Dickson that is actually needed to be visited in nights, it is PD Waterfront. Located in the centre of the town, it is a beautiful boulevard facing the sea and is often considered as the entertainment hotpot of the city. Have a nice stroll through its cobblestone paths or go around checking out the other things close to this place. There are plenty of shopping opportunities for tourists, especially shopaholics to get them the best accessories around. No, there are no Port Dickson night markets here, but the shops around are enough to provide you with everything you might like. Of course, a pleasant night in Port Dickson also calls for an engaging meal which you will get lots in the quaint cafes around.
If you are still wondering what to do in Port Dickson at night, don't think twice and jump on the roads with an aim to explore its food. Believe us, with a delectable range of seafood here, you will not be disappointed a bit!
Things to do in port Dickson with kids
Port Dickson is probably one of the best places to come with your family and kids. The reason being the hospitable crowd and quite chilled atmosphere. Kids will definitely love it here, given the number of activities and food they will have to enjoy. You can always go for a shopping in Port Dickson. There are some really nice malls like Store supermarket Oceanic Mall and Billion Supermarket which has a vast variety of products, ranging from varied brands to local items. Make sure by the time you leave this place, you at least have one souvenir to take with yourself. Apart from these, there are many other places to take them to. Take your children to the Army Museum that is wholly dedicated to the Malaysian Army and has plenty of information on them. The galleries here are divided into various section hence make sure to cover each of them. Housing myriad of items, it is an apt place to learn more about the country's history. After that, visit the PD Ostrich Farm, which is quite popular among travellers. They have real ostriches here along with many other animals and will provide many opportunities for you children to interact and understand wildlife well. Last but not the least, lies the Alive 3D Art Gallery which has around 50 3D/isometric art murals and paintings that are a must see in Port Dickson. Not only your children, but you too will be amazed by how real they look and feel!
Places to eat in Port Dickson
Going on a food detour in Port Dickson is really a nice thing to do. Being the exemplary coastal town that it is, Port Dickson also makes into many foodie's lists, thanks to the varied seafood options available. If you too are wondering what to eat in Port Dickson, don't wait and read on! The place is known for its spicy culinary style that includes lots of fish and mixes. While it is thoroughly enjoyable, not many of can indulge in such kind of eateries. For others, there is leeway to like Lucky King Bun, a popular place serving bread with delicious curry. Medan Selera, a popular place is also known for its large variety like yee mee and such. Apart from these, there are few other restaurants like Seaview' and 'Curry house' that offers sumptuous meals here.
Free things to do in Port Dickson
Most of the things to do in Port Dickson is either free or cheap enough to let you enjoy all the activities without burning a hole in your pockets. If you are new here, start your Port Dickson tour with Wan Loong Chinese Temple, entry of which is totally free. Coming here will let you get one with city's culture and its spiritual vibes will calm your soul. The best time for visiting it would be morning when the prayers take place. The serenity is something worth experiencing here! You can also go for beaches and enjoy activities there. Unless you rent something, it, of course, is free. If nothing seems to fit your bill, you can always walk around its petite streets and look out for experiences in the form of people and food. Interact a lot here and make friends while you are at it, after all memories are the best things that come for free.
Explore the travel planning tool for your visit to Port Dickson and create a flawless plan in few simple steps!
10 Tourist Attractions in Port Dickson

Must see places in Port Dickson ranked on popularity. Here is the complete list of best attractions in Port Dickson and point of interests to visit.
Tourist Attractions Near Port Dickson
Find Your Port Dickson Attractions on Map
Types of Things To Do in Port Dickson
Find more attractions and places to visit in Port Dickson under these things to do categories.
What To Do in Port Dickson: Day-Wise Ideas
Find what not to miss in Port Dickson! Recommended Port Dickson itineraries and vacation ideas created by travelers across the world.