Best Time To Visit Portree
Explore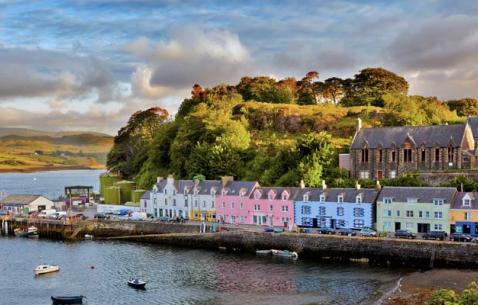 Best Time To Go To Portree
Best time to visit Portree is in the months of October and March. The average temperature in Portree is 6 Degree Celsius and minimum it goes down to 2 Degree Celsius. The temperatures are cool and windy in Portree. The months of May and June are mostly dry in Portree.
Summer season: The months of May to August are summer season for Portree.
Autumn season: The months of September and October are autumn season in Portree. A lot of tourists visit Portree during this season.
Winter season: Winters are chilly in November and February. The weather conditions may surprise you in winters.
Spring season: March and April are the months of spring season in Portree.
Best time to go to Portree Attractions

: Everyday 9:00 AM - 2:00 PM
: Everyday 9:00 AM - 2:00 PM
: Everyday 9:00 AM - 2:00 PM
: Everyday 9:00 AM - 2:00 PM
: Everyday 9:00 AM - 2:00 PM
: Everyday 9:00 AM - 2:00 PM
: Everyday 9:00 AM - 2:00 PM
: Everyday 9:00 AM - 2:00 PM
: Everyday 9:00 AM - 2:00 PM
: Everyday 9:00 AM - 2:00 PM
: Everyday 9:00 AM - 2:00 PM
: Everyday 9:00 AM - 2:00 PM

: Everyday 11:00 AM - 2:00 PM
: Everyday 11:00 AM - 2:00 PM
: Everyday 11:00 AM - 2:00 PM
: Everyday 11:00 AM - 2:00 PM
: Everyday 11:00 AM - 2:00 PM
: Everyday 11:00 AM - 2:00 PM
: Everyday 11:00 AM - 2:00 PM
: Everyday 11:00 AM - 2:00 PM
: Everyday 11:00 AM - 2:00 PM
: Everyday 11:00 AM - 2:00 PM
: Everyday 11:00 AM - 2:00 PM
: Everyday 11:00 AM - 2:00 PM

: Everyday 11:00 AM - 3:00 PM
: Everyday 11:00 AM - 3:00 PM
: Everyday 11:00 AM - 3:00 PM
: Everyday 11:00 AM - 3:00 PM
: Everyday 11:00 AM - 3:00 PM
: Everyday 11:00 AM - 3:00 PM
: Everyday 11:00 AM - 3:00 PM
: Everyday 11:00 AM - 3:00 PM
: Everyday 11:00 AM - 3:00 PM
: Everyday 11:00 AM - 3:00 PM
: Everyday 11:00 AM - 3:00 PM
: Everyday 11:00 AM - 3:00 PM

: Monday to Friday 11:00 AM - 2:00 PM
: Monday to Friday 11:00 AM - 2:00 PM
: Monday to Friday 11:00 AM - 2:00 PM
: Monday to Friday 11:00 AM - 2:00 PM
: Monday to Friday 11:00 AM - 2:00 PM
: Monday to Friday 11:00 AM - 2:00 PM
: Monday to Friday 11:00 AM - 2:00 PM
: Monday to Friday 11:00 AM - 2:00 PM
: Monday to Friday 11:00 AM - 2:00 PM
: Monday to Friday 11:00 AM - 2:00 PM
: Monday to Friday 11:00 AM - 2:00 PM
: Monday to Friday 11:00 AM - 2:00 PM

: Monday, Tuesday, Thursday, Friday 11:00 AM - 4:00 PM
: Monday, Tuesday, Thursday, Friday 11:00 AM - 4:00 PM
: Monday, Tuesday, Thursday, Friday 11:00 AM - 4:00 PM
: Monday, Tuesday, Thursday, Friday 11:00 AM - 4:00 PM
: Monday, Tuesday, Thursday, Friday 11:00 AM - 4:00 PM
: Monday, Tuesday, Thursday, Friday 11:00 AM - 4:00 PM
: Monday, Tuesday, Thursday, Friday 11:00 AM - 4:00 PM
: Monday, Tuesday, Thursday, Friday 11:00 AM - 4:00 PM
: Monday, Tuesday, Thursday, Friday 11:00 AM - 4:00 PM
: Monday, Tuesday, Thursday, Friday 11:00 AM - 4:00 PM
: Monday, Tuesday, Thursday, Friday 11:00 AM - 4:00 PM
: Monday, Tuesday, Thursday, Friday 11:00 AM - 4:00 PM

: Monday to Friday 9:00 AM - 5:00 PM; Saturday, Sunday 10:00 AM - 4:00 PM
: Monday to Friday 9:00 AM - 5:00 PM; Saturday, Sunday 10:00 AM - 4:00 PM
: Monday to Friday 9:00 AM - 5:00 PM; Saturday, Sunday 10:00 AM - 4:00 PM
: Monday to Friday 9:00 AM - 5:00 PM; Saturday, Sunday 10:00 AM - 4:00 PM
: Monday to Friday 9:00 AM - 5:00 PM; Saturday, Sunday 10:00 AM - 4:00 PM
: Monday to Friday 9:00 AM - 5:00 PM; Saturday, Sunday 10:00 AM - 4:00 PM
: Monday to Friday 9:00 AM - 5:00 PM; Saturday, Sunday 10:00 AM - 4:00 PM
: Monday to Friday 9:00 AM - 5:00 PM; Saturday, Sunday 10:00 AM - 4:00 PM
: Monday to Friday 9:00 AM - 5:00 PM; Saturday, Sunday 10:00 AM - 4:00 PM
: Monday to Friday 9:00 AM - 5:00 PM; Saturday, Sunday 10:00 AM - 4:00 PM
: Monday to Friday 9:00 AM - 5:00 PM; Saturday, Sunday 10:00 AM - 4:00 PM
: Monday to Friday 9:00 AM - 5:00 PM; Saturday, Sunday 10:00 AM - 4:00 PM

: Everyday 9:00 AM - 10:00 PM
: Everyday 9:00 AM - 10:00 PM
: Everyday 9:00 AM - 10:00 PM
: Everyday 9:00 AM - 10:00 PM
: Everyday 9:00 AM - 10:00 PM
: Everyday 9:00 AM - 10:00 PM
: Everyday 9:00 AM - 10:00 PM
: Everyday 9:00 AM - 10:00 PM
: Everyday 9:00 AM - 10:00 PM
: Everyday 9:00 AM - 10:00 PM
: Everyday 9:00 AM - 10:00 PM
: Everyday 9:00 AM - 10:00 PM

: Monday to Saturday 9:00 AM - 9:00 PM; Sunday 10:00 AM - 9:00 PM
: Monday to Saturday 9:00 AM - 9:00 PM; Sunday 10:00 AM - 9:00 PM
: Monday to Saturday 9:00 AM - 9:00 PM; Sunday 10:00 AM - 9:00 PM
: Monday to Saturday 9:00 AM - 9:00 PM; Sunday 10:00 AM - 9:00 PM
: Monday to Saturday 9:00 AM - 9:00 PM; Sunday 10:00 AM - 9:00 PM
: Monday to Saturday 9:00 AM - 9:00 PM; Sunday 10:00 AM - 9:00 PM
: Monday to Saturday 9:00 AM - 9:00 PM; Sunday 10:00 AM - 9:00 PM
: Monday to Saturday 9:00 AM - 9:00 PM; Sunday 10:00 AM - 9:00 PM
: Monday to Saturday 9:00 AM - 9:00 PM; Sunday 10:00 AM - 9:00 PM
: Monday to Saturday 9:00 AM - 9:00 PM; Sunday 10:00 AM - 9:00 PM
: Monday to Saturday 9:00 AM - 9:00 PM; Sunday 10:00 AM - 9:00 PM
: Monday to Saturday 9:00 AM - 9:00 PM; Sunday 10:00 AM - 9:00 PM

: Everyday 1:00 PM - 8:00 PM
: Everyday 1:00 PM - 8:00 PM
: Everyday 1:00 PM - 8:00 PM
: Everyday 1:00 PM - 8:00 PM
: Everyday 1:00 PM - 8:00 PM
: Everyday 1:00 PM - 8:00 PM
: Everyday 1:00 PM - 8:00 PM
: Everyday 1:00 PM - 8:00 PM
: Everyday 1:00 PM - 8:00 PM
: Everyday 1:00 PM - 8:00 PM
: Everyday 1:00 PM - 8:00 PM
: Everyday 1:00 PM - 8:00 PM