Best Time To Visit Pushkar
Explore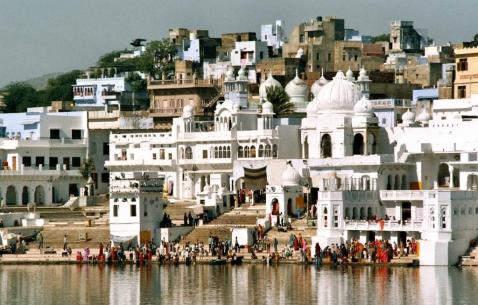 Best Time To Go To Pushkar
Pushkar experiences summer, monsoon and winter. The best time to visit Pushkar is during winter that spans from October through February. Winter is the time when you can explore this fascinating city of temples surrounded by hills on three sides and a sand dune on the fourth side. The temperatures during this season range from a maximum of 22 degree Celsius to a minimum of 8 degree Celsius. Many people visit the city during its world famous Pushkar fair but then expect a lot of crowd then. You can also visit the city during the other months if you looking forward to explore the local charm enveloped in tranquility.
Summer: March to June, Pushkar experiences hot and dry summer. This is the time to avoid a trip to Pushkar since it would be immensely hot during this season.
Monsoon: July to September is monsoon in Pushkar. It doesn't experience heavy rainfalls but still it doesn't make for an ideal time.
Winter: October to February is the best time to visit Pushkar. Crisp weather and clear air makes it the best time to visit. Also, around this time you can witness the biggest cattle fair in the world Pushkar Mela that falls in November.
Best time to go to Pushkar Attractions

: Everyday 9:00 AM - 5:00 PM
: Everyday 9:00 AM - 5:00 PM
: Everyday 9:00 AM - 5:00 PM
: Everyday 9:00 AM - 5:00 PM
: Everyday 9:00 AM - 5:00 PM
: Everyday 9:00 AM - 5:00 PM
: Everyday 9:00 AM - 5:00 PM
: Everyday 9:00 AM - 5:00 PM
: Everyday 9:00 AM - 5:00 PM
: Everyday 9:00 AM - 5:00 PM
: Everyday 9:00 AM - 5:00 PM
: Everyday 9:00 AM - 5:00 PM

: Everyday 9:00 AM - 2:00 PM
: Everyday 9:00 AM - 2:00 PM
: Everyday 9:00 AM - 2:00 PM
: Everyday 9:00 AM - 2:00 PM
: Everyday 9:00 AM - 2:00 PM
: Everyday 9:00 AM - 2:00 PM
: Everyday 9:00 AM - 2:00 PM
: Everyday 9:00 AM - 2:00 PM
: Everyday 9:00 AM - 2:00 PM
: Everyday 9:00 AM - 2:00 PM
: Everyday 9:00 AM - 2:00 PM
: Everyday 9:00 AM - 2:00 PM

: Everyday 9:00 AM - 6:00 PM
: Everyday 9:00 AM - 6:00 PM
: Everyday 9:00 AM - 6:00 PM
: Everyday 9:00 AM - 6:00 PM
: Everyday 9:00 AM - 6:00 PM
: Everyday 9:00 AM - 6:00 PM
: Everyday 9:00 AM - 6:00 PM
: Everyday 9:00 AM - 6:00 PM
: Everyday 9:00 AM - 6:00 PM
: Everyday 9:00 AM - 6:00 PM
: Everyday 9:00 AM - 6:00 PM
: Everyday 9:00 AM - 6:00 PM

: Everyday 7:00 AM - 2:00 PM
: Everyday 7:00 AM - 2:00 PM
: Everyday 7:00 AM - 2:00 PM
: Everyday 7:00 AM - 2:00 PM
: Everyday 7:00 AM - 2:00 PM
: Everyday 7:00 AM - 2:00 PM
: Everyday 7:00 AM - 2:00 PM
: Everyday 7:00 AM - 2:00 PM
: Everyday 7:00 AM - 2:00 PM
: Everyday 7:00 AM - 2:00 PM
: Everyday 7:00 AM - 2:00 PM
: Everyday 7:00 AM - 2:00 PM

: Everyday 6:00 AM - 1:30 PM; Everyday 6:00 AM - 1:30 PM | 3:00 PM - 8:00 PM
: Everyday 6:00 AM - 1:30 PM; Everyday 6:00 AM - 1:30 PM | 3:00 PM - 8:00 PM
: Everyday 6:00 AM - 1:30 PM; Everyday 6:00 AM - 1:30 PM | 3:00 PM - 8:00 PM
: Everyday 6:00 AM - 1:30 PM; Everyday 6:00 AM - 1:30 PM | 3:00 PM - 8:00 PM
: Everyday 6:00 AM - 1:30 PM; Everyday 6:00 AM - 1:30 PM | 3:00 PM - 8:00 PM
: Everyday 6:00 AM - 1:30 PM; Everyday 6:00 AM - 1:30 PM | 3:00 PM - 8:00 PM
: Everyday 6:00 AM - 1:30 PM; Everyday 6:00 AM - 1:30 PM | 3:00 PM - 8:00 PM
: Everyday 6:00 AM - 1:30 PM; Everyday 6:00 AM - 1:30 PM | 3:00 PM - 8:00 PM
: Everyday 6:00 AM - 1:30 PM; Everyday 6:00 AM - 1:30 PM | 3:00 PM - 8:00 PM
: Everyday 6:00 AM - 1:30 PM; Everyday 6:00 AM - 1:30 PM | 3:00 PM - 8:00 PM
: Everyday 6:00 AM - 1:30 PM; Everyday 6:00 AM - 1:30 PM | 3:00 PM - 8:00 PM
: Everyday 6:00 AM - 1:30 PM; Everyday 6:00 AM - 1:30 PM | 3:00 PM - 8:00 PM

: Everyday 7:00 AM - 9:00 PM
: Everyday 7:00 AM - 9:00 PM
: Everyday 7:00 AM - 9:00 PM
: Everyday 7:00 AM - 9:00 PM
: Everyday 7:00 AM - 9:00 PM
: Everyday 7:00 AM - 9:00 PM
: Everyday 7:00 AM - 9:00 PM
: Everyday 7:00 AM - 9:00 PM
: Everyday 7:00 AM - 9:00 PM
: Everyday 7:00 AM - 9:00 PM
: Everyday 7:00 AM - 9:00 PM
: Everyday 7:00 AM - 9:00 PM

: Everyday 24 Hrs
: Everyday 24 Hrs
: Everyday 24 Hrs
: Everyday 24 Hrs
: Everyday 24 Hrs
: Everyday 24 Hrs
: Everyday 24 Hrs
: Everyday 24 Hrs
: Everyday 24 Hrs
: Everyday 24 Hrs
: Everyday 24 Hrs
: Everyday 24 Hrs

: Everyday 8:00 AM - 2:00 PM
: Everyday 8:00 AM - 2:00 PM
: Everyday 8:00 AM - 2:00 PM
: Everyday 8:00 AM - 2:00 PM
: Everyday 8:00 AM - 2:00 PM
: Everyday 8:00 AM - 2:00 PM
: Everyday 8:00 AM - 2:00 PM
: Everyday 8:00 AM - 2:00 PM
: Everyday 8:00 AM - 2:00 PM
: Everyday 8:00 AM - 2:00 PM
: Everyday 8:00 AM - 2:00 PM
: Everyday 8:00 AM - 2:00 PM

: Everyday 8:00 AM - 6:00 PM
: Everyday 8:00 AM - 6:00 PM
: Everyday 8:00 AM - 6:00 PM
: Everyday 8:00 AM - 6:00 PM
: Everyday 8:00 AM - 6:00 PM
: Everyday 8:00 AM - 6:00 PM
: Everyday 8:00 AM - 6:00 PM
: Everyday 8:00 AM - 6:00 PM
: Everyday 8:00 AM - 6:00 PM
: Everyday 8:00 AM - 6:00 PM
: Everyday 8:00 AM - 6:00 PM
: Everyday 8:00 AM - 6:00 PM

: Everyday 6:00 AM - 7:00 PM
: Everyday 6:00 AM - 7:00 PM
: Everyday 6:00 AM - 7:00 PM
: Everyday 6:00 AM - 7:00 PM
: Everyday 6:00 AM - 7:00 PM
: Everyday 6:00 AM - 7:00 PM
: Everyday 6:00 AM - 7:00 PM
: Everyday 6:00 AM - 7:00 PM
: Everyday 6:00 AM - 7:00 PM
: Everyday 6:00 AM - 7:00 PM
: Everyday 6:00 AM - 7:00 PM
: Everyday 6:00 AM - 7:00 PM

: Everyday 24 Hrs
: Everyday 24 Hrs
: Everyday 24 Hrs
: Everyday 24 Hrs
: Everyday 24 Hrs
: Everyday 24 Hrs
: Everyday 24 Hrs
: Everyday 24 Hrs
: Everyday 24 Hrs
: Everyday 24 Hrs
: Everyday 24 Hrs
: Everyday 24 Hrs

: Everyday 24 Hrs
: Everyday 24 Hrs
: Everyday 24 Hrs
: Everyday 24 Hrs
: Everyday 24 Hrs
: Everyday 24 Hrs
: Everyday 24 Hrs
: Everyday 24 Hrs
: Everyday 24 Hrs
: Everyday 24 Hrs
: Everyday 24 Hrs
: Everyday 24 Hrs

: Everyday 24 Hrs
: Everyday 24 Hrs
: Everyday 24 Hrs
: Everyday 24 Hrs
: Everyday 24 Hrs
: Everyday 24 Hrs
: Everyday 24 Hrs
: Everyday 24 Hrs
: Everyday 24 Hrs
: Everyday 24 Hrs
: Everyday 24 Hrs
: Everyday 24 Hrs

: Everyday 24 Hrs
: Everyday 24 Hrs
: Everyday 24 Hrs
: Everyday 24 Hrs
: Everyday 24 Hrs
: Everyday 24 Hrs
: Everyday 24 Hrs
: Everyday 24 Hrs
: Everyday 24 Hrs
: Everyday 24 Hrs
: Everyday 24 Hrs
: Everyday 24 Hrs

: Everyday 24 Hrs
: Everyday 24 Hrs
: Everyday 24 Hrs
: Everyday 24 Hrs
: Everyday 24 Hrs
: Everyday 24 Hrs
: Everyday 24 Hrs
: Everyday 24 Hrs
: Everyday 24 Hrs
: Everyday 24 Hrs
: Everyday 24 Hrs
: Everyday 24 Hrs

: Everyday 24 Hrs
: Everyday 24 Hrs
: Everyday 24 Hrs
: Everyday 24 Hrs
: Everyday 24 Hrs
: Everyday 24 Hrs
: Everyday 24 Hrs
: Everyday 24 Hrs
: Everyday 24 Hrs
: Everyday 24 Hrs
: Everyday 24 Hrs
: Everyday 24 Hrs

: Everyday 24 Hrs
: Everyday 24 Hrs
: Everyday 24 Hrs
: Everyday 24 Hrs
: Everyday 24 Hrs
: Everyday 24 Hrs
: Everyday 24 Hrs
: Everyday 24 Hrs
: Everyday 24 Hrs
: Everyday 24 Hrs
: Everyday 24 Hrs
: Everyday 24 Hrs