by Arundhati Bhand Updated on 15 Oct 2018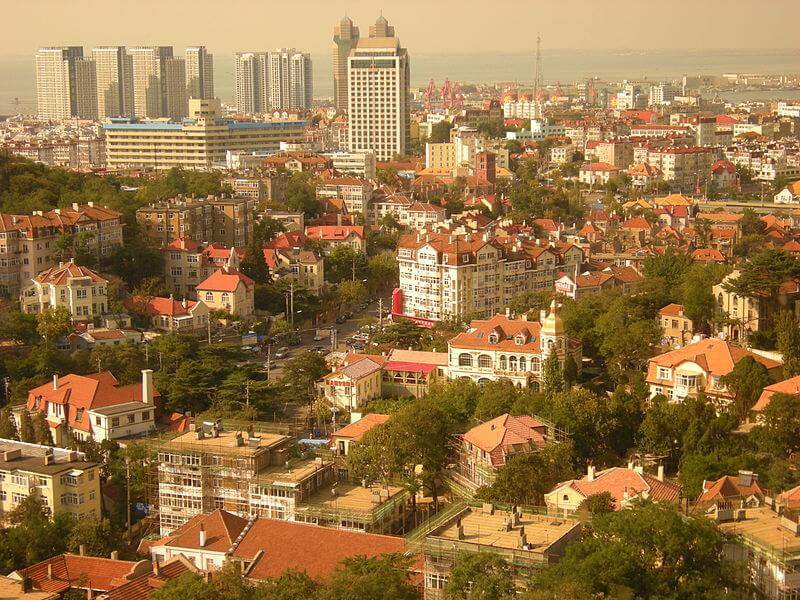 Photo: wikipedia.org
Qingdao showcases the perfect blend of fresh and healthy air and mesmerizing looks. It is an up to date city that has retained some of its golden past while taking a dazzling modern face to the culture. From improvised streets and elegant German architecture to elegant hillside villas and modern art and culture, Qingdao has it all. This place is well known for its unspoiled natural beauty. It is a perfect delight for all sorts of travelers and offers wide range of tourist attractions. 15 such alluring things that you can do in Qingdao China are mentioned here.
Here's the list of tourist attractions and 15 best things to do in Qingdao:
1. Visit Shilaoren Beach
Shilaoren Beach is largest and perhaps the most impressive beach in Qingdao city. This beach was prominently named after rock shaped man extending into the sea. The beautiful sandy shorelines of this beach make it an ideal spot for relax and enjoying the tranquility of the nature. Apart from this, travelers can enjoy mind-boggling number of water sports here so as to please their adventure buds as well.
2. Enjoy wonderful experience at Mt Laoshan

Photo: wikimedia.org
Located near the East China Sea, Mt Laoshan is culturally significant due to its long affiliation with Taoism and due to this, it is often regarded as Cradles of Taoism. This place is famed for its oddly shaped rocks, crystal clear springs, unspoiled natural beauty and variety of ancient tress. It's marvelous mountainous scenery and coastal landscape lure the visitors and keep them spell bound. Mt Laoshan is the highest coastal mountain in China with its highest peak reaching 3, 716 feet. It holds a unique position in the history of Qingdao and thus regarded as the worth tourist attraction to be explored
3. Feel calm and peace at Catholic Church
Popularly known as Qingdao Catholic church, this is a beautiful shrine which is topped by two huge Latin crosses and beautiful red spires . Nestling snugly among flowers and trees, the church looks solemn and stately. Located at the high hillock at the north end of the Zhejiang Road, this the biggest church in Qingdao city China. The hall of this church is spacious enough to hold almost one thousand people at once.
4. Take a stroll at Zhongshan Park
Zhongshan Park is mainly located inland from shores of the spectacular Huiquan Bay and features several gardens including Chrysanthemum Garden, sweet scented osmanthus flower garden and a Chinese Herbaceous Peony Garden. Basically Zhongshan Park is a common name of Chinese parks, in the honor of Sun Yat-Sen, father of modern China. This is an ideal place to take a stroll in the lush green environment. This place is famous for holding annual cherry blossom festival which usually takes places when cherry trees are in bloom.
5. Little Fish Hill Park
Xiaoyushan Park or little fish Hill Park enhances the charm of this beautiful city. This showcases classic style architecture combining with natural beauty and is characterized by natural sea scenery. This park is constructed on the top level of the little fish hill and therefore, it is popularly known as Little Fish Hill Park. There is a pathway inside the park which has variety of trees and flowers that multiples its beauty by manifolds. Due to its fantabulous geographical advantage, this park presents the panoramic views of the Qingdao city. The design of this landmark is quite different from ordinary structures and thus it should be added on the top of the bucket list.
6. Enjoy international beer festival
Qingdao international beer festival is one of the major events in the calendar of this incredible and mesmerizing city. It is usually organized in the second weekend of August and lasts for almost 16 days. This festival has been celebrating from past 16 years and thus it is now a nationally recognized event and successfully combines together the aspects of culture, tourism and sport. This prime location of this festival is Qingdao international beer town. As one of the most important festivals of China, it has a worldwide reputation and thus captures the attention of millions of people around the world. One of the interesting facts about this festival is that it is open to both Chinese as well as foreign groups.
7. Visit Beer Museum

Photo: wikimedia.org
Lies on the old site of Tsingtao Brewery Company, Qingdao Beer Museum are first one of its kind in China. It was designed by an outstanding architect and designer combining both Chinese and western culture. This is one of the few typical Gothic constructions within the city where you can find the samples of Qingdao beers kept from different areas. Since its opening, this places has received the attention of mind-boggling number of tourists, including both national and international statesmen.
8. Naval Museum
Built in the year 1989, Naval Museum is the only military museum in the city that features the complete development of Chinese Naval establishment. It basically showcases different achievements of Chinese military and reflects the glorious history of their development in all aspects since its formation.
9. Qingdao Seashore Scenic Area
Located in south portion of Qingdao city, this seashore scenic area is one of the best tourist attractions that will leave you in the awe of the beauty. It integrates seawaters, mountains and contemporary architecture. It is an open scenic spot that has six parts namely Huiquan Bay, Qingdao Bay, Badaguan Scenic area, shilaoren tourist holiday resort, Taiping Hill and Eastern new city area. These six major scenic areas with distinctive characters basically define the alluring beauty of this seashore scenic area. The blue sea, gentle breezes, azure sky, lush green area and yellow walks make this place outstanding and unique.
10. Explore the awe-inspiring beauty of small Qingdao Island
This place lies to the southeast of Zhan Bridge and is regarded as a great place to explore the excellent ocean views and to soak up an island atmosphere. This island is shaped like a qin, a Chinese musical instrument, and when the waves slap the shoreline, it produces the same sound as that of instrument. Due to this, this place is locally known as Qin Island. This place is well known for its steep rocky outcrops and a variety of trees such as pomegranates, cheery and hibiscus.
11. Taiqing Palace
Also known as Tai Qing Gong, Taiqing Palace is located at the southernmost slopes of the popular Mount Laoshan. Built in 140 BC, it is known as the second most remarkable and elegant Taoist building in country. This palace comprises 155 rooms and 3 courts. Sanguan Hall, Sanqing Hall, and Sanhuang Hall can be easily found in these 3 courts. This palace is also famed for a tree whose age is more than 600 years and thus it is regarded as the valuable masterpiece of the Taiqing Palace.
12. Discover the beauty of underwater world in Qingdao
Underwater world at Qingdao offers a breathtaking view of the marine world and thus is considered as a delight for adventure buffs. Due to its awesome geographical location and modern techniques, this place blends the benefits of the freshwater fish center, Qingdao aquarium and specimen hall. Tourists here can explore the wide range of rare aquatic species and thus it becomes a hot spot for marine eco-tourism. Thousands of marine species swim in the water resembling blooming flowers in the garden and bring you to a memorable dream visit.
13. Take a tour at Zhanshan Temple
Zhanshan Temple is situated in the eastern section of Qingdao city and is surrounded by mountains on the three sides and facing the sea on the other side. It is the newest and probably the only temple located in downtown Qingdao city. This shrine consist of three courts namely the main building, the west court and the east court. Nestled among the beautiful scenery and the vast area, this is a superb and amazing place for sightseeing in Urban Qingdao China. The grandeur of this temple attracts tourists from all over the world throughout the year but the ideal time to visit this place April 8th of the Chinese Lunar calendar when the temple fair is held.
14. Zhan Bridge

Photo: wikimedia.org
Zhan Bridge is a symbol of Qingdao city and thus considered as one of the important places to add into your itinerary while visiting Qingdao China. Also known as Qianhai Zhan Bridge, it is located at the north side of Qingdao Bay. It is a crescent-shaped bridge that shoots into the broad sea.
15. Temple of a Queen of Heaven
Built-in 1467 of the Ming Dynasty, Qingdao Temple of Queen of Heaven is a popular place of attraction that combines marine and folk cultures. It is an ancient architectural structure with strong national characteristics along the coastline. This shrine has sixteen building and over 80 rooms including the main hall, wing rooms, an opera tower, drum towers, subsidiary halls and bell tower. This temple basically reflects the beauty of Chinese Folk art and its beauty enthralls the visitors for long period of time.