Best Time To Visit Ranthambore National Park
Explore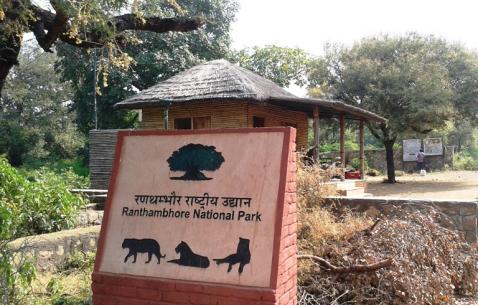 Best Time To Go To Ranthambore National Park
Since Ranthambore is a part of Rajasthan, you can expect hot weather throughout the year with mild winters. Days remain long and hot, while the nights remain bit cool and breezy. The best time to visit Ranthambore National Park is between October to April, when the weather remains pleasant and ideal to spot wildlife.
Summers (March to June): March to June can be considered as the summer period in Ranthambore. The average temperature during this time varies between a maximum of 46 degree Celsius to a minimum of 23 degree Celsius. Do keep in mind that if you visit Ranthambore National Park between March to April, there are high chances of spotting tigers.
Monsoon (July to September): Spanning between July to September, Ranthambore receives average rainfall. The park remains closed during this time.
Best time to go to Ranthambore National Park Attractions

: Everyday 6:00 AM - 4:00 PM
: Everyday 6:00 AM - 4:00 PM
: Everyday 6:00 AM - 4:00 PM
: Everyday 6:00 AM - 4:00 PM
: Everyday 6:00 AM - 4:00 PM
: Everyday 6:00 AM - 4:00 PM
: Everyday 6:00 AM - 4:00 PM
: Everyday 6:00 AM - 4:00 PM
: Everyday 6:00 AM - 4:00 PM
: Everyday 6:00 AM - 4:00 PM
: Everyday 6:00 AM - 4:00 PM
: Everyday 6:00 AM - 4:00 PM

: Everyday 9:00 AM - 4:00 PM
: Everyday 9:00 AM - 4:00 PM
: Everyday 9:00 AM - 4:00 PM
: Everyday 9:00 AM - 4:00 PM
: Everyday 9:00 AM - 4:00 PM
: Everyday 9:00 AM - 4:00 PM
: Everyday 9:00 AM - 4:00 PM
: Everyday 9:00 AM - 4:00 PM
: Everyday 9:00 AM - 4:00 PM
: Everyday 9:00 AM - 4:00 PM
: Everyday 9:00 AM - 4:00 PM
: Everyday 9:00 AM - 4:00 PM

: Everyday 10:00 AM - 5:00 PM
: Everyday 10:00 AM - 5:00 PM
: Everyday 10:00 AM - 5:00 PM
: Everyday 10:00 AM - 5:00 PM
: Everyday 10:00 AM - 5:00 PM
: Everyday 10:00 AM - 5:00 PM
: Everyday 10:00 AM - 5:00 PM
: Everyday 10:00 AM - 5:00 PM
: Everyday 10:00 AM - 5:00 PM
: Everyday 10:00 AM - 5:00 PM
: Everyday 10:00 AM - 5:00 PM
: Everyday 10:00 AM - 5:00 PM

: Everyday 24 Hrs
: Everyday 24 Hrs
: Everyday 24 Hrs
: Everyday 24 Hrs
: Everyday 24 Hrs
: Everyday 24 Hrs
: Everyday 24 Hrs
: Everyday 24 Hrs
: Everyday 24 Hrs
: Everyday 24 Hrs
: Everyday 24 Hrs
: Everyday 24 Hrs